2010 NFL Mock Draft: What Do the Steelers Do Now?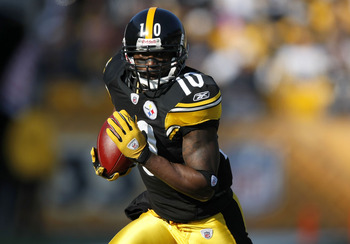 Most Steeler fans are starting to receive the word that former Super Bowl MVP Santonio Holmes was traded last night.
Holmes was given up for a fifth round pick in these year's draft, and he we will now be playing as a New York Jet.
There are obviously a lot of things going on behind the scenes that we, the fans, are unaware of. Instead, let's see how this trade may affect our drafting goals.
Here are some possible scenarios of what could happen in the first round now.
As always let me know what everyone thinks.
Enjoy!
Steelers Trade Up and Select Dez Bryant
To me this is an unrealistic scenario, but unfortunately many Steeler fans may be pushing for the former Oklahoma State Cowboy.
Bryant would provide Big Ben with a true No. 1 target, something that Santonio Holmes was not. Bryant is a big player with good speed, and great hands.
This possible trade up would not be too hard either. Bryant's stock is always on the move, and if it was on a down swing on draft night, it may only involve trading up a couple of picks.
Still, this move would be going from one head case to another.
This would be a very un-Steeler-like move, so Bryant fans should not get their hopes up.
Steelers Trade Down and Select Golden Tate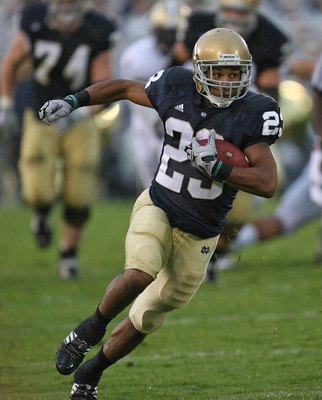 Tate would be a perfect fit for the Pittsburgh Steelers.
He is essentially a combination of Hines Ward's toughness and Santonio Holmes' amazing route running.
Put those two skills together and you have an ideal Steeler receiver.
Tate would be able to step in right away and give the Steelers a solid No. 2 option. If all goes right, he could then potentially be a replacement for Steeler's legend Hines Ward.
Ward would also provide leadership and teaching to the young receiver.
The Steelers would be able to trade down almost 10 slots in the draft if they wish to get Tate. This means that they would potentially pick up another second, third, or fourth round pick, depending on the team.
I think this option is not out of the question. It is still unlikely to happen, but with the Steeler's drafting you just never know.
Steelers Stay With Current Pick and Keep Current Plan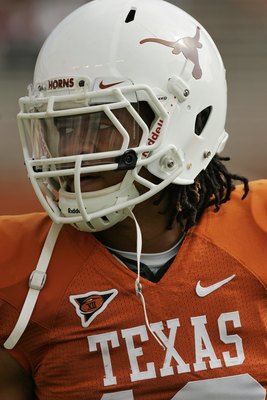 The Steelers may have been planning a team without Santonio Holmes for some time now.
In the offseason they acquired both Antwaan Randle El and Arnaz Battle. This move was immediately questioned because that would give us almost too much depth.
Unfortunately, it is making a little more sense now.
Wallace would move to the No. 2 spot, Randle El to the slot, and Arnaz Battle would be the fourth option when needed.
This ultimately means that the Steelers would just stick to their original plan and go with either an offensive linemen or defensive back.
Mike Iupati, Maurkice Pouncey, Trent Williams, Charles Brown, Earl Thomas, and Kyle Wilson remain our highest targets.
Steelers Trade For Brandon Marshall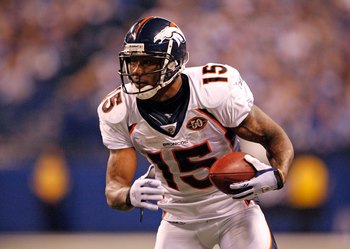 This scenario is the most outlandish to me, but unfortunately I have heard many Steeler fans calling for Marshall's arrival.
Like Dez Bryant, Marshall would also bring a somewhat questionable attitude to the black and gold, something we were just trying to get rid of.
Still, Marshall's skills are unquestioned, and he would bring a package that Roethlisberger has yet to throw to.
If this were to happen, the Steelers would most likely have to give up their second or third round pick. It really would depend on how desperate the Broncos are to get rid of him.
Though this is highly unlikely, you just never know in the NFL.
Steelers Select a Receiver in the Second or Third Round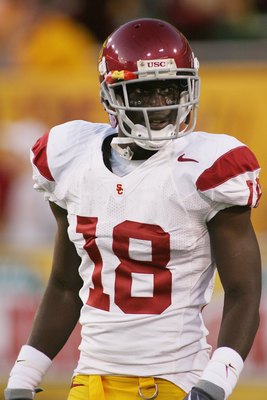 There are a lot of really good value receivers that the Steelers could pick up in either the second or third rounds.
One of them that I like is Damian Williams.
Williams is an excellent route runner with only decent size and speed. Still, Williams comes from excellent coaching at USC, and he could probably transition very quickly to become an effective NFL receiver.
Another possibility would be Mardy Gilyard.
Gilyard had some tough times at first in Cincinnati, but those years seem to be behind him now.
Gilyard is another player that will not amaze you in workouts, but when he is on the field actually playing the game, it is a different story.
He is a very quick player, who can beat you deep or after the catch.
Sounds like a Steeler receiver to me.
Gilyard would also greatly help in special teams
Keep Reading

Pittsburgh Steelers: Like this team?