Twenty Greatest Nebraska Huskers of All-Time
As we approach April's spring game, I would like to take a look back at some of the players that have built Nebraska's reputation as a football power.
I have had the good fortune to be able to watch many of these players over the years, and hopefully many more names will be worthy of being added to this list in the coming years. This list is by no means exhaustive, and as with any list, certain players had to be left out.
Among the criteria considered for those who made the list were individual statistics, leadership, overall dominance, playmaking ability, and wins. Since some of those criteria are subjective, I decided to take some liberties with who was ranked where.
No. 20 Zach Wiegert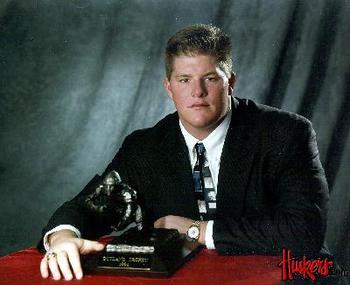 Behind Wiegert's blocking, Nebraska led the nation in rushing in 1994 for the eleventh time in school history.
From his right tackle position, Zach led the team with a whopping 113 pancake blocks on his way to winning the Outland Trophy and being named a consensus All-American and the UPI Lineman of the Year. That squad also won the first of back-to-back national championships.
In his three years as a starter at Nebraska, Wiegert earned First Team All Big Eight honors every year, and gave up only one sack in the process. During his junior campaign, he helped Nebraska to an undefeated regular season and garnered second-team All-American honors.
No. 19 Broderick Thomas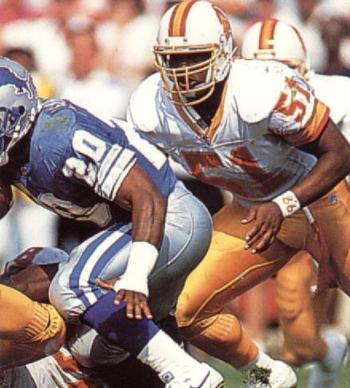 Broderick "The Sandman" Thomas brought a unique flair to his linebacker position while at Nebraska. Known for his big hits and ability to frustrate opposing offenses, Thomas starred on the Husker teams of the late 1980s.
In 1988, in addition to leading the team in tackles for the second straight year with 98, Thomas also led the team in sacks (10) and QB hurries (35) which were 25 more than the next closest player.
Thomas and the Blackshirt defense had a dominant performance against rival Oklahoma that year, in which the Sooners' powerful offensive attack had only 137 total yards, helping propel the Huskers to the Big Eight title.
Along the way, The Sandman collected Big 8 Defensive Player of the Year honors as well as being named AP First-Team All-American and being a finalist for the Lombardi Trophy as well as the Butkus Award for the nation's top linebacker, where he was edged out by Alabama superstar Derrick Thomas. In addition to being a unanimous choice for First-Team All-Big Eight three straight times, Thomas was named as First-Team All-American in 1987 by the Walter Camp Foundation, and Second-Team All-American by the AP and UPI.
No. 18 Will Shields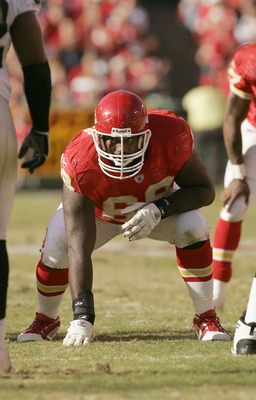 Brian Bahr/Getty Images
Following in the tradition of road grader Nebraska offensive linemen is the great Will Shields. Daring to leave his home state of Oklahoma to come play for the Huskers at a time when the OU-NU rivalry was still quite heated, Shields helped the Huskers to three national rushing titles in his four years as a player.
He earned all-conference honors in each of his final three seasons and in 1990 he became the first sophomore lineman at Nebraska to be an all-conference selection since College Football Hall of Famer Dave Rimington in 1980.
Shields followed his outstanding junior campaign, where he was named second-team All-American, with a dominant senior season. That year he became the fifth Husker to win the coveted Outland Trophy as the nation's top interior lineman and was a consensus All-American as well as a Lomabardi Trophy semifinalist.
Shields's #75 jersey was retired by Nebraska at the 1994 Spring Game, less than two years after his last game as a Husker.
No. 17 Tom Novak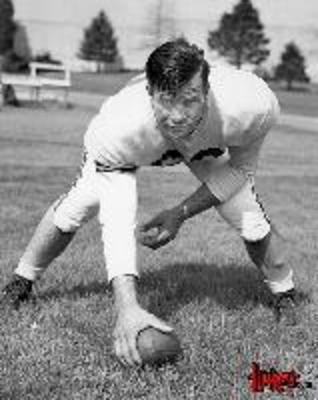 With No. 17, I'm going old school to the Golden Age of football and center/linebacker Tom "Train Wreck" Novak.
As a two-way player from 1946-49, Novak holds the distinction of being the only player in Nebraska football history to earn all-conference honors in four straight seasons. His five interceptions (in only 10 games) in 1948 are still a school record for linebackers, and his 11 career picks rank him in the top five all-time.
His ferocious attitude and relentless pursuit of the ball earned him the respect of teammates and opponents alike. In 1947, he was named to Notre Dame's all-opponent team, even though the Irish had dispatched the Huskers that season, 31-0.
Novak's No. 60 jersey was retired in 1949, and the university has since established the Tom Novak Award, which is given annually to the player who "best exemplifies courage and determination despite all odds."
No. 16 Aaron Taylor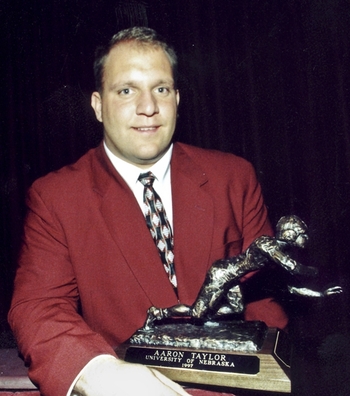 Three time national champion Aaron Taylor is also the only Nebraska player to become an All-American at two different positions (guard and center).
Taylor finished his undefeated senior season of 1997 with a staggering 137 pancake blocks, and his teams went a combined 49-2 during his career, while winning a bowl game in each of his four seasons.
In 1997, Taylor's offensive unit led the nation in scoring offense, total offense, and rushing offense.
After being named an All-American at center by numerous publications in 1996, Taylor then switched to left guard for his senior year and was once again an All-American. He also added an Outland Trophy to his awards haul, becoming the eighth winner in school history.
No. 15 Larry Jacobson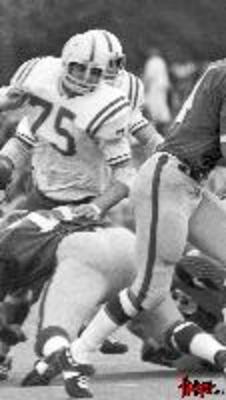 Big No. 75 was one of the first truly dominant defensive linemen for the Blackshirts. People first began to take notice of Jacobson during the 1970 season, when he had 49 tackles and a team high three fumble recoveries en route to a national championship.
The next year, alongside fellow All-American Rich Glover, his tackle total rose to 73, including 12 tackles for loss, as once again the Huskers took home the national championship.
As if being the 1971 Outland Trophy winner and an All-American on the field wasn't enough, Larry also earned Academic All-American status in the classroom.
Jacobson's jersey was officially retired in 1994.
No. 14 Turner Gill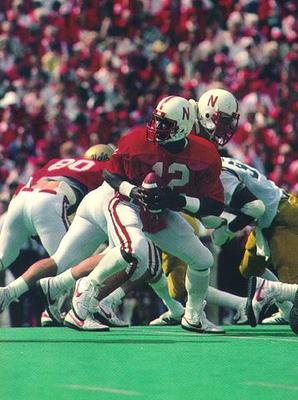 Before Turner Gill's coaching career, he was of course a standout quarterback. The leader of the "Scoring Explosion," Gill led the Huskers to an undefeated 1983 regular season and within a failed two-point conversion of the national championship.
He was the conference's top-ranked passer that year with a rating of 152.7, and he threw just 11 interceptions in 428 career attempts. In addition to his passing prowess, he also ran for 531 yards and 11 touchdowns in 1983 and finished fourth in the Heisman Trophy balloting, while also being named to the All-America team.
For his career, Gill accounted for 52 touchdowns and won 28 of the 30 games in which he was the starter. For those of us fortunate enough to see him play, we will never forget his electrifying athletic ability and his masterful leadership of the original Greatest Show on Turf.
No. 13 Trev Alberts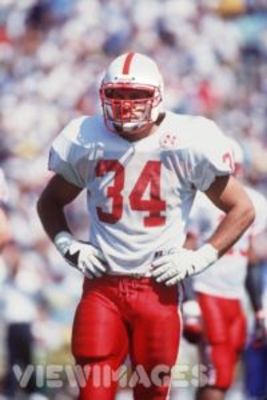 Standout Trev Alberts is one of the greatest linebackers in Nebraska's storied history.
He burst onto the scene in 1990 as the Big Eight Defensive Newcomer of the Year. He followed that up with seven sacks in just his second season, in 1991.
Altogether, Alberts racked up a then-school record 45 tackles for loss, including 29 1/2 sacks. He was all-conference and second-team All-American in his junior year, and followed that up with a senior year in which he had 96 tackles and 15 sacks, earning him the Butkus Award as the nation's top linebacker.
Trev's play helped Nebraska to a spot in the national championship game following the 1993 season, and though the Huskers lost to Florida State, 18-16, Alberts had three sacks and was named the game's defensive MVP. In addition to his exploits on the field, Trev Alberts was an Academic All-American in the classroom as well.
No. 12 Lawrence Phillips
Despite his checkered past and numerous run-ins with the law, both at Nebraska and since his departure, I could not in all good conscience leave a talent like Lawrence Phillips off this list.
Arguably the most gifted natural runner in Nebraska history, Phillips' off-field shenanigans often got more press than what he did on the field, which was considerable.
Phillips first caught the eyes of the Husker faithful during his freshman year of 1993, when his 137 rushing yards helped Nebraska beat eventual Pac-10 Champion UCLA.
In 1994, Phillips really began to shine when injuries to QBs Tommie Frazier and Brook Berringer forced him to shoulder more of the offensive load. That season he set a school sophomore record by rushing for 1,722 yards and also ripped off 11 straight games of at least 100 yards rushing, also a school record.
His 96 yards in the 1995 Orange Bowl against Miami helped Nebraska win the first of back-to-back titles in the mid 90s.
As a leading Heisman candidate entering the 1995 season, LP rushed for 206 yards and 4 touchdowns against Michigan State in the second game of the season, but then derailed himself with an arrest on domestic abuse charges and was subsequently suspended from the team.
Seeing limited action even after his reinstatement, Phillips made up for his absence with 165 yards rushing and a total of 3 touchdowns in the 1996 Fiesta Bowl, where Nebraska's 62-24 victory over Florida earned them their second title in as many years.
No. 11 Irving Fryar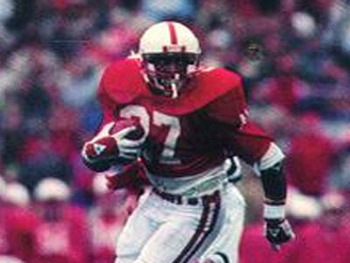 One of my all-time favorite Husker players for the sheer excitement he brought to the field, has to be Irving Fryar.
One of the so-called "Triplets", along with Turner Gill and Mike Rozier, Fryar was on the 1983 Nebraska squad whose offense, known as the "Scoring Explosion", averaged over 50 points per game.
On a team where throwing the ball was usually the third or fourth option, Irving still had 40 receptions and averaged over 105 all-purpose yards per game, including running the ball and returning kicks. His blazing speed and jaw-dropping athletic ability reminded many of the days of Johnny Rodgers and led the coaching staff to constantly look for new ways to get the ball in his hands.
After a stellar senior season in which, in addition to his receiving numbers, he also averaged nearly 14 yards per carry as a runner, Fryar was named a first-team All-American. He went on to become the No. 1 overall pick in that year's NFL Draft and had a long and productive pro career.
No. 10 Dean Steinkuhler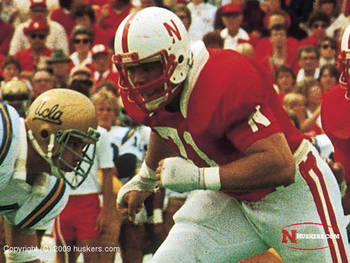 Dean Steinkuhler was the anchor of the 1983 Nebraska offense that averaged over 400 yards rushing per game and scored over 50 points seven times, including five games of 60 or more points.
His protection of QB Turner Gill and blocking for Heisman winner Mike Rozier, earned Steinkuhler both the Outland and Lombardi Trophies his senior season and recognition as one of the greatest offensive linemen in the history of college football.
The only two losses his teams sustained during his junior and senior seasons were both in the final seconds to teams that ended up winning the national championship. After becoming the No. 2 pick in the 1984 NFL Draft behind fellow Husker Irving Fryar, he went on to a distinguished career with the Houston Oilers.
No. 9 Grant Wistrom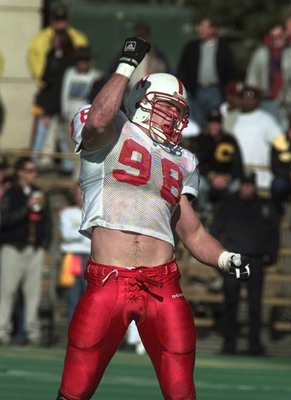 What can you say about two-time first-team All-American Grant Wistrom? One of the best and most relentless defenders in Nebraska history, he was one of the leaders of a dominant and intimidating Blackshirt defense that helped pave the way to three national championships in four seasons from 1994-1997.
From his defensive end position, Wistrom set a school record for career tackles for loss with 58 1/2 and is second on the sacks list at 26 1/2. A two-time Big 12 Defensive Player of the Year, Wistrom also garnered the Lombardi Trophy in 1997 as the nation's top lineman.
Also excelling in the classroom, Grant was twice a first-team Academic All-American. Known for his speed and constantly running motor, he was a first round selection in the 1998 NFL Draft and finished his collegiate career with a stunning 49-2 record and three national titles.
No. 8 Ahman Green
Yet another contributor to championship teams at Nebraska, running back Ahman Green burst onto the scene in 1995 with a freshman team record 1,086 yards rushing, to go along with 13 touchdowns.
The 1-2 punch of Green and Lawrence Phillips helped lead Big Red to its second consecutive national championship that year.
While fighting nagging injuries the following year, Green still managed 917 yards on the ground. As the 1997 season rolled around, Green was healthy once again and busted loose for 1,877 yards and 22 touchdowns, while averaging almost seven yards per carry.
That season, he was an All-American and Doak Walker Award finalist for top running back honors, but was edged out by Heisman winner Ricky Williams.
After winning a national title his junior year, Green decided to go pro, enjoying a long NFL career.
No. 7 Rich Glover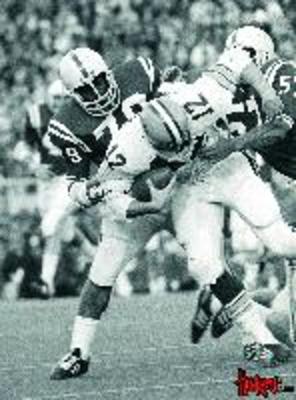 Standing 6'1" and weighing 235 pounds, middle guard Rich Glover would be considered undersized in today's game. But as a defensive lineman on Nebraska's 1970 and 1971 national championship teams, he wreaked havoc on opposing offenses like few players ever have.
Among his accomplishments was a 22-tackle game against Oklahoma in the "Game of the Century" in 1971, which Nebraska won 35-31.
After being named a consensus All-American in 1971 and 1972, Glover finished third in the 1972 Heisman Trophy balloting. He also accomplished the rare feat of winning both the Outland and Lombardi Trophies after his senior season. In his last two years, he racked up an eye-popping 192 tackles, including 22 tackles for loss. His No. 79 jersey was retired following the 1972 season.
No. 6 Eric Crouch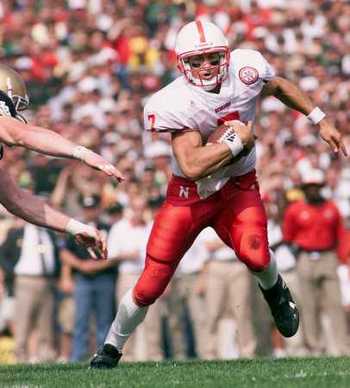 In addition to being one of the most decorated players in Nebraska history, Eric Crouch finished his career as the holder of 32 school records, including most yards of total offense (7,915), most rushing yards by a quarterback (3,434), and longest run from scrimmage (95 yards, against Missouri in 2001).
He was also one of only a handful of quarterbacks in NCAA history to rush for over 3,000 yards and pass for over 4,000 in his career.
During his senior year of 2001, Crouch won a truckload of awards, picking up the Walter Camp Player of the Year, the Davey O'Brien Quarterback Award, various other player of the year awards, and of course, the 2001 Heisman Trophy.
He also led the Huskers to the national championship game in the 2002 Rose Bowl where, despite rushing for 114 yards, his team lost to Miami.
Crouch finished his illustrious career with 88 total touchdowns and a 35-7 record as a starter.
No. 5 Mike Rozier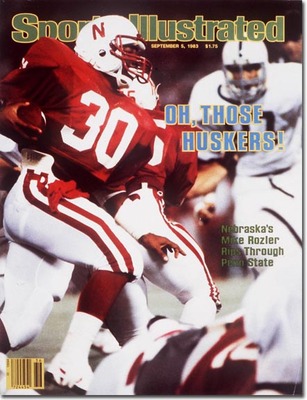 Like Eric Crouch, running back Mike Rozier finished his career with numerous school and NCAA records.
He became the first Husker back to rush for over 2,000 yards in a season when he had 2,148 in 1983, good for sixth in NCAA history. And of the 14 backs who have ever rushed for at least 2,000 yards in a season, Rozier's average of 7.81 yards per carry is the highest, besting even the great Barry Sanders (7.64 ypc).
Rozier led the fearsome Nebraska rushing attack in 1982 and 1983, when his teams finished with a 24-2 record and were arguably a couple of plays short of winning back-to-back national championships.
All told, Rozier accounted for 52 touchdowns (50 of them on the ground) and 5,445 yards of offense. He swept the major player of the year awards his senior season, winning the Walter Camp and Maxwell, along with the 1983 Heisman Trophy.
No. 4 Dave Rimington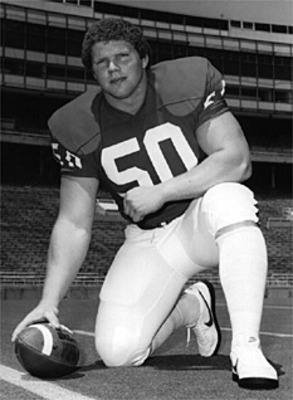 Considered by many to be the greatest offensive lineman in the history of college football, Dave Rimington remains the only player to ever win the prestigious Outland Trophy twice.
Rimington also won the Lombardi Trophy in 1982, and was a two-time first-team All American, not to mention twice being a first-team academic All-American, and three-time All-Big Eight selection.
Rimington also had the distinction of being the only lineman to win the Big Eight Offensive Player of the Year Award, which he did in 1981.
Rimington's No. 50 jersey was retired by Nebraska in 1982, and in 1997 he was inducted into the College Football Hall of Fame. He was also named as starting center on Sports Illustrated's 1999 All-Century Team.
No. 3 Ndamukong Suh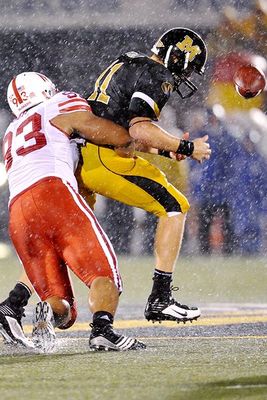 If you are reading this and you don't know about Ndamukong Suh's accomplishments, you have apparently been living on the space station for the past couple of years.
One of the most dominant defensive lineman in recent memory, in 2009 Suh was like a human tornado on the plains—an unstoppable force of nature, leaving destruction behind wherever he went. By now most everyone has heard of his MVP performance in the 2009 Big 12 title game, where Suh had 12 tackles, with seven of them going for losses (tying a school record) and 4 1/2 sacks of Colt McCoy, more than any other entire team had ever had against McCoy in his storied career.
After leading the team in tackles in 2008 with 76, an unheard-of feat for a lineman, he followed that up with an 82 tackle performance in 2009, to again lead the team. He also had 12 sacks and 23 TFL, despite constant double and triple teams.
His celebrated senior year included winning the Outland and Lombardi Trophies and being a Heisman finalist, but his accolades don't tell the whole story. Those who watched his career, in particular his final season of 2009, know that his combination of strength, speed, athleticism, and relentless pursuit of the ball is something rarely seen at any level. Suh-perman will remain a Husker legend long after he has played his last football game.
No. 2 Johnny Rodgers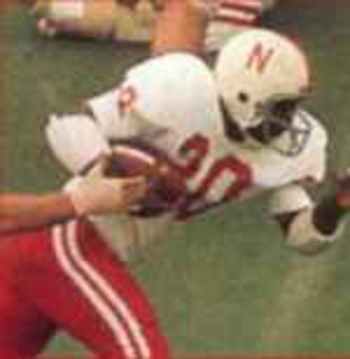 Sometimes adjectives don't quite cover it when describing great players. Such is the case with Johnny "The Jet" Rodgers.
Simply one of the most electric and explosive players ever to suit up for Nebraska, Rodger's exploits on the field sometimes defied description. Like his famous punt return for a touchdown against Oklahoma in the "Game of the Century" in 1971, a twisting, turning, speed burning 72-yard romp that ended up being the difference in what would be a back and forth game eventually won by Nebraska, 35-31.
Rodgers then followed that up with another breathtaking punt return for a touchdown in the 1972 Orange Bowl against Alabama, a score that would set the pace for a 38-6 Husker thrashing of the Crimson Tide and a second straight national championship.
Rodgers put an emphatic exclamation point on his outstanding career at Nebraska by scoring four touchdowns in the 1973 Orange Bowl against Notre Dame, to set an Orange Bowl record for total points.
He was rewarded with the 1972 Heisman and Walter Camp Trophies.
Johnny finished his collegiate career as the NCAA record holder for punt return touchdowns with seven, which still remains the Nebraska record. This was only one of 41 school records and four NCAA records set by Rodgers.
Though it has been nearly four decades since the conclusion of his brilliant career, Johnny Rodgers will always be mentioned among the greatest Nebraska Huskers of all time.
No. 1 Tommie Frazier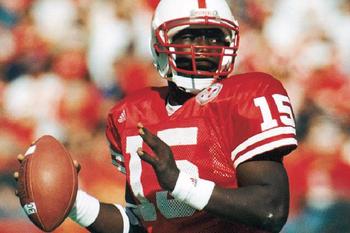 It was a tough decision trying to figure out who should be No. 1, when there are so many great players to choose from, but in the end I went with "Touchdown" Tommie Frazier.
To me, no one exemplifies winning and absolute excellence, but also hard-nosed Nebraska style better than Tommie Frazier. He was an integral part of the 1990s new guard that made the transition from very good teams that came up short in the biggest games, to those that not only could compete with the speedy Florida teams, but were finally able to best them in championship games.
After being named Big Eight Conference Freshman of the Year in 1992, Frazier followed with a sophomore season in which he dueled Heisman winner Charlie Ward to a near dead heat in the 1994 Orange Bowl.
Eventually, an errant 45-yard Husker field goal attempt gave the Seminoles the 1993 title, 18-16. Tommie was nevertheless named MVP of the game.
During the 1994 season, Frazier led a team on a mission to take care of unfinished business, but was sidelined for much of the season with a blood clot in his leg. Despite being benched in favor of Brook Berringer in the 1995 Orange Bowl, he returned in the 4th quarter to lead his team to two touchdowns and a 24-17 victory over longtime nemesis Miami, earning a second straight bowl game MVP.
Frazier returned for his senior season in 1995 to quarterback a team that is considered by many to be the greatest in college football history. After running roughshod through a regular season schedule where their closest game was decided by 14 points and the average margin of victory was more than 38 points, Big Red once again found itself playing for all the marbles.
Tommie was at his best once again in this game, running for 199 yards, including "The Run" in the third quarter, where he broke the tackles of nearly every defender on the field en route to a 75 yard touchdown. After the dust had settled in Nebraska's 62-24 demolition of previously unbeaten Florida, Frazier was once again named the game's MVP, making him the only player to be named MVP of three national championship games.
To top it off, he was runner-up in the 1995 Heisman Trophy voting. Frazier ended his career with a 33-3 record as a starter and a then-school record 43 passing touchdowns.
As winners go, few have ever been better or more fun to watch than the great Tommie Frazier.
Keep Reading

Nebraska Huskers Football: Like this team?