Power Ranking the NHL Playoff Center Position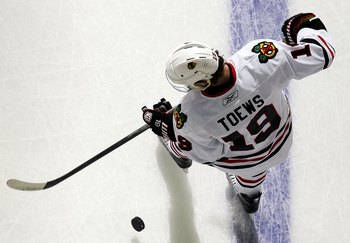 With good reason, whenever anyone refers to, "the most important position in hockey," they're referring to the goalie.
However, if one had to choose a (very close) "second most important position in hockey," the center position would be a hard one to argue against.
The center-man is the nucleus of hockey's five-man unit. He takes face-offs, has defensive responsibilities in his own zone, offensive duties at the other end that can very well tip the scales of a game, and even a playoff series.
What follows is a ranking of the best centers heading into the playoffs. Each team is represented, however, this isn't simply a list of each team's highest scoring center. The selections and rankings are based on a few different factors.
First, each center's season to date was taken into account.
Second, I looked at what each player meant to their individual team and their success this year.
Third, the talent of each player was thrown into the mix, as creativity and skill is something particularly important to a center.
Finally, and this may actually trump all of the proceeding, I took into account each guy's "last minute factor". That is, at the last minute of a playoff game, how important is it to have this player on the ice?
There may be a better way to select and rank players, and thus, you may not particularly agree with the selections. If not, great! Go ahead and post your own picks and make your case!
16. Matthew Lombardi, Phoenix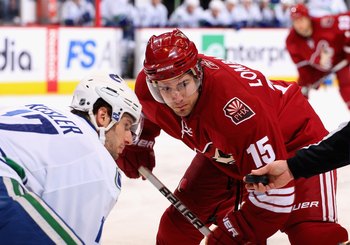 Great speed, above-average hockey sense, and excellent penalty-killing skills has made Matthew Lombardi a valuable part of Phoenix's unlikely march to the 2010 playoffs.
Though he doesn't own tremendous size (6', 196 lbs) Lombardi is one of the better penalty-killers in the league and has the ability to get the flow going the other way by finding his wingers with a breakout pass or swiftly getting the puck out himself.
As Phoenix will be facing Detroit in the first round, Lombardi's face-off, set-up, and defensive skills will need to be firing on all cylinders if Phoenix is to continue its Cinderella season beyond the first round.
15. Paul Stastny, Colorado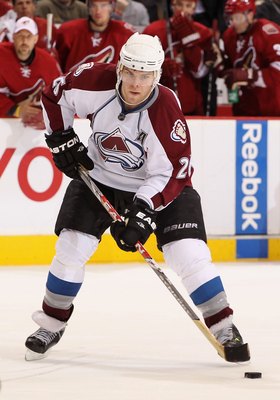 With players like Joe Sakic and Peter Forsberg as mentors, and a father in the Hockey Hall of Fame, it's hard not to turn into a solid, reliable, two-way center. Paul Stastny has become exactly that for the Colorado Avalanche.
A superb set-up man and underrated physical player, Stastny displays both the play-making skills and work ethic most NHL coaches require of their No. 1 center.
He'll be entering his first post-season as the Av's primary go-to guy and Colorado hopes he'll be up for the challenge.
14. Anze Kopitar, Los Angeles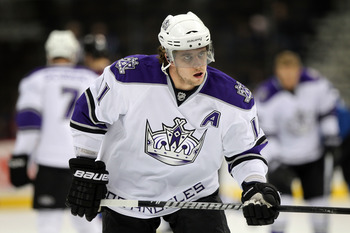 The Los Angeles Kings have the misfortune of playing the majority of their games in the Pacific Time Zone, with start times typically around 10:30pm EST, right about the time most of the hockey world is bedding down for the night.
That's a shame, because Anze Kopitar truly is one the game's great young stars and most fans don't see him play often enough to know why.
The massive (6'3", 220 lbs) pivot, along with many of his teammates, is about to find out just how different hockey games are, post game 82 of the regular season.
However, his creativity, butter-soft hands and his sheer size should make him a player no defenseman will relish as an assignment.
For much of the season, he's centered a line flanked by Ryan Smyth and Justin Williams which has, at times, been one of the best in the NHL.
Though he has struggled a bit with consistency and could stand to pay closer attention to his defensive duties, all of L.A. is hoping that Kopy can make the Kings as dangerous in the playoffs as he did during the regular season.
13. Patrice Bergeron, Boston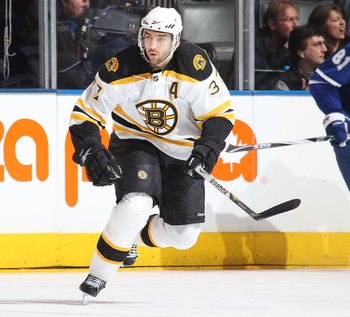 Man, if it weren't for concussions, the Boston Bruins may be boasting two of the best centers in the game coming into the playoffs.
Marc Savard is out indefinitely with post-concussion syndrome and is not expected to be back for the playoffs.
Patrice Bergeron has had his share of concussion issues, which some have suggested has stunted his expected meteoric rise to the top of the NHL.
Concussions or no, Bergeron is still a damn good center and, at 24, still has many productive years ahead of him.
Though he has the skills to play a finesse game, his ability to drive hard to the net and create offense under pressure makes him an ideal fit for a Bruins team more often associated with brawn than brains.
12. Jason Arnott, Nashville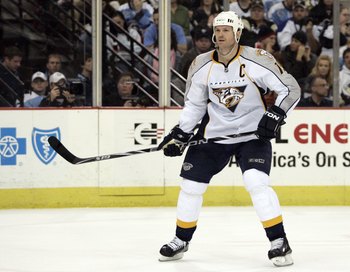 It seems as if every year, when the playoff seeding is set, people see Nashville in the mix and start scratching their heads as to how the hell they got there in the first place.
Superb coaching is certainly one the reasons, but having a gigantic, experienced, work-horse of a center with his name on the Stanley Cup doesn't hurt either.
Though Arnott would likely be a No. 2 or 3 pivot on many other teams, he's served Nashville quite well as their top man up the middle. The Preds have made the playoffs five times in their history and have never made it out of the first round.
Drawing an opponent like Chicago in the first round may be tantamount to being trapped in a speeding car headed straight into a brick wall. Sure, you might survive, but will you be of much use if you do?
If the Preds can escape the first round, the skills and experience of Jason Arnott will have no doubt played a huge part.
11. Tomas Plekanec, Montreal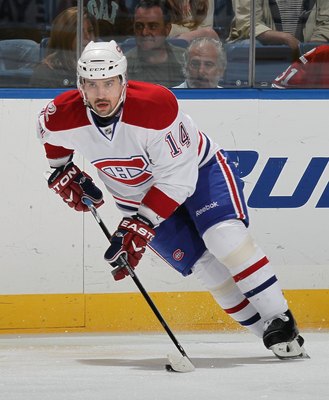 Where would the Montreal Canadiens be without Tomas Plekanec?
The Czech forward has just completed his best season of his career, playing all 82 games for the only NHL team he has ever known.
An extremely intelligent center, strong face-off man, and adept penalty-killer, Plekanec is the type of player a coach doesn't have to worry about when he's stepping over the boards—regardless of the situation, he's almost always going to make the right play.
Though Montreal may need a not-so-minor miracle to beat Washington in the first round, you can bet that, regardless of the outcome, Tomas Plekanec will be on the ice when the final buzzer sounds.
10. Mike Fisher, Ottawa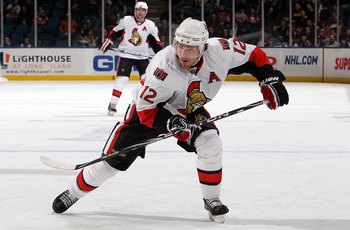 A tenacious fore-checker, solid face-off performer, and the possessor of a wicked wrist shot, Mike Fisher is the type of player you just can't have enough of come playoff time.
The combustible center has completed his best season of his nine-year career and lead the Ottawa Senators in game-winning goals with six.
Fisher is among the hardest working players in the game and if there were an All-Star Game just for penalty-killers, he'd be a shoo-in as a starter.
Ottawa has impressed many so far this year, if they're destined for another deep playoff run like they saw in 2007, Mike Fisher is going to be one of the guys driving the bus.
9. Tim Connolly, Buffalo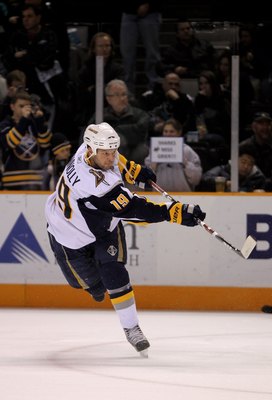 Now, this might be the first of what could be a couple controversial picks.
First off, Connolly isn't Buffalo's highest scoring center (though he was at the time of his injury). Secondly, he's currently sidelined with a foot injury (though he should be back for Game Three or Four against the Bruins).
Regardless, Connolly has the type of shiftiness, speed, and puck-handling skills that can be used to maddening effectiveness against an opposition's defense over a seven-game series.
His penalty-killing game is more about puck-possession than shot-blocking or battling it out in the corners, however, this is to his and Buffalo's advantage as he's superbly adept at it and uses his smarts to set up teammates on the PK.
8. Mike Richards, Philadelphia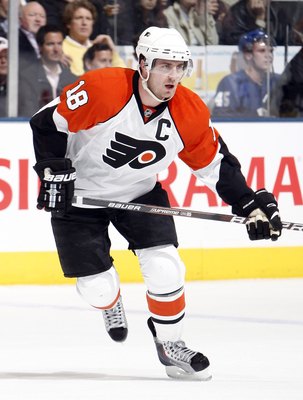 As fiery and ill-humored as any Flyer fan could want, Mike Richards also has tremendous two-way abilities.
Philadelphia's captain is the kind of player who will put the whole team on his back, not because they need him to, but because he relishes the pressure and responsibility that comes with it.
A great penalty-killer and above average point-man on the power play (a rare assignment among centers), Mike Richards is bound to log huge minutes throughout the playoffs.
He wouldn't have it any other way.
7. Travis Zajac, New Jersey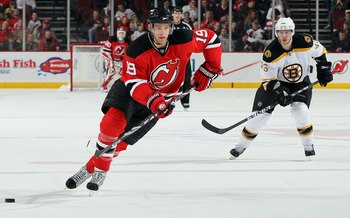 If Zajac ever decided to put his 6'3", 200 lbs frame to more punishing use, he may become one of the more feared players in the league.
As it stands, he tends to avoid an overly physical game, still, the 24-year-old center makes those he plays with better, and more dangerous than they are without him.
He embraces the defensive responsibilities associated with his position (something I'm sure is written into the contract of any New Jersey Devils player) fully and is becoming more comfortable with shooting the puck.
His 24 goals this season are a career high.
In the end, when it comes down to New Jersey Devils playoff hockey, it's all about Martin Brodeur, but, Zajac is quickly becoming one of the most important players on the Devils' roster.
6. Joe Thornton, San Jose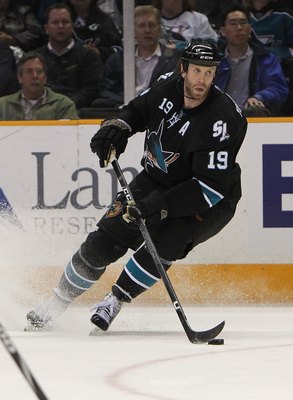 When it comes to Joe Thornton in the regular season and Joe Thornton in the playoffs, it's a lot like getting down to business with a hot date in a Wonder Bra: you think you're headed for a great time, then, eventually, you find out things aren't as great as they looked.
Whatever his playoff short-comings, Joe Thornton is still one of the most amazing centers in the NHL.
His patience with the puck and ability to find his teammates with perfect passes is uncanny. His 89 points, while nothing to sneeze at, is his second lowest point-total in five seasons with San Jose. Fans hopes that means he's just saving a little for the playoffs.
If he is, the Sharks should have no problem exorcising their ghosts of playoffs past.
5. Nicklas Backstrom, Washington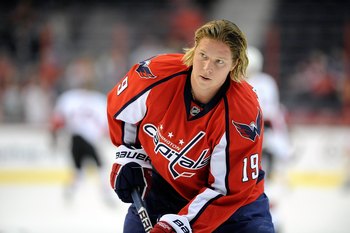 When you finish a season with 101 points and are still considered "that other guy" on your team, you know you're playing on a very special squad.
In just his second year in the league, Nicklas Backstrom has become one of the best play-making centers in the world.
Sure, having Alexader Ovechkin to pass to helps, but Backstrom stands on his own as a bona fide offensive star.
At only 22, he's yet to realize his full potential, which is a frightening thought.
Though No. 8 is still the first, second, and third most important player for the Capitals, Backstrom is going to be essential to their success in the playoffs.
4. Jonathan Toews, Chicago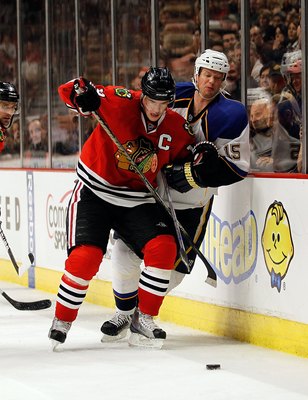 If a coach or GM could go to a hockey player factory and say, "Build me a center-man who can lead my team and win me a championship", they'd likely see Jonathan Toews roll off the line.
The Chicago captain is a dream come true for a coach, the body of a 21-year-old and the mind of a 40-year-old.
Toews' play both with and without the puck is akin to that of a wily, experienced veteran.
However, his speed and athleticism displays a young, energetic player that still hasn't figured out that he's not supposed to be as good as he is.
All hype aside, the Chicago Blackhawks could very well win a Stanley Cup this year, and Jonathan Toews is largely the reason why.
3. Pavel Datsyuk, Detroit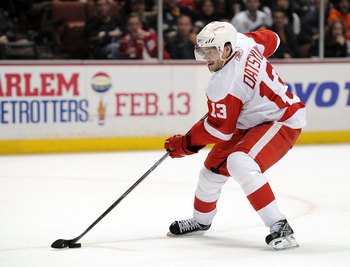 And perhaps we have another controversial pick here. Not so much for his inclusion, but for the position in the ranking.
Allow me to make the case.
Like the entirety of his team, Pavel Datsyuk has largely underperformed this season. He had multiple opportunities to put the Red Wings on his back amidst the myriad of injuries they suffered throughout the season, but didn't.
That is, until, they really needed him to.
The Red Wings finished the season as perhaps the best team in the league after the Olympic break and they have Pavel Datsyuk to thank for it.
Just like his good buddy, Henrik Zetterberg did in 2008, Datsyuk has stepped up to the plate and made it clear to his team that he is their No. 1 center, and will be the one player they can count on in any situation.
He's once again the league leader in takeaways and still possesses the kind of one-on-one skills that make defensemen wish they had never put on skates.
The Coyotes have a very good chance of beating Detroit in a seven-game series. But, they'll have to do so by finding a way to stop Pavel Datsyuk from doing whatever the hell he wants to with the puck.
Good luck with that, Phoenix.
2. Sidney Crosby, Pittsburgh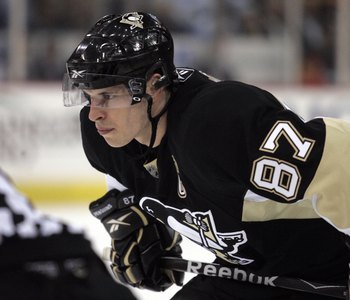 This season saw the development of one trend every hockey fan outside of Pittsburgh was dreading: Sidney Crosby started shooting the puck more.
Crosby just capped of his first 50-goal season (well, 51 to be accurate) and proved to the world that, just when you thought he couldn't get any better—he can.
Already a great face-off man, outstanding passer, brilliant play-maker, and above average defender, Crosby now has top-flight goal-scorer to add to his list of talents.
Sickening.
Unless you're a Penguins fan.
1. Henrik Sedin, Vancouver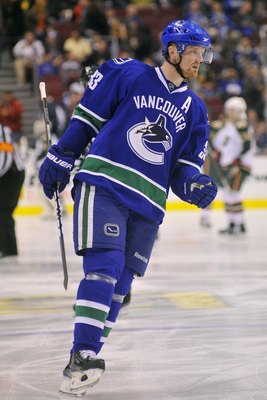 It's official, Henrik Sedin is the 2010 Art Ross Trophy winner.
However, my placement of him at No. 1isn't just based on his 112 points. Watching Henrik Sedin this season, it seems as if he has finally rounded into the player Brian Burke knew he would be when he drafted him in 1999.
He sees the ice as good as anyone in the league, is extremely strong defensively, and has the very rare ability to completely take over a game with his skill and tenacity.
Something special is going on in Vancouver this season, and Henrik Sedin is right at the heart of it.
Given the season he's had, Henrik Sedin has Conn Smythe Trophy winner written all over him.
Keep Reading