NFL Draft Position Rankings: RB
This slideshow will profile the top 10 running backs in the upcoming 2010 NFL Draft.
After I've ranked every position, I will compile all of my "team projections" into a complete mock draft.
April 8—DB/WR
April 9—Safety/TE
April 10—LB
April 11—RB
April 12—DE
April 13—QB
April 14—DT
April 15—OL
April 16—Mock Draft
#1. C.J. Spiller - Clemson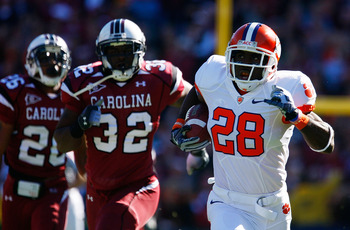 The NFL researches all of the invitees that attend the draft. By inviting C.J. Spiller, the NFL has given us confirmation that he will be drafted in the top half of the first round. Which team will draft him, is a totally different story.
I've said in the past that C.J. Spiller is the fastest football player I've ever seen in pads. Whether his speed in college will transition to the NFL is unknown, but I can assure you if Spiller gets behind the defense, no one will touch him until he's in the endzone.
Spiller is said to have run 40 times in the sub 4.3 range, which I find totally believable. At the combine, he ran a 4.37, ranking him second among running backs.
For me, the question remains, is Spiller strong, physical, and durable enough to make it at the next level? There have been hundreds of NFL players who would be competitive at the World Championships in the 100 meter, however in most cases, their track speed fails to transition to NFL speed.
With a gun to my head, C.J. Spiller won't be an every down back in the NFL, but he'll likely become a pro-bowl return man, with limited uses in the run game.
All that said, I'm sure most people said the same thing about Chris Johnson, and I certainly wouldn't pass on him as a top 10 pick.

Projected Round: First
Projected Team: San Fransisco 49ers
They'll have to catch Al Davis napping, but I think San Francisco makes the most sense for Spiller in the first round. He could find his way to Seattle, but my bet is that Seattle drafts a tailback in the later rounds. In San Fran, they will try to employ a 3-back system, with Coffee, Gore, and Spiller. In my opinion, this would be a best case scenario for C.J.'s success in the NFL. The 49ers ranked last in punt return yardage and near the bottom for kick return yardage as well. With Spiller, they could rank near the top in 2010.
#2. Ryan Mathews - Fresno St.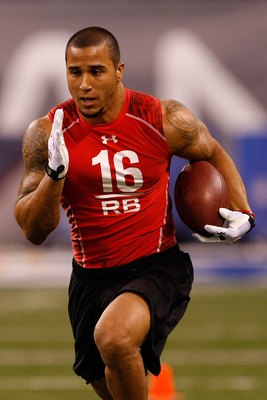 Drafting players who have led the nation in rushing has produced spotty results. Darren Sproles(2003), J.J. Arrington (2004), DeAngelo Williams(2005), Garrett Wolfe (2006), Kevin Smith(2007), and Donald Brown(2008).
Often times, those players are getting 30+ touches a game over a span of three to four years. In one way, they're prepared to handle an NFL workload and likely won't fade down the stretch. On the other hand, they've accumulated a lot of mileage, and they're that much closer to their expiration date.
Luckily for Mathews, he's entering the league as a junior. Unluckily for him, he's already accumulated 500+ carries in a three year NCAA career, with nearly half of them coming in his junior season.
Statistically, Mathews is as good as it gets. His measurables are everything you could ask for from a first round pick. The only question lies on his durability.
Projected Round: First
Projected Team: San Deigo Chargers
It's widely regarded that the Chargers will select a tailback in the first round. For a team that will likely improve, despite their losses this offseason, a back like Mathews could go a long way in making San Deigo a true contender in the AFC. Improving upon their 31st ranked rushing attack is their top priority. Mathews gives the Chargers an every down back, while Sproles can continue to contribute at the same rate.
#3. Jahvid Best - California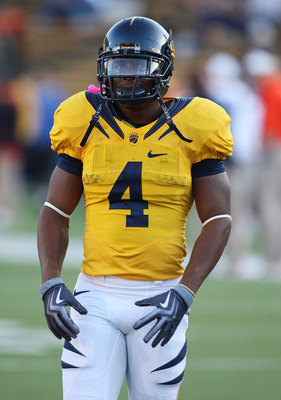 A few years from now, I fully expect to look back at the 2010 draft and say that Jahvid Best was the obvious choice for top RB. In my opinion, Jahvid Best is the most "pro-ready" of all prospects at this position.
He is everything you'd expect from an elite back in the NFL and has a tremendous balance of size, speed, and elusiveness. If he could work on his receiving and pass blocking skills, Best could fit the mold of Clinton Portis, Tiki Barber, or Corey Dillon.
In other words, it wouldn't surprise me to see Jahvid Best among the league leaders in rushing yardage for several seasons throughout his career.
In his sophomore season at Cal, Best put up numbers that ranked him in the upper echelon of rushers in NCAA history. He averaged 8.1 yards per carry, 130+ yards per game, totaling 1,580 yards, and 15 TDs.
At his pro day, Jahvid had intentions of running position drills. When he arrived, there was only one RB coach from the Ravens, who told him there was nothing else he needed to see, thus demonstrating Best's abilities.
Projected Round: Second
Projected Team: Cleveland Browns
There is a laundry list of teams who will look at Best between the end of the first round and early second. I could see Best going to San Deigo, New York, Minnesota, New Orleans, Detroit, and a handful of other teams. The only thing keeping him off those rosters would be greater need at other positions. If the Browns allow him to pass them by, they deserve everything they get.
#4. Jonathan Dwyer - Georgia Tech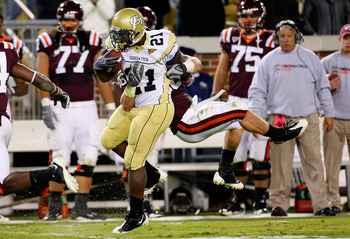 Jonathan Dwyer is MY fourth ranked tailback in this draft, and I'm not certain that most teams in the NFL will have it graded that way.
Two problems with Jonathan Dwyer have risen since the end of the 2009 season. Most obvious is Dwyer's disappointing 40-yard dash at the Combine. Dwyer was clocked anywhere from 4.59 to 4.74, far slower than a team would expect from a potential first or second round pick.
Considering other power backs like Toby Gerhert and Ben Tate ran 40-times a full 10th of a second faster, it will likely close the gap between Dwyer and the rest of the field.
The other issue with Dwyer, and perhaps more problematic, is the fact that his hands measured smaller than any other player at the combine, at 8 5/8". Small hands bring up concerns with both his receiving skills and ball security. This will likely limit him to teams that aren't looking for a receiver out of the back field.
Furthermore, as a power back, it's essential that you are reliable and consistent. If you can't maintain possession, you won't maintain a job.
Projected Round: Third
Projected Team: Miami Dolphins
Maybe this is wishful thinking, but I really want Dwyer to succeed in the NFL, and with Miami, he most certainly would. They wouldn't ask him to catch out of the backfield, and he would be paired with one of the best committees in the league. Will he fall that far? I doubt it. However, there aren't many teams between Cleveland (Jahvid Best) and Miami that will be looking for a tailback, so it is possible.
#5. Toby Gerhart - Stanford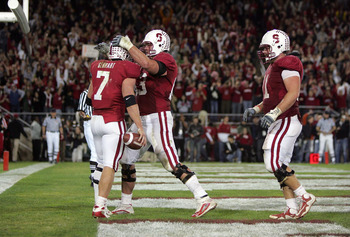 At the Combine, Toby Gerhart went from being a mid-round prospect and potential fullback, to a second round pick and an athletically capable tailback simply by running a 10th of a second faster than expected in the 40 (4.53 and 4.55).
A lot of players upped their draft stock at the combine, but few did more for themselves than Gerhart. Despite his ridiculous numbers at Stanford, there were major questions surrounding the Pac-10 player of the year.
He tore his ACL in 2007, carried a heavy load as a two year starter on the football team, and also played 105 games as an outfielder for Stanford's baseball program. Gerhart possibly raises more questions with regards to wear-and-tear as any player in this draft. Not to mention, he's been lugging around a 6'1", 235 lbs. frame for all those games.
Personally, I would not draft Gerhart, however his college production is impossible to question. He scored 28 TDs in his senior year, six more than any other player. His most impressive performances came on the largest stages against and the best teams on the schedule. The question is, can Gerhart make NFL defenders miss, like he did to those in the NCAA?

Projected Round: Second
Projected Team: Minnesota Vikings
Although he's bigger than Chester Taylor, Gerhart could play a similar role behind Adrian Peterson. He'll need some work on his receiving skills, but he should be able to pick up pass blocking in a hurry. As a 3rd down back, the questions regarding his durability wouldn't be as much of a concern.
#6. Montario Hardesty - Tennessee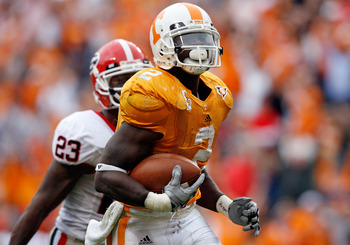 Montario Hardesty is an interesting prospect. He's not tremendously fast, he won't beat you with speed, and he didn't put up particularly impressive numbers in college, yet he has attracted a great deal of attention for the upcoming draft.
This could all be because of his reliability during his senior year, his leadership, his ability to catch out of the backfield, or his willingness to block. Regardless, Hardesty has impressed many scouts, and offers many tools which can be utilized at the next level.
In a word, Hardesty is a football player. He hasn't impressed in any one aspect, but he can seemingly do anything asked of him.
Projected Round: Third
Projected Team: Denver Broncos
The Broncos already have a two-back system firmly in place, so Hardesty likely won't contribute as a rookie. He could serve as an insurance plan for an injury in his first season, as they groom him to take over for an aging Correll Buckhalter. He would draw similar comparisons to the veteran back and would serve as a good do-it-all back to counter punch for Knowshon Moreno.
#7. Ben Tate - Auburn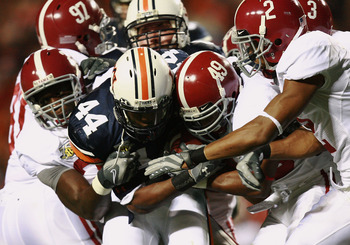 Ben Tate is a lot bigger than his 5'10" 220 lbs. would indicate on paper. He has exceptional tackle- breaking ability and would be a great compliment to any speed back.
Much like Gerhart, Tate earned himself a bunch of money at the Combine. Carrying around that big frame and being considered a bruiser, both lowered his speed expectations. With their stop watches in hand, NFL teams got a pleasant surprise. Tate ran a 4.43 40, ranking him third among all running backs, outdone only by Spiller and Best.
Tate has also lived up to everyone's expectations, by lifting 225 lbs. 26 times, matching Ryan Mathews for the top output by a running back.
With numbers like that, why is Tate ranked seventh among running backs? Mostly because he didn't translate any of his measurable ability into production in the NCAA. Typically, for a back to have success in the NFL, he'll need to set the world on fire in college. Tate simply didn't do that.
Playing out of Auburn, in the SEC, isn't going to help anyone's stats, but a guy like Montario Hardesty put up much better numbers playing against the same competition, while playing in a much less run-friendly system.
Tate could be a very good back in the NFL, but his expected lack of production early in his career will see him fall to the late second to third round.
Projected Round: Third
Projected Team: Philadelphia Eagles
Philadelphia will rebuild their team with their 11 picks in 2010. With the loss of Brian Westbrook, the Eagles will need another tailback. I'm not certain that Tate will work here, but I think the Eagles will find it hard to pass on him with pick 87.
#8. James Starks - Buffalo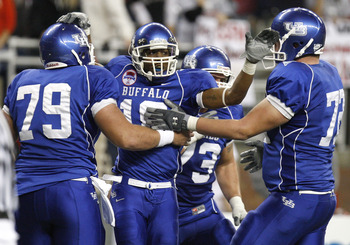 Had James Starks played in his senior season, we might be talking about him as a second round pick. Unfortunately, he's coming off a torn labarum, which kept him out of action for all of 2009. A shoulder injury isn't of particular concern for his future as a tailback and according to Starks, he's back to 100 percent.
Playing under Turner Gill, Starks was always poised for success at the NCAA level. Even in Gill's absence, the Bulls were able to put up great rushing numbers from a committee of three, maybe even four backs sharing the load. This fact could be working against him, given the success of almost everyone in Turner Gill's system.
That being said, Starks was the tallest back at the combine, while weighing in at a svelte 218 lbs. He ran a 4.5 40, which is fast enough, considering he hadn't played a meaningful down of football in more than a year.
Several teams have already set up workouts with Starks, and I'm sure there will be many more in the next two weeks. Everyone will want to see exactly what kind of shape he's in, and whether he can handle different situations he wasn't subject to at Buffalo.
Projected Round: Fourth
Projected Team: New England Patriots
The Patriots haven't had a running option since Corey Dillon, and prior to that, it was Curtis Martin. James Starks projects to be nothing like those guys, but it doesn't take away from the fact that he could be a franchise tailback for a team in need of a new option at the position and I know the Patriots have been sniffing around. Maybe it's a smoke screen, maybe it's genuine interest, but either way, I'm sure Belichick could make him work.
#9. LaGarrette Blount - Oregon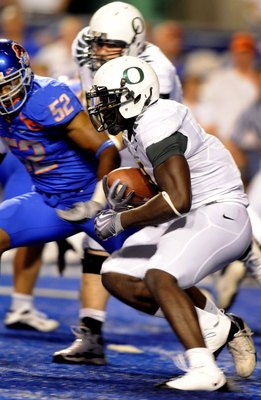 Here is another example of a player who's draft stock fell after missing the majority of the 2009 season. Starks' absence was due to injury and Blount's was due to a more problematic situation. Everyone knows about the events that transpired in Oregon's season opener, but the impact this will have on his draft stock remains to be seen.
If I'm a general manager, I wouldn't read too much into it. I could imagine that a large percentage of current NFL players would have reacted in the same way in a similar situation. Not to condone his actions, but he was obviously passionate about losing their season opener, which is a more redeeming quality than someone who is indifferent to their team's wins and losses.
Blount disappointed at the Combine, running 40 times in the high 4.6s. His draft stock further depreciated when it was reported he missed the Oregon Pro Day. However, it was a case of a reporter not doing his homework. Blount was never scheduled for that particular Pro-Day, he was scheduled to participate in the second Oregon Pro-Day, giving himself more time to prepare.
To his credit, against that adversity, Blount dramatically improved his 40 times, running 4.55 and 4.53 respectively, while also looking solid in his position drills.
In my opinion, Blount's offseason behavior grew leaps and bounds over the 2009 season. Upon his reinstatement, he accepted a lesser role and gave a full effort on each play.
Projected Round: Fourth
Projected Team: Pittsburgh Steelers
Pittsburgh got away from the running attack last season. Offensive Coordinator, Bruce Ariens, is known for being pass-oriented. However, coming off the disappointment of the 2009 season, the Steelers will most certainly focus on re-establishing the running game in 2010. With LeGarrette Blount, the Steelers might intend to institute a two back system with "The Bus II."
#10. Joe McKnight - USC
It's with the benefit of the doubt that Joe McKnight makes my list.
Joe McKnight has underachieved throughout his entire NCAA career, and even more so during his senior year. Word has been circulating that he was struggling with a toe injury during the latter part of the 2009 season, which would correlate with the drop in his performance.
As we've seen with some great backs of all-time, a bad toe could be one of the most debilitating injuries sustained by a player at that position.
McKnight has all the tools. He was a little smaller during his USC days, but since the end of the regular season, he has gained nine lbs., bringing him up to 200 lbs. in a 6 foot frame.
To McKnight's credit, he was given the majority of the carries in arguably the deepest backfield in the country. The fact that he beat out guys like Emmanuel Moody, Stafon Johnson, Allen Bradford, C.J. Gable, and Stanley Havili, is a testament to his talent.
He projects to be a solid 3rd down back in the NFL, but he's a prospect that could go on either end of the spectrum, all the way from total bust to total steal.
Projected Round: Fourth
Projected Team: Seattle Seahawks
Not because Pete Carroll would be calling the shots, but because McKnight would be the best RB available at 124. If McKnight lasts until this point of the fourth round, which he probably won't, the Seahawks would have to use a pick on him.
More position rankings:
April 8—DB/WR
April 9—Safety/TE
April 10—LB
April 11—RB
April 12—DE
April 13—QB
April 14—DT
April 15—OL
April 16—Mock Draft
Keep Reading