The 25 Most Hilarious Signs in Sports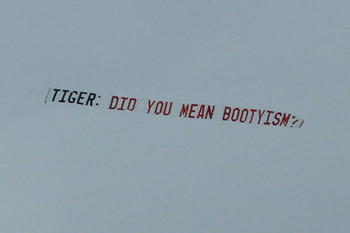 Phil Mickelson may have come away from the Masters as the big story with his third win at the tournament, but after the first round the most talked about part was the taunting banners being flown over Augusta making fun of Tiger Woods.
Apparently there were more planned, but the plane and the rest of the banners got grounded. Still, the three signs that flew over were one of the funniest and creative signs I've seen in a long time.
So in honor of the visionary who commissioned the banners, here are The 25 Most Hilarious Signs In Sports.
25. Major League Bong Hits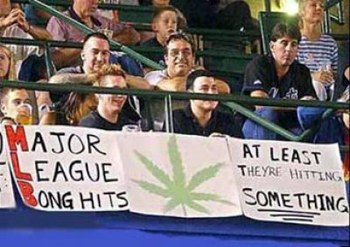 I'm not quite sure when these signs showed up, but I feel like somebody should bring them out of retirement for every Tim Lincecum start.
24. Raiders Fan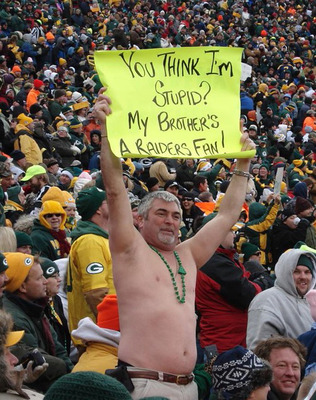 The best part about this sign? The truthfulness.
As crazy as anybody is going shirtless in Green Bay, being a Raiders fan is even more self-flagellating.
23. Tim Hardaway Hates LSU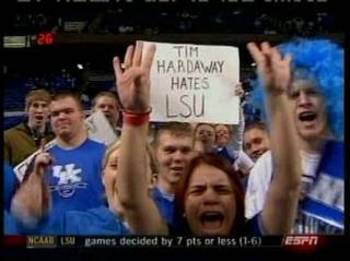 This came out after Tim Hardaway came out and said that he hated gay people.
Either Tim Hardaway is just extra hateful or LSU is gay. Either way, tough break for the Tigers.
22. Tasty Kings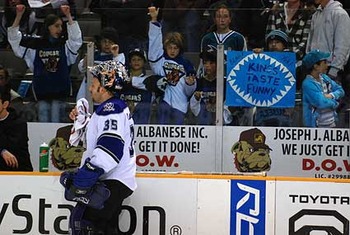 As a King myself and a native of San Jose, I'm torn on this sign. Still, it made me laugh.
21. Beer Strike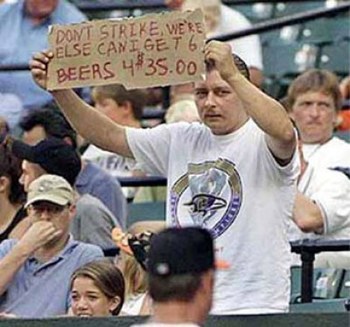 This guy has the right idea. The games are secondary, we really just want to come for the horribly overpriced beer and pretzels.
20. LS-Ewww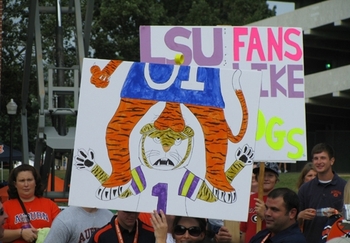 That's Tiger on Tiger crime right there.
19. Take My Team, Please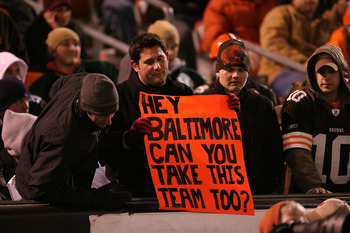 Browns fans were heartbroken when their team got ripped from them and shipped to Baltimore.
But since they got their team back, they've been so bad that they actually wish for the good ol' days when they didn't have a team anymore.
18. Chase Daniel Eats Boogers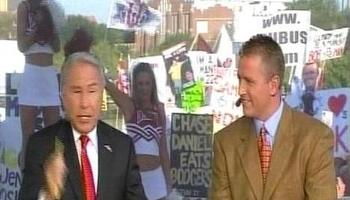 I hope I never get too old to think booger jokes are funny. Especially on TV.
17. Offensive Sign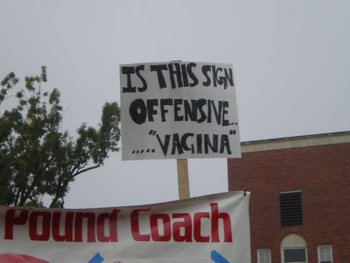 Just in case the original sign wasn't offensive enough.
16. Five Hole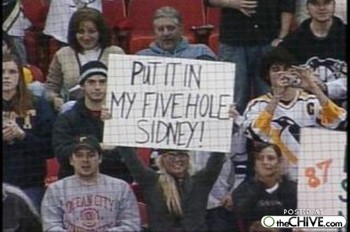 At least she's honest about it. A true female fan would let Sidney do whatever he wanted to her.
15. Lou Holtzsss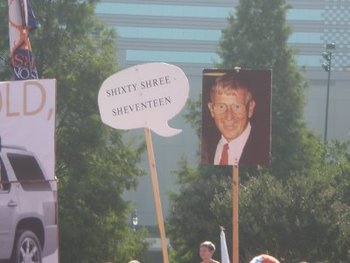 If we have to put up with Lou Holtz being on TV, the least we can do is make fun of his speech impediment.
14. OJ Can't Catch A Break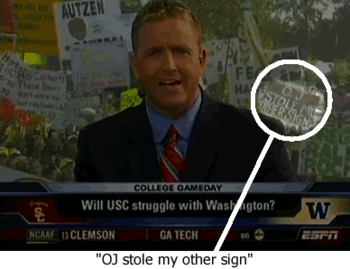 After OJ got arrested robbing some guys, Washington fans had some fun with the USC grad.
13. Corso Wears A Murkin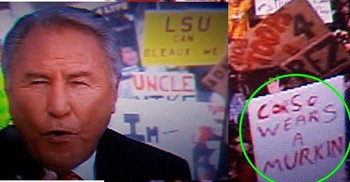 Just Google it.
I'm undecided as to whether the sign is funny or accurate. I'm going with...both.
12. Purdue Burn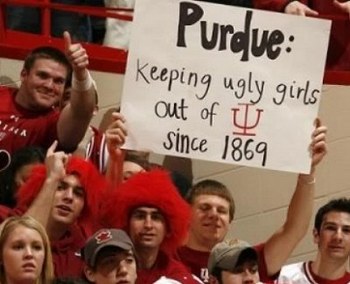 From everything I've heard about both schools, this is a pretty accurate burn, which we all know are the worst burns of all.
11. Tebow Wears Jorts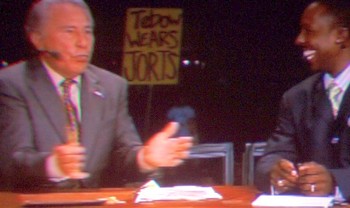 I don't know what Tebow expected when he took this picture, but this seems about right.
10. There IS A Resemblance
Sometimes the simplest ones are the best.
9. Sex Addict? Yeah. Right. Sure. Me Too!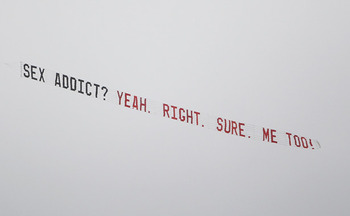 Yeah, that was pretty much my opinion of this whole sex addict thing, but it's so much funnier being flown over the Masters.
8. Best 'Sportscenter Is Next' Sign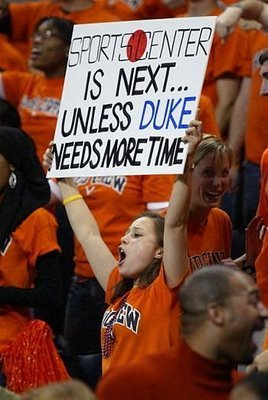 This happened after Duke beat Clemson when their timer didn't start the clock until later, which allowed Duke to win the game.
Those "Sportscenter Is Next" signs annoy me most of the time, as do any signs that use the letters "ESPN," "FOX," "CBS" or "NBC," but this one was pretty clever.
7. Welcome Fellow Scholars!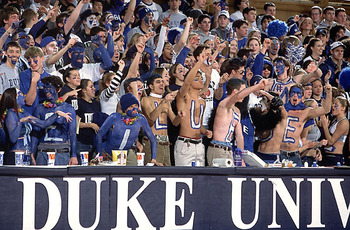 I couldn't find any pictures of it, but after Duke fans got reprimanded for being too crude to an opposing player, they cleaned up their act in a hilariously sarcastic way by making signs that said:
"Welcome Fellow Scholars" and "A Warm and Hearty Welcome to Dean Smith."
6. Bruce Pearl & Pat Summit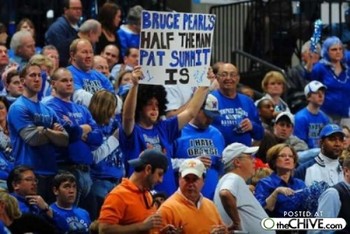 The thing is, that's actually not much of an insult to Bruce Pearl.
5. Well Placed Thought Bubble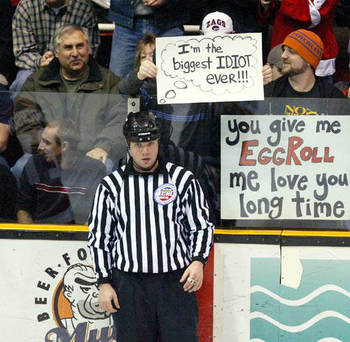 This is a classic case of a fan knowing exactly how to utilize their seats. The guy knew he was going to be near where the refs stood and figured out a great way to taunt the refs.
I bet the guy next to him is pretty stoked that his stupid sign got immortalized as well.
4. Jesus Saves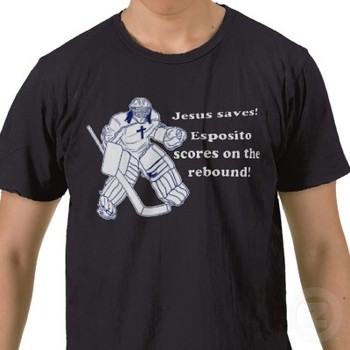 Another sign that I couldn't find a picture of, but is an absolute classic.
It has since been turned into a t-shirt, but was just an awesome idea and gives even more status to the legend of the great Phil Esposito.
3. Coach K And The Count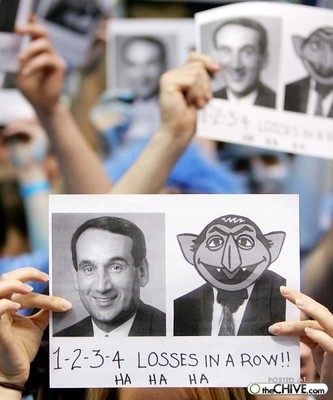 Duke normally gets the best of UNC in the sign and taunting category, but Tar Heel fans took advantage of a rare Duke loss and the resemblance of Coach K to one of many characters.
This cracked me up.
No. 2: Pregnant Refs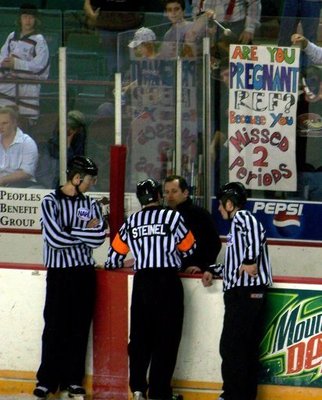 A good ref taunt is hard to come by, but this is one of best I've ever seen. Kudos to whoever thought of this one.
No. 1: Ly Gay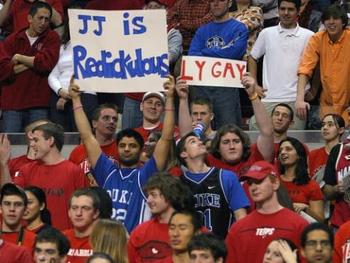 Best sign ever. So simple, yet so completely awesome.
Keep Reading