NHL Playoff Preview & Prediction: Detroit Red Wings Vs Phoenix Coyotes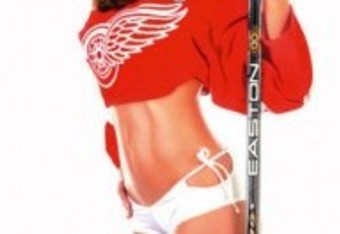 vs

Season Series: Phoenix 2-0-2
CLICK BELOW TO SEE ALL PLAYOFF GAME PREVIEW AND PREDICTIONS:
NHL WESTERN CONFERENCE PLAYOFFS ROUND ONE PREVIEW AND PREDICTIONS
The Phoenix Coyotes! Wow, did anyone before the season started expect the Coyotes to be in the playoffs, let along have home-ice advantage in the first round or 107 points to finish the season? Truly unbelievable. Before this year got under way, all the talk was about Jim Balsillie trying to move the team to Hamilton, Ontario. Half-way through the season, all the talk turned to 'Are the Coyotes for real or will they collapse as the season continues'… and now, the talk has turned to 'Who the heck are the Phoenix Suns? Go Yotes Go!' The Coyotes are in the playoffs for a couple of reasons but the obvious reason has been due to the stellar play of their netminder Ilya Bryzgalov, who without a doubt, is one of the better goalies in the league. I mentioned in my Eastern Conference write-up's that the Buffalo Sabres aren't a team with high-profile or high-priced players. Well, the Coyotes are an even lower profile team with a mass group of players who all produce mediocre stats but together have learned a way to out-play and out-smart their opponents.
Twelve Coyotes have over 20 points on the season but none of them have over 60 and listed on NHL.com are the top 30 players by points (list shows top 30) and you got to dig to page two to find their leader in points (Shane Doan) who is around 70th in the NHL. None of that will matter though, because Doan along with Matthew Lombardi, Radim Vrbata, Scottie Upshall, paired up with defensemen such as Adrian Aucoin, Ed Jovanovski and Zbynek Michalek, along with Ilya Bryzgalov playing well between the pipes… the Hamilton Phoenix Coyotes are for real. When people said they needed to move and had no fan base, they've found a way to make that grow this year. When everyone doubted them and said they'd fail, they played even harder and won more games. And when the playoffs get under way and they skate onto the ice in Jobing.com Arena (stupid name), don't expect it to look like this team was not fighting to stay in Glendale just a mere eight months ago.
At one point this season, the Detroit Red Wings could be consider the Detroit Dead Wings. A team known for making the playoffs was at one point (pre-Olympic break) looking like they were all but done. A team who last time they didn't make the playoffs, was the 1989-90 season and if you are a Detroit fan, every year they give you something to cheer about. Those we're the years of Steve Yzerman, Sergei Federov, Brendan Shanahan, Igor Larionov… among many other greats. Now the team is lead by co-superstars Pavel Datsyuk and Henrik Zetterberg and don't think I am saying that those two superstars aren't great because they are two of the best in the league but they also have the best defensemen to quite possible ever play the game, Niklas Lidstrom. But the Red Wings don't look like the Detroit teams of the past where even though they had big names, their experience was the key to their greatness. Picking up the likes of Todd Bertuzzi and Patrick Eaves isn't going to win you the Stanley Cup… after all, it barely got them into the playoffs folks.
If it weren't for the month of March when the Red Wings went 12-3, their 19-year consecutive playoff appearance streak would have come to an end. These aren't the Red Wings of old, they are younger and have more energy but unfortunately havn't found their way yet against a tough Western Conference who has caught up to the Red Wings who have appeared in the Stanley Cup the last two years. Getting there three years in a row is next to impossible. The main problem for Detroit comes in their net with starter Jimmy Howard (who? yeah, exactly) between the pipes and his back-up Chris Osgood was nicknamed "Osgreat" a few years ago, but now has completely fallen off the map. The Red Wings can put up a fight with any team in the league, but 2010 is not their year, will they get passed the inexperience of the Coyotes, yes but not the second round.
** I will note (for Chris' sake) that the Red Wings were extremely injured all season long and as they got healthier, they got better... but I stand by what I say that I'd take Bryzgalov over Howard for all 82 games in the season. Even if Howard is better statistically speaking, Bryzgalov has experience, as well as (my opinion) not as good of a team in front of him. Which in my mind is just as valuable and if the Red Wings could choose between the two tenders.. I think they'd pick Bryzgalov. **
** Also, I've changed my pick to the Red Wings in SIX .. which I was flip-flopping between to begin with **
TheCoach's Pick: RED WINGS in SIX
This article is
What is the duplicate article?
Why is this article offensive?
Where is this article plagiarized from?
Why is this article poorly edited?

Detroit Red Wings: Like this team?