5 Forwards The Toronto Maple Leafs Should Pursue Come Free Agency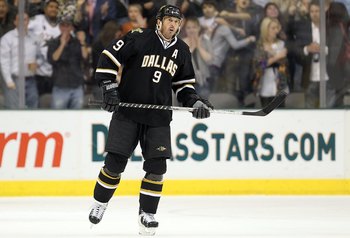 I'm sure everyone is aware that the Toronto Maple Leafs aren't exactly the epitome of success in the NHL. They currently sit 15th in the Eastern Conference which is not really something to be proud of, everyone knows that. They would have had the NHL Draft to look forward to this year, but they dealt their 1st Round Draft pick to the Boston Bruins. Ouch and right now they could have gone as high as 1st overall!
However if you look at the Maple Leafs hockey team you'll actually see that it's looking pretty good. However, there are still changes to be made. With 1 or 2 more good players, the Leafs could potentially make the NHL Playoffs next year! With a team made up of guys like Jean-Sebastien Giguere, Phil Kessel, Dion Phaneuf, Tomas Kaberle and others, things are looking pretty good for the Maple Leafs.
Still the offense is the area that needs to be improved for the Toronto Maple Leafs. They do not have a strong offensive presence. The next opportunity for the Maple Leafs to pick up some good players is during this year's Free Agency period. There are a few really good players out on the market that would be a great asset to the Maple Leafs.
Patrick Marleau
Although this would force the Maple Leafs to really throw some money around, it is definitely worth it. Patrick Marleau is set to become a free agent for this year's NHL Free Agency period and if Toronto could land this great centerman right here in Leafs nation our playoff dreams could be very bright.
Marleau's current contract with the San Jose Sharks has him making 6.3 million per year. That is quite the price for Toronto to pay, but think of it this way. Patrick Marleau and Phil Kessel playing side by side. Doesn't that bring intimidation to the other teams? Patrick Marleau and Phil Kessel would be a very dangerous combo for other teams to watch. They could definitely rack up some good points for the Toronto Maple Leafs.
So when it comes to the free agency period, the Maple Leafs should definitely target Patrick Marleau. Although it means clearing up some room on the cap, it'll all be worth it when the light at the end of the other team's end comes on.
Mike Modano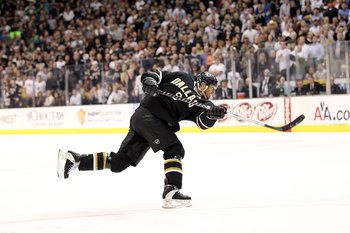 The veteran centerman, Mike Modano would be an amazing asset to the Toronto Maple Leafs. Despite his age, Modano can still score with the best of them. He could do great work on the Toronto Maple Leafs first line.
Mike Modano's career in Dallas is wrapping up for good. He knows it, the fans know it and the entire team knows it. They say all good things must come to an end, that's absolutely true in this case. Come Free Agency he will be looking for a new home and if he finds it in Toronto then I can almost assure you great things for the Maple Leafs.
It would be great to have such a veteran presence on the Toronto Maple Leafs team. He's someone who has Stanley Cup winning experience. I'm not jumping the gun and saying he'll carry the Maple Leafs to the Stanley Cup. We'll need a wing and a prayer for that, but he will definitely affect the Leafs squad and the feeling in the locker room.
He didn't put up crazy points this season in Dallas, but maybe a change of scenery can turn that all around. Mike is currently earning 2.25 million per year under his expiring Dallas contract. I have a feeling an offer about 2 million per year can lock him up a contract in Toronto. So I'm hoping that on July 1st we'll hear this on your local sports channels, "Breaking News! Mike Modano signs deal with the Toronto Maple Leafs."
Matthew Lombardi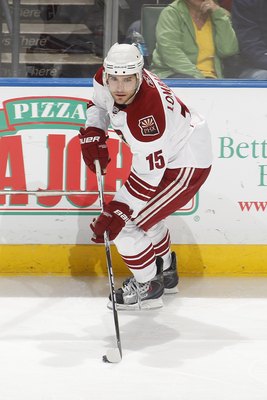 Matthew Lombardi would be a great addition to the Toronto Maple Leafs squad. The young, speedy centerman could be an interesting addition to the team. This forward has not fully realized his potential yet and that's the great thing. Lombardi could still evolve when it comes to his play and to have it evolve right here in Toronto would be great for our squad.
Lombardi is 28 years old and is currently playing the final year of his contract with the Phoenix Coyotes. He is currently making 2.35 million per year in Phoenix. A affordable price for the Maple Leafs.
Lombardi has great speed, no doubt about that. I would love to pair up a guy like Matthew Lombardi and Phil Kessel and see what will become of it. Hopefully we'll see some great numbers from both of them.
Lombardi has yet to have his breakout season when it comes to points totals. His highest season for points has been the 09-10 season, the one currently in progress. He has attained 53 points so far. Not exactly a jaw dropping total, but as I said before he has yet to realize his full potential yet. A guy like Phil Kessel could help him do that. Kessel is a great player and I could definitely see those two making some magic on the ice.
So when it comes to Free Agency this season, I'm hoping the Maple Leafs do indeed target this forward so we can see what he's really made of in Toronto.
Ray Whitney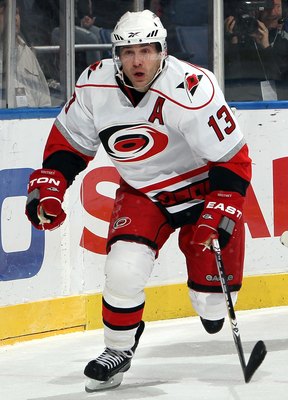 Ray Whitney is a guy who loves to jump around teams a lot, well maybe it's time for him to jump to Toronto. Many people were surprised when Ray Whitney did not move at the Trade Deadline. He is a guy who usually bounces around teams at that time. Well he will be bouncing around come Free Agency because he is set to become a unrestriced free agent at the end of the season.
Well what if Toronto managed to land the veteran winger? I think it would really benefit the team. Pairing him up on a line with Phil Kessel would certainly get his points total up if you ask me, plus think of this. The Leafs have just signed both Matthew Lombardi and Ray Whitney and they make their first line Whitney/Lombardi/Kessel. I think that would be a pretty formidable line for the Maple Leafs and could get them some good points.
I know the Leafs aren't exactly the best team out there at the moment, but hey, neither are the Carolina Hurricanes. So I think this would be a step up for Ray because next year will be different for the Maple Leafs, no doubt. I don't know if the playoffs are certain yet, but I think they can certainly make the run for playoffs.
So this July 1st, I'd be looking for the Toronto Maple Leafs to pick up Ray Whitney and help make their team stronger, for the sake of the fans.
Todd Bertuzzi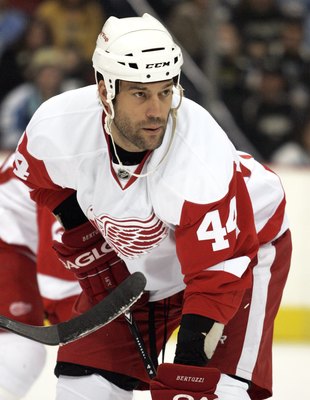 I know you already have Colton Orr on the team, but adding some tough players never hurts. Well it does hurt for the other guys. Todd Bertuzzi could be a great addition to the Maple Leafs. He's got that tough style of play and can put points on the board when called upon.
Todd Bertuzzi could make the Toronto Maple Leafs that much more feared when you have to play against them. Bertuzzi isn't exactly playing his top scoring years anymore, but maybe aligning him with some good scorers and playmakers could egnite his flare for scoring once more. Calgary tried to do it when they tested out Iginla and Bertuzzi on one line, it got him 44 points that season. Maybe Kessel will have a better effect on him.
Bertuzzi's best year was in 02-03 when Todd Bertuzzi was a member of the Vancouver Canucks. He attained a career high 97 points that season. Now, no one is expecting him to put up numbers like those anymore, but we'll settle for a decent 50-70 points. Hopefully he'll be able to at least produce that much.
Bertuzzi is a big man on the ice that can hit you so hard you won't know what the hell just happened to you. We need that kind of play in Toronto. When the Anaheim Ducks won the Stanley Cup they had one of the toughest teams in the NHL and some players you should really fear. Now toughness doesn't win championships alone, but it sure as hell does help.
Todd Bertuzzi, I'll be waiting!
Closing Segment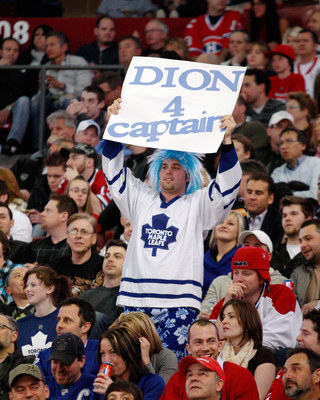 The current state of the Toronto Maple Leafs franchise isn't looking too bad. With some work and a few new faces in Toronto we may be breathing that spring playoff air in no time. Now the same can't be said about winning the Cup, but hey we can always be hopeful that we'll be those underdogs no one expects. This season may be done, but the next is looking brighter than ever for the Toronto Maple Leafs. So for those who have been calling us a joke franchise, watch out! We're going to make you eat those words sooner or later!
Now obviously not all these guys can be signed, thank you very much cap limit. Still, the more of these guys you can get on the team, the better. July 1st isn't too long of a wait, time passes rapidly in the hockey world. So before you know it we'll actually know who the Leafs signed. I thin I speak for the whole Leafs nation when I say, I can't wait!
This article was originally posted on The Sports Dossier under the name "5 Forwards The Toronto Maple Leafs Should Pursue Come Free Agency." Check out more great pieces from our talented staff of writers.
If you're a writer who thinks they have what it takes to write about NHL, NBA, MLB, MMA, NFL, World Football, Pro Wrestling and more, then apply to TSD. Email me at thejerichomark@hotmail.com and we'll talk business.
Keep Reading

Toronto Maple Leafs: Like this team?