2010 Philadelphia Eagles Mock Draft: Revitalized Defensive Intensity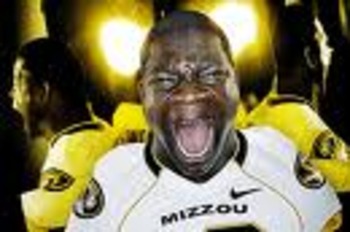 The Philadelphia Eagles 2009 season couldn't have ended worse—-with two straight blowout losses to their bitter rival--the Dallas Cowboys.
The front office blew up the roster this offseason, releasing Brian Westbrook and Shawn Andrews, and trading Donovan McNabb and Sheldon Brown. They are obviously trying to get younger.
With eleven draft picks, that should be an easy task.
They also have enough picks to fill all their needs without reaching for a player.
The Eagles have plenty of young stars on offense. They must now focus on the defensive side of the football to keep up with their improving NFC East rivals.
First Round: Sean Weatherspoon, Outside Linebacker, Missouri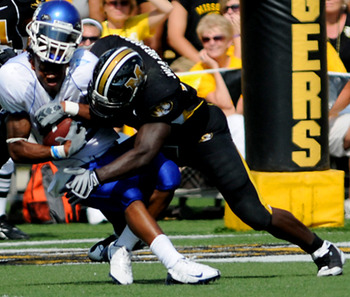 Weatherspoon can be the leader the Eagles defense has been lacking since the departure of Brian Dawkins last offseason.
His intensity fits in perfectly with Philadelphia's blitzing scheme. Philly really needs a major upgrade at outside linebacker.
Stats: 388 tackles, 12 sacks
Second Round: Devin McCourty, Cornerback, Rutgers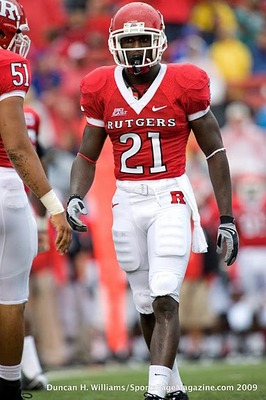 The Eagles traded starting cornerback Sheldon Brown to Cleveland leaving open a starting spot across from Asante Samuel.
Devin McCourty should be able to compete right away with Ellis Hobbs for the starting job.
Stats: 6 interceptions, 231 tackles
Second Round: Daryl Washington, Outside Linebacker, TCU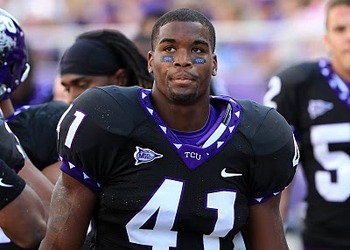 Yes, another outside linebacker.
The Eagles line backing core has been a weakness for the past few years.
Adding Daryl Washington, Sean Weatherspoon, and a Stewart Bradley return will give them the most talented group of backers they have had for quite a while.
Stats: 219 tackles
Third Round: Vladimir Ducasse, Offensive Tackle, UMass
Jason Peters struggled against DeMarcus Ware and the Cowboys, and Shawn Andrews was released.
The gigantic Vladimiir Ducasse will give the Eagles another option at offensive tackle.
Ducasse can also play guard.
Third Round: Koa Misi, Defensive End, Utah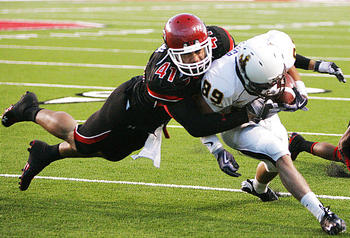 The Eagles need a pass rusher to play across from Trent Cole.
Koa Misi will sub in for run-stopping defensive end Daryll Tapp on passing downs.
Stats: 198 tackles, 10 sacks
Fourth Round: John Jerry, Offensive Guard, Ole Miss
Todd Herremans is only a slightly better-than-average lineman, and Stacey Andrews struggled last season.
John Jerry is another massive lineman who would eventually work his way into the starting lineup.
Fourth Round: Major Wright, Free Safety, Florida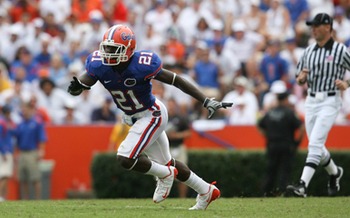 Free safety could have been addressed earlier, but Major Wright in the fourth is the best value compared to other options in prior rounds.
Wright should battle for playing time with Marlin Jackson and Macho Harris.
Stats: 8 interceptions, 180 tackles
Fifth Round: Eric Olsen, Center, Notre Dame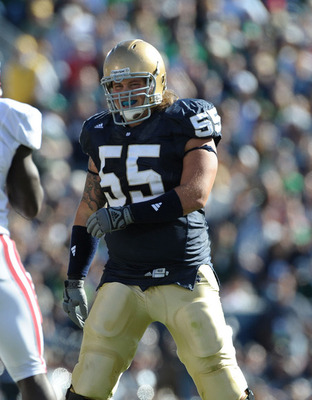 Philadelphia doesn't have much depth behind Jamal Jackson at center.
Eric Olsen would provide quality depth to an often injured Eagles line. Olsen can also play guard.
Sixth Round: Zac Robinson, Quarterback, Oklahoma State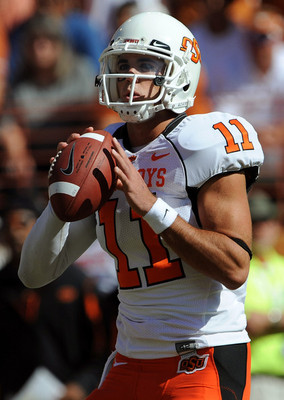 First, the Eagles traded Donovan McNabb, and now Michael Vick trade rumors are popping up. Philadelphia needs to draft a quarterback to compete for the second-string job.
Stats: 8317 passing yards, 66 touchdowns
Seventh Round: Matt Dodge, Punter, East Carolina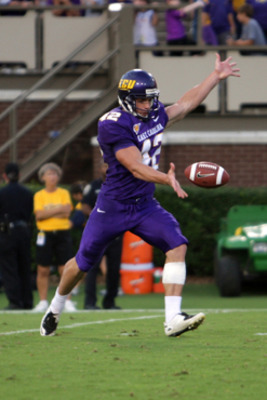 Sav Rocca is one of the worst punters in the NFL and can easily be upgraded.
Matt Dodge is the best punter in the 2010 draft class.
Stats: 45.8 yards per punt
Seventh Round Ryan D'Imperio, Inside Linebacker, Rutgers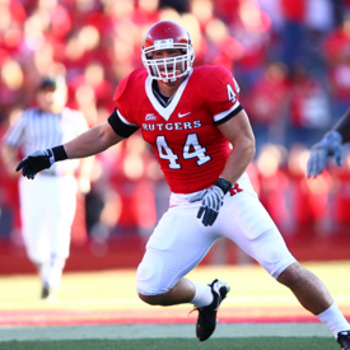 The Eagles could upgrade their depth at inside linebacker. Ryan D'Imperio is an athletic linebacker who is solid at getting to the quarterback.
Stats: 177 tackles, 6 sacks
Unrestricted Free Agent: Greg Boone, Tight End, Virginia Tech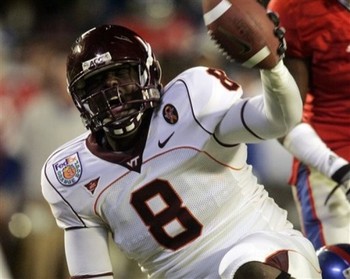 The Eagles could use a blocking tight end to play across from Brent Celek.
Greg Boone is a blocking specialist who weighs around 280 pounds.
Keep Reading

Philadelphia Eagles: Like this team?