2010 NBA Draft: Who Should Declare and Who Should Go Back To School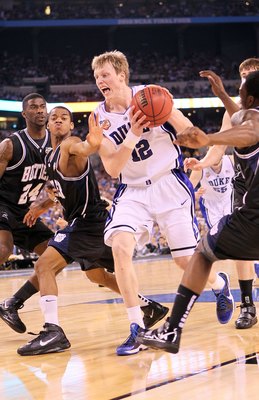 The NBA season is a few games away from being over and the playoffs will be underway.
Out of the 30 teams, only 16 make the playoffs, leaving the other 14 with an early offseason and holes to fill.
Teams that are lottery bound tended to focus on the NCAA tournament to witness those college players showcasing their skills. Many players had breakout tournaments and others had tournaments they want to forget.
If the NBA Draft was today—even though the declaration deadline hasn't came upon us yet—here are the players that I believe should declare and the players that should stay at school.
Gordon Hayward - Stay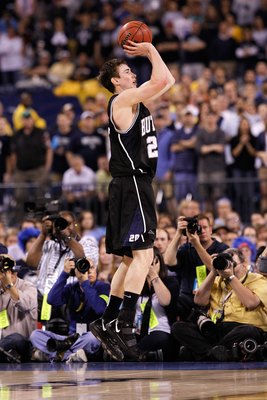 This Gordon Hayward kid is the real deal.
Hayward led the Butler Bulldogs all the way to the NCAA championship game after knocking off both the No. 1 and 2 seeds in their region.
Before this, many people never knew who he was. Many never even heard of the Butler Bulldogs.
But with Hayward's leadership and maturity down the stretch, it helped wheel and deal his team to the biggest game in school history.
That isn't enough.
Although he is considered as a lottery pick this year, one more year of college basketball is needed.
He is often soft with the basketball, what I mean by that is he shows little aggression. He is a great ball-handler but only once or twice will you see him beat someone off the dribble.
Hayward is 6'8" but plays more like a guard with no post moves—this won't translate well into the NBA.
Hayward showed he was a great player in the NCAA tournament, but before any NBA team can take him seriously, he needs to improve his mechanics and consistency.
In my opinion, Gordon Hayward stays in school.
Eric Bledsoe - Stay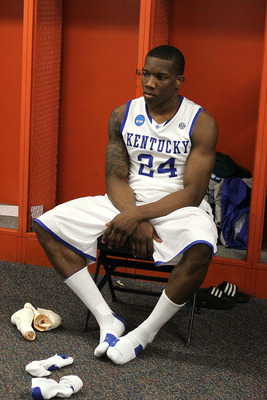 Many expected Eric Bledsoe to return to school and play for Calipari one more year, and possibly go in the top five of the 2011 NBA Draft.
Well not the case here. Eric Bledsoe and four other Kentucky starters entered their names in the NBA Draft this year and all are believed to be lottery picks.
Eric Bledsoe was recruited out of high school as a true point guard. However, after this year Bledsoe was more of a two guard, playing behind freshman sensation John Wall.
Even at the two guard position, turnovers posed a problem for the 6'1" guard. Bledsoe's decision making wasn't the greatest, but playing besides some great players hid that flaw.
He is not really defensive and doesn't use his frame to his advantage. Scouts never really got to see his leadership ability because he was always playing the role of the two guard and his ball handling skills still bring questions.
Do I think he can be a good player in the NBA? Sure, but he does have a lot to improve.
In my opinion, Eric Bledsoe needs to go back to school.
Kyle Singler - Goes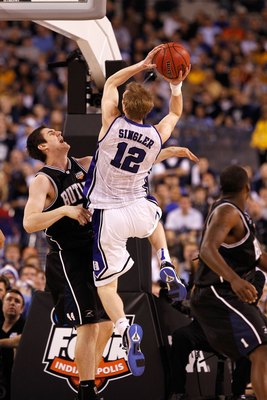 Kyle Singler, in his third year in the league, reached the highest pinnacle of any college basketball team—the National Championship.
Through the season, it was all about the big three, Scheyer, Smith, and Singler. Each one of them played a key role for the Duke basketball offense.
Like any smart player, you have to look back on your college career. Singler has won a championship, has intangibles, leadership ability, and a good jump shot. In my mind, there is nothing more that college basketball can offer him.
I've heard people compare his game to the likes of Dirk Nowitzi ,on account of the inside/outside game that they both grasp.
Kyle Singler, in my eyes, hasn't maximized his draft stock yet, but when he works out for teams they'll fall in love with his arsenal.
Singler will follow in the footsteps of some great Duke players.
In my opinion, Kyle Singler declares for the Draft.
Ed Davis - Stay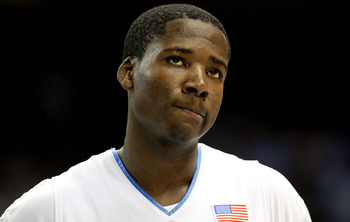 Ed Davis impressed a lot of scouts after his freshman campaign at North Carolina, but his decision to go back to school and play one more year may come back to haunt him.
Davis was said to be a lottery pick in this upcoming draft before the college basketball season even started.
Davis is 6'9" but plays bigger than his size. He is a very crafty lefty with a lot of post moves. His creativity on the offense side of the ball, mixed with great footwork, allows you to have a great post presence.
He plays well above the rim and can throw down whatever he gets his hands on.
Davis is very alert on the defensive side of the ball as well. He is known to use his long arms to advantage by blocking and altering shots.
However for scouts, they weren't able to see his full potential because of his injury. The injury also dropped his draft stock, leaving him to make the decision to go or stay.
Well in my opinion, he should stay at school.
Daniel Orton - Stay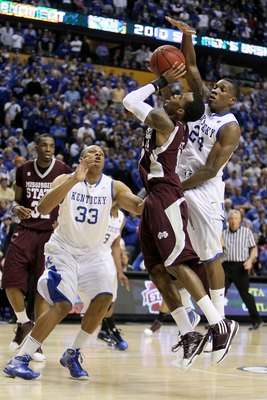 Daniel Orton is a 6'10" power forward who played alongside some definite lottery picks in Patrick Patterson and DeMarcus Cousins.
All year, Orton was used lightly. He averaged only 13.2 minutes per game and never really had the chance to show scouts what he can do.
He never had double-digit rebounds and his game-high for points was 14.
However, in those limited minutes, Orton did show he could play the game of basketball. He is a very strong player and I have to guess his defensive ability has progressed as he normally was practicing against All-American DeMarcus Cousins.
Nevertheless, Orton needs another year of school to prove to scouts he can be a dominant center.
In my opinion, Orton needs to return to school.
Ekpe Udoh - Goes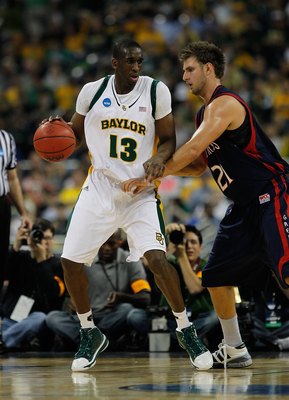 Ekpe Udoh was great for the Baylor Bears this season.
Udoh averaged 13.9 points, 9.8 rebounds, and 3.7 blocks.
Tell me if you can find a better defensive forward in this draft.
Udoh was the real deal for the Bears. The post was his home and he didn't let anything come easy.
He altered lay-ups, blocked shots, and rebounded the ball. He made everything just plain difficult for the opposing team.
He does have the offensive skill set but it isn't great. His jump shot needs to improve, but in my opinion, that is one of the easiest mechanics you can inherit as you make your transition from college to the pros.
Udoh's size, athleticism, and defensive ability will not let him stay away from the draft. Right now he is projected to be a very late lottery pick or at the most, taken in the middle of the draft.
In my opinion, Udoh declares for the NBA draft.
Jimmer Fredette - Stay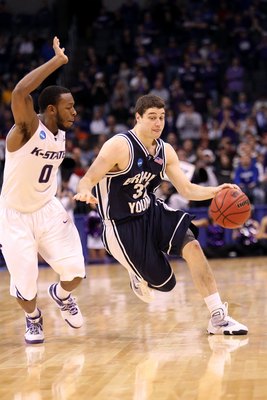 Jimmer Fredette was the leader of that electrifying BYU team in the NCAA Tournament.
Jimmer Fredette has looked at the NBA draft, and wanted to test the waters, but that's not the smartest decision.
Fredette is known as a combo-guard. He is 6'2" and is really more of a two guard than anything. This hurts him going into the next level.
There aren't many players his size that are two guards, and the fact that he isn't a true point guard hurts his stock as well.
He isn't very athletic and needs to improve his consistency. He has shown he can dominant on offense, but in their last game of the season, he allowed Kansas State's junior guard, Jacob Pullen, to take him right out of the game.
He struggled handling the ball, shooting, and finishing at the rim.
Fredette needs to improve a lot before he can become a great NBA draft prospect.
In my opinion, Jimmer Fredette needs to stay in school.
Alex Tyus - Stay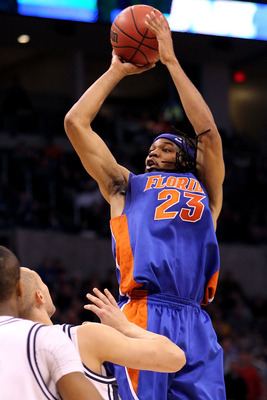 Alex Tyus was one of those players that wanted to test the waters.
He wanted to see where he could go and what he needed to improve on. Well after this long list, Tyus will regret putting his name in the draft.
Tyus is a 6'8" forward that plays very big for his size. He is very strong on the offensive, as well as defensive, glass. He has shown he can block shots but his biggest concern is consistency.
Tyus is a good prospect no doubt, just not this year.
First off, Tyus doesn't inherit marquee post moves, he is not very assertive on the offensive end, and seeing that he isn't very defensive, he isn't that great of a prospect after all.
Tyus needs to improve his jump shot, his play making ability, defensive ability, aggression, cut down on turnovers, free throws shooting, and his post moves.
Tyus can be a good player in the NBA, but as of right now, he is not NBA ready.
In my opinion, Tyus needs to return to school.
Luke Babbitt - Goes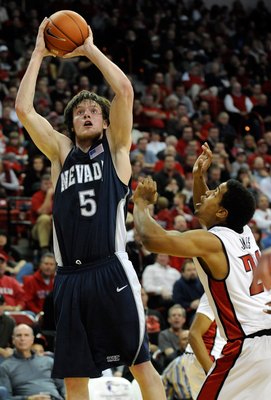 Man, isn't this kid, Luke Babbitt, fun to watch.
He can play both the three or four position and play them well.
In my opinion, he is more comfortable at the three. He is very consistent with his shot and post moves. He usually catches the ball outside the paint and either drives or shoots over you.
He has a very quick release and his jump shot is so efficient he makes a lot of those driving lay-ups or pull-up jumpers.
Babbitt is a very smart player on offense. Has a great basketball I.Q. and on every possession understands where he needs to be, and what he needs to do to score the basketball.
He is not the player to force the action—he usually lets the game come to him and allow his teammates to work.
This year he was the No. 1 option for Nevada and he didn't disappoint. He averaged 21.9 points and also dished the rock 2.1 times a game.
His rebounding ability is above average, and his strong upper body allows him to go up strong and rip down the rebound.
This is something he did very well this season, pulling down just fewer than nine boards a game.
Babbitt is NBA ready.
In my opinion, Babbitt declares for the NBA draft.
Other Players That Should Stay in School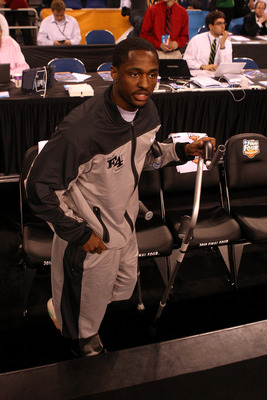 Kalin Lucas: An injury not only hurts you a lot, but the way people look at you. Lucas could have just as well slipped into the first round if the injury hadn't occurred, or maybe even gotten lower than that.
Avery Bradley: Before the whole Texas meltdown I would have told you Avery Bradley was going to be a lottery pick. But after witnessing a poor effort throughout the second half of the season, Bradley is looking to go mid-first round or a slip to late first round.
Herb Pope: Maybe you've seen something I didn't, because Pope's chances of even being taken is slim to none. Pope will be known for his dirty play in the NIT tournament and should return to school for another year of basketball.
Jeremy Hazell: Hazell showed you he can light it up on the offensive end, but look at the NBA players now. Most players that play little or no defense receive little or no playing time. Hazell needs to return to school work on his defense and stay consistent.
Dominique Jones: inconsistency seems to be most college basketball players' best friends. Jones has shown he can dominant the college game but his size won't allow him to do the same in the pros. Another year at school to work on his size and consistency is needed.
Devin Ebanks: He and Butler were the fuel of this West Virginia squad. Ebanks's offensive ability is simply amazing. Ebanks is very athletic, quick, and a great jump shooter. Some people want to see Ebanks return for another season, and so do I. Ebanks just has too much to improve.
Armon Johnson: His true point guard skills are a question. Another year of college basketball will help that.
Tommy Mason-Griffin: Not many teams take a 5'10" point guard seriously in the NBA. Especially ones that aren't quick on offense and get in the passing lane on defense. Mason-Griffin needs to report back to Oklahoma.
Scotty Hopson: Needs major improvements to his offensive game as well as his small frame.
Talor Battle: Yes, he had a breakout freshman season. But his mechanics need some major work. Talor Battle should stay in school.
Other Players That Are NBA Ready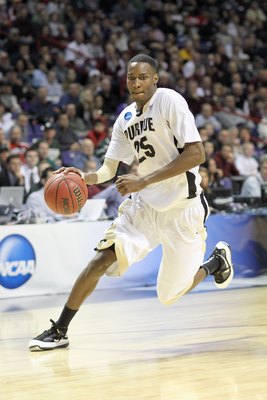 Kemba Walker: Walker at 6'1", averaged 14.6 points, 4.3 rebounds, and 5.1 assist per game. Good statistics especially for a player his size. Walker is NBA ready although I think he'll stay in school.
Jajuan Johnson: Is a very athletic 6'10" forward. He plays above the rim, shoots the ball well, and can finish around the rim. He runs the court well, and has a great feel for the game.
Wesley Johnson: Wes Johnson hasn't declared for the draft yet but he will. He is a great prospect now with little to improve.
Patrick Patterson: Patterson never ruled out a possible return to Kentucky, or a possible departure. In my opinion, Patterson is the most NBA ready forward in the draft.
Keep Reading