5 Buffalo Sabres to Watch in the Stanley Cup Playoffs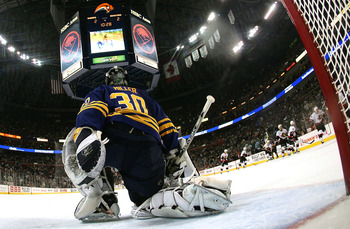 With the Northeast Division crown wrapped up, the Buffalo Sabres are preparing for their march to the Stanley Cup. This playoff year may well determine the direction that the Sabres will go in the future. Management has been exceptionally patient with this core group of players since Black Sunday (when two certain co-captains were insult.. erm, allowed to leave). How badly do the Sabres want that 35 pounds of silver? That will be determined by five players.
5. Derek Roy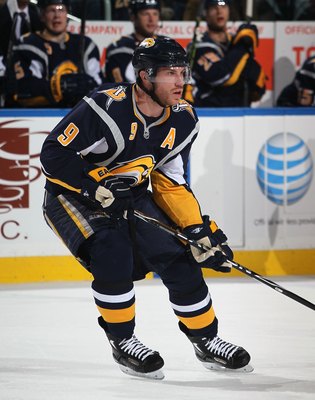 I've said it all season long. When Derek Roy believes in his game, he is one of the Top 20 forwards in this league. It's a shame that his confidence waxes and wanes with the full moon. His past playoff experience should be a plus for him. This year, he's The Guy. He will have to knuckle up and get dirty in the corners for his scoring chances. Raffi Torres was brought in at the trading deadline to do this, but has done little more than get some exercise in practice. Craig Rivet's Captaincy is coming to an end. Time to step up, Derek. It's your team to lose.
4. Tyler Myers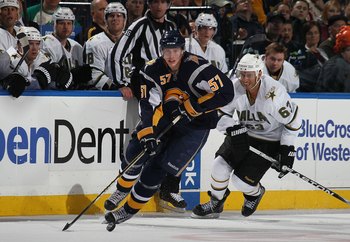 This phenom has only scratched the surface of his immense talent. Opposing NHL teams should shudder in their skates at that thought. The comparisons to Zdeno Chara have stopped because Myers has already passed Chara in playing ability. This should-be Calder Trophy winner has transformed the Sabres defense this year with his two-way play. For the first time in two years, there has been nary a mention of Brian Campbell in the Queen City; that is how good this kid is. After Ryan Miller's silver medal, the gold that Myers won as a member of Team Canada in the World Juniors in 2009 is the only significant tournament won by a current Buffalo Sabre.
3. Thomas Vanek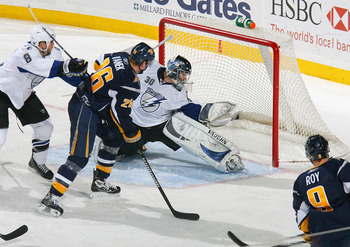 Vanek has been known to be unstoppable one game and invisible the next. The Enigma has had a rough year, falling far below his average of 40 goals in a season. Rumor has it that he has been hiding some sort of injury all season, and that is the cause of his off-year. If rest and healing is all that he needed, Eastern Conference teams will have a hard time stopping Buffalo's power play.
UPDATE: In Vanek's first game back from injury, he torched the Ottawa Senators for four goals.
2. Ryan Miller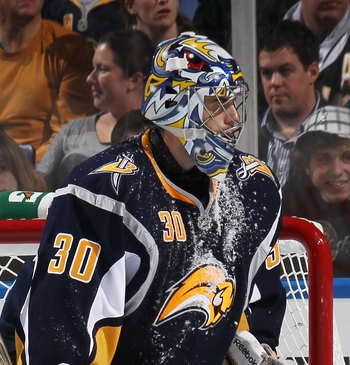 What is there to say that hasn't already been said? They say that the Sabres rely on Miller too much. They say that Ryan has played too many games this season. They say that the Olympic Run will prove to be too much for him.
I say Bullsh@&. Do NOT, for a second, doubt the will of this warrior. The King of Buffalo will win the Vezina for good reason: He is the best. There is a saying among team sports—You must impose your will on your opponent if you expect to win. Nobody does this better than Ryan Miller.
1. Tyler Ennis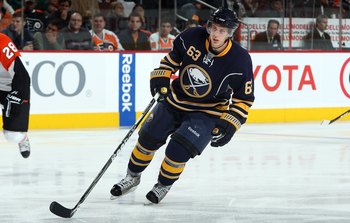 Didn't see this one coming, did you?
I watched this kid play live against Tampa Bay on March 27. Derek Roy may have had the hat trick, but Tyler Ennis was the best player on the ice that night. You know how backs and receivers in the NFL are judged by their ability to separate? Give Ennis the puck and nobody will catch him. His vision is unparalleled. In nine NHL games this season, he has three goals and six assists. That's right, he's the ONLY Buffalo Sabre to average a point per game. With Drew Stafford's concussion suffered against the Senators last night, he seems to be a lock for the post-season roster, at least for the first round.
Here's a little background on Ennis. He led the AHL's Portland Pirates in scoring this season (23-42-65) and was recently named the AHL Rookie of the Year. Acquired as a first-round draft pick (the pick that the Sabres acquired in the Brian Campbell trade, btw), he was selected to play in the AHL All-Star game in Portland where he scored a goal and two assists to win the games MVP Award.
UPDATE: A bit of research has revealed that Ennis was a teammate of Tyler Myers on the Gold-medal winning Team Canada in the 2009 World juniors, so my statement in the Myers portion was a bit premature. He scored three goals in that tournament, by the way.
Keep Reading