Dancing With the Enemy: Jason Taylor Set To Put New York Jets on Dance Card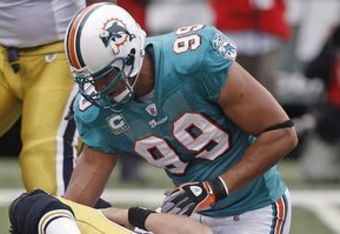 Believe it or not, at some point over the next few days, Miami Dolphins linebacker Jason Taylor will stand next to Woody Johnson, Rex Ryan, and Mike Tannenbaum holding a green and white Jets home jersey with his name on it. All will be smiles, with lots of hugs and kisses to go 'round.
It is hard to fathom that a man who has made his career both sacking Jets quarterbacks and lambasting the Jets team publicly in Miami papers, will now join Gang Green. Some have said that this is as bad as Brett Favre signing with Minnesota. That may be the case to Packer fans, but let's face it, Favre wanted Minnesota as a way to stick it sideways to the Packers front office.
Taylor never really wanted the Jets. Instead, Taylor is a washed up veteran who has garnered little interest from anyone, and he is coming to the Jets because they are the only girl left without an escort on the dance floor. Ho hum.
Taylor has always ridiculed Jet fans asserting they take the "CL" out of class, and that he would have a hard time being a Jet. Now, he will have 15 minutes in front of the cameras this week to eat his words and lie all about how much he "loves" New York and "loves" the passion of the Jet fans.
It reminds me of the time the New York Mets signed Tom Glavine. Glavine, the life long Atlanta Brave who killed the Mets throughout his career, chose the Mets over the Phillies and Braves in 2003.
The Wilpons questioned Glavine before they signed him to determine if he was using the Mets as leverage to get more dough from the Braves. Glavine denied it, and the lefty went on to have five tortuous and tense years in New York, culminating in game 162 of the 2007 season, when he got smacked around by the Marlins to complete the Mets first of many collapses.
Signing Taylor will unquestionably be an upgrade at outside linebacker, a position that has belonged to the always-underwhelming 30-year-old Bryan Thomas for a decade. Thomas had two sacks last season, while Taylor had seven at age 35!
Taylor is a gifted athlete. At one point in his career, Taylor was one of the more feared outside linebackers in the game. His speed, athleticism, and power were almost impossible to guard against. He posted six years of 10-plus sacks and has eight interceptions and 12 touchdowns in a career that could be Hall of Fame worthy.
Rex Ryan promises to move him around the line all season in the hope that he could get 12-15 sacks in 2010.
But let's face the cold hard facts: Jason Taylor will be 36 in September. He has shown signs of slowing down each of the last two seasons, and the Dolphins not once, but twice, have been more than willing to part with him even if it meant that he went to a team within the division.
In 2008, he walked to the Redskins and had only 3.5 sacks. Last season's seven sacks in a reunion with Miami was the third lowest of his career. What can an aging superstar bring to the Jets?
Which brings up another interesting question. How many times have we had occasion to repeat this line regarding the Jets? What can an aging superstar bring to the Jets?
In 1999, the Jets acquired an aging Steve Atwater, whom the World Champion Denver Broncos let walk away. The Jets thought adding Atwater would help them in a quest to the Super Bowl. Atwater was marred with injuries in '99, had only 55 tackles, and never recorded a sack or interception.
Eric Green also came aboard in '99 as the big time tight end the Jets needed. Green was a productive tight end, having recorded two 600-receiving yard and one 900-receiving yard seasons in his career. With the Jets, Green had seven catches for 37 yards. He never played another down again.
Of late, the Jets seem to have an obsession with bringing in yesterday's stars. Favre was the largest example. The Jets brought in the 38-year-old, hoping he could be the Favre who turned back the clock in 2007 for the Packers.
At the start of 2008, things were good, but injuries robbed Favre of any strength and power in his arm, and he threw nine interceptions in the last five games of the regular season. Even though he had a big year in Minnesota in 2009, the fact remains, he didn't have it in New York and looked done as a football player.
This season, the Jets have already brought in LaDanian Tomlinson, who posted only 730 yards rushing last year and looked finished. Instead of taking the high road and promising to be more dedicated in the weight room, especially at age 31, Tomlinson has done everything to accuse the Chargers for his loss in production. Just admit it, LDT, you're through!
Why are the Jets bringing in the likes of Favre, Tomlinson, Taylor, and possibly, if rumors hold true, former Jaguar quarterback Mark Brunell? Is it because owner Woody Johnson has an inferiority complex?
The Jets are so afraid of being overlooked by the media because they play in a division dominated by the Patriots—as well as play in a city and stadium owned by the Giants—it appears that they will do anything to garner publicity.
Rarely do the better-run franchises; i.e., the Colts, Patriots, Steelers, Eagles, and Giants, bring in aging talent in the hope that they will be major contributors to their respective teams.
Yes, the Patriots have signed an aging star—like Junior Seau—over the years, but they parted ways with Teddy Bruschi, Rodney Harrison, and Richard Seymour so they could bring in younger talent through the draft.
The Jets believe they are Super Bowl ready, yet they haven't won a division title in seven years. They lost four home games last season and posted a 2-4 record against the AFC East in 2009. Despite this, a pleasantly-surprising three week stretch at the end of 2009 suddenly put the Jets in the heavyweight class when they went to the AFC title game at 9-7.
Perhaps they feel that adding aging stars and having a mega TV deal with HBO will bring in even more fans and more sold personal seat licenses for the upcoming season.
But the Jets forget, as usual, that in order to bring in more fans and sell more tickets, they have to win football games with consistency. They have the pieces to become a excellent team with young players like Mark Sanchez and Darrell Revis, but they should be more focused on the future of the franchise, instead of near and fragile short-term benefits that are not guaranteed.
This article is
What is the duplicate article?
Why is this article offensive?
Where is this article plagiarized from?
Why is this article poorly edited?

New York Jets: Like this team?