Ready or Not: The NFL's Top 10 Rising Stars To Keep an Eye On in 2010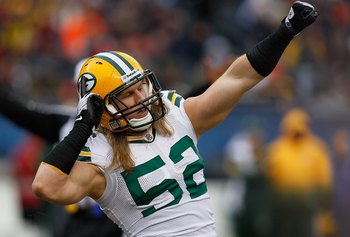 2009. It was a year full of lengthy highlight reels and prolific plays that left every NFL fan wanting more and more.
Unfortunately, here we are in yet another boring and dismal offseason, once again eagerly awaiting the return of our beloved game.
But what made for such exciting football last season? Sure it was the old-time greats that provided much of the excellence, but the bigger story arose from the young guns that we turned a blind eye to when bigger names such as Peyton Manning or Brett Favre were featured.
Therefore, in 2010 expect to see a new breed of talent as the "on the rise" players take on the league once again.
Here's a look at the top 10 players to look out for next season—and just what they bring to the game.
10. Shonn Greene, New York Jets
2009 Stats: 540 YDS, 2 TD
For Shonn Greene, the starting spot for the New York Jets will always be a constant battle against Thomas Jones. However, that doesn't take away from what an impressive season Greene really had.
Sure, his stats aren't very impressive, but he did manage to find himself a solid spot on the Jets roster and, more importantly, convinced hardy coach Rex Ryan that he does have a very strong future.
For the Shonn Greene critics out there, remember that Greene is still very young. Heading into his second season with the Jets, Greene has a taste for just about everything the NFL has to offer. Not only will this boost him in 2010, it should hopefully provide him with some confidence.
9. Steve Smith, New York Giants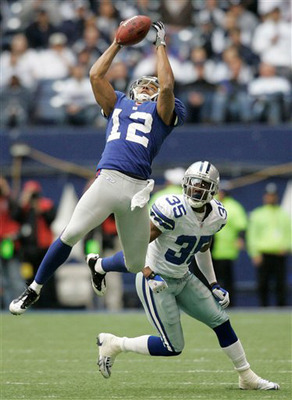 2009 Stats: 1,220 YDS, 7 TD
Judging by Steve Smith's stats in 2009, he has a fairly good future in New York. Now that Plaxico Burress and Amani Toomer are well and truly out of the Giants' way, the focus has shifted to the young wide receiver corps that features Domenik Hixon, Mario Manningham, and Steve Smith.
Although Smith did post great stats in 2009, some people seem to be forgetting just how important he is to the Giants' future.
With Eli Manning nursing a toe injury for the majority of the 2009 regular season, Smith did a fantastic job of still posting great stats, given Manning's clear disadvantage.
In 2010, look to see improvements in Smith's game, particularly in the way he catches the ball and gains yards afterward. The Giants are a team that could potentially fall behind in the NFC East, so it is vital that Smith is at his very best.
8. Matt Stafford, Detroit Lions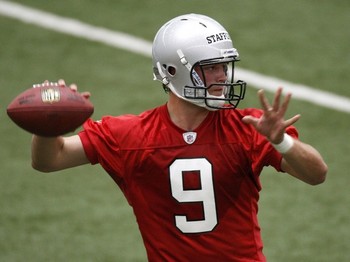 2009 Stats: 2,267 YDS, 13 TD
When thinking of Matt Stafford, the first image that comes to mind is his tremendous display of heart and courage against the Cleveland Browns toward the end of last season.
Nursing a shoulder injury, Stafford proved to the world that he has what it takes to play in the NFL, and that he does indeed intend to become the definite starter for the Detroit Lions.
One thing that may hold Stafford back for now is his 20 interceptions last season. Although the majority of his stats looked fine, the fact that his decision-making skills are lacking at times tells a story.
With that said, there is no reason for the Georgia alum to fail come next season. Healthy and ready to go, expect to see a new and improved Stafford, particularly if Detroit cleans up in the NFL draft.
7. Knowshon Moreno, Denver Broncos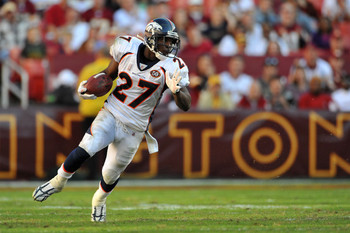 2009 Stats: 947 YDS, 7 TD
Knowshon Moreno is one of the more underrated players in the NFL. His stats were impressive for a rookie last season, given Denver's woes toward the end of the season.
However, Moreno is still lacking that spark he once had in his time with Georgia, and although he has time to pick up the slack and turn it on, the Broncos need him more than ever at this point in time.
In future seasons, it's hard to say how Moreno will turn out. There is a side to him that he could end up leaving Denver in two to three years' time, but if the Broncos do finally find some playoff success, there would be no reason for promising back to leave.
6. Austin Collie, Indianapolis Colts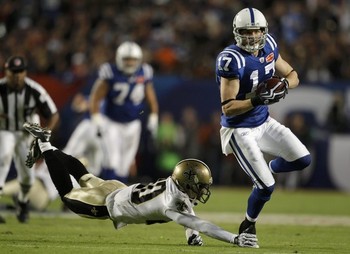 2009 Stats: 676 YDS, 7 TD
For Austin Collie, it's safe to say his future is in good hands. With leaders and experienced players surrounding him in Indianapolis, he would be stupid to even consider changing teams.
The problem that Austin faces is the fact that Dallas Clark and Reggie Wayne are still the go-to guys for Peyton Manning.
At times last season, Collie made us all well aware of just how much talent he packs. However, for the most part he did fail to show up in big games where he was needed.
In the playoffs, Collie did manage a touchdown against both Baltimore and New York, but the Super Bowl more or less shunned him out of sight.
Although this is a telling story, it is nothing new for a rookie. Young and inexperienced, I personally expect Collie to shine within a few years' time.
He may not be the next Miles Austin just yet, but he's on the right path.
5. Jermichael Finley, Green Bay Packers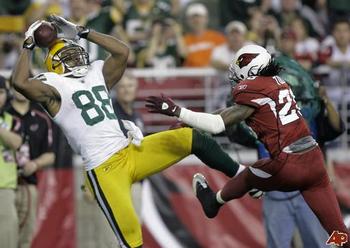 2009 Stats: 676 YDS, 5 TD
It's almost scary when you look at the Packers' young and talented roster. Aaron Rodgers leads the way, and he has a wide receiver corps that is destined for bigger and better things in 2010.
Recently, Green Bay announced that young tight end Jermichael Finley would be the starter in Green Bay, over the once-consistent Donald Lee. For Packer faithfuls, this is nothing but great news. In 2009 Jermichael Finley made a name for himself due to his ability to finish the play after the catch.
The photo to the left only further underscores this point, and I think it's safe to say that Finley may be one of the premier tight ends in not only 2010, but the next five to 10 years.
4. Brian Orakpo, Washington Redskins
2009 Stats: 50 TCK, 11 SCK, 1 FF
With brute strength, force, and an ability to wrap up just about any player, Brian Orakpo is one of the few positives that emerged from the Washington Redskins' 2009 season.
In the NFC East, Orakpo has become a force. Sacking quarterbacks left, right, and center, teams have begun to form strategies around stopping Orakpo, as if he is as much of a threat as a younger and more versatile Ray Lewis.
2010 holds big things in store for Orakpo. A hopefully more confident Redskins team is set to emerge, and although the 'Skins defense still could use some work, newly appointed head coach Mike Shanahan is sure to keep Orakpo busy.
Greats stats are a given for this man, as he just makes big plays happen. Expect to see a big highlight reel from him come this time next season.
3. Josh Freeman, Tampa Bay Buccaneers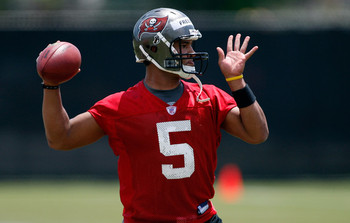 2009 Stats: 1,855 YDS, 10 TD
2009 saw big things in the Bucs' passing game. Gone are the days of the exciting Jeff Garcia, and we arrive at the new starting man in town, Josh Freeman.
Drafted from Kansas State, big things weren't exactly expected from Freeman early. However, he has proven critics wrong in the matter of a season, and a convincing win over the Green Bay Packers last season creates a story heading toward 2010.
As a fan, I expect to see the Bucs do quite well this season. Their passing game is strong again, and their defense is beginning to take shape. Granted, Freeman could do with another good running back, but it just seems fitting that this young man will excel in the NFL.
2. Steve Breaston, Arizona Cardinals
2009 Stats: 712 YDS, 3 TD
Some may disagree with my pick here, and I can understand why. But given Steve Breaston's impressive 2009 season, I think he deserves a high ranking on this list.
The first thing that I consider with Breaston is the competition factor. Competing with two of the NFL's elite wide receivers in Anquan Boldin and Larry Fitzgerald, Breaston often stood aside as Boldin still managed to see a great amount of the playing time.
The concern heading in 2010 is if Breaston falls off the radar or not now that Matt Leinart is stepping in as quarterback. It may become a case of "Kurt Warner made Breaston who he is," but I do feel that this young man has talent and a great future.
No more Boldin; Breaston steps in. Will he succeed? There is no way to be certain, but 2009 paints a promising story.
1. Clay Matthews, Green Bay Packers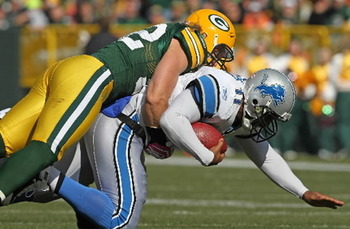 2009 Stats: 51 TCK, 10 SCK, 1 FF
Yep, it's another Packer. This time, though, it's one who has turned heads with his exciting, hard-hitting action that has put him on the map in the NFL.
2009 saw big things for the Packers defensively. A change to the 3-4, and newly appointed defensive coordinator Dom Capers revamping their attitude and intensity.
Maybe it was due to Charles Woodson and the veteran-like presence that the Packers pack on defense, but Clay Matthews just seemed to fit right in with Green Bay fresh out of USC.
2010 looks promising, not only for Matthews but the entire Packers team. A Super Bowl? Maybe. But sacks are a promise from Mr. Matthews.
Keep Reading