Harrison Moore's 2010 All NBA Team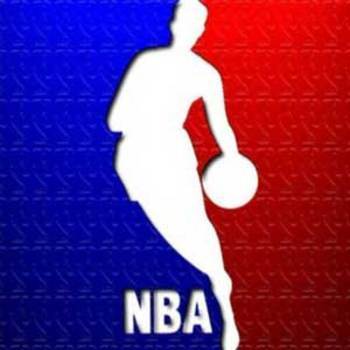 The NBA makes their selections according to the players' overall position, without distinction between point guards and shooting guards or small forwards and power forwards.
I find that methodology of selection flawed. It leaves room for various snubs.
Warning: Stats do not rule my picks. They are certainly telling in some areas, but can be very deceptive in others.
Though my system of evaluation does take statistics into consideration, it also measures raw talent and overall importance to the players' respective teams.
First Team Point Guard: Deron Williams
Chris Paul can (hopefully) get his spot back once he reasserts himself.
In the same way that Yao Ming is no longer the best center in the Western Conference, Chris Paul cannot be a top point guard during a season in which he's barely played half of its games.
On the other hand, Williams is the main catalyst behind the Jazz's return to semi-elite status.
When the Jazz need scoring, Williams gives them scoring. When the Jazz need a team-oriented effort, Williams defers to the team's shooters with little hesitation.
He's simply been a model of consistency, producing nearly identical numbers to the ones he posted last year.
2009 2010
19.4 ppg 18.6 ppg
10.7 apg 10.5 apg
Williams is a perfect model of the high-scoring, excellent-passing hybrid point guard the NBA has produced in the last few years.
Second Team Point Guard: Rajon Rondo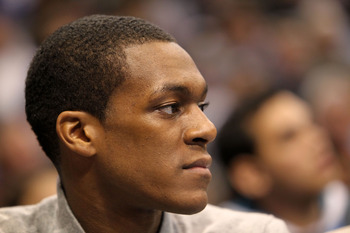 It was pretty tempting to list Rondo on the first team for two reasons: the first is that Rondo carries more responsibility for his team's success, and the second is that Rondo offers more diversity in his game.
Yes, Deron Williams has a bigger name, a higher profile, and a wider offensive repertoire, but he doesn't bring all the intangibles to the game that Rondo does.
That said, Rondo's noted habit of running out of steam in the fourth quarter made the decision easy.
On the bright side, Rondo has supplanted Boston's "Big Three" as their greatest asset. He is the NBA's leader in steals, ranks fourth in assists, and, to put it bluntly, is the only reason the Celtics are still contending.
Rondo has hardly missed a beat after his near triple-double average of 17 points, 9.7 assists, and 9.8 rebounds per game in last year's playoffs.
Third Team Point Guard: Steve Nash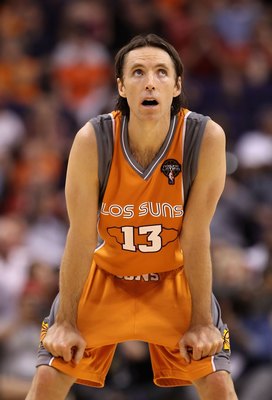 The Phoenix Suns' achievements this year have been overblown at best.
Their 14-3 start at the start of the season, and their recent 10-game winning streak had generated expectations far above and beyond what this team is actually capable of.
Steve Nash was at the heart of the achievements. You have to give him that much.
He registers lower rebound averages than other star point guards, and still doesn't have even a casual familiarity with the word "defense". However, he remains one of the better shooters the game has seen, particularly at the free throw line, where he leads the league with a 93 percent success rate.
First Team Shooting Guard: Kobe Bryant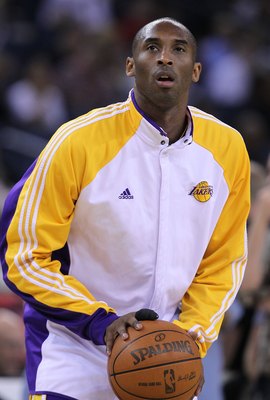 This was actually a harder choice than many may realize.
Though Kobe's multitude of injuries have hampered his offensive consistency, he still has the responsibility to compensate for those injuries in a way that gives his team the highest amount of production possible, and he's yet to do that.
On Feb. 28 against the Denver Nuggets, Kobe's shooting was absolutely dreadful.
While he converted on each of his eight free-throw attempts, he missed 14 of his total 17 attempts from the floor, yet the Lakers still won. How?
Kobe finished with a season high 12 assists.
Kobe seems hesitant of—even repulsed by—the concept of taking on the team facilitator role now that his body won't allow him to be the efficient, even unstoppable scorer he was in the past.
With last night's loss in Kobe's absence, the Lakers have lost every other matchup against the Nuggets this season. Kobe averaged 19.5 shots per contest and only three assists in those losses.
Kobe may hold the statistical edge over Dwayne Wade in scoring. All things considered though, all that stops Kobe from falling behind Wade are the numerous game-winning shots he added to his resume this season.
Second Team Shooting Guard: Dwayne Wade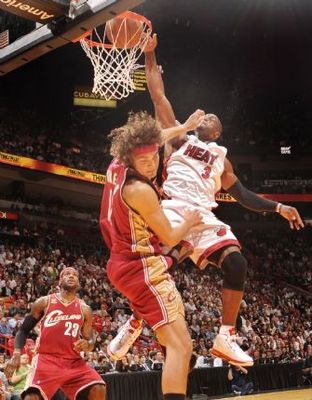 Call me crazy, but I just don't think he's trying as hard as he was last year.
His efficiency and scoring have taken a notable hit, as have other stats across the board.
Nobody has the talent or track record to supplant him as No. 2 though. At least he hasn't pulled a New Jersey edition Vince Carter.
Regardless, he's easily been the best shooting guard the East has to offer for years. In that regard, nothing's changed.
Third Team Shooting Guard: Joe Johnson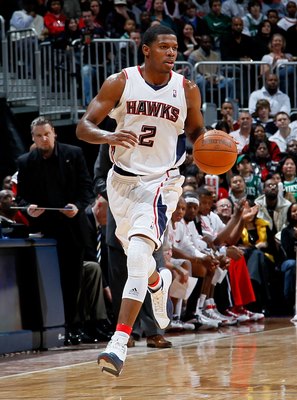 Over the last few years, Johnson has solidified himself as a premier player at his position.
He's only further cemented his status this year. Being on a relevant team often has that effect.
In previous years, one of the bigger knocks on Johnson has been his efficiency. Johnson improved from 43 percent shooting in the last two seasons to 45 percent this year.
Though Johnson makes the list partly because of the NBA's increasingly depleting number of legitimate star shooting guards, his contributions to the third-seeded Hawks add solidity to his nomination.
First Team Small Forward: LeBron James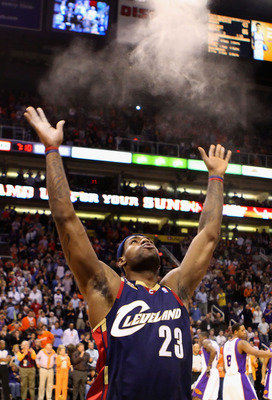 Be honest.
If I told you in October that an NBA player would shoot over 50 percent from the floor and average over eight assists, you'd have thought I was talking about a low-scoring point guard.
Well, LeBron James does all that while averaging just under 30 PPG.
James ended all legitimate best player and MVP debates months ago. He has set himself apart as the clear-cut best player in what's become the NBA's deepest position.
Now for the first time in his career, James actually has a solid supporting cast, and he's taken them and molded them into overwhelming favorites to win the NBA title.
The only thing his critics have left to attack is his supposed arrogance.
While James did provide a little fuel for their fire in claiming he could win the NBA scoring title at will, the fact of the matter is, he's right.
He's got a higher field goal percentage than any other top eight scorer and more assists than any other scorer ranked in the top 25.
So, yeah, if LeBron wanted to dial back on the passes and throw up a couple more shots, he'd win the scoring title every season hands down.
Second Team Small Forward: Carmelo Anthony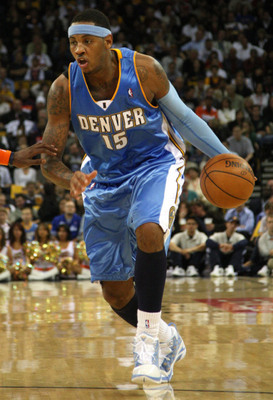 I haven't jumped the Kevin Durant bandwagon yet.
Yes, he's an incredible talent, but his supporting cast caters to him more than the Nuggets cater to Anthony.
Besides, in my eyes, it takes more than a single MVP-like season to knock off a proven heavyweight like Anthony.
Despite the Nuggets' multitude of injuries, including George Karl's cancer treatment-forced absence, Anthony has gotten the job done over the course of the season, and has the Nuggets currently in possession of the West's No. 2 seed.
I'll admit that Anthony vs. Durant is a legitimate debate. The fact that Anthony leads a championship contender tips the decision in his favor.
Third Team Small Forward: Kevin Durant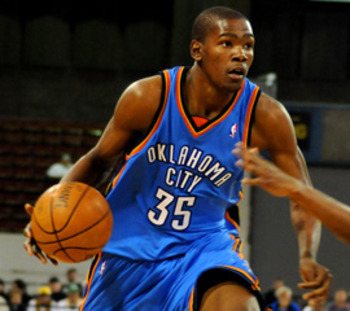 My pick for Most Improved Player, hands down.
This year's Thunder—currently on pace for a 50-win season—doesn't boast a roster markedly different from last season's 23-win squad, so what gives?
Yes, Russell Westbrook has shown considerable improvement, but it all comes down to Kevin Durant.
Despite being only in his third NBA season, Durant is playing like a championship-starving veteran superstar and has upped his scoring average by almost five, and his rebound total and his free throw percentage by sizeable margins.
Though Durant is a clear step down from LeBron this year, the scariest thing about Durant and his team is that they have developed so well so quickly.
If Durant continues to improve in leaps and bounds, he'll likely terrorize the Western Conference for years to come.
First Team Power Forward: Dirk Nowitzki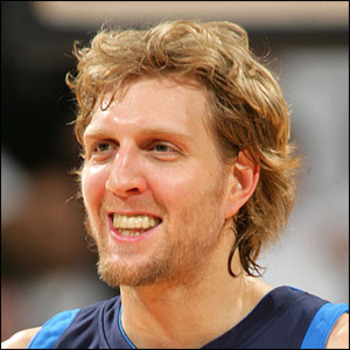 With the decline of Tim Duncan, Dirk Nowitzki has emerged as the game's best power forward.
During the Mavericks' 13-game winning streak earlier, Nowitzki posted impressive averages of 26.8 points and 7.3 rebounds per game.
Though the Mavericks proved to be incapable of maintaining their play during that streak, Nowitzki has proved himself to be the most offensively reliable big man in the game this season.
If you're still not convinced that Nowitzki deserves the first team nomination then look at it this way: No power forward-led team has performed better than the Mavericks this season.
Second Team Power Forward: Amar'e Stoudemire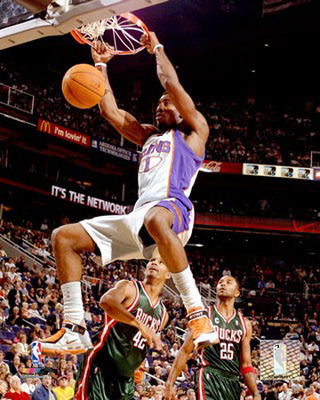 His All-Star nomination was a slap in the face of Andrew Bynum, and further de-legitimizes All-Star game selections.
At what point did voters forget that Stoudemire's not a center? (Chris Kaman being selected over Bynum was another aberration.)
Moving on, if one wants a brief look at Stoudemire's accomplishments so far, well, he shoots at a higher percentage than any other player averaging 20 or more points at 55 percent and is 19th in the NBA in rebounding at just under nine rebounds per game.
In addition to all of his stats, he's easily one of the most physical power forwards in the game today. It's an even more impressive attribute considering he plays on one of the least physical teams the league has to offer.
Entering the season, there was some doubt as to whether Stoudemire would fully recover from last year's season-ending eye injury.
With his dominant play though, he's proven that he still belongs among the league's elite.
Third Team Power Forward: Pau Gasol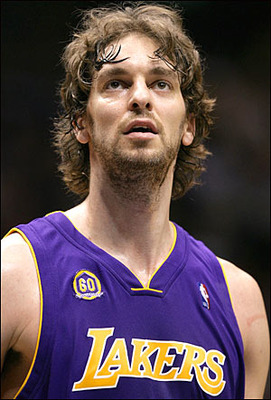 Often maligned for his lack of physicality in his first two seasons with the Lakers, Pau Gasol managed to lay the majority of those criticisms to rest with his surprisingly effective defense against Dwight Howard in the 2009 Finals.
Gasol has managed to incorporate greater physicality into his game and has became a much better rebounder, increasing his average from 9.6 rpg to 11.2.
Unfortunately, Gasol's increased physicality seems to have cost a great deal of his efficiency and offensive consistency.
While Gasol's scoring numbers have dropped this season, that was an expected consequence of Ron Artest's arrival.
What wasn't expected was Gasol's dip in efficiency from last season's 56 percent field goal percentage to this season's 52 percent.
A few months earlier, Spurs head coach Gregg Popovich called Gasol "the most skilled big man in the game," but the jury's still out whether or not Gasol's skill has taken a permanent dip or not.
First Team Center: Dwight Howard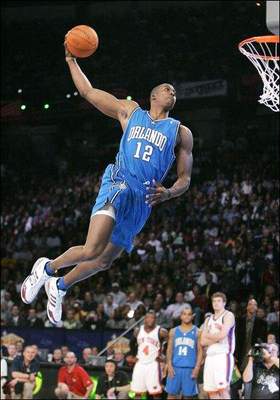 Is there another choice?
This year, Dwight Howard has become the first player in NBA history to lead the league in both rebounds and blocked shots in back-to-back seasons.
The defensive anchoring Howard's mere presence provides has made the Magic into perennial contenders and because of that he is expected to be rewarded with a second straight Defensive Player of the Year award.
Notable: Dwight Howard has led his team to more victories as its team's No. 1 option than any center since Shaquille O' Neal.
Second Team Center: Al Jefferson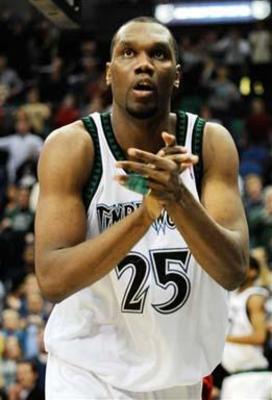 The Timberwolves' irrelevance prevents Jefferson from getting the praise he deserves.
Though Jefferson's scoring has decreased from 23 PPG to 17 PPG, he has maintained his defensive presence, rebounding average and overall intensity.
Jefferson's hard work has helped him to recover from his knee injury nicely. In the absence of Yao Ming, Jefferson has a strong case as the league's premier offensive center.
Third Team Center: Andrew Bynum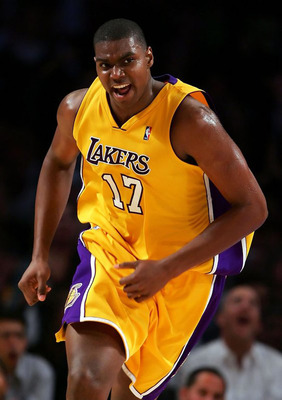 Easily the least appreciated elite player in the NBA, Andrew Bynum is either bigger, stronger, or more skilled than any center the West has to offer.
In most cases, he's all three.
Though Bynum has struggled with injuries in his young career, his absence is always felt. Case in point: Of the 11 games since Bynum's injury, the Lakers have only won six.
He leads the Lakers in field goal percentage, converting on a scorching 57 percent of his shots, and is ranked fifth in the entire league in that regard.
Of the four players ranked above Bynum in field goal percentage, only No. 1-ranked Dwight Howard scores more points.
The Incomplete List of Players Some Will Feel I've Disrespected
Brandon Roy
Tim Duncan
Marc Gasol
Chauncey Billups
Kendrick Perkins
Chris Bosh
Derrick Rose
Keep Reading

Los Angeles Lakers: Like this team?