Football League Lookalikes (Part Two)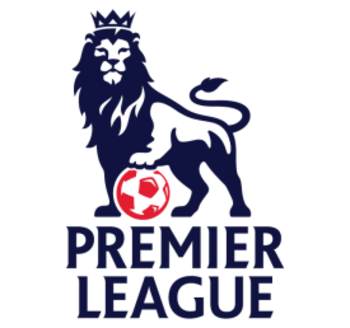 Some of you wanted another volume...Some of you...might not have wanted another volume...but I've done it anyway.
Most of these have been submitted by members of tottenhamhotspurs.tv, a fantastic Spurs forum. We are a funny lot on there. You should sign up. We do welcome away fans ;)
Whenever I say 'forum user', it's from that forum, not the bleacher forum.
To any Manchester United fans who come across slide 5-in advance—I'm sorry :)
Enjoy :)
Ray-naldo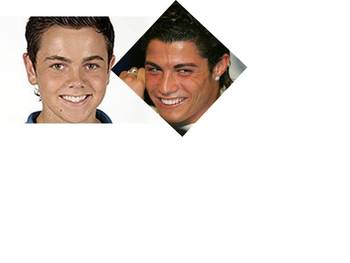 Those of you who are from my side of the pond (UK) will know this one.
It's Ronaldo alongside X-Factor runner-up (to Leona Lewis) Ray Quinn.
It's an oldie, but a goodie ;)
John Arne Riise and Ray Mears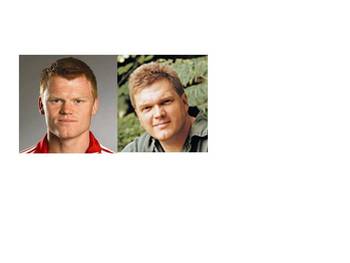 Another one familiar to some UK viewers.
Former Liverpool defender John Arne Riise and survival expert Ray Mears.
Croatian Cruyff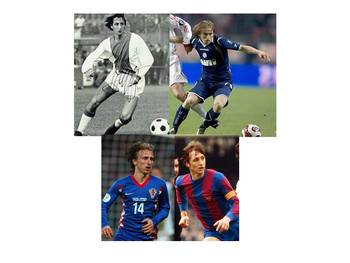 Luka Modric is currently one of the most skillful players in Europe. He does have a more serious look-a-like than a hamster.
This isn't just looks either. The Croatian Spurs player has become a fan-favourite at White Hart Lane because of his silky football and telepathic vision. Modric is known to many as "The Croatian Cruyff," and I'm sure we can all see why...
Harry Zagrebknapp (WARNING - Contains subtlety)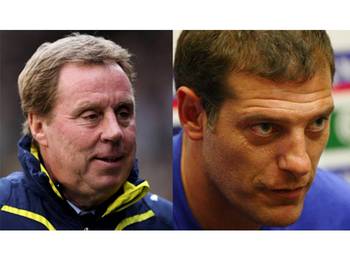 In recent years-under the current Redknapp era, Spurs have acquired and kept three Croatian football players in the squad as regulars (Niko Kranjčar, Vedran Corluka and Luka Modric). All three of them have come through the Dinamo Zagreb youth system and are first-team regulars for the Croatian national team too.
Therefore I took a shine to this subtle look-a-like of Tottenham's manager Harry Redknapp and Croatia's national team manager Slaven Bilic.
Submitted by my fellow tottenhamhotspur.tv forum user 'Denopoly' who is from Croatia. All these Croatian players coming to Spurs has expanded the Croatian fan-base considerably. It's almost proportional to France's Arsenal fan-base, or London's Manchester United fan-base ;)
Mikael Silvestre...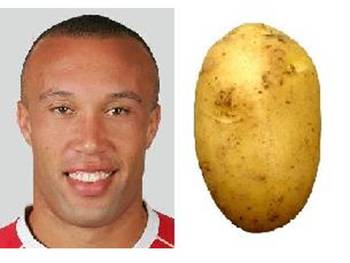 I did say sorry in advance ;D
Mikael Silvestre and a potato. A classic.
Submitted by forum user 'Corluka Modric'.
Mark Hughes (WARNING - Contains more subtlety)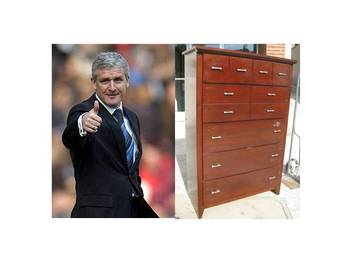 Mark Hughes got signed as the manager of IKEA. He was found to have a way with draws!
By - ME
Rio Girafferdinand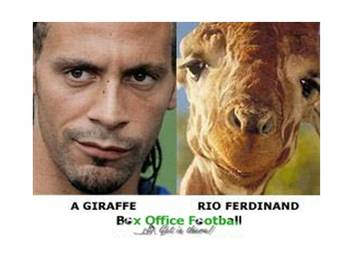 Rio Ferdinand and a Giraffe. I chuckled when I saw this one!
Submitted by 'Box Office Football'.
Avram Grouch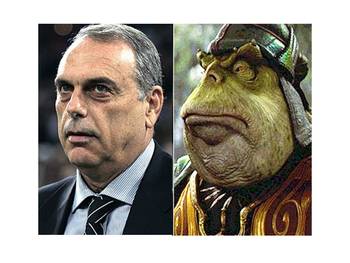 Avram Grant and some unknown grouchy frog character.
Submitted by forum user 'JayJay'.
Stringyyyyyyy!!!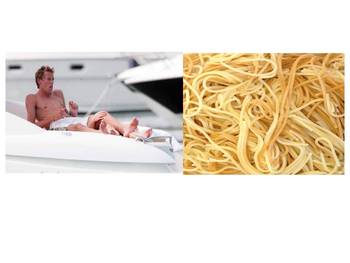 Yep. 'Stringy' is frequently chanted when Peter Crouch plays. However, I put him alongside spaghetti instead ;)
Also, there's somebody else buried under him. And I don't think it's Abi Clancy ;)
Wayne Rooney and Shrek: The Classic-like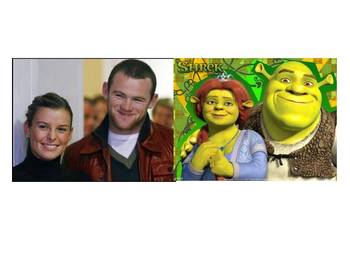 I'm sorry but this makes me chuckle every time I see it. Check out the smile for maximum comedic value. There's even space for a double-take of Colleen and Fiona!
Martin O'Neil and Alexis Taylor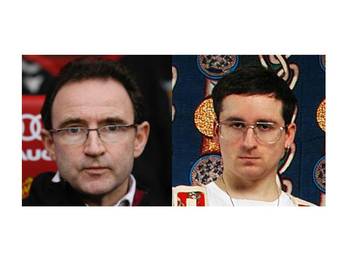 A recent discovery. It's Martin O'Neill and Hot Chip's lead singer Alexis Taylor.
comparethestriker.com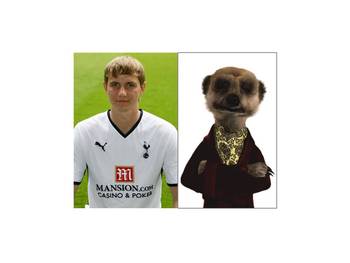 This is one for the British readers amongst you. As car insurance adverts become more common, the characters who are in them become weirder.
We have an annoying opera singer who listens in on conversations about people's financial matters. We have Omid Djalili infiltrating offices and bank robberies. We also have computer-generated Russian meerkats explaining their irrelevant family history and saying that they never expected their descendant to be selling car insurance to humans (even though meerkats have not yet been known to drive due to the risk of breaking the natural food chain, thus interrupting the cycle of life in the African Savannah!!!).
In this look-a-like picture is the famous Russian Meerkat, Aleksander, alongside Tottenham Hotspur legend (because I say so!) Roman Pavlyuchenko. Compare the Striker.com! Seeeemples...
Someone suggested to me that it should become a computer wallpaper. Feel free to download it :)
And that concludes this volume of football look-a-likes. Volume 3 available on request.
Keep Reading

Manchester United: Like this team?