Ranking the Lineups of the NL East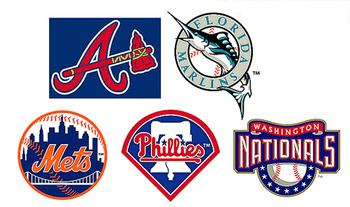 They say pitching wins ballgames right?
Well, kinda; but if you don't have a strong lineup, you may as well give up too.
The NL East is full of, well, different kinds of lineups. You have the AL-like powerhouse Phillies, compared to the contact minded Braves. You have a pretty strong Mets lineup if healthy; and that's a big if. The Braves are average in the offense category and they rely too much on 37 year-old injury guaranteed 3rd baseman. The Nationals are, well, the Nationals. They have to all-stars in Ryan Zimmerman and Adam Dunn, but from there it goes way downhill. Anyway, I will be grading individual players in the starting lineups before any injuries happen. Enjoy!
5. Washington Nationals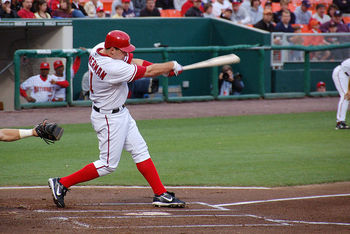 The Nationals will be great in the future, no doubt. It will take some time though. Zimmerman will stay in there until at least 2014. They have decent speed with Nyjer Morgan and power with Adam Dunn, but they don't have enough of anything to contend with their lineup
Grades:
N. Morgan: B
W. Harris: C-
R. Zimmerman: A-
A. Dunn: B+
J. Willingham: B
A. Kennedy: C+
I. Rodriguez: C
I. Desmond: C+
Overall Grade: C+
4. Florida Marlins
The Marlins thrive on one player: Hanley Ramirez. Ramirez is a yearly MVP candidate, and is pretty good with the bat too. Other than Hanley, they have some power with Cantu and Uggla and some speed with Maybin. They have potential, they just have to step up.
Grades:
C. Coghlan: B
C. Maybin: B-
H. Ramirez: A
J. Cantu: B+
D. Uggla: B
R. Paulino: B-
C. Ross: B
G. Sanchez: C
Overall Grade: B-
3. Atlanta Braves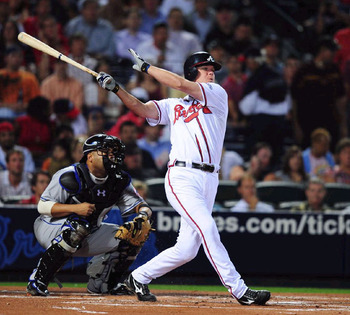 The Braves are a consistent team all the way down their lineup. Nate McLouth, who has been batting 8th, could be batting 3rd for many teams in the league. They don't have any great speed, especially at the top of the order, but they have a good 3-4 punch when healthy and their 7-8 hitters (Heyward & McLouth) are by far the two best 7-8 hitters in the NL.
Grade:
M. Cabrera: B
Martin Prado: B-
Chipper Jones: B+
Brian McCann: A-
Troy Glaus: C+
Yunel Escobar: B
Jason Heyward: B
Nate McLouth: B
Overall Grade: B/B+
2. New York Mets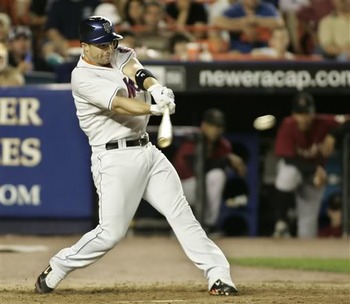 Surprised? So am I.
You got to hand it to them, when they are healthy, their lineup is dangerous. A 3-4-5 of Wright-Bay-Beltran or some order of those three just is hards to get out. It gets rough at the bottom of the order, but that's allowed for some teams.
Grade:
Jose Reyes: B+
Luis Castillo: B
David Wright: A-
Jason Bay: B+/A-
Carlos Beltran: B+
Jeff Francoeur: B
Daniel Murphy B-
Rod Barajas: C+
Overall Grade: B+
1. Philadelphia Phillies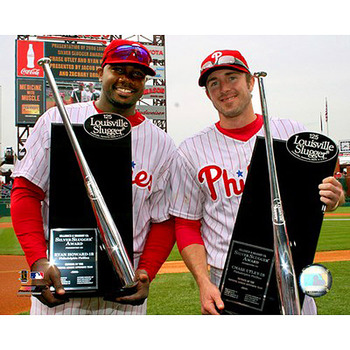 Last year, the Phillies' lineup got them to the postseason. The best 2nd baseman in baseball and the best power-hitting 1st baseman in baseball make for a deadly 3-4 combo. Rollins used to be a top of the line leadoff, but he is coming to the end of the road.
Grade:
J. Rollins: B
P. Polanco: B
C. Utley: A
R. Howard: A
J. Werth: B+
R. Ibanez: B/B+
Carlos Ruiz: B-
Overall Grade: A
Keep Reading