10 Schools That Could Land Five-Star QB Recruit Christian Lemay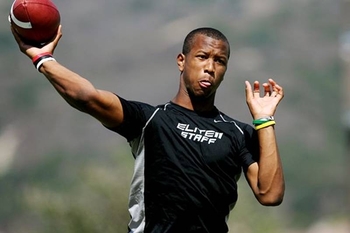 Top 2011 QB recruit Christian Lemay recently narrowed his favorites down to 10 schools.
He plans on making another cut to "five or seven" finalists this May, followed by another cut to a top three in July.
Before he does, let's take a look at the 10 potential finalists and try to guess who will be the last men standing, and who will be the first on the chopping block.
Notre Dame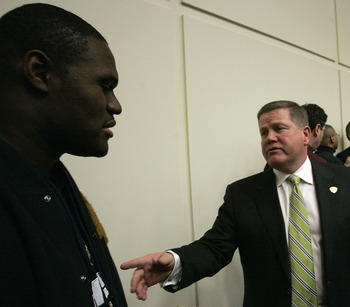 The opportunity for playing time is there, especially now that Brian Kelly has told us how he really feels about Dayne Crist.
The Irish signed three quarterbacks in their last class, but none come with the recruiting hype of Lemay.
Kelly made Tony Pike into an NFL-style quarterback, and his aerial attack will be tough to say no to for any passer who can put up the kind of numbers Lemay has as a high schooler.
But the Irish are the only team north of the Mason-Dixon line on Lemay's top 10. I think he's trying to tell us something.
Texas A&M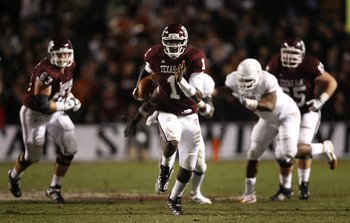 The Aggies will have a high-profile QB vacancy after the conclusion of the 2010 season.
In the most recent cycle, Mike Sherman put together a great recruiting class off a poor two-year record, and his NFL experience could appeal to the forward-thinking QB prospect.
Plus, in my opinion, Lemay could be the savior of the program were he to commit to play in College Station.
But desperation is the wrong cologne to wear to the junior high dance party known as college football recruiting. Barring an unthinkably prolific year by Jerrod Johnson, the Aggies won't make the final cut.
Sometimes it's better to dance alone, or not at all.
North Carolina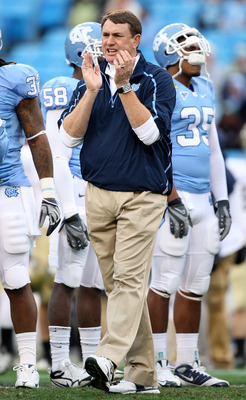 The Tar Heels have proximity and up-and-coming-ACC-program momentum on their side.
Plus, Butch Davis has proven to be an able recruiter, fencing in the Tar Heel State's top talent to the frustration of its nosy neighbors.
But the depth chart might be too unfriendly for Lemay to keep up interest. Redshirt freshman Bryn Renner should, by most accounts, succeed TJ Yates, either this year or next.
Playing behind an upperclassman for one or two years while learning the offense is one thing. Coming in as a potential three-year backup is quite another.
And the stakes are a little too low. The ACC hasn't fielded a national title contender since 2000. And while I like the Tar Heels to compete for an ACC championship, and possibly more, Lemay will likely be making another cut before the action kicks off this fall. On that schedule, he will not have been able to see UNC make a run if, in fact, they do.
There's a chance they could re-enter later in his recruitment, but I'm counting them out for now.
Virginia Tech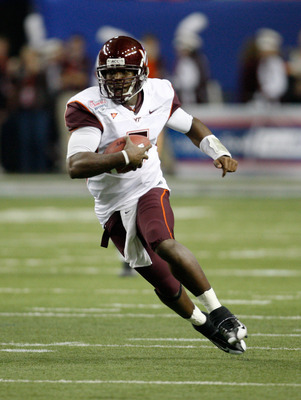 The Hokies are getting that weird mojo they sometimes get on the college recruiting trail this year, landing four-star defensive tackle Kris Harley over heavy-hitting offers from Oklahoma, USC, and Nebraska.
Combine that with the quarterback vacancy in Blacksburg once Tyrod Taylor—a mobile quarterback who resembles Lemay in some ways—graduates after this year, and you might think the Hokies are in good shape.
But Lemay has stated that immediate playing time is not a concern, so that vacancy might even be a liability.
And in the one-of-these-teams-is-not-like-the-others game of recruiting, Virginia Tech seems to me to be the odd man out.
There's something too old-school, traditional, even stagnant about the Hokies' offense that could interfere with their attractiveness against these other schools. The Vick years are, at this point, a distant memory.
Meanwhile, Taylor's career has lacked the explosiveness and grandeur his predecessors enjoyed.
I'm not calling VT's offense ineffective. In fact, Blacksburg might be ideal for Lemay to get sound, stable coaching without the personnel turnover typical of an SEC school.
But one has to take the SEC's four-straight national championships into account here. Until that dominance is interrupted, expect top recruits like Lemay to look SEC first, all others second.
Alabama
Alabama seems to have it all—a winning pedigree; an offense strong on fundamental (read: boring) quarterback play; a line of succession that will allow Lemay to redshirt and learn the offense before hitting the field; and did you know they play in the SEC?
Lemay was high on the Tide early, saying he had "a lot of love" for Alabama. He showed up for the SEC championship game, which must have been a real boon for the Tide's recruitment.
But recently, I've gotten the sense that Lemay's serious and abiding interest in Auburn is coming at the expense of Alabama; that Lemay finds something...dishonest...about expressing an interest in both.
It makes sense to me. How can you love both Ohio State and Michigan? At some point, lines of sympathy must be drawn.
Auburn's efforts to get those lines drawn early (they are in his top five) may cost the Tide a chance. If they miss the next cut, we'll know why.
Miami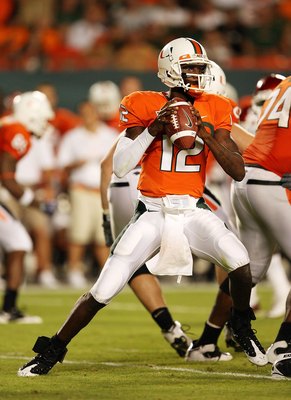 Yes, the Hurricanes are an ACC school.
But they are also the most recent national title contender from that group (albeit as a Big East team).
And I hope I don't need to explain the swagger. There's just something unique, self-assured, exceptional about the attitude in Coral Gables.
On a practical level, the Canes have Mark Whipple, an ex-NFL OC and QB coach, as their offensive coordinator. That should be a major draw for a kid like Lemay, a pre-professional strong on the fundamentals.
Whipple threw a little too much at Jacory Harris in his first year at Miami, and interceptions were sometimes the cost. But Whipple has the lanky, eagle-eyed QB on the doorstep of Heisman consideration for 2010. With his skill set, Lemay can expect that or more.
The vacancy Harris may potentially leave behind after entering the draft a year early might be a liability if Lemay is looking to redshirt and take his development slow.
However, even with Whipple and the Swagger, Lemay hasn't buzzed about Miami as much as you might expect.
The facts are the facts. If the buzz isn't there, and the Hurricanes can't get him on campus, they may well miss the next cut.
Clemson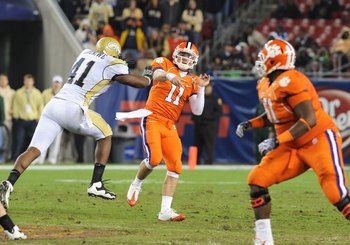 Whether or not Kyle Parker decides to skip football for baseball, the Tigers have another fine starter-to-be waiting in the wings in Tajh Boyd, 2008's
No. 5 dual-threat quarterback.
Boyd, who will be a redshirt freshman this fall, is already pushing the sophomore Parker for playing time.
I'm not going to accuse Lemay of shying away from competition, but that depth sounds much less conducive to a starting job than the other schools.
Nevertheless, Lemay recently said the Tigers would be in his top five once a cut was made this May.
I can't really explain Lemay's interest except to say that Clemson is a great school and that Dabo Swinney is a slick recruiter. If Lemay is going to play outside of the SEC, the Tigers look to be his school of choice.
Florida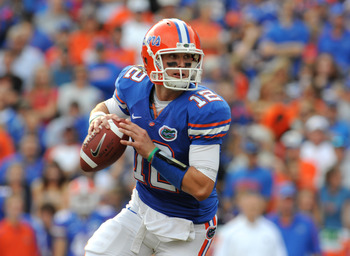 Forgive me if, in spite of my insightful commentary to the contrary, I believe Lemay might be a secret lock for the Florida Gators.
Lemay's father was chaplain for the team for two years under Meyer. As with many recruits, faith has been a major part of the process, and will likely be a major part of the decision.
The Gators' QB succession plan is, of all interested parties, arguably the most ideal. John Brantley will be a senior when Lemay is a true freshman, giving him a year to learn the system and redshirt before taking over in 2012.
Brantley's rumored struggles in spring ball have only magnified the Gators' intense need for a playmaker at the QB position.
And Florida just doesn't lose these kinds of battles.
The only thing holding the Gators back—and it's major—would be the system. Urban Meyer's recent confession that Florida would resume the two-quarterback system with which they won the national championship in 2006 may not appeal to players looking to be The Guy, the one taking every snap, on every down, in every situation.
How well did Florida's system help former North Carolina recruit Chris Leak prepare for the NFL? For that matter, how has it helped Tebow? More questions than a recruit of Lemay's pre-professional pedigree might be hoping for.
The Gators are good enough recruiters to never be counted out of a dance. But the opportunity for rivals to do some negative recruiting at the quarterback position has never been better, or more defensible.
Georgia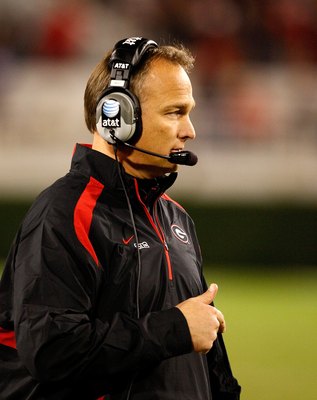 Georgia is another school Lemay promised would survive his next cut.
Lemay brought his family to Athens for UGa's Junior Day in late February.
Afterwards, he acknowledged an age-old Orgeronism: that when a recruits brings his momma, you know that school is in good shape.
Georgia's players and coaching staff left a good impression on Lemay, and it sounds like they could be a solid pick to land in his top three.
Quarterback succession and NFL preparation both check out. If I were a Georgia fan, I'd be fairly confident in the Dawgs' chances with him.
Auburn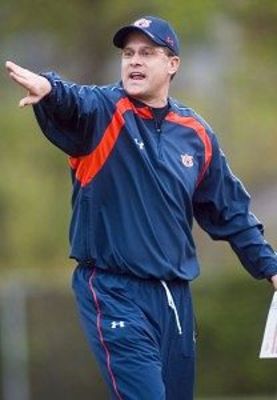 The Tigers have really picked up steam with Lemay in the past few weeks. He visited an Auburn practice recently and has since said Auburn is in his top three.
Malzahn's precise, hurry-up style is still more potential-driven than results-based, at least for the Tigers (although the numbers Malzahn put up at Tulsa really are staggering).
But keep in mind Lemay will be making many of his cuts before these teams hit the field in 2010. Potential isn't a bad thing to have right now.
Auburn's QB succession plan is also one of the best. Cameron Newton (whom Lemay met and formed a connection with while Newton was a Gator and his father was Florida's team chaplain) will be a senior during Lemay's true freshman season, which will give him a year to learn the ropes before taking over as a redshirt freshman or sophomore.
Plus, one of the axioms of recruiting is that good recruiting begets good recruiting. Auburn is loading up on top offensive talent, and these young players are looking to strike while the iron is hot.
All reasons why I think Auburn is the team to beat.
Keep Reading