Didier Drogba's 10 Most Important Goals for Chelsea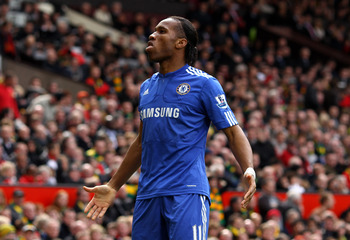 In the aftermath of Chelsea's 2-1 win over Manchester United at Old Trafford, striker Didier Drogba said that of the 125 goals he has scored for the club, his 78th-minute strike on Saturday is the most important.
The Ivorian has scored a number of crucial goals at key moments during his Blues career, but where does his goal of the weekend rank? Click to find out...
10. Vs. Bayern Munich, Champions League quarterfinal (12/04/05)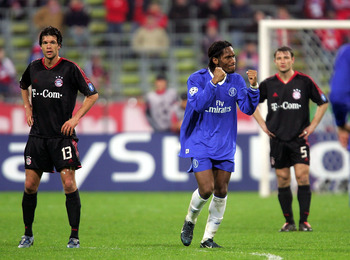 Probably one of the best and most important headers Drogba has scored for Chelsea.
He rose powerfully to meet Joe Cole's left wing cross and left Oliver Khan rooted to the spot.
Two late goals gave Bayern a 3-2 win, but Chelsea progressed to the semifinals.
9. Vs. Liverpool, Champions League quarterfinal (14/04/09)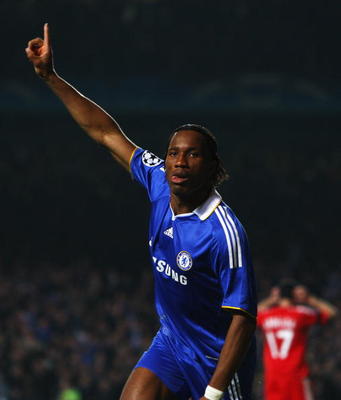 Having been 3-1 up from the first leg, Chelsea were on the ropes in the second leg of this Champions League quarterfinal.
First-half goals from Fabio Aurelio and Xabi Alonso drew the tie level at 3-3 on aggregate.
Seven minutes into the second half, Drogba eased the Chelsea fans' frayed nerves when Pepe Reina parried his shot into the net.
This extraordinary game ended 4-4, with Chelsea progressing 7-5 on aggregate.
8. Vs. Barcelona, Champions League Group Stage (31/10/06)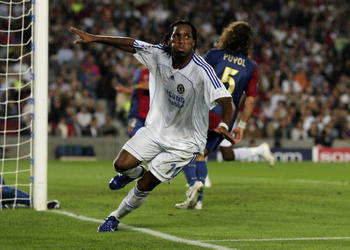 Drogba earned Chelsea a share of the points in this feisty game very late on, chesting down a cushioned header from John Terry and beating Victor Valdes.
The point proved crucial as the Blues sought to finish at the top of their group, which they did by two points.
7. Vs. Arsenal, FA Cup semifinal (18/04/09)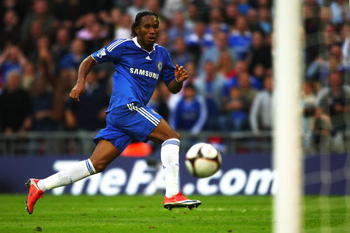 With less than 10 minutes to go, Drogba beat the onrushing Manuel Almunia and tapped the ball in to set up an FA Cup final with Everton.
Chelsea again had to come from behind, having been a goal down early on after Theo Walcott scored. Florent Malouda made it 1-1 before halftime.
6. Vs. Everton, FA Cup Final 2009 (30/05/09)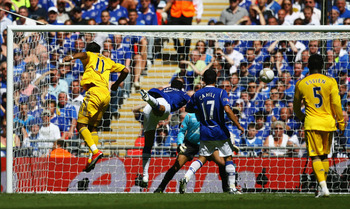 Louis Saha stunned those inside Wembley with a goal just inside 25 seconds, and Chelsea were left reeling.
That was until Drogba stepped up once again. After 21 minutes he drew Chelsea level, heading past Tim Howard after being set up by Florent Malouda.
After that, Chelsea never looked back, and sealed a fifth FA Cup triumph through Frank Lampard.
The result was Guus Hiddink's last match in charge, and Drogba played a role in making sure it was a fairytale ending for the Dutchman.
5. Vs. Liverpool, Carling Cup Final (27/02/05)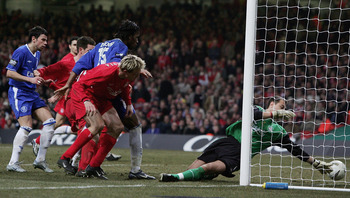 After another nightmare start to a cup final—Chelsea conceded after only 45 seconds—they recovered to win the first trophy of the Jose Mourinho era.
Drogba inevitably had a part to play, and the Ivorian managed to poke the ball home amidst a crowd to give the Blues a 2-1 lead in extra time. They went on to win 3-2.
4. Vs. Arsenal, Carling Cup Final 2007 (25/02/07)
Drogba settled this all-London Carling Cup final with a powerful 84th-minute header from an Arjen Robben cross—his second goal of the match.
It was enough to win the trophy for Chelsea and was the first leg of a domestic cup double...
3. Vs. Manchester United, FA Cup Final (19/05/07)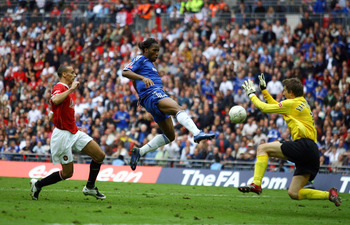 Drogba's only other goal against Manchester United came in the first FA Cup final at Wembley Stadium, and it settled a game that failed to live up to its billing.
The game looked to be going to penalties until Drogba managed to get on the end of Frank Lampard's pass before United goalkeeper Van der Sar and knock the ball in.
The goal gave Chelsea their fourth FA Cup and sixth trophy in three years under Jose Mourinho.
2. Vs. Liverpool, Champions League semifinal (30/04/08)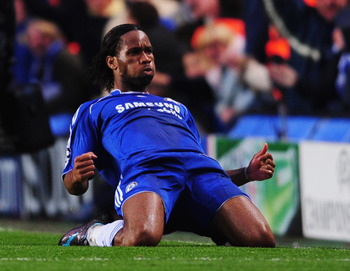 Drogba's third goal in this nerve-wracking encounter sent Chelsea into their first Champions League final, against Manchester United in Moscow.
Liverpool manager Rafael Benitez had criticized Drogba in the run up to the match, and the striker delivered the perfect riposte with two goals.
What proved to be the winner was a prodded finish past Pepe Reina from a Nicolas Anelka cross.
1. Vs. Manchester United, Premier League (03/04/10)
A bit premature perhaps, but the long-term implications of this clearly offside goal could be huge and extend beyond this campaign.
The euphoria of this win could be the catalyst for Chelsea's first league and FA Cup double.
Such a return in Carlo Ancelotti's first season in charge would do wonders for his standing amongst the fans—and also his job security.
There were whispers of his job being threatened after the Champions League exit to Inter Milan, but even Roman Abramovich would find it hard to dispense of Ancelotti if Chelsea's season ended in glory.
Keep Reading

Chelsea: Like this team?