Buffalo Bills 2010 Mock Draft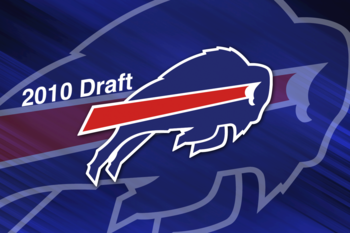 With the 2010 NFL Draft starting just two weeks from today, the time has come to make my predictions as to who I think will be the newest players donning Buffalo Blue next season.
I'll take a stab at predicting all nine of Buffalo's draft picks this year in all seven rounds.
Note: since no trades have been made yet, this draft is based on the current roster and with the picks Buffalo currently has. This mock does not account for possible trades (i.e. trading up/down, trading for Jason Campbell, or any other player).
With that in mind, let's kick things off, shall we?
Round 1 (No. 9 overall): Anthony Davis, OT, Rutgers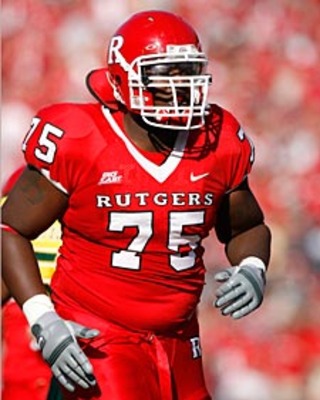 The Bills actually got some good news the day after they found out Donovan McNabb will not be playing for them: the Lions acquired Rob Sims from the Seahawks.
The reason this move is good news for Buffalo is that it makes it more likely that they will be able to land one of the four tackles in this year's draft considered to be in the "top tier" (Okung, Bulaga, Williams, Davis).
With the Redskins acquiring McNabb, it almost ensures that Washington's pick at No. 4 overall will be an offensive tackle. And until Sims was acquired by Detroit, there was speculation that the Lions could look into moving Jeff Backus inside to guard and drafting Russel Okung at No. 2. If that had happened, two of the top tackles would be gone in the top four picks and Buffalo might have been left without one to choose from at No. 9.
Now, though, they are able to land Anthony Davis from Rutgers. Davis has some character concerns, but his talent is undeniable and Buffalo needs a premier left tackle to shore up their line.
For the record, I have the following tackles off the board before Buffalo's selection: Russel Okung (No. 4 - Washington), Trent Williams (No. 5 - Kansas City), Bryan Bulaga (No. 6 - Seattle), Bruce Campbell (No. 8 - Oakland).
Round 2 (No. 41 overall): Cam Thomas, NT, North Carolina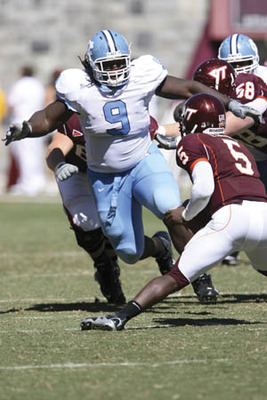 After addressing their offensive line in the first round, Buffalo turns to the defensive side of the ball in round two.
Cam Thomas had a terrific Senior Bowl and should be in a battle with fast-rising Linval Joseph from East Carolina to be the third nose tackle off the board behind Tennessee's Dan Williams and Alabama's Terrence Cody.
Landing Thomas here would give Buffalo a terrific young nose tackle to build its new 3-4 defense around.
Round 3 (No. 72 overall): John Skelton, QB, Fordham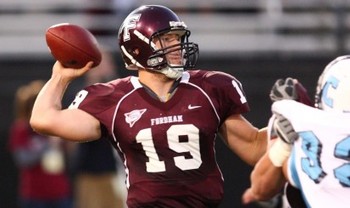 After shoring up their lines in the first couple rounds, the Bills can now look to select their quarterback of the future.
John Skelton has been rising up draft boards after his stellar combine, where he measured in at 6'5'' and 243 pounds while demonstrating his phenomenal arm strength, a trait that Bills GM Buddy Nix has stated is crucial for playing in Buffalo's poor weather.
Skelton's level of competition at Fordham is definitely a concern, but his intangibles and potential are very impressive. Skelton would benefit from being able to sit for at least a year, but any quarterback in this draft not named Bradford or Clausen will need at least a year before being ready to start. Skelton certainly has all the tools the Bills are looking for in their quarterback of the future.
Round 4 (No. 107 overall): George Selvie, OLB, South Florida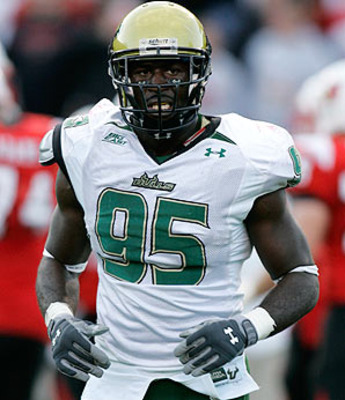 George Selvie made noise with his monstrous 2007 campaign for South Florida in which he racked up an impeccable 31.5 tackles for loss and 14.5 sacks. He followed that up by posting a combined 23 tackles for loss and nine sacks over his last two seasons.
Selvie's draft stock has slid into mid-round status because of his poor production the past two seasons and his unimpressive combine numbers. However, he fits one of Buffalo's needs as a pass-rushing 3-4 outside linebacker and possible successor to Aaron Schobel, whether he retires this offseason or next.
Round 5 (No. 140 overall): Donald Butler, ILB, Washington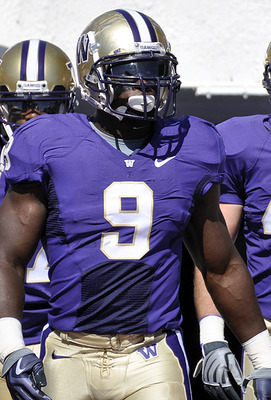 Buffalo continues to add personnel for their 3-4 switch with this pick, drafting an inside linebacker to replace Andra Davis in the future to pair with Paul Posluszny.
Donald Butler amassed 94 tackles last season for the Huskies, with 15.5 for loss and a sack. He also notched two interceptions and three forced fumbles. Butler is a good fit inside in a 3-4 and would be a solid addition to the young defensive core of the Bills.
Round 6 (No. 178 overall): Mike Williams, WR, Syracuse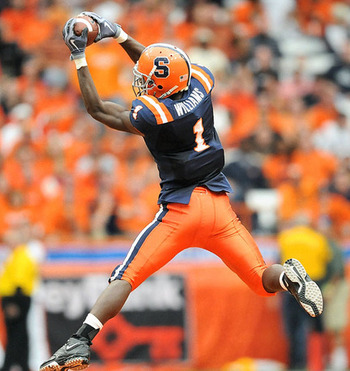 In Round Six, the Bills can look to take a flyer on a boom-or-bust player like Mike Williams. After quitting Syracuse's football team seven games into the 2009 season, Williams's character and love for the game have been questioned.
However, his production speaks for itself. Despite playing in only seven games this past season, Williams still led Syracuse in receptions (49), yards (746), and touchdowns (6). His career average of 15.4 yards-per-catch is impressive, and his physical ability is undeniable.
Getting a player with his talent in the sixth round is well worth the risk, as the cost is minimal, the potential payoff is huge, and he fills a position of need for the Buffalo.
Round 6 (No. 192 overall via Eagles): Deji Karim, RB, Southern Illinois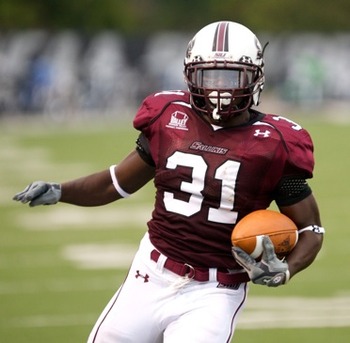 Bills head coach Chan Gailey stated that he is looking for a change-of-pace back to compliment Fred Jackson and Marshawn Lynch, assuming the latter is not traded.
Deji Karim and the Buffalo Bills seem like a match made in heaven. Karim, coming out of 1-AA Southern Illinois, displayed a phenomenal combination of speed and size at his pro day, weighing in at 210 pounds and running a blistering 4.37 40-yard dash.
Karim also had outstanding season in 2009, rushing for 1,694 yards and 18 touchdowns while posting a stellar 7.1 yards-per-carry average. He also notched 17 receptions for 212 yards and a touchdown. Karim would fit in well as a change-of-pace back in Buffalo.
Round 7 (No. 209 overall via Lions): Kevin Haslam, OT, Rutgers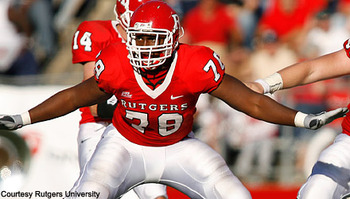 Would Buffalo really draft both starting tackles from Rutgers?
Absolutely, and this is why:
Kevin Haslam is more than just a right tackle prospect. In 2007, he started the season at right guard, but also played some left tackle. In 2008 he started games at left guard before moving to right tackle.
In 2009, he stayed at right tackle, but being versed in four positions across the offensive line makes him a great addition to the Bills, where depth is needed at just about every position.
Best case scenario, Haslam could provide depth at four positions along the offensive line or even push for a starting right tackle job in a couple years. Worst case scenario, his name does not appear on the final roster. Either way, at pick 209, he is a worthwhile investment.
Round 7 (No. 216 overall): Jamar Wall, CB, Texas Tech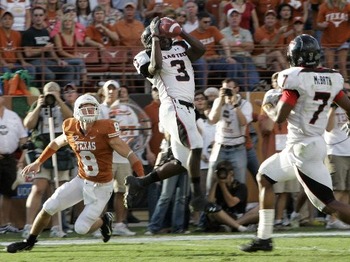 With Terrence McGee, Leodis McKelvin and Ashton Youboty all sustaining injuries in 2009, Buffalo needs to look to add some depth at the cornerback position.
Jamar Wall had 32 pass breakups and nine interceptions over the past three seasons for the Red Raiders, but could not run at the combine due to a tweaked hamstring.
He would be an excellent addition to Buffalo's cornerback corps and being in the same division as the Patriots, you cannot have too many corners.
Keep Reading

Buffalo Bills: Like this team?