Top Ten Raiders Players For 2010...JaMarcus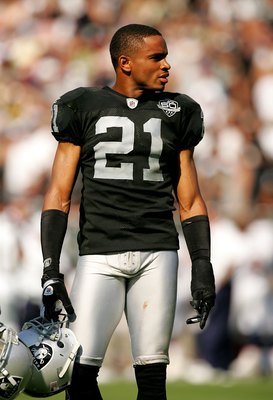 "If you look at the roster, the Raiders are one of the most talented teams in the league" - Brandon Marshall
Brandon Marshall is only one of the latest NFL players to make that assessment of the Oakland Raiders roster over the past three years. Here is a look at the top Ten Raider's players for 2011.
# 10 JaMarcus Russell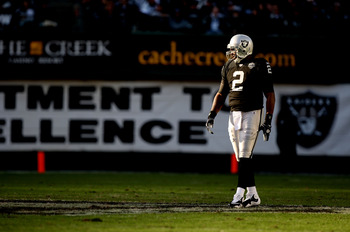 Coming in at number Ten is; who else but Oakland Raiders resident fall guy JaMarcus Russell.
This guy has the size, durability, and arm strength to survive through an atrocious Raider offensive line unlike his highly fragile counterpart in Bruce Gradkowski. All that's missing from this guy's arsenal is some rollouts from the faulty pocket, receivers who can catch, a coach who can coach, and a steady diet plan. JaMarcus sure could serve to be more nimble behind this O-line.
# 9 Shane Lechler
You would think that having the best punter in NFL history would automatically guarantee dominance in terms of field position, right? Not under this coaching regime. Cable often lost the the field position game with his faulty play calling, rendering Lechler all but useless in strategy.
Too many times Raiders were forced to start deep in their own territory with no running game. You know what that means. Blitz!
Hopefully the Raiders can ease pressure off of Russell with this highly efficient weapon.
Darren McFadden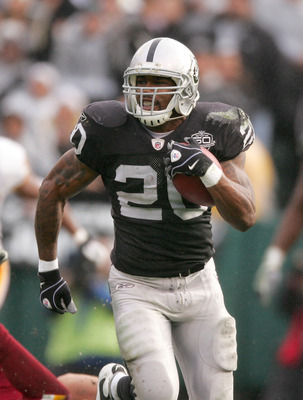 Darren McFadden is yet another player who suffered from chronic mis-use under coach Tom Cable in 2009. We all knew McFadden could play receiver coming out of college, yet Tom Cable didn't flank him out until week 13. Yikes! McFadden proceeded to turn 5 yard Gradkowski bombs into big gains.
Where's the Toss? The Sweep? Maybe these plays don't have a place in Cable's playbook.
# 7 Michael Bush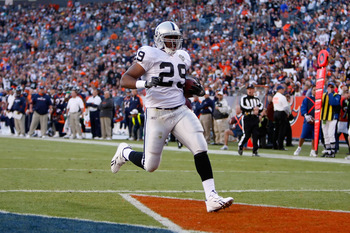 This kid is the best back on the team to everyone in Raider Nation EXCEPT for Tom Cable. He'll have a big game one week, and then ride the pine for the next three, mysteriously. Is that Al too?
As far as his skills, what CAN"T the kid do? He can run, catch, block, shake, bake and truck. He shows no ill effects from his devastating college injury that stripped him of his Senior year and a sure Heisman.
# 6 Michael Huff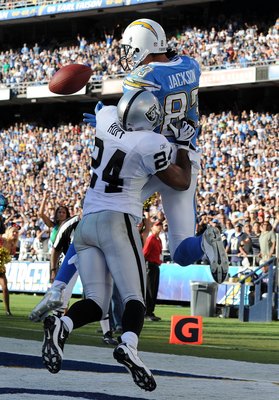 Another one of Al's supposed "busts." This dude blossomed in 2009 at his more natural Free Safety position. It always seemed that he was a step too slow on his reaction in years passed, but my what age and experience can do for a player(see JaMarcus Russell)
An extremely fast player with good hands and instincts.
# 5 Chris Johnson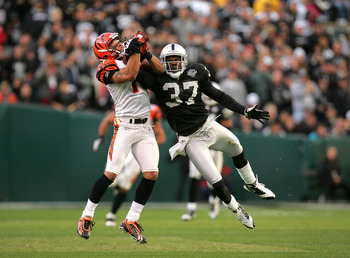 No, not that Chris Johnson. The one who made the impossible diving int. on Matt Schaub and then got penalized for praying. That one. This guy gets no respect. He can cover ANY receiver in the league with his size, speed and great hands.
However he suffers in a zone scheme as he is a straight up Man Cornerback. Plus he dominated the Chargers opening night and showed up his partner on the other side. Pay em.
# 4 Zach Miller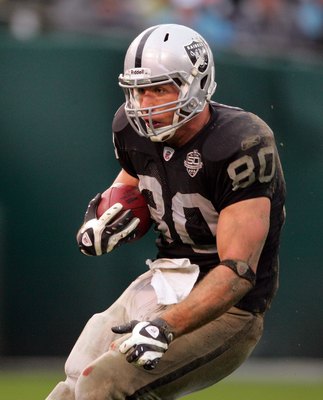 Zach Miller is Mr. reliable. He can make any QB look good as he is generally JaMarcus Russell's favorite target. Opposing teams often key on him in Cable's highly predictable offensive scheme, so his production is not what it should be.
This guy has the hands and instinct to become a perennial Pro bowler.
# 3 Thomas Howard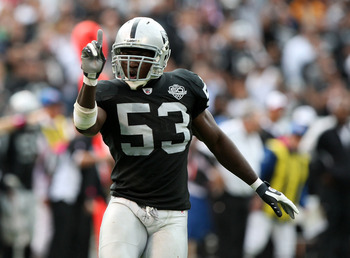 The fastest linebacker in NFL history is an enigma. In 2007 he showed glimpses of Brilliance with a whopping 6 ints and two for Td's. This was largely in part to play-calling and scheming. In 2009 he sat the bench at LB behind overachievers like Trevor Scott under Cable. Ouch.
If the Raiders use him correctly (Like blitz from time to time) Howard could make the Pro Bowl in 2010. However that is unlikely with the Raiders current coaching staff.
# 2 Nnamdi Asomugha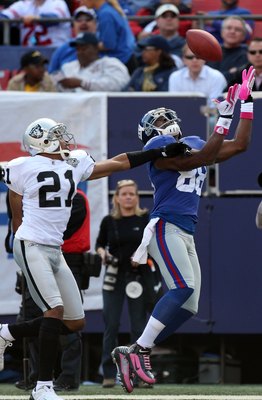 The hugely celebrated, under worked All Pro Cornerback gets all the Glory for an underachieving Oakland Defense. Teams tend to shy away from Asomugha leaving all the work to be done by Mr. Johnson and company. He doesn't move around or come on blitzes like his Hall of Fame mentor in Charles Woodson.
Too bad Oakland's coaching staff isn't smart enough to move this guy around, he'd be number one, easy.
# 1 Tyvonn Branch
Another one of Al's "brilliant" picks. Who ever heard of this guy? We all thought Al was Just reaching with this unheralded, speedy pick from Connecticut. Boy were we wrong. This kid delivered in a major way in 2009.
Relentless and powerful, Branch performed at a high level all year for the Raiders having his best game as a Raider in 2009 in an upset victory over the heavily favored Bengals with 12 solo tackles and a forced fumble.
A punishing tackler and overall beast, Tyvonn Branch is the best Player on the current Oakland Raiders roster.
Honorable mention
Keep Reading

Oakland Raiders: Like this team?