12 Things We Learned from Citi Field V 2.0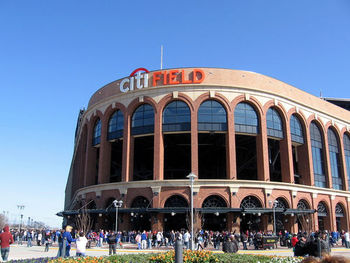 So begins the sophomore campaign at New York's Citi Field.
While many questions have arisen about the quality of the product on the field, the forum in which the Mets play is nothing less than stellar.
During the Mets miserable 2009 campaign, the beauty of Citi Field was perhaps lost, with New Yorkers attention seemingly fixed on the Mets' crosstown rivals in the Bronx. Twelve thoughts and observations on my maiden 2010 voyage to the Mets' home...
#12- She's a Beaut!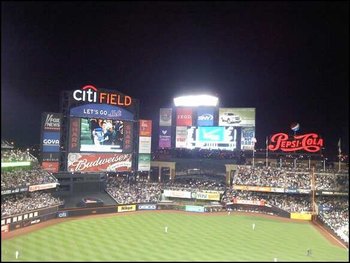 If there was any debate, Citi Field really, truly is a fantastic ballpark, and even more so now with orange and blue colors actually visible! Also, you have to love the inclusion of the...
#11- The Museum is a Winner
Mets Museum... it is great.
Finally, thankfully, ownership acknowledges that the Mets had a past prior to last season. Without going into detail, they did a good job—check it out next time you get to Citi.
Although, if you look hard enough, you'll see Brooklyn Dodgers regalia and little statues of Jackie Robinson hidden in there. Speaking of little statues...
#10- Albeit, a Little Scary...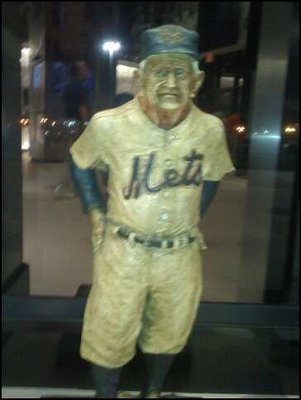 The Casey Stengel gnome is absolutely terrifying (see my new album for evidence). Did you ever see that movie where inanimate objects suddenly come to life and kill people (Chucky?)?
Well, if they didn't make it yet, they should, and start with this guy. As frightening as he is, it may be bested by...
9. Okay, VERY Scary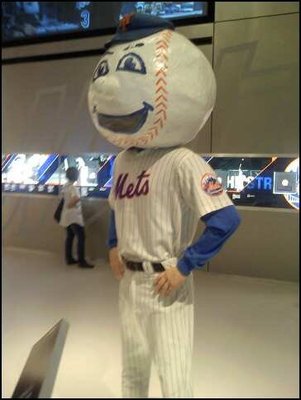 The Mr. Met statue.
No, not your modern, friendly, loving, Mr. Met. We are talkin' about the original one from 1962 (also, see pics.)

Not many of us were around back then to witness him, and I am sure this has spared us all many nightmares.
It appeared that they had a guard SOLELY for the original Mr. Met (not kidding.)
Is it because, in 1962, there was an actual man inside the costume, waiting to get his hands around your neck and choke the life out of you?
Go up close and look at his hands and you'll know exactly what I mean. But beware—don't say you weren't warned!
#8- Let's Just Win it All So We Can Stop Celebrating Division Titles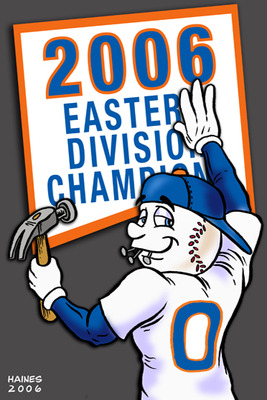 #8. Nobody celebrates mediocrity like the Amazins'. All I'll say is you won't see "2004 AL East Division Champions" anywhere around Yankee Stadium.
But hey, when you don't have 28 World Championships, I guess you gotta stretch the limits a bit.
#7- You're Mine, Nolasco!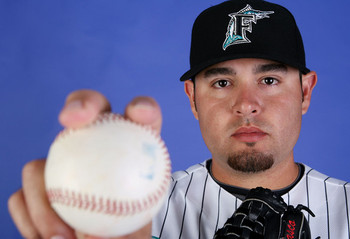 Cursing out opposing pitchers in the bullpen is fun, until you're politely asked to refrain. Continuing to tell Ricky Nolasco you had intimate relations with his mother is even more fun.
Being escorted out of the stadium by a large black man is not fun. Okay, so the last part didn't happen. But given the way Nolasco breezed through the first six frames, I'm gonna say I got in his head.
6. There Will Always Be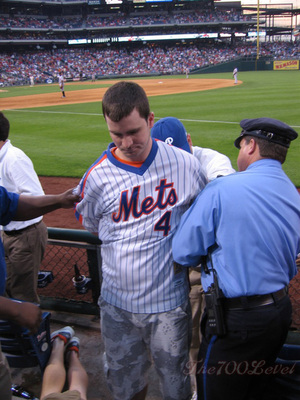 Ownership may have priced out the lower social class of fans, but they didn't price out the obnoxious, drunk clowns.
#5- Mama Mia!!!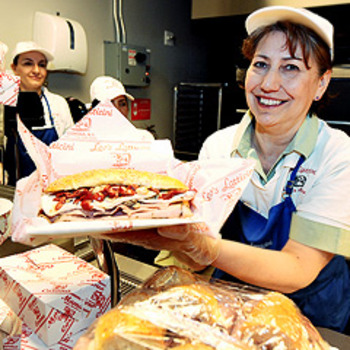 Mama's of Corona wisened up and jacked prices, but the turkey and mozzarella sandwich remains by far the best deal in the house. VIVA ITALIA!!!
#4- Now If Only They Had a '96 Hundley...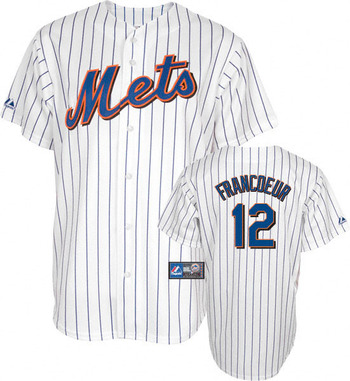 The Mets team store has jerseys and shirts of almost anyone. It's nice to know that if I want to sport a shirt of my man Jeff "Teeth" Francoeur, or new Japanese import Whateverthehellhisfirstnameis TAKAHASHI, I can find it here with ease, rather than rummaging through countless Wright, Reyes, Santana, Beltran, Bay, and Rodriguez jerseys...
#3- McFadden's!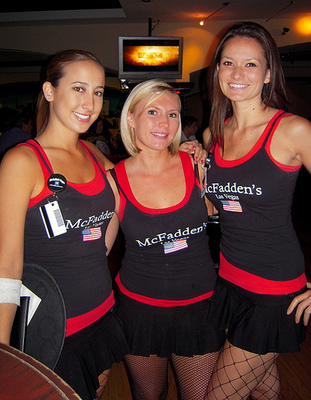 McFadden's policy of no re-entry to the ballpark is bitch, but the place is pretty chill. And the McFadden's girls are pretty cute!!!
Or maybe I just thought so cuz of those $2 Coors tickets they personally gave me... and 30,000 other people. Touché!
#2- Fans With a Pulse...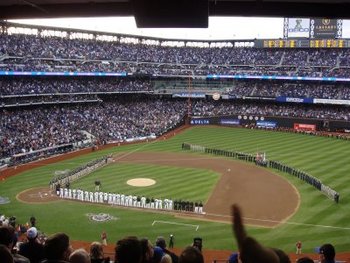 Citi had a pulse. For the first time I can remember since an early season victory against the Phils last year, the place was rockin'. The fans were perhaps a little too overly optimistic, but nevertheless it was great to see life back in the stadium.
#1- Too Bad We Know This Ending Far Too Well
The Mets still break your heart.
What do they do to you? "They rip your heart out of your ass!" (points to the first to name the reference). It remains true—more than any girl, the Mets really do break your heart.
Heck, after Fernando "Tortoise" Tatis (Tort-is!?) tried to kill a rally with that ill-advised dash, er, crawl, to home plate, the Mets came right back the next inning with three runs to tie it. Even I got excited—how juvenile.
Keep Reading

New York Mets: Like this team?