2010 Stanley Cup Playoffs: Five Sharks That Need To Emerge As Wild Cards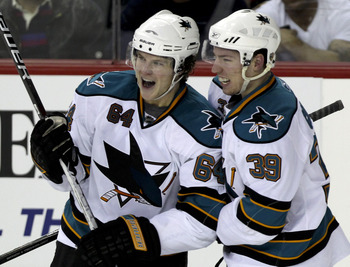 Whether it is a jovial joker or a one-eyed Jack, a wild card has a way of mixing things up in advantageous ways. It can turn the mediocre into amazing and the amazing into the absolutely spectacular.
It is this exciting variable that the San Jose Sharks will need to see if they hope to expel the the lingering ghosts of playoffs past.
Production from secondary line players is what lifts Stanley Cup Contenders to Stanley Cup Champions but luring this wild card from the deck is never a simple task.
For some secondary players, it can take a couple post season appearances for them to truly emerge as playoff playmakers. And when they finally show that they can play under the heaviest of pressures, there is no looking back.
For others, post season play is where their competitive nature instinctively pushes it's way to the forefront. Everything just seems to click and the game slows down when it matters the most.
Unfortunately, the Sharks have not witness the emergence of a wild card threat in what seems like forever. But if time is finally on the side of these playoff anemic Sharks, these are the five most likely candidates to play this much needed role.
Logan Couture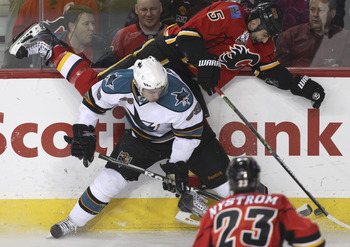 Logan Couture appears to be earning his first-round selection in 2007, finally showing enough talent and grit to permanently stay up in the Big Show.
Couture has exploded in final stretch of the regular season, collecting five points in the past seven games.
The young center's lively stick accompanied with his great ice sense allows him to find the open man on the ice and hammer home a shot when necessary. A carry over of his recent success into the postseason could be the extra burst that the San Jose Sharks need to go into unchartered terriotory.
How he reacts to his first Stanley Cup Playoffs will be the determining factor. In the OHL he notched 28 points in 22 games but struggled a little last season in the playoffs with the Worcester Sharks (only three points in 12 games).
Couture could be the center of the future for the Sharks and proving that he can perform in the playoffs right out of the gate will help him gain several South Bay supporters.
Ryane Clowe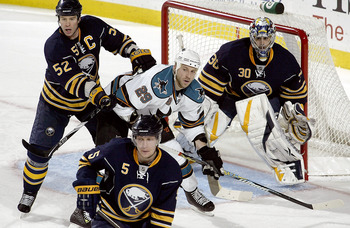 Ryane Clowe is quietly having a career season with the San Jose Sharks and if this can translate to playoff production over the next few weeks, then the Sharks could be in business.
Clowe has had varied playoff success over the past couple years but has yet to prove to be that consistent secondary line producer that many hoped. In his 31 playoff games with the Sharks, he has notched 17 points but has not been able to break out and become a reliable point getter.

Clowe definitely has the ability and size to drive the net and create chaos, which is extremely valuable when it comes to grinding playoff series. If he can find a way to play a consistent brand of hockey for a string of games in April and May, it could be enough to relieve the scoring pressure constantly suffocating the top line.
Jamie McGinn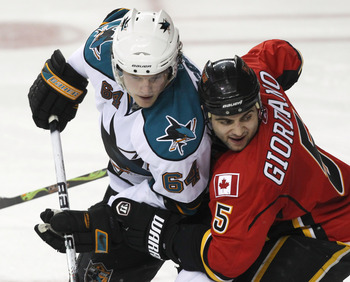 Jamie McGinn has not exactly been known for his scoring touch throughout his hockey career but that hasn't stopped him from stringing together a three game goal scoring streak late in the season.
While fans should not expect McGinn to be consistently notching goals in the playoffs, this current hot streak that he is riding provides them with a little hope that scoring can actually occur the further down the lineup you go.
McGinn can play the wild card role in several ways this postseason. A productive stick would be ideal from the prospect in his first career Stanley Cup Playoffs but McGinn's work along the boards could turn the tide when those checking lines take the ice.
I don't really expect to McGinn to make a huge dent in the box score during the playoffs, but it would be a nice treat to see him play a game-changing, physical role when the bright lights start to shine.
Joe Pavelski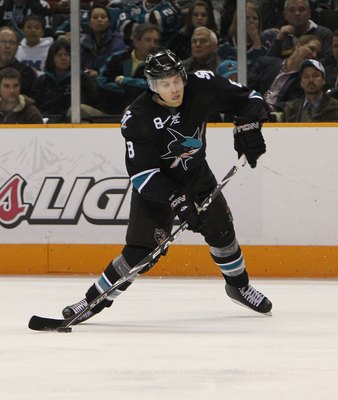 After the amazing season that he has put together this year, it has hard for some to consider Joe Pavelski a wild card candidate. But his sub-par postseason track record is a little hard to ignore.
Pavelski's has participated in 25 playoff games with the San Jose Sharks and has consistently struggled to produce at this more demanding level. Eleven points over the three seasons is hardly impressive, especially since in 2007 and 2009 he only notched one point per postseason.
But the past is just that and Joe Pa has proven that he has the talent to become a very special player in this league. If he can actually transform into this type of player during this season's playoffs, the Sharks second line has the ability to compete with some of the best lines entering the Stanley Cup Playoffs.
This could change the way the entire hockey nation truly perceives this top seed contender.
Devin Setoguchi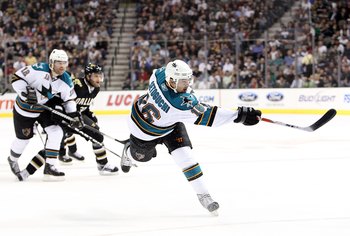 When thinking about Devin Setoguchi this season, chills undoubtedly run up and down my spine. Seto has gone through so many cold streaks in his third season with the Sharks it is difficult to remember the sizzling hot prospect that fans fell in love with his first two seasons.
If any player on the Sharks roster needs to break out their funk, it is Setoguchi. The former first round pick has struggled to find his shot and is quickly getting comparisons to Jonathan Cheechoo, another Shark who started strong but fizzled as his career in San Jose came to a close.
An unexpected playoff burst by Setoguchi could not only do wonders for his psyche (and his contract negotiations at the end of the season) but it could also be the final piece of a puzzle that has consistently confused this organization year after year.
Keep Reading

San Jose Sharks: Like this team?