Georgia Bulldogs G-Day Preview: Five Players To Keep An Eye On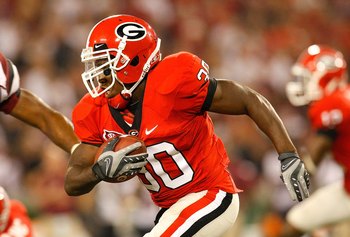 Georgia Bulldog's annual spring game, better known as G-Day, is a mere 48-hours away and the excitement that has been building since the start of mat drills culminates with the red and black teams hitting the field at Sanford on Saturday.
Most will have their eyes on the quarterback race and how Zach Mettenberger and Aaron Murray will fare in their ongoing competition.
However, there are other players worthy of keeping a close watch on as well. Players who could, no doubt, help Georgia get back on the winning track in the SEC.
Some of the guys are well-known by the Georgia Bulldog faithful, while others have yet to grow into their roles.
Vance Cuff—CB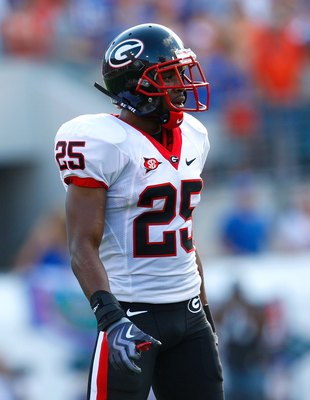 A recent article by Marc Weiszer of the Athens Banner-Herald states that Cuff has been turning heads all spring with his dynamic play. He's coming into his senior season and is in the mix for the corner spot left vacant by the departure of Prince Miller.
Georgia will need to find playmakers for defensive backs coach Scott Lakatos and cornerback will be of particular interest as there is talent but no clear-cut separation amongst players.
Brandon Boykin is locked in on one side and it is presumed that Branden Smith will end up with the other—assuming he doesn't end up on offense—but Cuff has a shot to prove he would be a worthy consideration if he can transfer his great spring into a solid G-Day performance.
QB Logan Gray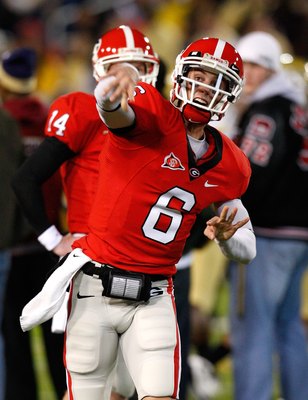 Logan Gray is as much a part of the QB race as Murray and Mettenberger but, to many, he's an after-thought. The thinking is simple enough, if he were going to be a factor, he would have been so by now.
After all, how much better could he be this season than he was in 2009?
Joe Cox started and ended the season as the Georgia Bulldogs quarterback and, it would have seemed natural to promote Logan Gray to the same role this season, his junior year.
Gray was impressive in last season's spring exhibition and could shine again on Saturday. If he does, he may start to get the respect that he has yet to find in certain circles.
RB Dontavius Jackson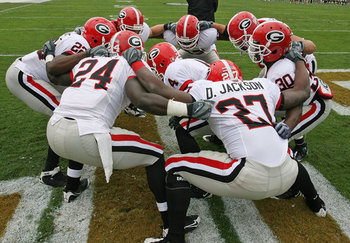 Last season, Carlton Thomas broke out in the G-Day game and many pegged him as the possible starter. Once the season began, the SEC's grueling defenses proved that Thomas was better suited doing other things than being an every down back.
Somewhere along the way, people began to forget about Dontavius Jackson, the former four-star recruit out of Franklin, GA. He was used sparingly and became nearly invisible on the depth chart.
This spring he has tussled with injuries but he has an opportunity to make a little noise if he can find his mojo.
If Jackson can be productive and flash some of the talent that he is known to have, there is no reason why he won't find his number called more often in 2010.
TE Arthur Lynch
The tight ends at Georgia have started to regain their steam in light of solid seasons by both Orson Charles and Aron White.
Arthur Lynch is every bit as talented and has started to find his SEC footing coming into his second season.
It will be interesting to see how he is used on the field this year as he has the body, strength, and skill-set to be a phenomenal blocking tight end. At the same time his contributions will be much different than that of White or Charles.
This is the year I look for him to break out of his anonymity and begin to establish himself as one of the better tight ends on the team—albeit playing a different role. G-Day could offer a chance for him to show what he can do for the Dawgs in 2010.
S Jakar Hamilton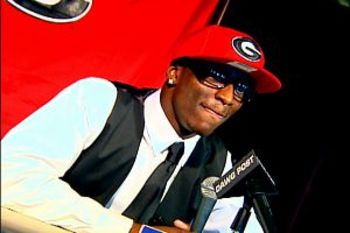 Obviously, from the day he signed with the Georgia Bulldogs, there has been a buzz around the arrival of Jakar Hamilton. So far, according to reports, he has not disappointed and there are many who think he will be one of the starting safeties come game one.
Until then, G-Day could offer a preview as to what the fans can expect to see from "The Hitman" this season.
If he turns out to be half as good as advertised, the Dawgs will be a lot better in the secondary than the one seen last year, ranked 117th in the nation.
That alone should be music to the ears of fans.
Keep Reading

Georgia Bulldogs Football: Like this team?