Tiger Woods, The Masters, and the SEC: Take the Favorite or the Field in 2010?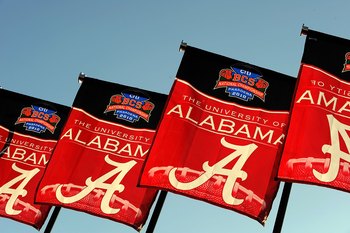 With the Master's kicking off today the question on everyone's mind is can Tiger Woods possible come back from his darkest days to prevail?
Many experts still list him as favorite despite not having played golf in months. That just goes to show you how dominant the man has been at his game.
Well in College Football you could begin to ask yourself the same question, but instead of one team you would be wondering if there is any team outside of the SEC that can actually compete and perhaps take home the 2010 BCS National Championship.
Between the likes of Alabama, Florida, and LSU just to name a few, the SEC has been the dominant conference in college football over at least the last decade if not much longer.
Here are a few hopefuls that may take up the torch and try to challenge the SEC for College Football Supremacy.
Texas Longhorns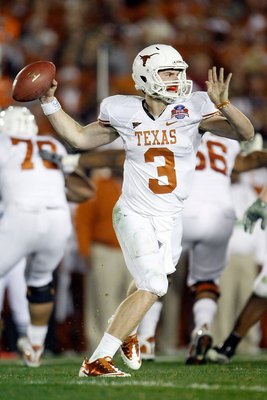 The Longhorns were certainly impressive last year but can they possibly compete for a National Championship again considering they lost Colt McCoy?
Well Garrett Gilbert certainly got thrown into the fire when McCoy went down with an injury in the championship game against Alabama.
If Mack Brown can steady the young quarterback and help him guide the Texas offense anything is possible.
Ohio State Buckeyes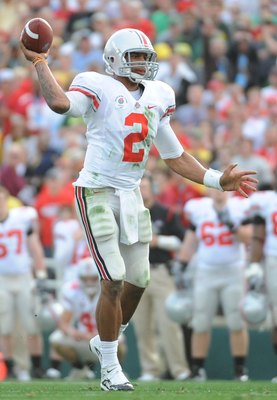 As long as Terrelle Pryor can recover from off season knee surgery then the Buckeyes will once again be in the select group of teams competing for a National Championship.
Ohio State got the monkey off its back last January by finally winning a BCS Bowl.
If Pryor continues to grow and develop and the Buckeye can make it through the Big 10 then they will have a shot at supplanting the dominant SEC.
Oregon Ducks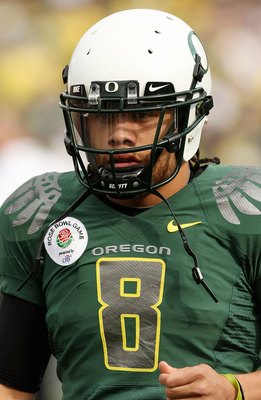 The Ducks have had arguably one of the worst off seasons in recent memory. It seems as if they can't stop shooting themselves in the foot.
Every time you turn around it seems as if a different Oregon Football player is getting arrested.
If the Quack Attack can pull it together and unleash some of that pent up aggression on opponents in a legal way then perhaps they can surprise some people.
Of course that is if they can get past good old Lane Kiffin and the USC Trojans in the PAC 10.
Miami Hurricanes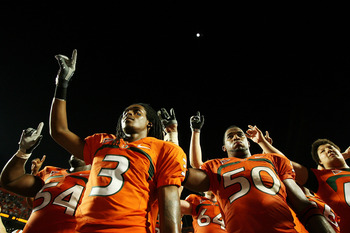 The Canes certainly were impressive at the beginning of the year beating three of four ranked opponents.
Then they began to show their youth and inexperience and that lead to a disappointing finish which featured a near loss to Duke at home. And yes we are still talking football.
Can Jacory Harris improve enough to lead Miami to the top of the ACC and potentially into a position to compete for a National Championship?
On paper things are looking good, but I'm sure Virginia Tech, Georgia Tech, and a few other conference rivals may have something to say about who reigns supreme in the ACC and ultimately has a chance to take on the SEC.
Boise State Broncos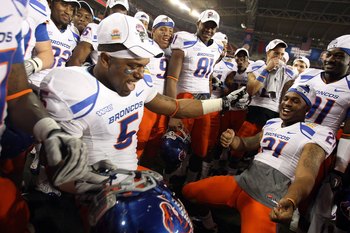 The Broncos are football's version of a mid major. They are the Gonzaga of college football and seemingly every year take a roster of unheralded players to great heights.
Can they do it again? I wouldn't doubt it but it won't be easy.
Boise State finds themselves in a position where a loss in conference could and probably would kill their chances of competing for a National Championship.
Therefore they must play a difficult enough non-conference schedule and beat some big names.
If they can do that and run the table in conference perhaps a WAC school will trump an SEC school for the title.
Sorry Field but...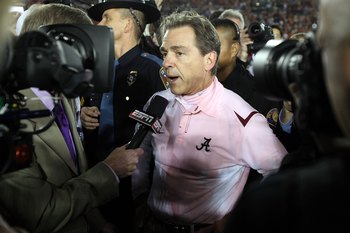 I'm taking the SEC in this one. They are just too deep and too good and I haven't seen a team consistently challenge Florida or Alabama yet.
Does that mean it isn't possible? No, but who do you see stepping up and knocking them down?
As for the Masters; I think Tiger will be close but ultimately the big lay off will cost him.
Golf just happens to be one of those games where a no name can win on any given day as much as the top dogs; not so much in football.
Keep Reading

Alabama Crimson Tide Football: Like this team?