Oakland Raiders: 2010 NFL Mock Draft
With only two weeks to go before the 2010 NFL Draft, the entire NFL world is in a mock draft frenzy, with a hundred different interpretations for every team.
Of all the teams in the league, the Oakland Raiders are the most difficult to predict, as no one can say with any certainty which way Al Davis will jump in any given year no matter what areas of need there are on the squad.
This is my hope for this year, because for all the talent on the Raiders team, they also have some glaring weaknesses. Unless they address those weaknesses, the franchise will continue to underachieve. I have completed a four round draft, as anything past that is just so hard to predict.
I think Tom Cable will have more input than he had last year, backed up by Hue Jackson, and the Raiders can draft not only at positions of need, but also take players that fit the system.
Cable likes versatile, hard working players, and I have tried to reflect that in my choices.
Will that happen in the end?
We find out two weeks from today.
Round One (8)—Brian Bulaga—OT—Iowa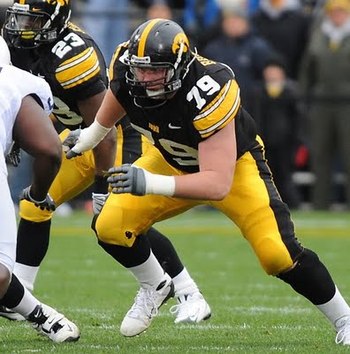 A position of great need, and a system fit sums up this pick.
The Raiders are just desperate for some new blood on the offensive line, especially at tackle.
The consensus pick is that Oakland will take Bruce Campbell from Maryland to fix their offensive line problems, but despite his awesome combine numbers, Campbell is at best an average football player.
Bulaga might not have the measurables that Campbell does, but he already played in a pro style offense at Iowa, and works in the same zone blocking system that Cable uses. A day one starter.
He totally dominated Georgia Tech's Derrick Morgan at the Orange Bowl, and Morgan is a top 15 pick on most boards.
He is also a great technician, and highly intelligent, both big pluses at the offensive tackle position.
While it is possible that Bulaga might be gone by pick eight, he also might not, and a lot of players rise and fall very late in the draft process. If Washington is high on Trent Williams as rumored, Bulaga could fall to Oakland. That would just be a dream scenario.
Others to consider would be Mike Iupati or Trent Williams. I'm not high on Bruce Campbell or Anthony Davis from Rutgers.
Round Two (39)—Kyle Wilson—CB—Boise State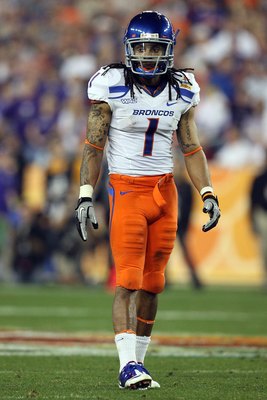 You know that Al Davis will take a cornerback at some point in the draft, so it should be a good player who is a value pick.
Wilson has the speed and cover skills that the Raiders look for in their man coverage defense, and he comes from a quality program at Boise State. Wilson also has that competitive edge that you look for, and showed it very well at this year's Senior Bowl.
Although most draft boards don't have him rated as the number two corner in the draft, I think he is better than anyone but Joe Haden.
It's up in the air whether he'll be available here, but if he is there he is my pick.
Round Three (69)—Cam Thomas—DT—North Carolina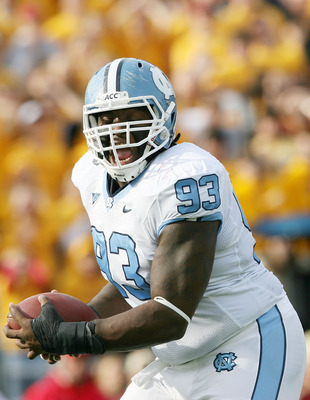 Once again a need position and a system fit.
At 6'4", Cam Thomas is the big, wide-bodied defensive tackle that the Raiders have needed for some time. He can clog running lanes, and draw double teams so that the Raiders can get the best out of Tommy Kelly, and help protect the linebackers.
I don't expect Thomas to be a big statistical player, but his size and strength give his teammates the opportunity to make plays around him. He is a two down run-plugger, and that is just what Oakland needs at this point in the draft.
Round Four (106): Pat Angerer—MLB—Iowa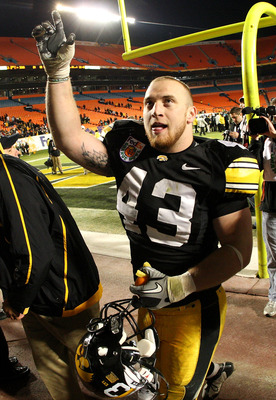 Angerer is a little undersized, but he is an intense presence in the middle and has been just a tackling machine during his time at Iowa. He also has the athleticism to fit into a Raider defense.
Size isn't as important with linebackers as with linemen, as proven by Zach Thomas, Jonathan Vilma, and Ernie Sims. Angerer is a competitive, high character individual who could flourish behind a decent defensive line.
If the Raiders can upgrade at defensive tackle (as with Thomas in round three), then they should consider taking Angerer here, as middle linebacker is going to be a role that has to be filled this year.
My guess is that Kirk Morrison will be gone before the start of the season, with some team coughing up a third rounder for him after the draft.
Later Round Considerations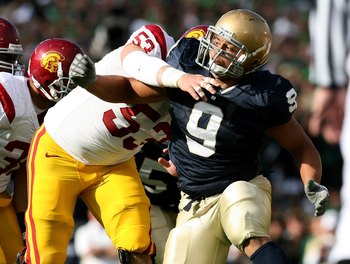 The Raiders still need to add some depth to the offensive line, as the addition of Brian Bulaga alone won't be enough.
Players who fit the Raiders system, and could/should be available past the fourth round include:
Jeff Byers from USC, who can play any of the interior line positions. He may not be very big at 300-lbs, but he was a four year starter in a quality program who understands blocking angles very well.
With his size and agility he would be a good fit for a ZBS, and at worst would be an upgrade over Chris Morris. He also showed fairly well at the Senior Bowl.
J.D. Walton of Baylor may also be worth a look in the fifth round. I am not convinced that Samson Satele is the answer at center, and Walton is rated high on some boards, low on others. He may well fall to the fifth round.
Mike Johnson of Alabama has been sliding down a lot of draft boards, and could make his way past the fourth round. Johnson is a guy who doesn't stand out on tape. He doesn't blow defenders away or pancake them, but he does always seem to get the job done. I would happily take a chance on Johnson at this point in the draft.
Keep Reading

Oakland Raiders: Like this team?