2010 NFL Mock Draft: Green Bay Packers—A Franchise on the Rise (UPDATED)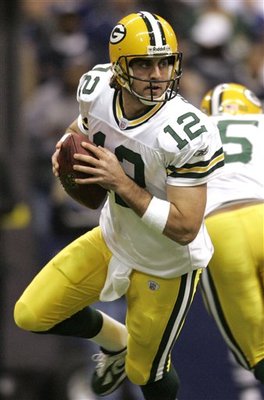 The Packers were a team to be feared coming into the 2009 season. With the Brett Favre shadow almost completely gone, this team was Aaron Rodgers' to lead to supremacy.
In the preseason, the team showed a lot of promise and looked to take the NFC North. But with injuries and inconsistency on the O-line, the Packers really struggled in the first eight games, including a loss to the then-winless Tampa Bay Buccaneers.
The team's record pace for giving up sacks was nothing short of nauseating, and our franchise QB was in jeopardy just about every game. Our line basically sent every defensive end we faced to the Pro Bowl, so to speak.
However, with the re-signing of Mark Tauscher, the team really began to rise once again. Bringing a much-needed constant to the offensive line, the Packers finally trotted out the same line for the last eight games.
Allen Barbre is obviously not the answer, and with Jason Spitz coming back, Daryn Colledge can move back to his normal guard spot.
The security of the line caused the Pack to go on a 7-1 tear to end the regular season, that loss coming on a last-second TD to the Steelers.
The loss of Al Harris really showed up as Jarrett Bush, Tramon Williams, and Josh Bell were all exploited by Ben Roethlisberger. The coverage skills definitely diminished when Harris went down. That left Clay Matthews to cover deep downfield without Bush's help over top.
That proves the Packers' needs for OLB, CB, and safety help to complement Matthews, Harris/Charles Woodson, and Nick Collins respectively. Big Ben and Kurt Warner destroyed our secondary, which leads to three other needs besides tackle: a pass rusher to complement Matthews and some cornerback and safety help.
Look for the Pack to address these needs in this month's draft.
Round One, Pick 23: TRADE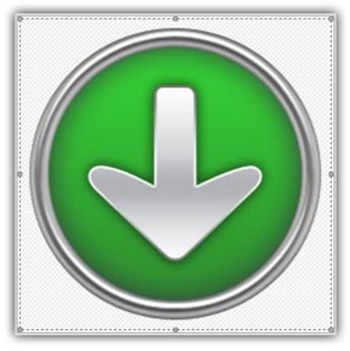 We all know Ted Thompson loves his draft picks and has no problem banking them. This situation is no different.
In my proposed trade, we trade our first round (23rd overall) and seventh round (231st overall) picks to Tampa for their second round (35th overall) and third round (67th overall) picks.
The Bucs should be chomping at the bit to get back into the first round with their many needs. With the draft spread over three days, day two picks become extremely valuable.
Round Two, Pick 35: LB Jerry Hughes (TCU)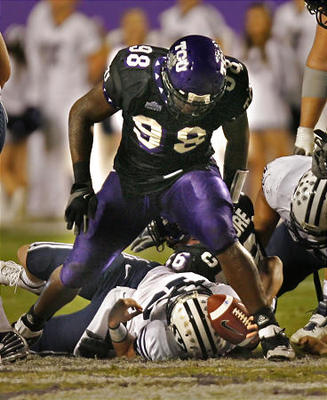 At 6'2", 248 pounds, Hughes will have to move to OLB in the NFL.
He's a great tackler, has very good instincts, creates fumbles, changes directions well, can chase down the quarterback in the backfield, gets low under the pads and uses a bull rush, but he needs to learn more pass rush moves.
Hughes and Matthews would be a nice tandem.
Round Two, Pick 56: OT Jared Veldheer (Hillsdale)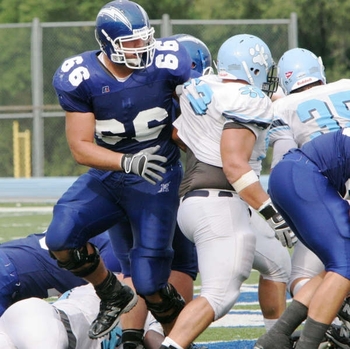 Two words: absolutely massive. At 6'8", 321 pounds, Veldheer would be Thompson's LT of the future.
Four-year starter in college. Solid footwork and quickness. Great pass blocker. Due to his height, he plays too upright at times. High upside.
He can sit behind Chad Clifton for a year, and when Big J steps in, T.J. Lang can move back to his normal guard spot.
And let's face it—how many mammoths come around in this draft?
Round Three, Pick 67: S Morgan Burnett (Georgia Tech)
Atari Bigby is very inconsistent and with no clear backup, Burnett would be a steal at 67. He's a terrific ball hawk with a good combo of size and speed. He can play both safety positions. Very good instincts and a reliable tackler.
Round Three, Pick 86: RB/WR Dexter McCluster (Ole Miss)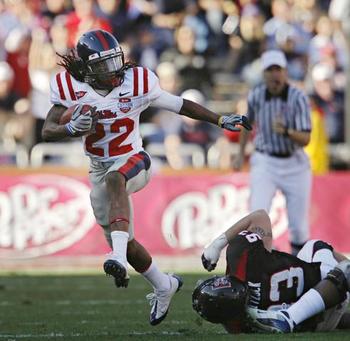 Although running back is not a glaring need, McCluster would be the dynamic playmaker on an already explosive offense.
At 5'8" and only 160 pounds, he has a small frame for the NFL, but he would instantly add a new dimension to the offense. He could usher in a "Wild Pack" formation, along with helping with third down duties and the return game woes.
McCluster should be the 56th pick if still around.
Round Four, Pick 123: CB Perrish Cox (Oklahoma State)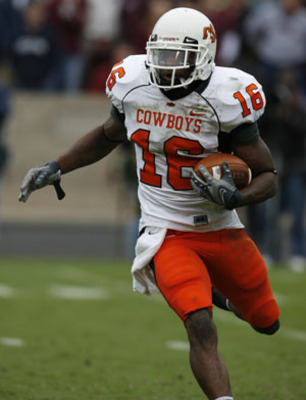 With Veldheer in the fold, the Packers look to shore up their secondary with this pick. Cox has shutdown corner ability and is an excellent return man. Physical, durable player and a good tackler.
This would almost be illegal if Cox was here at 123. He and McCluster would be a scary return team.
Round Five, Pick 155: DE George Selvie (South Florida)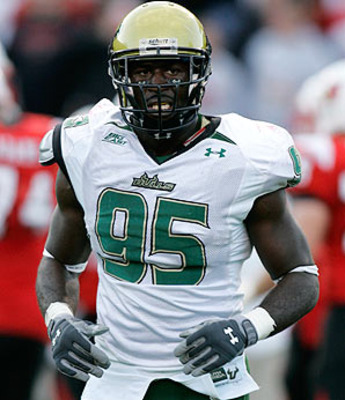 Easily the best player left in round five barring some weird fallout. Selvie displays great quickness off the snap; tall and thin hips allow him to get around the corner on tackles. Long arms, can bat balls down, chases plays from behind, excellent closing speed.
He lacks strength to bull rush offensive linemen and needs to work on more pass rush moves.
Round Five, Pick 170: OT Tony Washington (Abilene)—Compensation Pick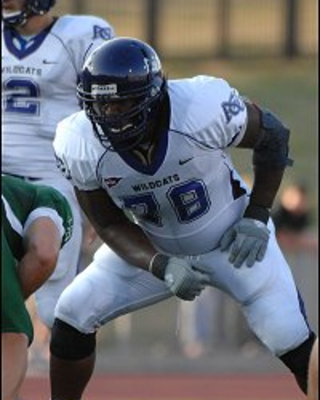 Great size at 6'7", 300 pounds and has great athletic ability. Good pass blocker. Light on his feet. Just another option along the line.
Round Six, Pick 194: C Chris Hall (Texas)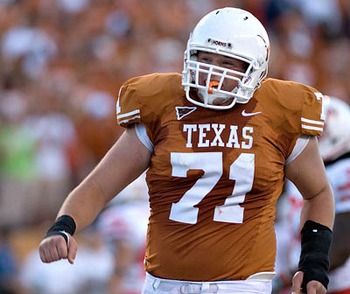 Versatile lineman who can play both center and guard. At 6'4", 296 pounds, he could step in if someone on the interior goes down. More of a value pick at this point.
Round Seven, Pick 231: Traded to Tampa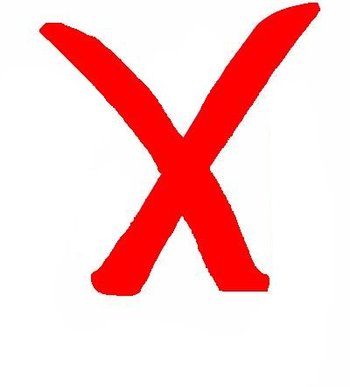 This pick was traded to Tampa.
Keep Reading

Green Bay Packers: Like this team?