2010 NBA Draft: Ten Players to Watch at Portsmouth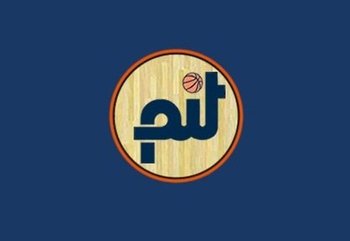 The Portsmouth Invitational Tournament gives NBA GMs and international scouts a chance to see the best graduating college seniors in the country in a centralized location in five-on-five situations.
Some players move themselves up draft boards with strong performances (e.g., Derek Fisher, John Salmons), but the bulk of these players are fringe NBA prospects at best.
Each year an increasing number of the "best" seniors are turning down invitations in fear of being exposed at the tournament.
Some agents feel GMs have seen enough of their clients, and opt to keep their players out of Portsmouth to begin working on skills for individual workouts.
This year some of the prospects we most wanted to see have withdrawn: Da'Sean Butler (injury), Omar Samhan (agent), and Brian Zoubek (?).
If you can't get to the tournament, take a look at the box scores after each game. Each of the guys on this list may not get drafted, but could do a lot to help their stock with a strong performance this weekend at Portsmouth.
No. 10 - Ryan Thompson, G, Rider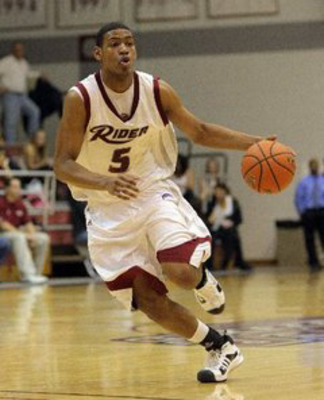 Ryan Thompson is best known for being the younger brother to current Sacramento Kings forward/center Jason Thompson. Those who closely follow college basketball know him as the do-it-all guard for the Rider Broncs.
In his senior season at Rider, the younger Thompson put up 17 points, five rebounds, and three assists per game.
The Broncs experimented with him at the point guard position to make Ryan a more intriguing prospect and he rewarded them by showing he has the tools to play each guard position.
As Thompson told us in an interview a short time ago, "I just hope that everything works out and I get drafted and have my dream come true." A strong showing this weekend could move him one step closer to that goal.
No. 9 - Hamady Ndiaye, C, Rutgers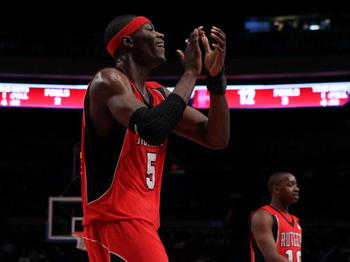 We're curious why Hamady Ndiaye hasn't gotten more publicity as a draft prospect.

He certainly has the length and athleticism as a shot blocking big man for a team that has the time to invest in his offensive game. These are the same questions asked about lottery projected Hassan Whiteside and Derrick Favors.
Ndiaye was the Defensive Player of the Year in the Big East this season—no small accomplishment given the number of projected pros in the conference.
In addition to his shot-blocking (almost five per game), Ndiaye showed he was an effective rebounder (seven per game) and has the ability to score at times. When at his best, Ndiaye can get deep position leading to easy buckets, like when he had 15 points and 13 rebounds against DePaul late in the season.
No. 8 - DeShawn Sims, F, Michigan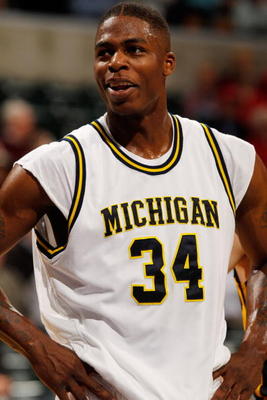 DeShawn Sims was rumored to have pulled his name out of Portsmouth, but his name is once again on the roster.
Assuming he shows up, Sims could do a lot to help his stock (currently projected undrafted).
To us Sims is similar to both Utah Jazz power forwards Paul Millsap and Carlos Boozer.
He shows a great ability to score facing the basket, but also can establish himself as a low post scorer when defended by a smaller forward. His numbers are impressive: 17 points, eight rebounds, especially when considering the slow pace of the Big Ten.
No. 7 - Jerome Randle, G, California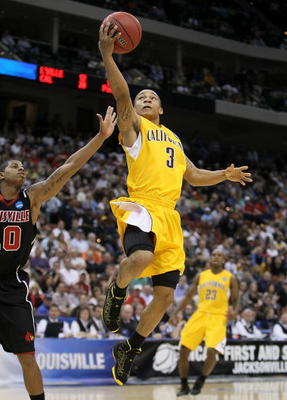 The Pac-10 Player of the Year comes into Portsmouth severely under the radar.
Most players who score 19 points per game while shooting better than 40 percent from behind the arc, and over 90 percent from the charity stripe would be getting serious NBA looks.
Unfortunately for Randle, he is really a 5'10" shooting guard who played point guard in college.
Aaron Brooks of the Houston Rockets is another Pac-10 player who was undersized and questioned as a point guard after his senior season, and he has gone on to show that size isn't the most important factor in NBA success and has led the Rockets through the playoffs the last few years.
No. 6 - Edwin Ubiles, F, Siena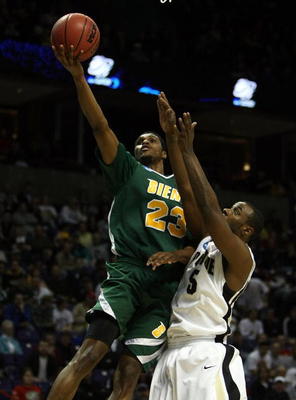 When you see Edwin Ubiles on the court he possess the size and build of a prototypical NBA small forward. He has wreaked havoc on the MAAC while with Siena, winning three straight conference championships along the way.
Ubiles game is very versatile and he does many things well. He has the ability to put the ball on the floor, score with medium range jumpers, and he finishes very well around the rim. He's probably best known for his 360 dunk during Siena's comeback in the MAAC Conference Final. He can really help his draft stock by showing smart shot selection and locking down the opposing teams best scorer.
No. 5 - Ryan Wittman, F, Cornell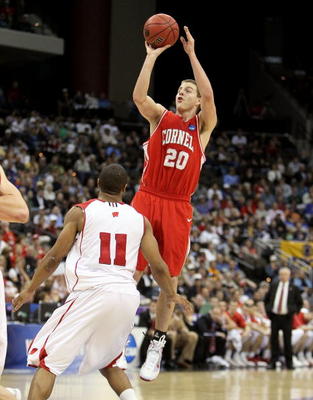 Ryan Wittman showed what he could do at the next level in Cornell's first two rounds of the NCAA Tournament against Temple and Wisconsin. Against Temple he scored 20 points on seven of ten shooting. He followed that performance up with 24 points on ten of 15 shooting against a stingy Badgers defense.
Unfortunately, his weaknesses were on full display against Kentucky. The length and athleticism he faced made him take very difficult shots and he struggled to get open away from the ball.
Currently projected to be undrafted, Wittman could move into the late second round mix with a good shooting week at Portsmouth against long defenders.
No. 4 - Mikhail Torrance, G, Alabama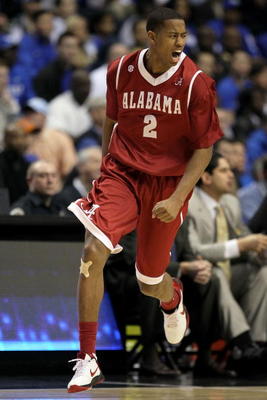 In a year with a weak guard class, Mikhail Torrance is the ultimate sleeper. He possesses exceptional size for a point guard, standing 6'5" with an incredible wingspan. He's shown that he can do-it-all averaging 16 points, five assists, and four rebounds in his senior season with the Crimson Tide.
Looking at the Portsmouth rosters Torrance will be forced to guard a number of different types of players. He'll go from guarding the true point guard Trevon Hughes to shooting guard Rodney Green to potentially matching up with forward Marqus Blakely, and all of that is in his first game.
His ability to show versatility on defense could move Torrance from a likely second round pick to a sleeper in the late first round.
No. 3 - Marquis Gilstrap, F, Iowa State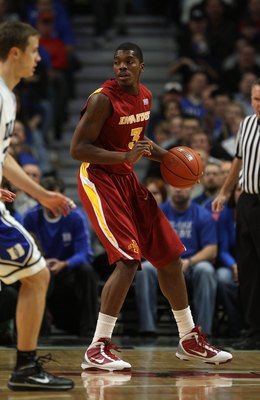 The Iowa State Cyclones were an absolute disaster this season, struggling mightily in Big 12 play. One of the lone bright spots was the emergence of Marquis Gilstrap.
Playing in the shadow of Craig Brackins, who coming into the season was considered a lottery pick, Gilstrap made the best of his one on one situation. He showed an ability to score on either block, with a basic post game or a face up game out to 15 feet. In Portsmouth he won't be over shadowed by a player like Brackins, allowing him the opportunity to shine for all the scouts in attendance.
No. 2 - Tasmin Mitchell, F, LSU
Tasmin Mitchell came into the season knowing what he needed to work on after declaring, and eventually removing, his name from the draft process. Mitchell showed as a senior that he has the strength to play as a face-up power forward, as evidenced by his improved rebounding, but failed to show the ability to score from the outside.
The Portsmouth Invitational will give Mitchell a chance to go up against other highly skilled bigmen, while showing that his stats weren't inflated by monster games against inferior competition. Also, if he can show a consistent shot, he may come onto a team's radar as a second round pick.
No. 1 - Devan Downey, G, South Carolina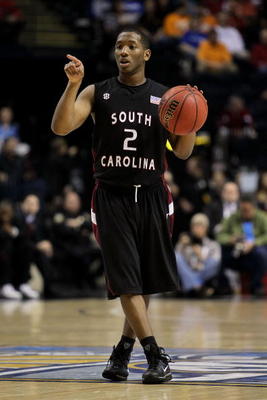 No one questions Devan Downey's natural talents. What people do question is his ability to score against the long, athletic defenders he'll face every night in the NBA.
For the Gamecocks this season, Downey averaged 23 points a game, but only shot 40 percent from the field. This low shooting percentage makes people question whether Downey can be effective as an NBA player. Those who like Downey believe that with a better supporting cast he can raise his percentages significantly. His detractors, on the other hand, will say that his points per game are inflated only because of his terrible supporting cast.
At Portsmouth the talent surrounding Devan Downey will be much improved. If he can continue to score while helping his team win, Downey could move into the middle of the second round.
More Coverage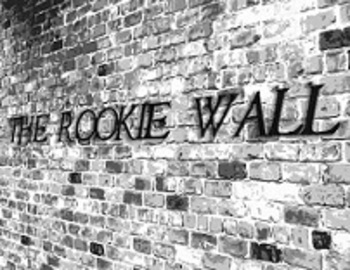 For more coverage of the Portsmouth Invitational Tournament visit The Rookie Wall!
Keep Reading