Five NBA Athletes With Bright NBA Futures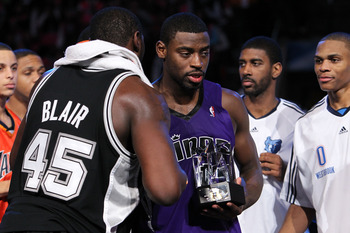 This season in the NBA I have witnessed many young players showcasing their talents.
I have witnessed Kevin Durant go off for 25 or more in 29 straight games.
Sacramento's guard Tyreke Evans, took over the Rookie Challenge, and Dejaun Blair dominated the competition in his minutes.
There are many athletes that could make this list but my top five is right here…..
Enjoy!
Kevin Durant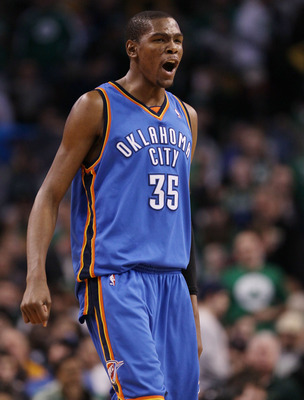 Any player that can ride a scoring streak that lasts more than two months should be considered a future superstar. Overshadowed by LeBron, Wade and Kobe, the notation of an MVP is more slim than not.
But he does not need an MVP award to assert his dominance. The Oklahoma City Thunder was recently a team, which opponents just ran over.
After departing the city of Seattle, the expectations for the Thunder to be a playoff caliber team was not in everybody's mind.
Kevin Durant turned the Thunder into a contender in the tough western conference. Durant can score on you in many ways. Durant has a soft touch from outside where his range is ultimately unlimited. Then he has the ability to drive and finish at the rim as well as any player in this league.
The Durant-chala as ESPN would call him has fluctuated himself from a prolific scorer into an all-around athlete. I would not be surprised at all if I saw the Thunder in the Finals in the next decade.
Needs to improve: Cut down on turnovers
Michael Beasley
The photo tells it all. Beasley is one athletic 6'10'' power forward.
Michael Beasley came in to the league as one of the better players out of the 2008' draft class. Due to Beasley inability to play defense is one reason that limited his minutes on the court. Now in his sophomore season, Beasley has showed he has altered his game.
Beasley has made a lot of improvements to his game from his rookie season. Beasley over his career, has a 47 percent chance of making the shot on offense.
Just recently in a statement game, Beasley accumulated 22 points, five rebounds and two steals.
Beasley definitely will continue to improve as the years come. As long as he continues to stay on the hardwood rather than the bench he should have a prolific career.
Needs to improve: Shot selection, defense, and consistency.
Tyreke Evans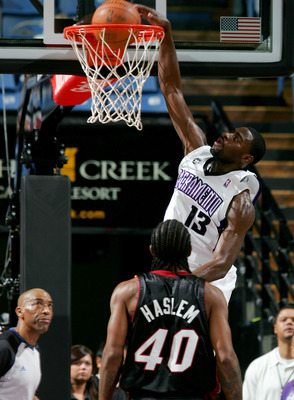 Tyreke Evans was just one of Calipari's successful experiments.
Tyreke Evans was drafted No. 4 overall in the 2009 NBA Draft by the Sacramento Kings. Sacramento was a down-and-out team the year before and Evans came in and turned the franchise around.
Now Evans is the No. 1 candidate for Rookie of the Year. Taking a look back into this decade, 9 of the 10 Rookie of the Year winners have had productive careers so far.
Tyreke Evans can hurt you in many ways. Evans has the ability to drive the lane, and finish around the rim. His aggressive style of play always puts pressure on the opposing defense. Evans has great vision on offense, meaning his passing is crisp for a player of his size.
Tyreke Evans is also aggressive on the defensive end. He has a vast wingspan, which he has used to his advantage. Evans can get into the passing lane and steal the ball.
Evans has no doubt become a superstar in this league, but his full potential has not even been reached yet. If the Kings add a player to compliment the combo-guard, watch out for Sacramento.
Needs to improve: Three point shooting
Stephen Curry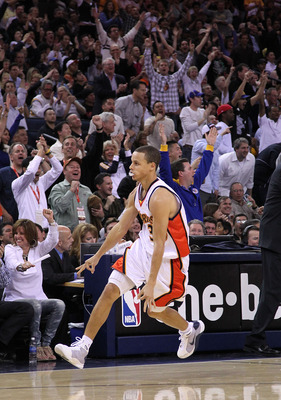 Stephen Curry came into the NBA not known for his point guard ability.
Everybody challenged his ability to play point guard, but after coming to Golden State and playing beside Monta Ellis, Curry has silenced all the doubters.
Curry is now in the NBA Rookie of the Year talks. A debate he joined after his strong play at the beginning of this year. Playing for Warriors coach Don Nelson, has proved to be the right deal for Curry. It enabled him to become more aggressive without hearing too much yelling. Due to Nelson's thinking of: "there is no such thing as a bad shot."
Curry has great range from three, and has the ability to finish around the rim. Curry will be a strong one guard for Golden State in the future.
Needs to improve: Consistency, leadership ability
Blake Griffin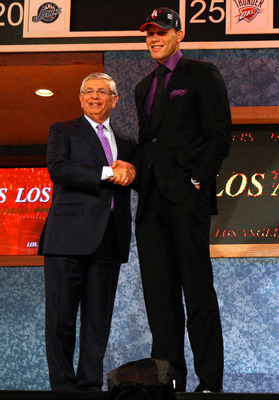 Not everybody is going to agree with this but Blake Griffin is a tremendous athlete.
Although he has yet to hit the hardwood for a NBA regular season game, he has shown his prominence before the season, in his workouts, as well as on film.
Griffin is 6-foot-11 with major leaping ability. Gets on the glass very productively and sometimes will punch it back on the defender.
Talk about a player with the ability to glide from the left block, as if it was as easy as a simple lay-up.
Very athletic forward for his size, and strives to outwork you on every possession. Out of all the film, or witnessing him live I have yet to see him take a play off. A high energy player, fatigue doesn't bother him at all.
His post moves has developed and as a result it attracts a lot of double teams. Seeing that Griffin is equipped with a high basketball I.Q, he understands when to pass the ball, and has great vision.
When Blake Griffin hits the hardwood he will change the Clippers frontcourt. He is going to be a great player for years to come.
Needs to improve: Shooting, FT shooting, more careful, defensive skills
Keep Reading