Like Father, Like Son: Future of Hockey Has Been Spawned by Former NHL Pros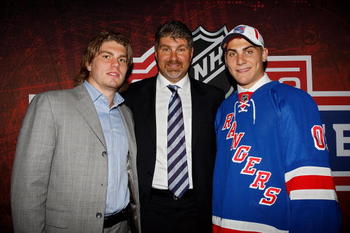 I have seen the future of hockey, and surprisingly all the names remain the same.
We are starting to witness an influx of young up-and-coming prospects that have famous fathers.
Each is looking to carve his path in the NHL and represent the name on the back of the jersey as much as the logo on the front.
We have seen some great father and son duos over the years, from Gordie and Mark Howe to Bobby and Brett Hull, but now the numbers look to be increasing.
Already in the NHL we have Mike Foligno's son Nick playing with the Ottawa Senators, Dave Gagner's son Sam in Edmonton with the Oilers, Bob Nystrom's son Eric with the Calgary Flames, and the list goes on and on.
Now there is a plethora of young stars that will soon be arriving in the NHL that are made from the gene pool of former players.
Makes sense, right?
They have been raised around the game and have the experts at their disposal when it comes to asking questions about what it takes to be a pro.
On that note, I decided to look at some future superstars that have the bloodlines to prove it.
You may not have heard of some of these young men yet, but you soon will.
http://dansallows.com/
Griffin Reinhart (Edmonton Oil Kings, WHL)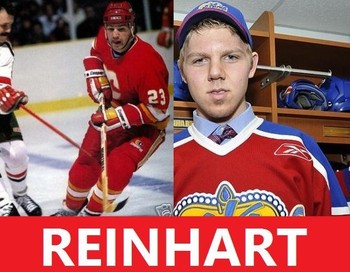 Paul Reinhart had a tremendous NHL career despite having to call it quits early after succumbing to back problems.
The crafty blueliner put up 560 points over 648 games with the Calgary Flames and Vancouver Canucks, and now his son Griffin is carrying on in his footsteps.
Except the 16-year-old Edmonton Oil Kings prospect is much larger than his famous father at 6'4", 205 lbs.
Griffin played as an under-ager for the Hollyburn A1 Huskies in 2008-09 and led them to a provincial title, scoring 18 points in six playoff games—a big reason the Edmonton Oil Kings selected Reinhart third overall in the 2009 WHL Bantam Draft.
This season he spent his time playing with the Major Midget Vancouver North West Giants, putting up nine goals and 25 assists in 32 regular season games, and helped them capture the League Championship.
There is a lot more to come from this blue chip. Fans had better take note, as there is a new "Rhino" in town.
Landon Ferraro (Red Deer Rebels, WHL)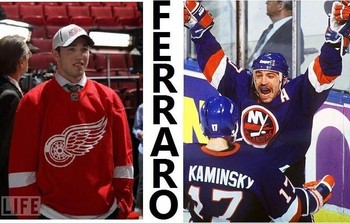 Landon Ferraro didn't have quite the junior stats his father Ray did, but that doesn't mean the 19-year-old center won't be a good player in the NHL someday.
Physically, at 6'0", 180 lbs., he is better suited for the pros than his dad was. He also comes with all the attributes that his famous father had, as he is a leader on and off the ice, is incredibly articulate and intelligent, and has a shoot first mentality.
Landon racked up 125 points in his 179-game WHL career with the Red Deer Rebels, and the Detroit Red Wings are hoping he will do the same for them in the coming years, which is why they selected him 32nd overall in last year's NHL Entry Draft.
He may not score 408 goals in the NHL like Ray, but he will be a very capable pro.
Seth Jones (Major Midget, U-18 Dallas Stars)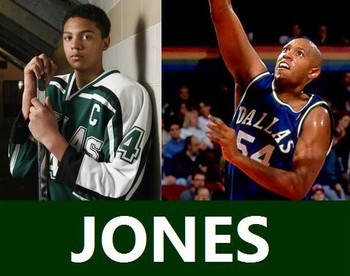 At 6′4″, 180 lbs., 16-year-old Seth Jones has the physical stature of a basketball player, which may be fitting, as his father is former NBA power forward Popeye Jones.
But hockey is where the young star's heart is, and he is quickly becoming one of the most talked about prospects for the 2013 NHL Entry Draft.
Jones is reminiscent of Niklas Lidstrom, in that he always makes smart plays and only hits when he needs to. His hands and skating ability are far above players his own age, and he also possesses a hard and accurate shot.
The Everett Silvertips took the towering defenseman 11th overall in the 2009 WHL Bantam Draft. Last season, Seth scored 33 points in 31 games for his Bantam Tier 1 Dallas Stars club, and this season he put up five goals and 13 assists in 42 games of Major Midget hockey.
Sure, he doesn't come from bona fide NHL bloodlines, but his dad knows what it takes to be a pro, and what is there not to like about a talented kid who has size to boot?
Matt Needham (Penticton Vees, Bantam AAA)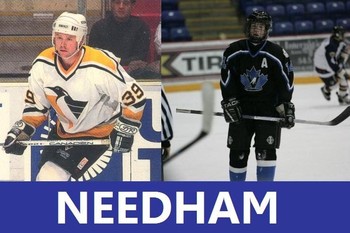 Penticton native Matthew Needham didn't only impress WHL scouts this season—he blew their minds.
The 15-year-old, who is listed at 5′11″, 175 lbs., had a banner year for his Bantam AAA club, racking up 94 goals and 159 assists while leading them to a 45-16-3 overall record. Needham gave his team the opportunity to win every game.
He was absolutely brilliant in the provincials, scoring 26 points in six games as the Vees had a respectable third-place finish.
The youngster is a rare breed of player that seems to just do everything well and will more than likely be a top five pick in the upcoming WHL Bantam Draft. He seems to excel at every aspect of the game.
He also has the bloodlines, as his father Mike Needham played in the NHL and won a Stanley Cup with the Pittsburgh Penguins in 1992.
There isn't any doubt that Matt Needham is going to be an excellent WHL player, as well as an absolute thoroughbred in the pros someday.
Ryan Bourque (Quebec Remparts, QMJHL)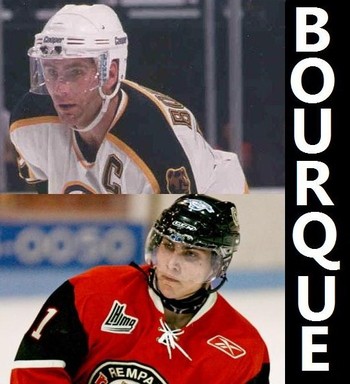 Ryan Bourque may never fill the shoes of his famous father, but most 19-year-olds don't have legends by the name of Ray Bourque as their dad.
That being said, Ryan is a chip off the old block and had a pretty good first season in the QMJHL with the Quebec Remparts, as he scored 43 points in 44 games.
He has phenomenal hockey sense, is a great skater, and kills with his speed, and he plays with a ton of energy as well.
The New York Rangers made a good selection when they drafted him 80th overall last year, and it wouldn't be out of the question to see the slick center in the Blueshirts' uniform as early as next year.
If he brings even half of what his dad brought to the table game in and game out, the Rangers got themselves a thoroughbred.
David Musil (Vancouver Giants, WHL)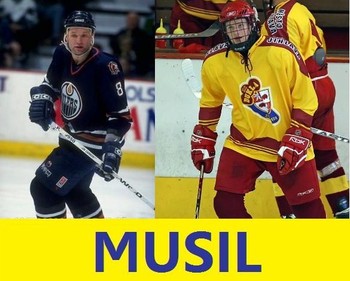 David Musil by all accounts is going to be the next big thing in hockey, and not only because he stand 6′5″ and weighs 200 lbs. at just 16 years old.
He is the son of former NHLer Frantisek Musil, so hockey is in the blood. He has been tagged as the Czech version of Victor Hedman.
He skates well for a big kid and has a great head for the game. His vision and passing are extremely good, and he uses his size and strength to his advantage every opportunity he gets.
This season, while playing for the WHL's Vancouver Giants, Musil had seven goals and 32 points in 71 games and was tied for 12th overall in the league with a plus/minus rating of plus-33—a big reason why NHL Central Scouting believes he will be a top five pick in the 2011 NHL Entry Draft.
The stronger he gets moving forward, the more dangerous he will become, as the high-end prospect has a ton of potential. It is only a matter of time before he is patrolling the blue line for an NHL team, just like his dad.
Tim Erixon (Skelleftea, Swedish Elite League)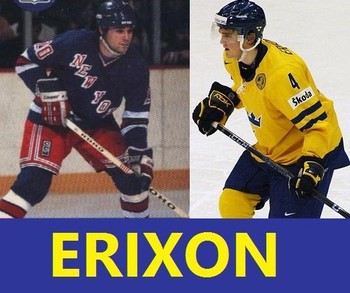 Jan Erixon played 10 seasons for the New York Ranger, and was a superb defensive forward. His son Tim Erixon plays defense but has an offensive upside.
Go figure.
The Calgary Flames' first round pick in last year's NHL Entry Draft isn't flashy but always seems to end up with points on the board at the end of the night.
This season, the 19-year-old blueliner put up a modest 13 points in 45 games with Skelleftea, though he was playing amongst men in the Swedish Elite League.
At 6'2", 190 lbs., he has the size as well as the skill to be a very good defenseman for the Flames one day, which is music to Darryl Sutter's ears.
Alex Velischek (Providence College, NCAA)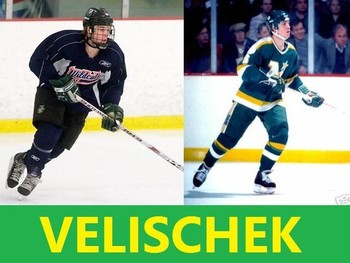 Alex Velischek may only resemble his father Randy in physical stature on the ice, as the son of the former NHL defenseman is known for having more of an offensive upside from the back end.
In his senior year, with Delbarton High School in 2008-09, he amassed 16 goals and 35 assists to go with a plus-61 rating.
This year, Velischek put up 11 points in 34 games in his first season with Providence College. Not too bad for a freshman.
He has a solid two-way game, knows when to pick his spots, distributes the puck well, has a cannon for a shot, and is a very mobile, smooth skater.
The Pittsburgh Penguins thought so highly of him that they made him their fifth round pick in the 2009 NHL Entry Draft.
The sky is the limit for the 20-year-old blueliner.
Carter Ashton (Regina Pats, WHL)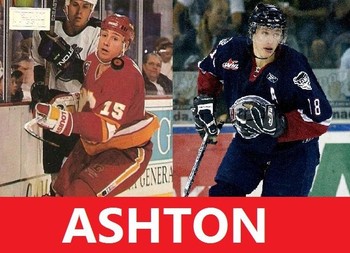 Brent Ashton was best known as being an NHL journeyman, playing for nine different teams over his 998 game career. There is a good chance his son Carter will play for at least one.
The 6'3", 205-lb. right winger put up 110 points over his 177 games in the WHL with the Lethbridge Hurricanes and Regina Pats and has all the makings of a pro.
He is a consistent two-way player, with good skill and a great work ethic, that drives to the net hard and is often rewarded. He basically is the true definition of a power forward.
The Tampa Bay Lightning selected the budding young star with their first pick in the 2009 NHL Entry Draft, and it may just be a few years before we see him alongside Steve Downie and Steven Stamkos on their No. 1 line.
Philip Samuelsson (Boston College, NCAA)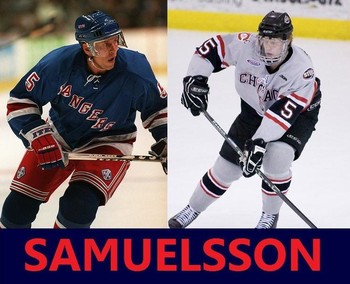 Not only did Philip Samuelsson follow in the famous footsteps of his father Ulf and play defense, but he will soon be patrolling the Pittsburgh Penguins' blue line like his dad as well.
The Penguins selected the young Samuelsson in the second round of the 2009 NHL Entry Draft and can't wait to get the 6'3", 205-lb. defender in the lineup.
He is seen as a very reliable defensive defenseman who does a great job of using his long wingspan and getting his stick in passing lanes and forcing turnovers.
This season he put up 13 points in 40 games with Boston College as a freshman.
Yet another blue-chip prospect for Pens fans to enjoy for years to come. Let's just hope Cam Neely doesn't have a son headed to the NHL as well.
Keep Reading