Texas Longhorns Football: Five Players to Watch in 2010
There was a different feeling around Austin this spring.
For the first time in five years, the Texas Longhorns entered spring practices on the heels of a bowl game loss.
Losing to Alabama in the championship game was bad, but many Texas fans will tell you the manner in which their 'Horns lost was the most disturbing part.
The loss of the winningest quarterback in NCAA history five plays into the game was the worst thing that could have happened to Texas, yet the game didn't end with McCoy's departure.
Young Garrett Gilbert took his first meaningful snaps as a collegiate player and made the most of them, rallying Texas to within three points of the Tide after trailing 24-6 heading into the final minutes of the third quarter.
Just when it seemed the Longhorns were finally going to steal the game, it was ripped away in a heartbeat, along with the hopes and dreams of Longhorn Nation.
But Mack Brown will tell you that it's in the past now and that looking forward is the best medicine for treating post-devastating championship game loss syndrome.
The annual Orange-White Spring Scrimmage was held on Easter Sunday and Texas fans were given plenty to look forward to heading into the 2010 campaign.
Garrett Gilbert, just months after being thrown to the dogs in Pasadena, showed some serious progress on Sunday, flashing his shotgun of a right arm.
There was also a running game sighting, an aspect that all but disappeared in the Texas offense last season.
While Texas is likely a front-runner in the Big 12 and National Title races, there are some major holes to fill along the roster (other than the obvious at quarterback).
Here are five players who I believe will play significant roles in 2010 and are definitely worth noting.
5. TE Barrett Matthews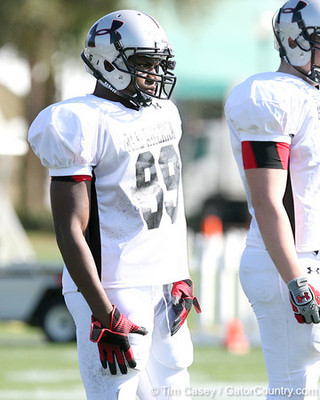 Apart from missing a reliable running attack, Texas hasn't had a real tight end in two years.
David Thomas was a crucial piece of the 2005 championship team and super-athlete Jermichael Finley dazzled fans in his short tenure in Austin.
At the start of the 2008 campaign, it seemed that young Blaine Irby would take the reins as the next go-to tight end in the Texas offense, but his promising season came to an abrupt halt with a career-threatening knee injury in Week Three.
Since then, the only use the tight end position has been put to is flexing Jordan Shipley and Dan Buckner (transferred) out and using them as pass catchers in third-down situations.
Sunday's Spring Game revealed quite a bit about the new-look 'Horns, but one of the more promising aspects of the game was the performance of sophomore Barrett Matthews.
Matthews, out of Galena Park, Texas, looked impressive catching balls from Garrett Gilbert. His best play of the game came on a play-action pass from Gilbert that resulted in the game's first touchdown.
If Matthews' performance on Sunday was truly an indication of things to come, Mack Brown may have very well found his next tight end.
Matthews would give the Texas offense yet another target that could expose slower linebackers in short yardage and goal line situations as well as stretch the middle of the field and keep secondaries honest.
4. DT Kheeston Randall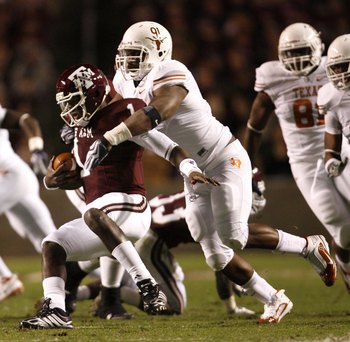 Losing Lamaar Houston in the center of the defensive line is a big hit, but junior Kheeston Randall is more than a viable replacement.
Randall showed flashes of his play-making ability last season, racking up three sacks, 21 tackles, and five TFL.
Kheeston is a high energy player and a ferocious hitter (ask Jerrod Johnson above) who can really cause some chaos in the offensive backfield.
Coaches would like Randall to add a little more weight to his already massive 6'5, 288 lb. frame so he can be more competitive with some of the better offensive linemen in the Big 12.
It will be up to Kheeston Randall to anchor the defense in the middle and stuff opponents' running games, but if his limited playing time suggests anything, the Texas defensive line won't skip a beat in 2010.
3. RB Chris Whaley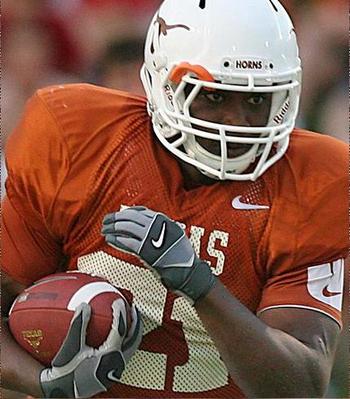 The Texas running game has been a state of flux since the departure of 1,600 yard-back Jamaal Charles in 2007.
Since Charles' magnificent '07 campaign, no Texas back has rushed for over 500 yards in the last two seasons.
Coaches have experimented with a multi-back system that has included Tre' Newton, Vondrell McGee, Cody Johnson, and Fozzy Whittaker, but none of them have been able to separate himself from the others, whether it be due to injury, ball security, or breakdowns in the line.
While Tre' Newton and Fozzy Whittaker have been tabbed as the early favorites to win a majority of the carries, I wouldn't sleep on redshirt freshman Chris Whaley.
At 6'3, 260, Whaley has really impressed his coaches this spring with his ability to pound the rock up the middle and make defenders miss in space with his surprising agility and speed.
Mack Brown has stressed a more frequent use of the I-formation this offeseason to kick start the running game and Whaley may very well be the ideal back to run in it.
In Sunday's scrimmage, Whaley carried 14 times for 70 yards, easily out-performing his counterparts on the ground.
If he can slim down a bit this summer and continue his rapid maturation as an every down back, look for Whaley to crack the tailback rotation in the fall and make a significant contribution to the running game,
2. WR Marquise Goodwin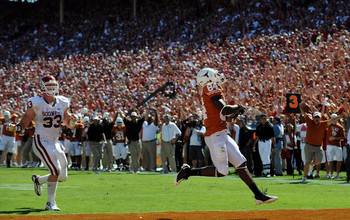 This former track star may be the fastest player in the Big 12.
As a freshman, Marquise Goodwin totaled 279 yards on 38 catches, a seemingly modest stat line, but he showed his game breaking ability in the biggest games of the season.
Against Oklahoma in Dallas, Goodwin broke a 6-6 tie after catching a Colt McCoy pass, stiff-arming a defender, and waltzing into the end zone.
In College Station, Goodwin responded to an Aggie touchdown that closed the Longhorns' lead to three by taking the ensuing kickoff 95 yards for a touchdown, putting Texas up for good.
In the National Championship game, the Texas speedster helped Garrett Gilbert rally the offense by catching three passes for 70 yards, two of which resulted in key first downs.
With Jordan Shipley gone, Texas will be searching for a go-to receiver for Gilbert to mesh with.
Many believe junior Malcolm Williams will be called on to be "the" guy and James Kirkendoll and John Chiles will be filling the other split-end and slot positions, respectively.
Where does this leave Goodwin?
Provided Williams, Kirkendoll, and Chiles all hold starting jobs, Goodwin will likely see time at an array of positions.
His speed will provide a mismatch virtually anywhere on the field, so Greg Davis can get creative in ways to use him.
Marquise recently decided to hang up the track spikes for good, meaning he can now direct his full attention to becoming a complete receiver.
He has tremendous hands and unlimited upside as an all-around athlete. If he continues to build chemistry with Gilbert, we could be looking at a superstar in the making.
1. CB Aaron Williams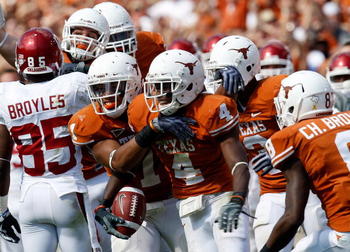 Texas has had a long tradition of NFL-caliber defensive backs.
Bryant Westbrook, Quentin Jammer, Nathan Vasher, Michael Huff, Michael Griffin, Cedric Griffin, Aaron Ross, Tarell Brown, and Earl Thomas have all had (and will in Thomas' case) their names called on draft day, often in the first three rounds.
The Longhorn secondary is filled with talent yet again this season and is set for another stellar year under the guidance of Will Muschamp and Dwayne Akina.
Losing all-everything safety Earl Thomas is a downer, but the cupboard is hardly bare.
Blake Gideon and Curtis Brown seem poised to have a monster year, but the one player that intrigues me the most is junior Aaron Williams.
At 6'1, 189, Williams has the look of a prototypical NFL corner with his combination of size, hands, and outstanding coverage and recognition skills.
Last season, Williams flew under the radar with the impressive seasons Earl Thomas and Blake Gideon were having in the middle, but he was spectacular none the less. Williams picked off three passes, forced two fumbles, and racked up five tackles for a loss and two sacks.
Arguably his best play of the season occurred during the Oklahoma game, when he intercepted a Landry Jones pass that was heading out of bounds. Williams leaped over the receiver and snagged it out of the sky, firmly placing momentum on Texas's side.
In 2010, Aaron will be asked to be one of the primary playmakers on defense and occasionally special teams.
There are potentially three Thorpe Award candidates in this secondary in Gideon, Williams, and Brown.
I believe Aaron Williams could very well snag the award for himself along with All-American and All-Big 12 honors if he continues to build on his vast potential.
Keep Reading

Texas Longhorns Football: Like this team?