From 2Pac to Big Shaq: Matching NBA Players with Their Rap Counterparts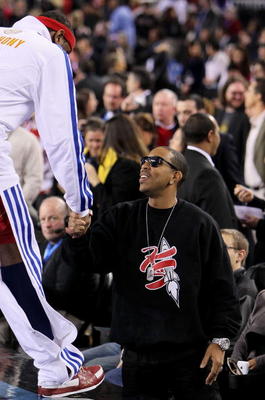 In a way, basketball players, rappers, both surface around the same career. Some career years, career games, albums, MVP's, or platinum selling albums.
At the end of the day, it all comes down to the same thing for all three specimens of their career. Money plays a factor in all three lives, as do fame and statistics, all in there own way.
Many rappers have attempted to play basketball, as have actors, and many more ballers have attempted to do the above. Shaquille O'Neal has infamously put his name as a basketball player who tries to rap, as have many other players.
But what they don't realize is how much they're basically living the same life as the other one, just in a different manner.
What I will do is match a rapper/singer, with a particular NBA player, comparing them and explaining why I matched the two together as twins of careers.
Micheal Jordan is 2Pac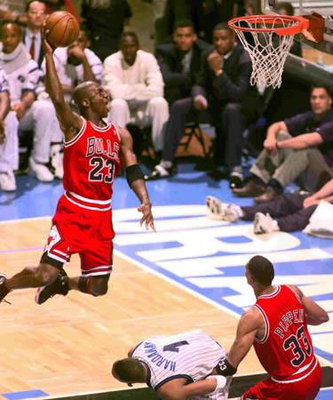 Both have attached their name to what they do: You think basketball, you think Jordan. You think rap, 2pac will almost automatically appear in your mind. They both have the biggest and most extreme legacies, and followers.
Both are probably the best ever, and most influential, at what they did.
Now, they are both gone. In different ways, though.
More similarities:
Annoying Sidekicks: Admit it: you hate Pippen. Sure, you'll admit he's probably one of the most underrated player of all time. He was never full appreciated for what he did. But, if like me, you grew up watching and waiting for Jordan to take over, he started to get annoying.
He continuously tried to imitate Michael, taking it to the hole or shooting it rather than giving it back to Jordan. And he was seemed the center of Chicago's problems.
2Pac always seemed to have someone by his side; be it Suge Knight, Shock G or Money B. He was never allowed to do everything by his own. Which everyone wanted him to.
Ron Artest is Lil Wayne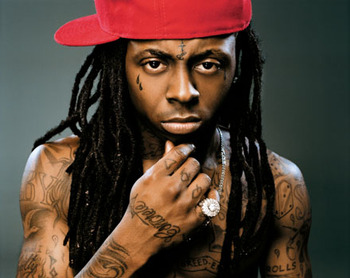 To start, Lil Wayne has, somewhat hardheartedly, always drank some sort of prescription syrup couch medicine. According to some doctors, drinking it so much, and even drinking up, could, and has already, messed Wayne up physically and, possibly, mentally.
Artest has just infamously revealed that during half time in NBA games he would drink champagne, wine, alcohol. This obviously almost surely messed his game up for the second half of the game, and has probably really disturbed Artest as a person. (Apparently he has a severe drinking problem off the court as well.)
Haircuts. Both are known probably as much for there repeatedly weird hair cuts as for some of their work.
Lil Wayne has always had his dreads/braids, but sometimes cutting it shorter, and sometimes keeping it long. Long braids on him looked weird on him at first, yet now it looks natural. But, sometimes when he cuts it short, it just looks unusual looking at him.
Artest has had strange, creative hair styles his whole career. He would always shave one word or another in his hair, to the point that it now looks natural, and people barely notice it.
Shaquille O'Neal is Notorious B.I.G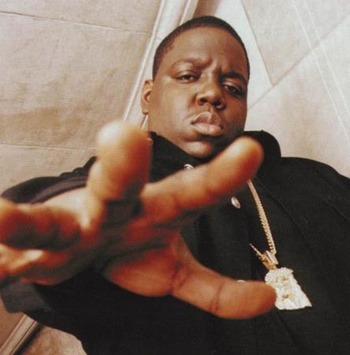 Both were dominant in their primes, and have more than just a little legacy. In the heights of their careers they went hand in hand with basketball/rap. They both slipped away from the scene earlier than they wish they had. B.I.G was entering his prime, and was then shot in a drive by. Shaq just disappeared too early from the peak of his game that that no one really understood where he went.
They were both slightly over weight. (Who am I kidding? Take away the slightly. They were BIG.)
Tough, Easy Fellas: Shaq will shout and scream during a whole game, thumping his chest, and playing extremely physical. He seems like the toughest on the court regularly, and dominates with toughness.
Yet, as we've seen in his fall outs with the Lakers and the Heat, he is a very sensitive cat. He gets offended easily, and then acts as a child whilst leaving the team.
B.I.G had some of the darkest and most powerful lyrics of all time, was one of the leaders of one of America's most potent gangs of all time, and just scared the crap out of some people. He was self portrayed as tough.
Yet, after being convicted of beating up a friend, and robbing him in the process, a shocked B.I.G forgot about his tough image for a while and said to the press "My mom... my son... my daughter... my family... my friends are what matters to me now" and referred to his peace of mind.
He did not appear soft, but it somewhat took away from his "I don't give a ---" and tough guy persona.
Steve Nash is Eminem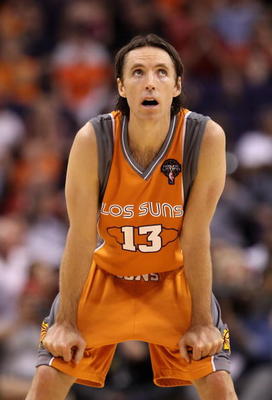 First and foremost, both are white that are making a statement in an profession dominated by black people. The NBA is somewhere around 90 percent African-American, rapping being probably an even higher percent.
They both leave us posing the question: What if they were black? If they weren't white, standing out in a black organization, would they be as good as they are considered.
Maybe.
More similarities:
They started off in somewhat of a strange stage. Steve Nash was a weak, white point guard, a complete liability on defense, making it even weirder considering what team he was on: The Don Nelson, Dirk, and Cuban Mavs team. Strange.
People thought Eminem was somewhat of a strange "freak" to start off, releasing his first album with Dre mentioning that him and his daughter disposed the body of his wife, and one song thoroughly encouraging husbands to kill their wives. His early lyrics classified him as indeed a strange rapper.
Going Solo: Nash was the first of the unorthodox Maverick to leave Dallas, settling alone in Phoenix, ultimately leaving a group and going solo.
Early on, Eminem was Dr. Dre. Dr. Dre made him, and owned him. Every one of Eminem's album also shared Dre's name on it, and he was regularly featured. Then Eminem slowly slipped away from being Dre's laboratory rat, and, though still under Dre's record label, started doing stuff more and more by his own.
Kevin Durant is Drake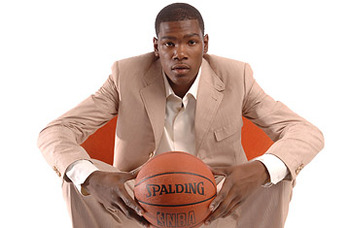 Both popped on the radar recently (around 06-08) and have been on everyone's radar as of lately. Durant was in serious contention for MVP, and is still in second place in the voting. Drake shocked everyone with his recent album "So Far Gone" and is now one of the most known rappers of today.
Young and Explosive: Durant popped onto everyone's screen, single-handedly leading his college team (Texas) and got everyone talking in March. He then went as the second pick in the draft, and is now one of the best in the NBA, still under the age of twenty five.
Drake is also still under twenty five, and has released one of the hottest albums of recent years in "So Far Gone". Already one of the top rappers, young Drake is predicted to be a sensation when he grows completely accustomed to the rap scene.
Kobe Bryant is Jay Z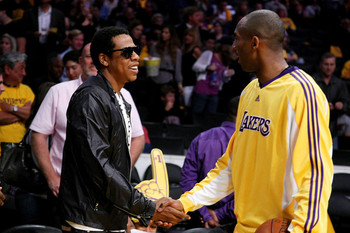 Both are just somewhat past their primes, but still on top of the their world. Kobe is still the center of basketball, and, though many would disagree, Jay Z is still the king of rap.
Both have youngsters gunning for them, trying to dethrone. But for now, all hail the kings.
Criticism: Kobe has been criticized like no other player in recent memory. As a young player, he was "underachieving". Later, he tried stealing the spot light from Shaq, and was apparently a spoiled player. He became a ball hog. He then became hated even more, understandably, after the rape case appeared. But, since last years championship, Kobe has finally received the support he deserves.
Much the same for Jay. He'll always be criticized for imitating others, and not having real "Brooklyn rap". Recently, he's been accused of falling behind, and his latest album was repeatedly trashed by reporters and fans.
But, Jay Z has gotten his due respect at times, and more than once has been referred to as still the king of today's rap world.
Scottie Pippen is Lloyd Banks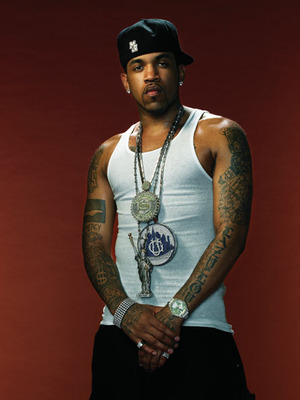 Neither were ever truly the main guy. The best compliment they would routinely get, is either most underrated something of a sort, or best back up. Never truly became their own self.
Banks was always behind The Game, and then, more often, 50 Cent in G-Unit. Once he left, though, he thoroughly struggled with his own singles.
Pippen is the stereotype back up. Was always MJ's robin. Always considered just a good supporting cast member. Yet, when he left the Bulls to go to the Blazers, he never achieved anything and later just floated away from the NBA scene.
Is this it? Lloyd Banks, after leaving G-Unit, and making his own singles, never realized true success alone. He hasn't done anything recently, and many think the end has come for Banks. But that leave us pondering—how could such talented rapper, singer, lyricist, leave the stage in such a scenario.
To fulfill his legacy, one last single, or a song with Fifty, would benefit him immensely.
Pippen left the Blazers after a couple uneventful seasons, but was rumored to perhaps come back later on. Pippen's winning career shouldn't end on a mediocre team. He has claimed he still has some juice left. Then use it. Come back for a season or two, and prove a sidekick isn't all you were made out to be.
Lebron James is Kanye West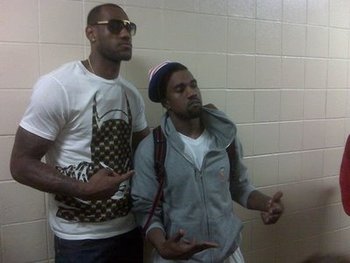 Though contrary to some public opinion, neither have realized true potential, true prime. Lebron is still casted under Kobe for the lead part, and Kanye has yet to be crowned the best rapper.
But Kobe's time is getting smaller by the game, and Kanye seemingly keeps on rising, as rapper and as producer, while other rappers struggle or get thrown into prison.
Domination: Lebron repeatedly dominates game after game, season after season, and, though not the best player yet, has dominated like no other in recent memory save for Shaq.
Kanye hasn't had the most consistent career of all time but songs such as Stronger, Gold Digger, When it Falls Down, Jesus Walks, Can't Tell Me Nothing, Hey Mama and Slow Jams all coming from the same person suggests domination. If not more.
Lastly, both have extremely arrogant personalities. Lebron recently said that he could lead the league in scoring every season if he pleased.
Kanye is Kanye. He has claimed himself the voice of the decade. He has claimed himself the best rapper alive. I mean, how arrogant can he really get?
Keep Reading