10 Recruits That Could Save 10 Embattled College Football Programs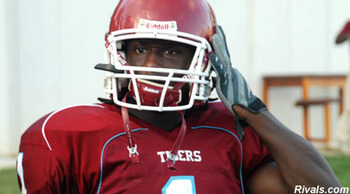 Having followed the 2010 recruiting season closely, I've noticed how surprise decisions by players like Keenan Allen, Robert Crisp and Demar Dorsey functioned like off-the-field "upsets" by the recruiting "underdogs".
As a Michigan fan, I've also seen that sometimes, one recruit can (briefly) turn a program, and it's embattled coach, around.
With those two ideas in mind, I'd like to present the 10 recruits whose commitments could save 10 of the programs with the most to lose in 2010.
Granted, these players can't help until 2011, and many of them are extreme longshots imaginable only in the most absurd universe.
But securing any of these players would, in my mind, give the coaches at each of these schools a pretty sturdy insurance policy against their own termination.
OLB Trey Depriest to Michigan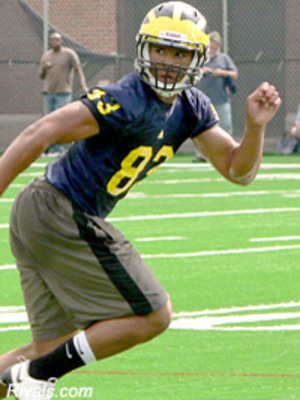 Don't let that helmet fool you. Trey Depriest is rumored to be a Buckeye lean, although he is trying to keep his recruitment open.
The 6'2, 225-lb outside linebacker out of Springfield, Ohio grew up a Michigan fan, but is uneasy with the Wolverines less-than-winning ways of late.
He maintains he would reevaluate Michigan if they have a successful 2010 season, but by then, it may be too late—Ohio State is recruiting him hard after missing out on top in-state linebacker Jordan Hicks in the last recruiting cycle.
His commitment would bolster Michigan's so-so linebacking corps, which has been lacking instinct and aggression since the 2006 corps that sent three starters (LaMarr Woodley, David Harris and Prescott Burgess) to the NFL.
Next year, the Wolverines also two of their starters in Jonas Mouton and Obi Ezeh after this year, so Depriest would be needed immediately.
Stealing one from the Buckeyes always helps, and if Depriest chose Michigan, there's a chance the package deal he formed with top 2011 QB Braxton Miller would split in favor of either Michigan or Alabama.
Plus, wouldn't his commitment also mean 2010 is going better than expected?
ILB Rob Hankins to Colorado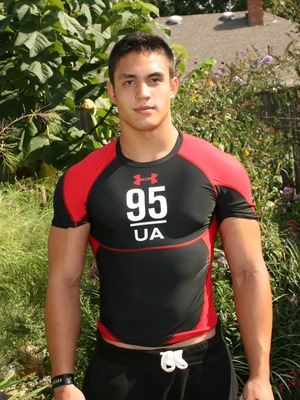 I'm not sure any recruits could save Dan Hawkins' job at this point. Indeed, the knock on Hawkins is that he has recruited satisfactorily but shown no signs of being able to develop or utilize the talent (Darrell Scott on kickoff return duty? Really?).
But if the Buffaloes want to regain an edge in the Big 12, I suggest they start with one of 2011's top middle linebackers, Rob Hankins of Dallas, Texas.
Hankins is a fast and extremely athletic inside backer who is being recruited by every major program in the country.
His speed would play well in defending against the pass-happy offenses of the Big 12, but he can also lay the lumber in the run defense, which will be vital once the Nebraska offense comes to town.
The Buffs have extended an offer, but are an extreme longshot. Still, desperate times call for desperate measures.
If the Colorado athletic department can't afford to fire Hawkins, maybe they can at least scrape up enough dough to fly him down to Dallas on Spirit Airlines and get an in-home visit.
QB Christian Lemay to Texas A & M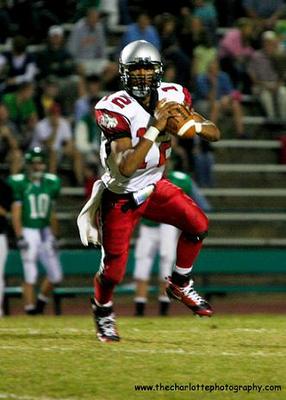 I considered using one of Texas' many outstanding running backs from the 2011 class as a recruit that could save Texas A&M, but the Aggies actually stand a decent chance with a few, like Herschel Sims and Aaron Green.
The real stunner would be in landing top 2011 QB Christian Lemay, who added Texas A&M to his finalists list in his most recent cut.
Of course, Lemay is almost guaranteed to go SEC and will likely choose Florida.
But if Mike Sherman were able to convince Lemay to take Jerrod Johnson's spot once the latter graduated, he would almost be guaranteed to survive the hot seat no matter what happened this season.
Lemay's release is so flawless, his mechanics so good, that no meddling from Sherman's coaching staff could possibly ruin it. He's probably the best pure passer in the class.
The Aggies showed they could recruit with the best in the most recent cycle. While Sherman will likely finish the 2010 season no longer fighting for his job, a no-fail insurance policy would be to lock in an unbroken chain of command vis a vis quarterbacks.
OLB Stephone Anthony to NC State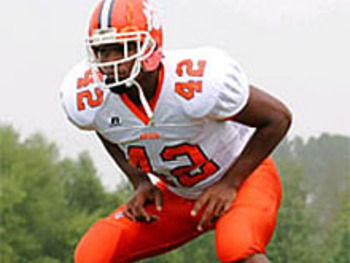 NC State threw the ball like mad throughout 2009, forced to come back from overwhelming deficits their defense left them time and time again.
Bringing stability back to that defense starts with the linebacking corps. Hiring blitz-crazy Jon Tenuta as your LBs coach is a good step, but the Wolf Pack need better athletes overall.
If they could crack the recruitment of outside linebacker Stephone Anthony, who hails from Wadesboro, North Carolina, they'd have an anchor for the linebacking corps for at least three years. His run-stuffing skills are sure to put any defense in the top half of their conference.
Anthony is likely to drop for Clemson, but he's delayed his decision a few times, a good sign for any local program.
With five of 2009's top six tacklers leaving, NC State might be in even worse shape after 2010. All the more reason for Anthony to consider taking on the Pack as a project.
OT Cyrus Kouandjio to Maryland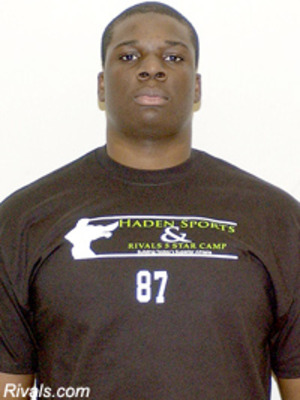 Likely nothing will save Ralph Friedgen's job at Maryland—he'll probably retire after this year no matter what—but there is more at stake than just one man's 401k.
The Terrapins went a dreadful 2-10 last year and were within a hair of going 1-11 were it not for the schizophrenic play of the Clemson Tigers at 2009's midseason.
Friedgen closed his most recent recruiting class well—I called it one of the most underrated of 2010—and opened 2011's with a pair of decorated tackles and linebackers apiece.
To really cement his legacy—and put the Terrapins on the radar for a future ACC title—Friedgen could go hard after Cyrus Kouandjio, a Hyattsville, Maryland tackle and Scout's no. 1 prospect at the position.
Kouandjio is the younger brother of Arie Kouandjio, who committed to Alabama in the last recruiting cycle. The Tide look to have Cyrus' early attention, but he also has sincere interest in taking a look around the Big East (he's visited Rutgers and Pitt), ACC (he dropped in on one of Virginia's spring practices), and Big Ten (he just got back from a visit to Penn State).
Maryland's tackle commitments aside, if Friedgen can somehow land Kouandjio, he'll not only have left the program in much better shape than he found it, he'll have put it back in position as an ACC dark horse for the next 3-4 years. Kouandjio is a top five prospect in whichever NFL draft he enters.
QB Cardale Jones to Illinois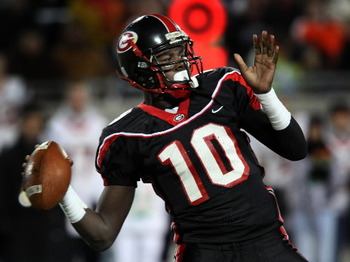 I should probably put a cornerback or middle linebacker here—Illinois owed its 2007 Rose Bowl run as much to Vontae Davis and J Leman as it did to Juice Williams and Rashard Mendenhall—but I think QB Cardale Jones is the kind of special prospect that can exert his will on the outcome of games and do what needs to be done to win.
Illini fans are probably tired of hearing about dynamic QBs in the spread offense after the failure of the Juice Williams experiment.
But Jones is the real deal—a rocket arm, a sturdy build and moves like Vince Young when he breaks containment.
The Glenville High School prospect could contend for the most dynamic quarterback in the Big Ten right out of the gates. But that's only if he gets a chance to get turned loose.
Whether Ron Zook will need a savior we'll leave to 2010 to decide.
WR Kasen Williams to Washington State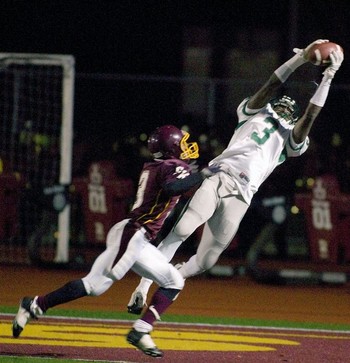 Whoo, we're talking long shot here.
Kasen Williams is the no. 1 wide receiver in a weak year at the position. The Sammamish, Washington native holds offers from every top program and can expect a red carpet to roll out wherever he visits.
Meanwhile, lowly Washington State has won three games total in the past two years, and almost went defeated in 2009 were it not for the Southern Methodist Mustangs, who fumbled away a lead to end up Wazzu's only skin.
Not even the Cougars could mask the Biletnikoff-level talent of Williams, a top in-state target. Scheme, coverage, a second receiver to distract safeties—it won't matter. Throw it to Williams and watch him score.
If Paul Wulff believes, like I do, in a one-man fix, he'll try every recruiting trick in the book to gain Williams' commitment, resurrect the Cougars, and save himself from the coaching guillotine.
S Gerrod Holliman to Minnesota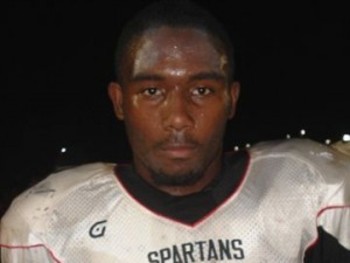 It's hard to pinpoint what Minnesota needs most—a quarterback, a solid running game, defensive linemen, Valium for the head coach—so I'll go with a safety. Suspect teams can always use terrific safeties.
Gerrod Holliman is Scout's No. 2 prospect at the position, and Minnesota is one of a handful of schools to have offered the Miami, Florida prospect, according to Rivals. Barring some unknown character issues, that offer sheet should fill up fast pretty soon.
Tim Brewster rode into Minneapolis toting the promise of cutting-edge recruiting, but after losing Minnesota's top in-state prospects to other schools two years in a row, the nametag no longer seems to stick.
The best way to resurrect that reputation, and bring a little life to a mediocre defense, is to make a big splash in recruiting down south,
Minnesota returns just two of its starters from an above-average 2009 unit, and one of them just got arrested and suspended for driving under the influence.
This squad will probably take a major step back in 2010, but Brewster has an opportunity to spin that into something positive. If the Gophers get in on him early and play their cards right, they might be able to regain traction in the Big Ten while fielding one of the conference's most dynamic defenders.
OT Christian Westerman to Arizona State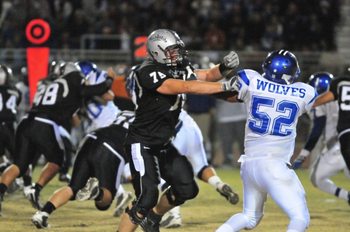 Arizona State has landed a nationally-targeted recruit before, luring top middle linebacker prospect Vontaze Burfict out of Corona, California, and then fielding the Pac-10's best rush defense in 2009.
Adding Christian Westerman, 2011's second-most sought-after offensive tackle, to their roster would do more than just improve the Sun Devils' scoring offense (which finished third-to-last in the conference in 2009).
It would probably save Dennis Erickson's job.
USC, Florida and Texas are courting Westerman, who just got back from a visit to the Trojans over Easter. The Sun Devils would really have to outdo themselves to convince Westerman they give him the best shot at success.
Westerman plays at Hamilton High School in Chandler, Arizona. His former teammate, LB Anthony Jones, was a part of ASU's 2008 class. That could be a major selling point.
Arizona State's offense, and specifically it's pass protection, has always been it's weakest link (just ask Rudy Carpenter).
Westerman has a chance to change all that and put Arizona State in Pac-10 contention if the coaches can convince him to stay home.
RB Isaiah Crowell to Georgia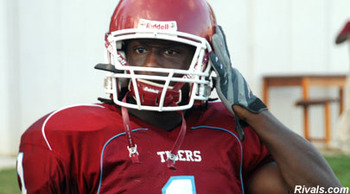 Isaiah Crowell "just doesn't like Georgia," according to a commenter on one of my previous articles.
But I think such confidence in Crowell's love for Alabama/Auburn/whomever the commenter pulls for overstates Crowell's disillusion with the Bulldogs.
In my opinion, Crowell, 2011's second-best running back, is taking a wait-and-see approach with Georgia.
The Bulldogs enter 2010 with their coach on the hottest seat in the SEC. How well the Dawgs play in a wide-open SEC East race in 2010 will determine how they stand with a majority of Georgia's strong in-state 2011 crop.
That doesn't mean Crowell couldn't turn them down whether they go 10-2 or 7-5. But the Columbus, Georgia native shouldn't ignore how he could singlehandedly turn Georgia into an instant SEC East contender for 2011.
He's a guaranteed starter as a freshman wherever he commits, and I like him to contend for Conference All-America status as long as he stays healthy. For a program like Georgia, which spent most of 2009 looking for the right fit at running back, he has a chance to take over early.
Turning a program around appeals to some recruits more than others. We'll see if Crowell is the type that likes to lend a helping hand—or if he'll need to.
Keep Reading