Assessing Liverpool's Chances for Europa League Triumph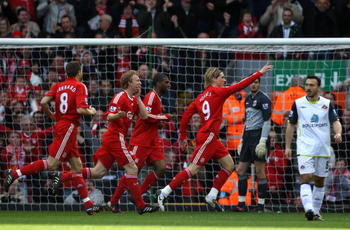 The first tie of Liverpool's Europa League quarterfinal was certainly eventful.
The sending off of Ryan Babel was a turning point that enabled Benfica to take charge with two second-half penalties.
Liverpool's saving grace is their away goal. Scored early on through a wondrous back shot from Daniel Agger, it provides the Merseyside outfit with an opportunistic foundation to build upon.
If they can seize an early advantage, then they may make life a lot easier for themselves. Anything but a first-half lead, though, will offer fans much in the way of nervous desperation.
So what do Liverpool need to achieve in order to edge their way into the semifinals of the only trophy they are able to win this season?
I believe there are three main areas of both concern and importance that will determine the outcome of the night in Anfield on Thursday.
The Team's Goal-Scoring Ability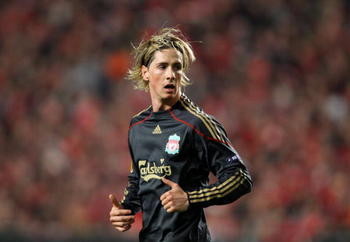 Is Fernando Torres a natural goal scorer? The readily available answer is yes.
However, with his excruciating miss in the second half at Benfica, Torres highlighted his sometimes awkward stance in front of the goal. A mighty striker he may be, but he is not without his flaws.
That instance must not be repeated at Anfield.
For Liverpool to succeed, he is going to be their main ammunition. Indeed, the team does have Steven Gerrard, who can be forthright and vigorous in his ability to etch his name onto the score sheet.
Dirk Kuyt has also come into his own this season and scored on a more frequent and credible basis.
But it is Torres who is expected to shoot into the net, and it is Torres who has the ability to strike through the opposition's defence.
Therefore his name is required on the final scoresheet, or at least in an assisting role if Liverpool are to progress.
You have to feel that a lack of competence from the striker would immediately spell the end of Liverpool's campaign.
The Fight for Possession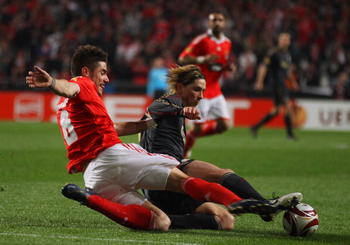 Liverpool are known for their capabilities of passing the ball effectively.
With Gerrard, they have somewhat mastered the long pass, and at times his combination with Torres has proved lethal for their opponents.
What was apparently lacking in Benfica, though, was the ability to keep hold of the ball, especially in the midfield.
For the first half of the game the team were carelessly giving the ball away at all positions. At certain points when Liverpool were passing through their defenders and with Pepe Reina in goal, you couldn't help but feel uneasy as the opposing side looked to steal a stray ball and score as a consequence.
Oddly enough Liverpool became much tighter with possession after Babel was shown red. They kept hold of the ball more often and began to look vastly more confident with the ball in their own half.
The occurrence of having the ball in their possession for the return tie at Anfield is going to be essential. They cannot risk the same fate evident in Benfica, where the Portuguese outfit dominated for most of the game.
It allowed them to establish a barrage of opportunities to take the game and kill the tie there and then.
Benfica may have missed too many goals in the first leg, but you would be a fool to expect the same if they dominate at Anfield.
A Stubborn Defense Is Required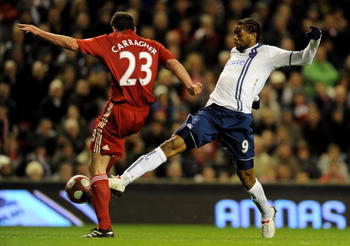 Torres was allowed through on goal on one occasion. He clumsily threw that chance away by shooting wide. Yet his chance was eclipsed by the number of long balls and set pieces that surfaced into Liverpool's penalty area.
Benfica subsequently embarrassed the defensive capabilities of their opponents.
On too many occasions the defense was visibly lacking. Benfica were afforded multiple opportunities with just their player and Reina between the ball and the net.
Liverpool were incredibly lucky that Benfica's main beneficiary of their defensive errors, Oscar Cardozo, lacked any form of clinical finishing. He only seemed to reserve this for his two penalty kicks.
If he had been more accomplished ahead of target, then Benfica may have strolled to victory. In that event the fixture at Anfield would be irrelevant.
Liverpool would only have their fight for fourth in the Premier League to console themselves.
So what Liverpool are required to do in Anfield is to subvert the mistakes and gaps seen in Benfica.
They must produce a staunch defiance against the likes of Cardozo and the feared Angel Di Maria. They need to close off the balls that come through to either player and make sure that no or few set pieces offer their opposition an open chance at scoring.
Failure to do so could lead to an early away goal for Benfica, which could prove crucial to the overall aggregate score.
Can They Do It?
Of course, other elements must also be under the spotlight. The heated aftermath of Luisão's disgusting tackle will need to be averted if anything echoes the incident.
Liverpool do not need to leave themselves with an impossible challenge if this occurrence is repeated. They must remain vigilant but also calm.
They took there game up a notch or two after Babel was sent off. This was always going to be in vain against a side so destructive in their possession.
A continuation of this solid display, though, would gift them a more enticing prospective conclusion.
The Kop faithful will no doubt be in force to will their team on. On Thursday night they will attempt to adhere to the consistent commentaries by spectators that their ability to produce a crucial "12th man" on match day can yield results.
A close match is what we expect, with two of the strongest teams left in the competition. Both will take it right down to the wire, and both will head into the fixture full throttle.
The consequence of this for us is that we will be subjected to another intriguing and inspired match of the highest caliber.
Keep Reading

Liverpool: Like this team?