The 10 Dirtiest, Nastiest Brawls in Sports History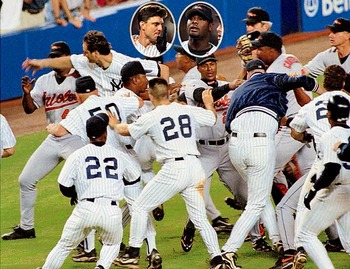 Sports have their thrills, their big moments, and their stunning triumphs.
However, there also exists the ugly side of sports. Brawls, scrums, fights, and brouhahas all cause breakdowns and highlights in sports. These fights vary in degree and outcome, but they are forever burned in the psyche of sports fans.
Baseball, hockey, basketball, and college football fights have all left an indelible mark as barometers for the future of all sports brawls.
Do the following fights stack up as the 10 best of all time? That's for you to decide.
10. Montreal Canadiens-Quebec Nordiques
In Game Six of the 1984 Adams Division Finals, the Canadiens and Nordiques decided to settle the Battle of Quebec.
Players went over, around and through referees to land their blows. The fight, which occurred on Good Friday, was not exactly in the spirit of Easter weekend.
9. New York Yankees-Baltimore Orioles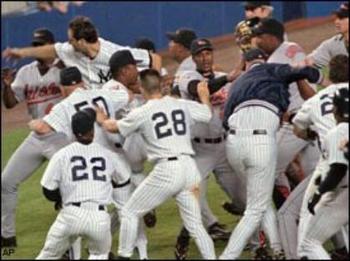 There was no love lost between the Yankees and Orioles in the late '90s. That cold war hit a full boil when Armando Benitez drilled Tino Martinez on May 19, 1998. A hunched over Tino prompted the Yankees bench and bullpen to pour onto the field.
Most notably, former Yankees reliever Graeme Lloyd came out of the dugout and showed his flailing fisticuffs toward Benitez.
The Yankees and O's went at it pretty good, but it was Darryl Strawberry who got in the lasting blow. Strawberry jumped off the top step of the dugout and slugged Benitez upside his head.
8. Canada-Soviet Union World Junior Hockey Championships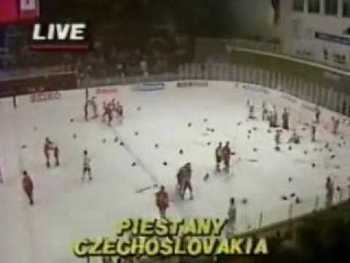 Now, now, boys, this is not the way to represent your nations or the spirit of youth hockey.
These players were teenagers, but they showed they could sure fight like men.
7. Detroit Red Wings-Colorado Avalanche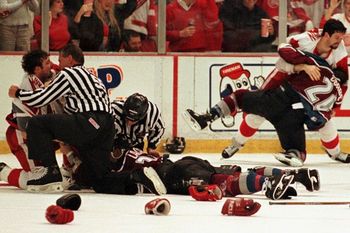 It is the most famous NHL brawl of the last 20 years. On March 26, 1997, two bitter rivals in the Colorado Avalanche and Detroit Red Wings threw down in an epic bench-clearer.
When Patrick Roy came flying into the mix, you knew it was going to be an unforgettable brawl.
6. Kermit Washington Knocks Out Rudy T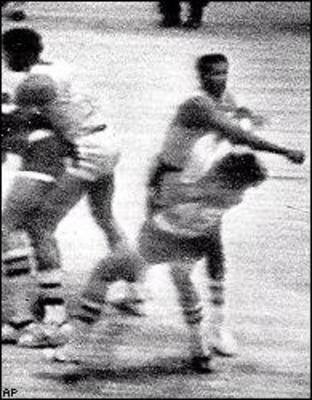 The punch remains the most vicious blow ever landed in an NBA fight.
During a 1977 brawl between the Lakers and Rockets, Lakers forward Kermit Washington turned around and socked Rockets forward Rudy Tomjanovich. The punch came with so much force that it literally blew up Rudy T's face and required near-complete facial reconstruction surgery.
5. New York Yankees-Boston Red Sox (2003 ALCS Game Three)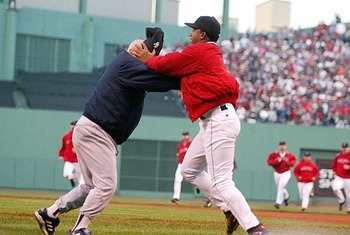 The 2003 American League Championship Series brought a season of vitriol to a violent outburst between baseball's two biggest rivals.
Pedro Martinez got things started by drilling Karim Garcia in the back. Garcia responded by sliding hard into second baseman Todd Walker.
The next inning Roger Clemens threw high around Manny Ramirez, but it was enough to set Manny off. Ramirez approach Clemens, starting a brawl that resulted in Pedro Martinez throwing (then-72-year-old) Yankees bench coach Don Zimmer to the ground.
4. Nolan Ryan Abuses Robin Ventura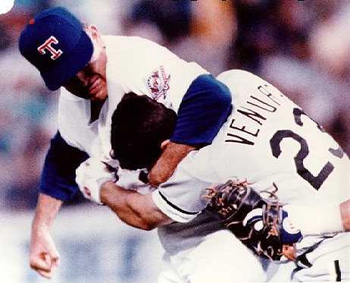 3. Cuban Basebrawl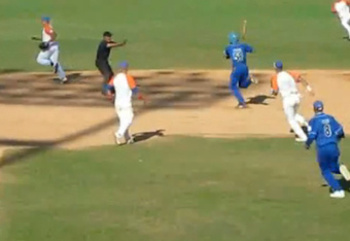 This was the most recent addition to the list.
A wild pitch and a hit batter are all it takes to set off a bench-clearing brawl in baseball. But we know how those usually turn out, at least in Major League Baseball. Guys stream out of the dugout and the bullpens only to stand around, talk junk, and offer a little shove.
Only on rare occasions do we actually see any real action in big league fights, but this Cuban player based out of Sancti Spiritus shows us how to really go after the pitcher.
2. University of Miami-Florida International University Football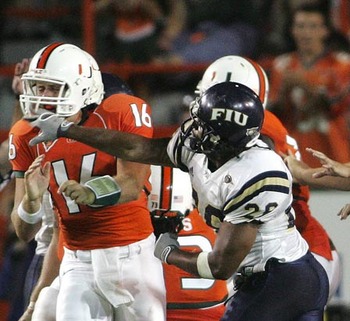 Miami was feeling bad about itself as it mired in mediocrity during the 2006 season. Enter the crosstown FIU Panthers, and what you have is a formula for local boys to let out the anger they have against each other. Or maybe the Hurricanes simply wanted to put the swag back in "Swag U."
Former Hurricane Lamar Thomas, who called the game, offered the soundtrack to the brawl up in the press box.
Thomas said, "Now, that's what I'm talking about. You come into our house, you should get your behind kicked. You don't come into the OB [Orange Bowl] playing that stuff. You're across the ocean over there. You're across the city. You can't come over to our place talking noise like that. You'll get your butt beat. I was about to go down the elevator to get in that thing."
Thomas was promptly fired the next day.
Nonetheless, the result was the ugliest, meanest, most violent football brawl in memory.
1. Ron Artest vs. Detroit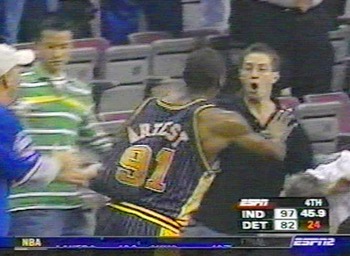 Not much else needs to be said except "Ron Artest Fight."
The greatest brawl in NBA history came at the expense of the league's most embarrassing night. Ron Artest, Jermaine O'Neal, Ben Wallace, and Detroit fans left the announcer screaming, "where is the security?!"
Keep Reading