Tim Tebow vs John Brantley: A Full Scouting Comparison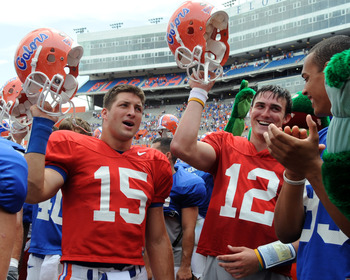 As the Florida Gators embark on a journey with a new quarterback at the helm, fans (and players) are already beginning to anoint John Brantley as a better quarterback and NFL prospect.
In comparing the quarterbacks side-by-side, it is clear they are both not only exceptional people, but exceptional athletes with unique styles.
Brantley is more of a passer, Tebow is more of the running quarterback.
While I prefer a Ricky Stanzi, Love-it-or-Leave-it style to my quarterback, I am the first to admit both Tebow and Brantley are tremendously talented quarterbacks.
It made me curious as to which quarterback has the edge in the side-by-side comparison.
Appointing Brantley the next heir-apparent might be a bit premature.
Charisma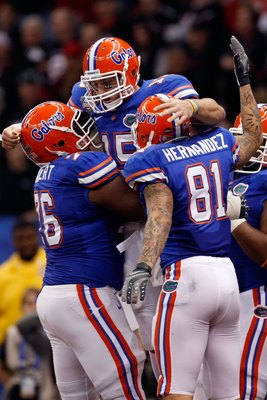 Brantley has the size and arm strength to be a top quarterback, but he's nothing like Tebow in terms of his charisma and demeanor.
Brantley is quiet and laid back, and won't be jumping around screaming like Tebow did.
And Tebow has a vault of inspirational YouTube videos that Brantley can't compete with.
EDGE: TEBOW
Leadership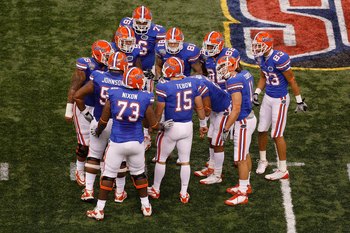 According to a popular YouTube video, Tim Tebow defines Leadership.
Granted, it's YouTube but there is a point to be made. Tebow is a proven leader, both on and off the field.
Brantley won't inherit the leadership throne that overnight. He said in February he wasn't looking to replace Tebow's tenacity, but that he would be vocal leadership his own way, in the huddles and on the practice field.
"I have to become more vocal and be a leader on that field and a leader in the huddle," Brantley told ESPN. "The best way to do that is to perform and make sure your teammates know that you're always going to have their backs."
EDGE: TEBOW
Arm Strength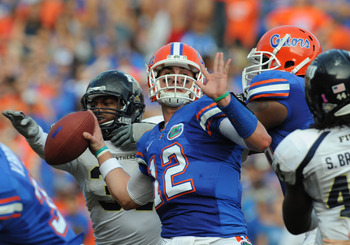 Arm strength and accuracy are two of the most common words used to describe Brantley. In comparison, arm strength has long been one of Tebow's weaknesses.
Tebow's arm seems strong enough by NFL standards, but his ability to throw hard out of the pocket has some analyts like ESPN's Mel Kiper a bit skeptical.
Brantley has the size and arm strength to be a top quarterback in the SEC and undoubtedly the NFL someday.
EDGE: BRANTLEY
Accuracy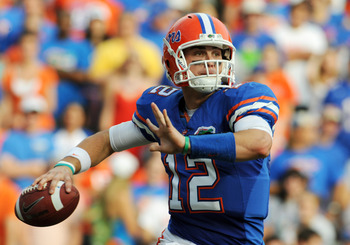 With a 66 percent completion rate, Tebow is one of the highest-rated passer in college football history.
According to the USA Today, Tebow also has piled up more total yardage and been responsible for more touchdowns than any other player in SEC history.
But that didn't stop the Miami Herald from declaring that John Brantley is a better passer than Tim Tebow.
In high school, Brantley went 27-1 as a starter and broke the state record for career touchdown passes with 99, topping the previous record shared by Tebow.
EDGE: PUSH
Running Ability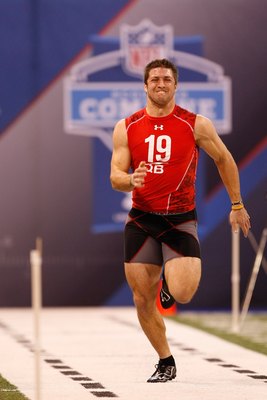 Among Tebow's stregths, he is considered a power runner with tremendous athleticism.
He has more of a full back mentality, running with his pads and breaking tackles.
At Florida, Tebow ran for 57 touchdowns and almost 3,000 yards.
Brantley is not a runner, but he's better at it that he's given credit for. Still, Brantley himself will admit he isn't the runner that Tebow is.
EDGE: TEBOW
Toughness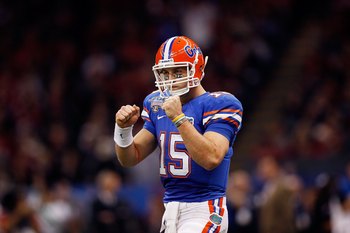 Tebow's toughness has never been in question. He has sacrificed himself multiple times during his tenure at Florida.
After getting knocked unconcious during a game against Kentucky, Tebow's only concern was whether he held onto the ball or not.
Many NFL scouts will be quick to point out toughness as one of Tebow's top qualities.
Not to say that Brantley isn't tough. He just hasn't exactly proven it yet.
EDGE: TEBOW
Intelligence
According to a report by the Palm Beach Post, Tebow scored a 22 on the 50-question exam used to assess problem-solving abilities.
The test is supposed to be a barometer for intelligence. The average for an NFL quarterbacks is 24.
Nobody is trying to say Tebow is Forrest Gump or anything, but he did tackle his own mother in a Super Bowl commercial.
EDGE: BRANTLEY
Q-Rating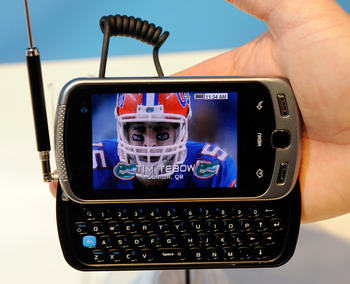 A player's Q Rating is a measurement of their familiarity and appeal of as a marketable brand of athlete. The higher the Q score, the more highly-regarded the player is.
Q scores and other variants are primarily used by the media, marketing, advertising and public relations industries to determine marketability and likability.
When analysts and scouts talk about Tebow's intangibles, this is what are referring to.
According to USA Today, Tebow has a Q Rating of 21, well above the average score of 14 for sports personalities. He ranked similar to former NFL head coach Bill Parcells and NBA star Steve Nash.
If you listen to Google, Tebow wins hands-down. There are 2,170,000 Google search results for Tim Tebow, compared to 550,000 for John Brantley.
ESPN will tell you Tebow can turn Gatorade into wine.
EDGE: TEBOW
Pro Potential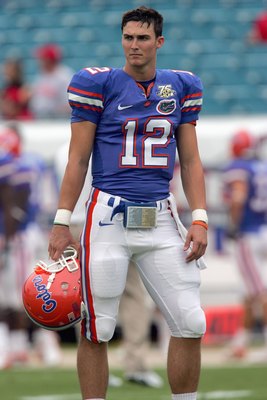 The Orlando Sentinel declares, "John Brantley, not Tim Tebow, is the real NFL prospect on UF's campus."
Brantley is a more complete quarterback. He is a pure passer who only runs when necessary, similar to so many current NFL quarterbacks.
The things that scouts and analysts are critical of Tebow about, like his delivery and his arm strength, are the things Brantley excels at.
The coverage of Tebow during the NFL combine has some skeptics wondering how successful he will be at the pro level. "It will take Tebow 3-4 years to learn an NFL offense to where he could actually start a game," said Walter Footballs's Matt McQuire.
EDGE: BRANTLEY
Conclusion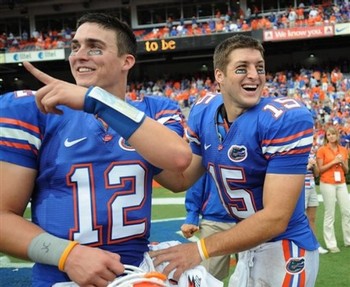 Overall, Tim Tebow might win the side-by-side comparison. But it is clear that John Brantley is no slouch.
Charisma: TEBOW
Leadership: TEBOW
Running Ability: TEBOW
Toughness: TEBOW
Q-rating: TEBOW
Arm Strength: BRANTLEY
Intelligence: BRANTLEY
Pro Potential: BRANTLEY
Accuracy: PUSH
Keep Reading

Florida Gators Football: Like this team?