Where the Top 10 Uncommitted Running Back Recruits Should Go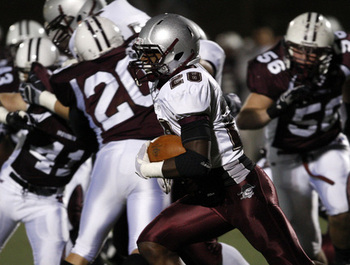 When I first profiled the top 10 running back recruits of the 2011 class, I offered some brief suggestions as to where they might end up.
But with commitments from 10 of the best still pending, I thought I'd take the time to provide my thoughts on where they should end up.
Much like how I decided where the top 10 quarterbacks should go, I've taken each recruit's geographical location, offers and running styles into account, as well as the depth charts and offensive attacks of each of their current suitors.
I've also included film so you can decide if my projections are fair.
See what you think!
Herschel Sims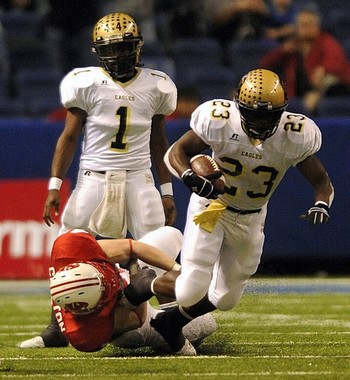 I'm sticking with my original assessment of Herschel Sims as a Baron Batch-type scatback whose talents would be utilized best in a spread offense.
He's not as physically dominating as the other running backs in this class. He's shorter (5'8") and not as fast.
But he's an intelligent runner who sets up his blocks well and has good top speed.
Assuming the Red Raiders would be running an offense similar to the Airraid—where the draw play can be very devastating—I'll endorse Tommy Tuberville's team as his rightful home.
Where he should go: Texas Tech
Where he will go: Too early to tell
Isaiah Crowell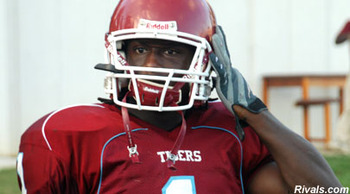 Columbus, Georgia's Isaiah Crowell was my second-favorite running back in the original article, and he only impressed me more when I rewatched his film.
He's extremely fast and durable, and can absorb hits without going down. He fights for every yard and is, more often than not, successful.
He's 2010's Marcus Lattimore, and I definitely think that with the SEC's current reputation, we'll see him at an SEC school.
The Georgia Bulldogs are close by, but Crowell recently bailed on a UGA Junior Day visit, and he apparently really likes Alabama after receiving an offer from coach Saban.
Crowell likes how Alabama's offense "features the back," and I can't argue with that assessment. Mark Ingram, Trent Richardson and Eddie Lacey are currently the only running backs on the roster, but Ingram could stay for his senior year, and Richardson is a breakout player just waiting his turn.
The depth isn't as daunting as I originally thought, but in the name of SEC parity, I can't advocate him joining the mix. I like to keep things democratic around here.
I'd like to see Crowell heading to Georgia. Washaun Easley and Caleb King provide depth similar to Alabama's, but they're nowhere near as dynamic. A running back like Crowell could stay home, save the franchise for Mark Richt and help the Bulldogs regain their footing in the SEC.
Where he should go: Georgia
Where he will go: Alabama
Aaron Green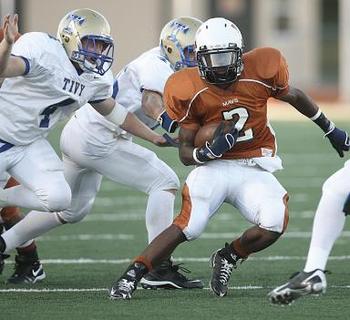 Aaron Green's highlight film really impresses. He cuts, jukes and accelerates seamlessly and instinctively. The kid was born to run.
In my initial assessment of Green, I said the San Antonio prospect would be a good fit for the Texas Longhorns, if only so UT could make good on its perennial promise to build up a running game. Green is the 1,000 yard back that offense has been missing since Jamaal Charles put up 1617 yards in 2007.
But the risk that the Longhorns (or Alabama, or Oklahoma, or USC) don't do that with Green is too great.
I'd like to see him in an offense that has no choice but to build itself around him, a squad that lacks playmakers and must lean on him for everything.
I'd like to see him do for some smaller Texas or near-Texas program what Marshall Faulk did for San Diego State—run his way to Heisman contention at a mid-major school.
I think he's good enough to be a 1,000-yard back behind any caliber of offensive line.
So in honor of Butler making the NCAA championship game, and in the name of parity in college football, I'd like to see Green put a mid-major program on the map.
Where he should go: Tulsa
Where he will go: Too soon to tell
Jameel Poteat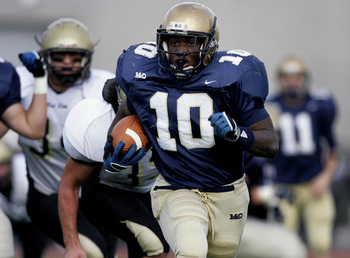 Jameel Poteat of Harrisburg, Pennsylvania is a classic one-cut-and-go runner who brings versatility and power to a high school spread scheme.
In an earlier assessment, I claimed he was a cross between Legarrette Blount and LaMichael James, and thought he might be a good fit for Oregon.
But I'm going to backpedal a bit and say he actually seems like more of a pro-style runner stuck in a spread scheme. I don't he has the lateral quickness to be able to outflank defenders running upfield at the college level.
I think he does have the size and burst to excel in a pro-style attack, and in light of that and of his geographical placement, I could see him landing at Pitt or Penn State. His compact frame and quick feet remind me of Pitt's Dion Lewis or Penn State's Evan Royster much more than Oregon's James.
The Panthers have offered, the Lions have not. At Pitt, he could either redshirt or back up Dion Lewis in his junior season before taking over full time as a sophomore. Penn State's running back recruiting has been solid—they took a great all-purpose back last year in Silas Redd—but I think he could still crack the two-deep as a sophomore.
Poteat recently received offers from Florida and USC, the cream of the crop for most running backs, but I'm hoping he doesn't get too starstruck. Florida divides up reps too much for a potential every down-back like Poteat.
USC is a fine pro-style school, but Poteat wouldn't be the best back on the roster, and it would cost him playing time.
Where he should go: Pitt
Where he will go: Too early to tell
Rodney Coe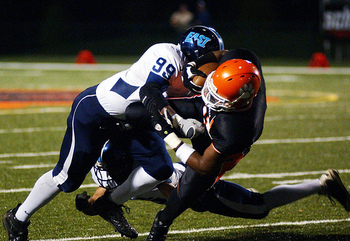 Rodney Coe may never see a snap at running back—two of the three recruiting sites like him more at inside linebacker—but he's good enough at both to land on my top 10 athletes for 2011 ranking.
That the 6'4", 240-lb prospect projects better as a linebacker seems evident by his physical makeup, but his speed is deceptive and his vision as a back should not be underestimated. This is a legit D-1 running back prospect trapped in a linebacker's body.
His physical limitations prevent me from projecting three 1,000 yard seasons and an NFL career, but I'd like to see him end up at a school that has shown innovation in its running game, particularly in short yardage situations, where Coe could be extremely effective.
From his top five list, which includes Iowa, Arkansas, Alabama, Tennessee and Oklahoma, I like the Tide and the Hogs best. Saban has mixed the Wildcat into his offense effectively, and Bobby Petrino has done a lot with mobile athletes out of the shotgun even in the unimaginative halls of the NFL.
Where he should go: Alabama or Arkansas
Where he will go: Alabama, Arkansas or Oklahoma
James Wilder Jr.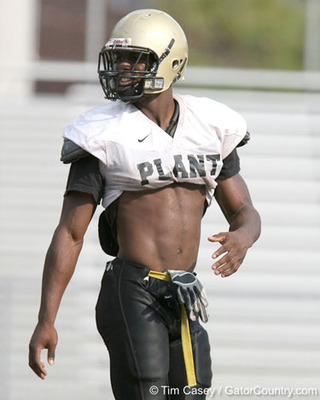 James Wilder is one of my favorite prospects in this class.
The versatile Florida athlete and son of former Tampa Bay Buccaneers RB James Wilder made the bold decision to play running back rather than linebacker at the next level, though (at least to Scout) he projected highly as an OLB.
Now that the decision is made, I like everything I see from Wilder as a back. He's fast, extremely tough to bring down and can accelerate out of his cuts as good as any pure back in this class.
As tough as he is, I don't think he's suited for a pro-style-heavy run scheme, and that's why I think his interest in (and likely commitment to) Florida is a plus.
At 6'2.5" and barely over 215 lbs, he's too tall and thin to take the punishment of an SEC back running between the tackles.
The spread scheme that Florida runs, which includes lateral runs as well as the infamous "dive play," will allow Wilder to utilize every facet of his ability while masking the potential problems with his size.
Wilder is waiting until fall to see what Florida's offense looks like before he makes a final decision, but do we really expect him to not like what he sees?
Where he should go: Florida
Where he will go: Florida
Savon Huggins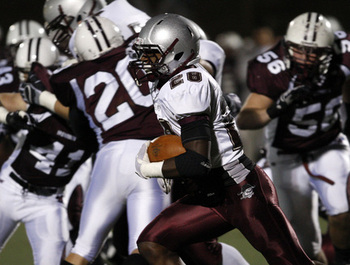 I hadn't seen Savon Huggins' film yet because he didn't make the original top 2011 RBs list, but the name that comes to mind in watching his film is definitely Ray Rice.
Huggins is a compact, straight-ahead runner who can bowl defenders over and churn out difficult yards. He has above-average speed, but his strong suit is in sticking out his arm and making defenders regret their jaws have nerves.
He hails from Jersey City and had an early top three of Rutgers, Penn State and Miami, though he's since taken a visit to Alabama.
Alabama and Miami sound like the most prestigious of the group, and their running games are power-focused, but I think Rutgers provides the better all-around experience.
It's closer to his style of play, closer to home, and still searching for an every-down back to complement its passing game (I think Miami has found its back in freshman Storm Johnson).
Plus, Rutgers has recruited well enough of late for it to be a reasonable expectation.
Where he should go: Rutgers
Where he will go: Rutgers
Demetrius Hart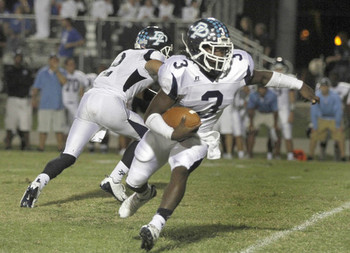 Demetrius Hart is a small, shifty, versatile back who operates out of a spread scheme at Dr. Phillips High School in Orlando, Florida.
He has incredible burst and lateral quickness, takes angles that deceive tacklers into whiffing and jukes subtly and effectively.
His top-end speed would be my only concern—you can see he tops off early in the clip below—but his explosiveness and ability to make tacklers miss minimizes the danger of getting tackled from behind.
Michigan fans staked their happiness on his commitment both for nostalgic reasons (he shares the last name of Michigan's all-time leading rusher, Mike Hart) and because he looked to be one of the most exciting and decorated running back commits the Wolverines have pulled in in a little while.
Hart rewarded that enthusiasm by placing Michigan in a commanding lead, early in the recruiting process. But interest from programs closer to home, coupled with Michigan's overpracticing allegations and a misunderstanding about offseason contact, allowed Auburn and Alabama to get back into the mix.
Hart just returned from a visit to Alabama, where he received an offer and raved about coach Saban. His Dr. Phillips teammate, LB Hasean Clinton-Dix, likes Alabama. Hart also put Auburn in the lead for a brief period last month.
But Michigan was able to get Hart to come visit for the Spring Game on April 17.
I don't like Hart to go to Alabama. He's a spread back whose talents in space would be wasted in a between-the-tackles running game. He can stay balanced on contact, but the need really isn't there now that Alabama has pulled elite running backs in three consecutive classes.
Auburn would play more to his strengths, but they, too, took an elite running back in five-star Michael Dyer.
Besides, who did you think I was going to pick?
Where he should go: Michigan
Where he will go: Michigan
Deanthony Thomas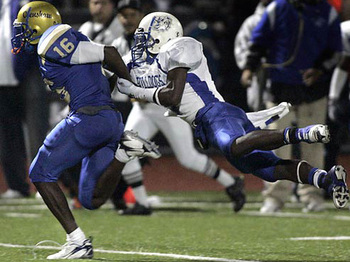 While Jameel Poteat looked like a pro-style back misapplied in a spread set, Thomas looks like the reverse, a spread back who has had to fight, sometimes unsuccessfully, through too-tight windows.
I think that explains Thomas cooling on USC and UCLA and instead looking elsewhere for his school of choice. Florida, LSU and Alabama were recent suitors, and the Gators have offered.
If I were him, I would favor any spread scheme that minimized carries and contact, since durability seems to be an issue. With such a limited set of offers, I'll have to go with the Gators again. They'll get Thomas playing in space, and don't require him to be an every-down back.
Where he should go: Florida
Where he will go: Too early to tell
Malcolm Brown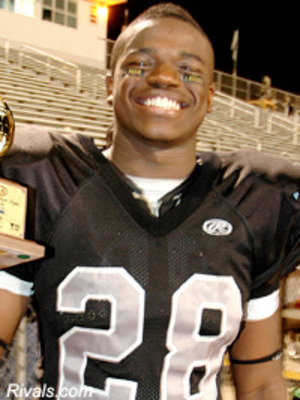 I called Malcolm Brown your 2014 Heisman winner, and my opinion hasn't changed.
Wherever he ends up—and it will be an elite program—the Cibolo, Texas native will contend with the best and possibly put the Heisman in his college's trophy case.
Brown's ability to bowl defenders over while maintaining his balance and regaining his speed is unparalleled in this class. He's also speedy and makes extremely fluid cuts. In a strong year for running backs, Brown puts the closest player in a distant second.
So where to put him? It will likely come down to Texas and Oklahoma, and I have no problem with either provided they throw him more than a bone in the running game. Brown is Adrian Peterson. He is Ricky Williams.
Which also means in my current, parity-driven mood, I hope he goes to neither Texas nor Oklahoma, and sets his records somewhere else.
Brown showed up at Baylor's junior day recently and holds an offer from the Bears. A backfield of him as a true freshman and Robert Griffin III as a redshirt junior just might put Baylor in the running for the best and scariest backfield in the Big XII in 2011.
Depending on how you look at it, records are either set or broken. It's up to Brown to decide which he would like to do.
Where he should go: Baylor
Where he will go: Oklahoma or Texas
Keep Reading