What Are the Top Five College Basketball Programs of All-Time?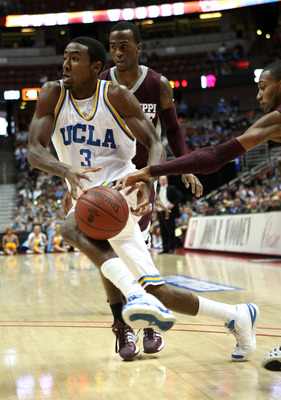 On Monday we will crown another NCAA Champion. Most believe it will be the fourth title for the Duke Blue Devils. It will be Duke's 10th NCAA Title game and the eighth under Coach K. Those are some pretty significant numbers.
On Tuesday, UConn will most likely be crowned for the seventh time. It will also mark their third unbeaten season. How do the Lady Huskies stack up?
Here are my top five, from fifth to first.
No. 5 UCLA Bruins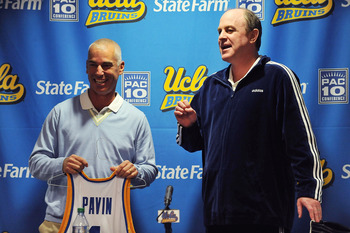 I'm sure some of you will say "how is UCLA only No. 5?" Yes they do have 11 NCAA Titles. Yes they have put some of the greats of the game in the NBA. Yes they did have an amazing run.
That's part of reason they aren't higher.
UCLA has won 11 national titles. However 10 of them came in a 12-year period. The NCAA Tournament was a different animal back then. First, only the conference tournament champions went to the NCAA Tournament. So there was no 64 team tournament. It was more like 24. And there was no having to beat Duke and UNC in the same tournament, because one of them wouldn't be there.
Plus, back then the tournament really was broken up into regions by geography, not seeding. So your teams in the east would all be in one regional. Teams in the west would be in another, and so on. So UCLA typically would have an easy run to the Final Four. They would be the only PAC 8 team in the bracket with a bunch of Big West, WAC teams.
Since UCLA only has 1995 to show for winning the current 64 team format, I have to knock them down a couple of notches. Also, since the early 70s, UCLA tends to disappear at times. Sometimes for long stretches.
However their resume is impressive.
18 Final Fours (if you count 1980), 11 national titles. Also UCLA has appeared in three of the last five Final Fours.
No. 4 Kentucky Wildcats
Kentucky is men's college basketball's winningest program in terms of games won. They have seven NCAA Titles, and 44 SEC Titles. They have also won the SEC Tournament 27 times.
Several Wildcats have gone on to NBA greatness. Dan Issel, Pat Riley, Jamal Mashburn, Tayshaun Prince, Antoine Walker,and Rajon Rondo have all made their impact on the pro game.
Why only No. 4 then?
Some knocks against the Kats are:
1. They have played most of their history in a conference where they were the only school trying to win at basketball. Up until the late 1980s, the rest of the SEC cared only about football. Since the NCAA Tournament started getting televised by CBS, including all the rounds, other schools have gotten into the act. UK has had a tougher time.
2. UK has been to the Elite Eight 32 times. They are 13-19.
3. UK has not been to a Final Four since 1998.
4. Four of UK's seven titles were in the '40s and '50s. The game has changed a bit since then
If you are a UK fan who is too young to remember 1978, you have only seen your Kats win the NCAA Tournament twice. You've also seen Florida win it twice. That's pretty much everyone under 40.
Here is the resume.
13 Final Fours
10 Championship game appearances
7 national titles
Certainly nothing to sneeze at.
No. 3 UConn Lady Huskies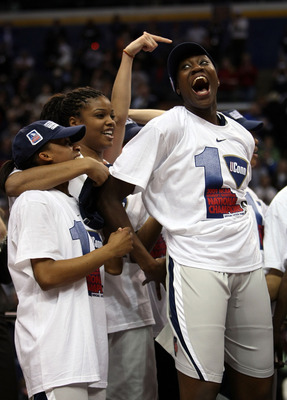 Assuming a win on Tuesday, (is there any doubt?) UConn's Lady Huskies will have their fourth undefeated season. They will win national title No. 7. And they will have put together back-to-back unbeaten seasons.
The only reason they are not higher on the list is they lack the history. All this has been accomplished pretty much in the last two decades. Pretty amazing.
The Huskies have 11 Final Fours in 21 NCAA Appearances. They have 13 players currently in the WNBA and one Hall of Famer. And it looks like they're just getting warmed up.
No. 2 Tennessee Lady Volunteers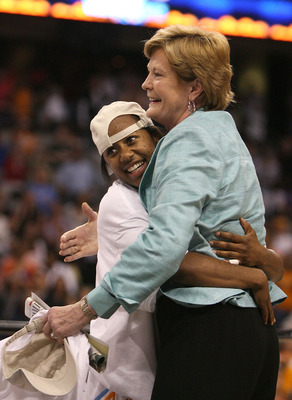 Tennessee's Lady Vols are still the number one women's program. Eight national titles. Fifteen title game appearances. Twenty two trips to the Final Four. They are the model of consistency.
UT's longest Final Four drought? Since 1977, three years is the longest UT has gone without making a Final Four. So if you've played four years for the Lady Vols since 1977, you've played in a Final Four.
UConn, you still have some work to do.
No. 1 North Carolina Tar Heels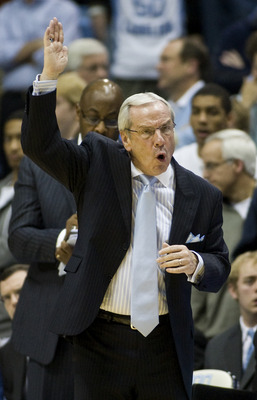 Gotta give No. 1 to the Heels. They have it all. History, consistency, recent success.
UNC has been to the Elite Eight 24 times, advanced to the Final Four 18 times, and competed in a championship game nine times. Five times they won it all.
They may not have as many titles as some other programs, but they never experience the long drought of a decade with no Final Four appearances either. The Heels have made a Final Four in every decade sine the NCAA Tournament began. As a matter of fact, they've played in a title game every decade since the 1940s.
The Heels have given us the game of basketball's greatest player, Michael Jordan. Their roster of honored players is a who's who of basketball greatness. You can't turn on an NBA game, a college basketball game, an ESPN studio show, or even a NASCAR race without a great UNC basketball player appearing on the panel.
In their conference they compete against one of the game's great programs, just eight miles away, Duke.
That is why I give the nod of No. 1 all time college basketball program to North Carolina.
Some "close but no cigar" programs that nearly made the cut:
Duke
Kansas
Indiana
Louisiana Tech Women
Keep Reading

UNC Basketball: Like this team?