The 30 Hottest WAGs in Major League Baseball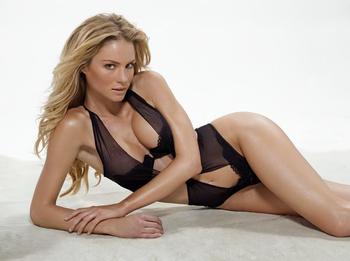 Baseball is finally back! With the Yankees and Red Sox kicking things off Sunday night, America's pastime is officially back in session. That means another year of home runs and diving catches. It also means another year to check out the finest talent baseball has to offer off the field.
With Derek Jeter locked down and engaged to Minka Kelly, what other MLB players will step up as the playboys of the MLB? And what team is the most stacked with six different WAGs on this list? (Hint: It's not the Yankees)
So step up to the plate. WAGs may not be as American as apple pie, but they sure are just as tasty.
No. 30: Misty Mae Treanor—Matt Treanor (Rangers)
It can't be easy when your wife is hotter than you, more famous, and also better at sports, but somehow Matt Treanor gets through it.
I can't imagine how.
No. 29: Jennifer Utley—Chase Utley (Phillies)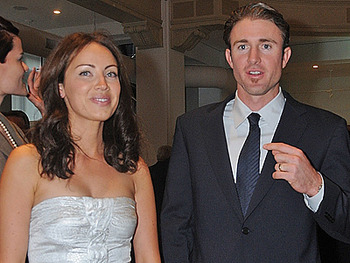 Chase Utley's wife is quite the minx. If Philly writers haven't already given this nickname out, I think she could totally go by "The Liberty Belle."
No. 28: Enza Sambataro—Kevin Youkilis (Red Sox)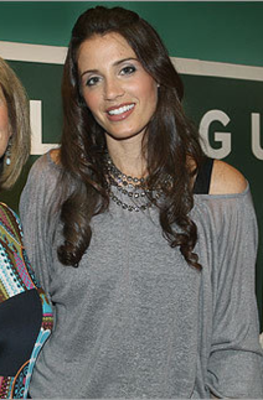 Being a big, famous baseball player can pay great dividends. Such as, if you look like Kevin Youkilis, you can still pull down a hottie like Enza. In Boston, no less!
No. 27: Heidi Hamels—Cole Hamels (Phillies)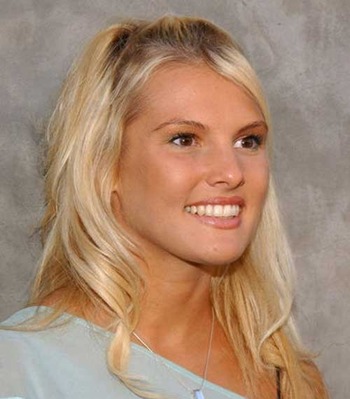 Cole Hamels' wife Heidi, a former Survivor contestant and Playboy model (well, she was in Playboy, I don't know if that makes her a model) is apparently not shy about what exactly she likes.
I think all women should wear clothes that let men know what they want. Maybe some "Give me chocolate" shirts to go along with those panties.
No. 26: Julianna Zobrist—Ben Zobrist (Rays)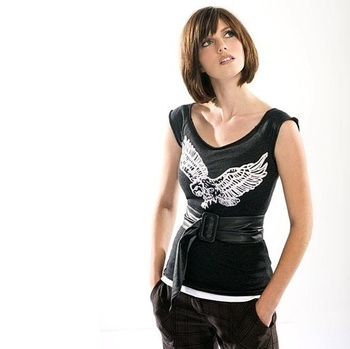 Ben Zobrist's wife, Julianna, is a singer. She's a Christian singer, as you can tell by the faraway look pose in her picture. It just comes with the territory.
No. 25: Johari Smith—Jimmy Rollins (Phillies)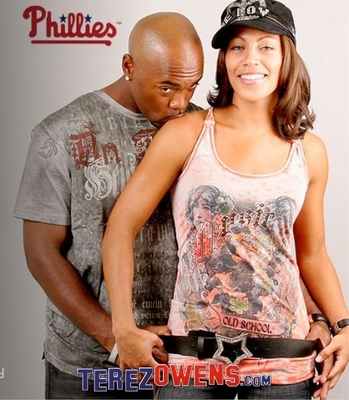 Jimmy Rollins is a talented speedster, but his biggest steal had to be his hot wife, Johari. From this picture it looks like he might be a little whipped, but if you look at that body, who can blame him?
No. 24: Heidi DeRosa—Mark DeRosa (Giants)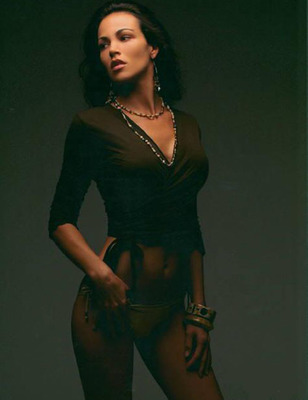 Heidi DeRosa, a former model, is always one of the hottest wives in baseball ever since she married Mark in 2003. DeRosa has been around the league, but he's helping bring the hotness to the Bay Area with Heidi.
No. 23: Stephenie LaGrossa—Kyle Kendrick (Phillies)
Talk about your triple play, Stephenie has been on three different versions of Survivor. However, unlike her husband Kyle, she hasn't actually won anything...other than one of the hottest contestants ever on the show.
No. 22: Ashley Eckstein—David Eckstein (Padres)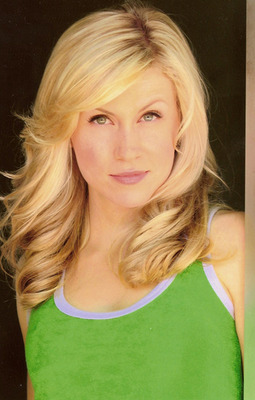 Ashley Eckstein is an actress and also does voices for cartoons. She's hot, blond, and apparently has a huge weakness for scrapiness.
No. 21: Heidi Watney—Nick Green (Red Sox)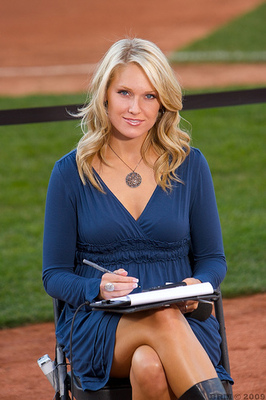 Heidi just cannot keep her hands off the talent. She's been covering the Red Sox for a few years now and Nick Green is the second player she's been involved with.
I don't know whether this violates some journalistic code or not, but anything that gets Ms. Watney on my lists is a good thing in my opinion.
No. 20: Stephanie McGwire—Mark McGwire (Cardinals)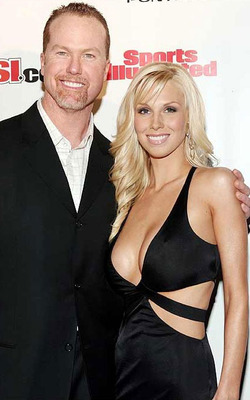 Mark McGwire may not be a player anymore, but since this is his first year as a coach, I figured we would let his lovely wife in on this list.
Just looking at her, I would be surprised if Mark was the only McGwire who has dabbled in, um, performance enhancers.
No. 19: Jamie Kotsay—Mark Kotsay (White Sox)
It's the rear end that launched a thousand ships. Okay, not really, but Mark Kotsay's wife has become something of a legend to MLB fans because of her work at a fun softball game.
Her face is extremely pretty, too, but I dare say we didn't really require it to figure out just how hot she is.
No. 18: Alejandra Tejada—Miguel Tejada (Orioles)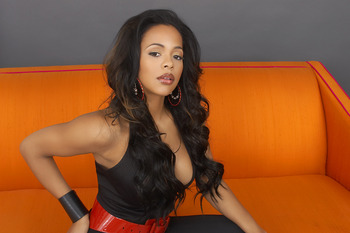 Miguel's wife spent 13 years as just another hot WAG before a couple years ago starting a new career as a Latin pop star. She's had some success, which is undoubtedly due to her talent and not her impressive cleavage, I'm sure.
No. 17: Joanna Garcia—Nick Swisher (Yankees)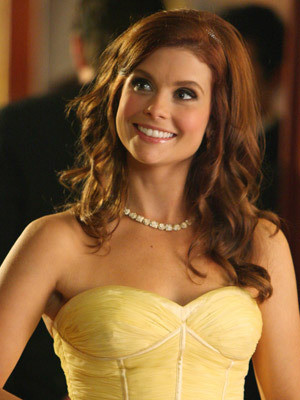 Nick Swisher has been welcomed to the Yankees with open arms ever since his arrival. Part of it has been his talent and personality, but now since Jeter is officially off the market, Swisher has been bringing in the women.
His latest is former Reba and Priviledged star, Joanna Garcia, who leads the league in cuteness and perkiness.
No. 16: Jennie Finch—Casey Daigle (Astros)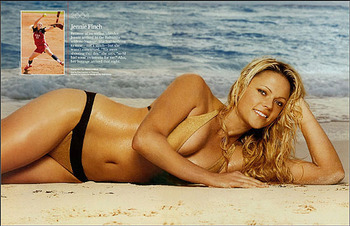 Softball superstar Jennie Finch and rising pitcher Casey Daigle make quite the ball-hurling couple. Their son, Ace (get it?), will undoubtedly be one hell of a baseball player.
Is anyone else feeling a Rookie Of The Year moment when he looks up in the stands some day and Jennie is there telling him to float it?
No. 15: Lindsay Clubine—Clay Buchholz (Red Sox)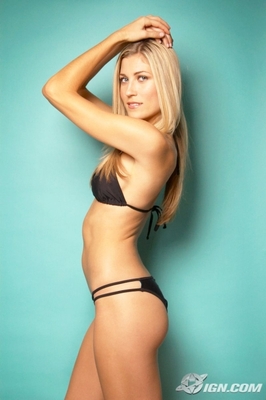 Clay Buchholz threw a no-hitter in his second major league start, but undoubtedly his most impressive feat so far has been his dating resume.
He's already gone through Penthouse Pet Erica Ellyson and now has since moved on to Deal Or No Deal model Lindsay Clubine.
I'm excited for the future...and his pitching future also.
No. 14: Michelle Damon—Johnny Damon (Tigers)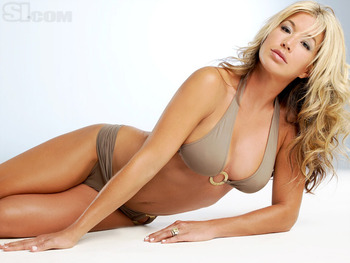 Michelle Damon used to be one of the women who made the Yankees' wives the hottest in the majors, but he has since taken his bat and her body to Detroit.
I think the Yankees will miss her more.
No. 13: Emily Kuchar—Zach Greinke (Royals)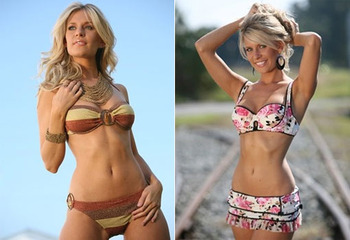 Zach Greinke needs to get out of Kansas City immediately. He has got major market talent and his new wife has got major market looks. If they end up in New York (which I'm sure they will as soon as his contract is up), they'll be the toast of the Big Apple.
No. 12: Karina Smirnoff—Brad Penny (Cardinals)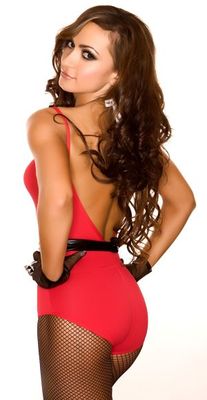 Somehow, Brad Penny has made it his business to be one of the most eligible bachelors in baseball. Yeah, this guy.
He's dated Alyssa Milano, Eliza Dushku, and now Karina Smirnoff. If there was ever an argument for why being a professional athlete is the best job ever, I would love to hear it.
No. 11: Rihanna—Matt Kemp (Dodgers)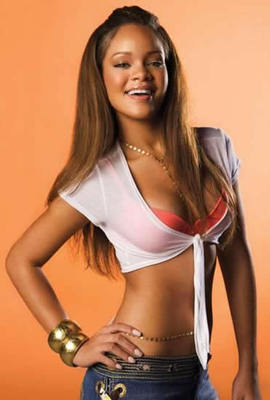 Rihanna was spotted early this year with Kemp fooling around in a bikini, but their agents said they were just friend. But now word is that Kemp is moving into Rihanna's place.
The Dodgers' slugger is moving quickly. By the time the season is over they might be married with a kid. Although I prefer Rihanna's body the way it is.
No. 10: Laura Posada—Jorge Posada (Yankees)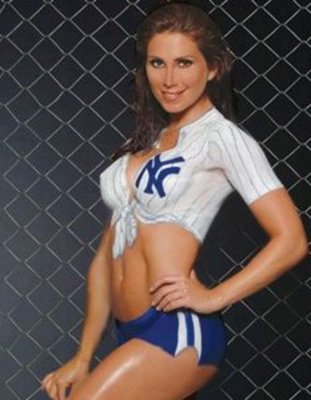 This picture has done Laura Posada quite a bit of good. She's never looked better than she does here, but I really don't care. That's the best Yankees outfit I've ever seen and it deserves to be in the Top 10.
No. 9: Lisa Dergan—Scott Podsednik (Royals)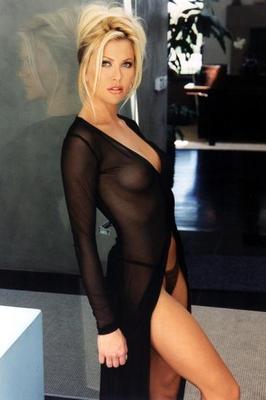 Scott Podsednik is still alive and kicking. On his fifth team in ten years, his career probably won't last that much longer, so we only have a little while to enjoy his smoking hot wife and Playboy playmate, Lisa Dergan.
And enjoy, I will.
No. 8: Audrey Kingsbery—Jensen Lewis (Indians)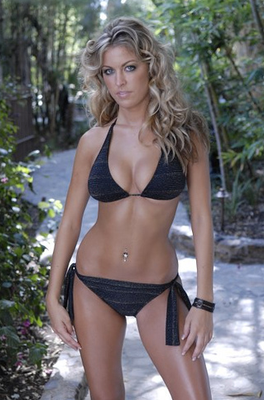 For somebody with just three career wins, Jensen Lewis certainly managed to snag himself quite a hottie.
Audrey Kingsbery may not be anything more than just a pretty face, but if you're just a middle reliever, isn't that about all you can hope for?
Photo courtesy of Tempe12.
No. 7: Jennifer Lopez—Felipe Lopez (Cardinals)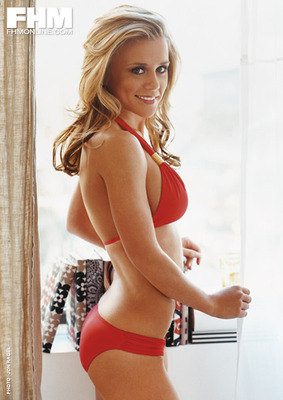 She may not be that Jennifer Lopez, but she certainly has got a body that rivals hers. And this J-Lo won't subject us to The Backup Plan when we want to see her body.
No. 6: Terrie B.—Hunter Pence (Astros)
Oh, look, another player who I've never heard of and his super hot girlfriend that I've never heard of. I really could go on about how she's some model who has apparently done some bartending, but wouldn't you rather just look at her?
No. 5: Molly Beers—David Wright (Mets)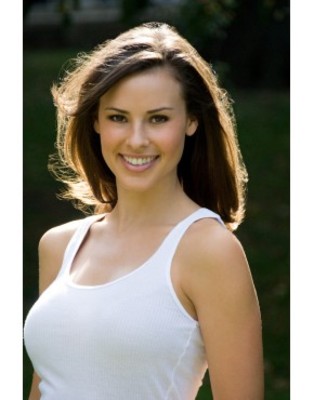 Molly Beers is the sexy model who has been linked to David Wright for a couple of years now. They've never really been confirmed as a couple, other than showing up at events together, but she's just so damn fine that I can't possibly leave her off this list until I get full proof that they are not together.
No. 4: Krystle Campbell—Ryan Howard (Phillies)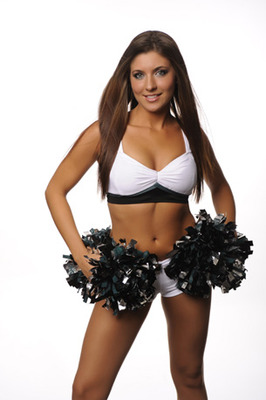 Look at Ryan Howard, finally stepping up and becoming the superstar we'd always hoped he would be. Not on the field, he's pretty good there, but off of it.
Howard is currently dating Eagles cheerleader Krystle (she sounds smart) and I couldn't be more proud of him. I do love me some Eagles cheerleaders.
No. 3: Diana Roberts—Brian Roberts (Orioles)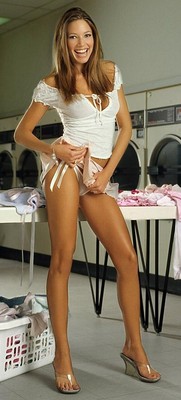 Diane Roberts looks like your idea housewife here, doing the laundry in a pair of awe-inducing high heels and not much else. Those legs seem to go on for years. That's the kind of trophy wife I could get on board with.
Roberts may have had some steroid allegations, but I'd use performance enhancers too if it could get me a chick like this.
No. 2: Marikym Hervieux—Russell Martin (Dodgers)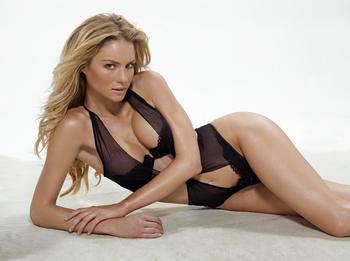 Joe Mauer may be the catcher that got one of the richest contracts in history, but Russell Martin is the one who seems to have the greatest treasure of all the players behind the plate.
Martin's girlfriend, a French-Canadian model who also happens to be Eric Gagne's sister-in-law, has officially taken over the title of hottest girlfriend in baseball. It's a title that used to belong to a certain fiancee who tops our list once again.
No. 1: Minka Kelly—Derek Jeter (Yankees)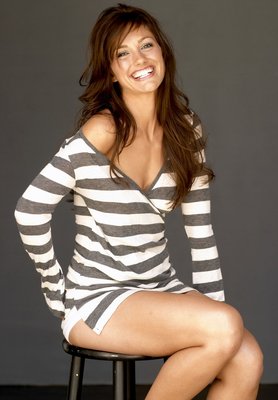 Other women on this list may be hotter in a more pin-up kind of way, but you won't find a more classic beauty than the future Mrs. Derek Jeter, Minka Kelly.
As long as those two are still together, the legendary playboy and the sexy actress, it will take quite a feat to knock Minka off the top. Almost as much of a feat as knocking the Yankees off the top this year.
Keep Reading