UFC Rankings: According To Spiars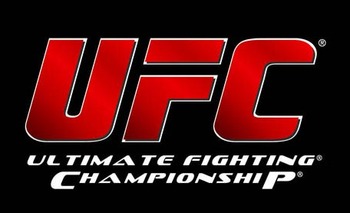 The UFC closed out the month of March in convincing fashion with three shows in 11 days. All of the divisions had some sort of impact, but nothing major with many of the pre-determined favorites won their respective fights.
With UFC 112 just around the corner, it's time to get right into the rankings.
Lightweight Division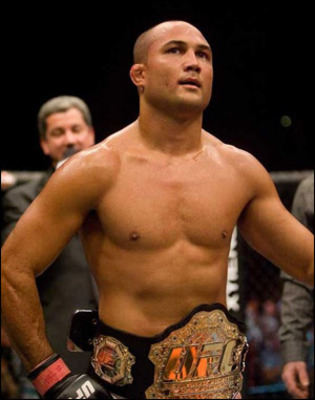 March's Key Fights
Kenny Florian vs. Takanori Gomi
Once again, Kenny Florian proved to us all on why he is widely considered the second-best lightweight in the UFC with his last performance against Takanori Gomi.
Gomi, a solid striker, kept a low base through two rounds. This forced Florian to stand and trade with Gomi in that time frame, but as always, Florian fought a smart fight and waited for his opportunity to shine.
Once it did, Florian sunk in the rear-naked choke moments later.
Jim Miller vs. Mark Bocek
Many people believe that Mark Bocek had done just enough to earn the nod in his very close battle with Jim Miller. However, the judges saw things differently and awarded the New Jersey native his fourth consecutive victory.
Next time around inside the octagon, Miller will surely have to up his game if he wants to put himself into title contention.
Clay Guida vs. Shannon Gugerty
One question here is, who did Shannon Gugerty piss off to earn a fight with the lightweight division's work horse?
Clay Guida came in and did what he does best: smothering his opponent with a relentless attack, all the while avoiding any submissions thrown his way.
Once again, Guida proved he belongs in the top ten by finishing Gugerty with a side choke in the second round.
Kurt Pellegrino vs. Fabricio Camoes
For a year and a half, Kurt Pellegrino has done nothing but win his fights. UFC 111 marked his fourth straight victory inside the octagon.
Solidifying a spot on my top ten board, Pellegrino will look to one-up his last performance against some tougher competition.
April's Key Fights
B.J. Penn vs. Frankie Edgar
When one thinks of dominant champions of the sport, one name that will always come to mind is lightweight champion, B.J. Penn.
At UFC 112 in Abu Dhabi, Penn will look to continue his dominance with his fourth consecutive title defense against the vastly improved, but huge underdog in Frankie Edgar.
Rafeal dos Anjos vs. Terry Etim
Terry Etim had a tough two-fight slide in his early UFC days, which is why people aren't talking about him as much as they should be.
The kid has some real talent and is constantly improving. Should he win at UFC 112, he likely won't crack the top ten, but surely more fans will be keeping their eye on him.
Noteworthy: Takanori Gomi (31-6-0-1), Joe Stevenson (31-11), Terry Etim (14-2), & Sam Stout (15-5-1)
10. Kurt Pellegrino (15-4)
9. Clay Guida (26-11)
8. George Sotiropoulos (12-2)
7. Sean Sherk (33-4-1)
6. Jim Miller (17-2)
5. Tyson Griffin (14-2)
4. Diego Sanchez (21-3)
3. Gray Maynard (10-0-0-1)
2. Kenny Florian (13-4)
1. Frankie Edgar (11-1)
Champion: B.J. Penn (15-5-1)
Welterweight Division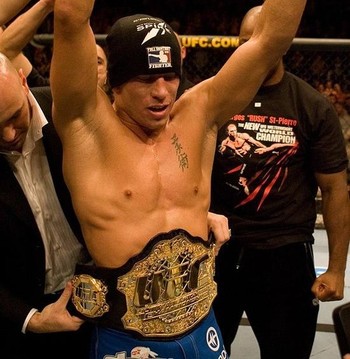 March's Key Fights
Georges St. Pierre vs. Dan Hardy
Who would have thought?
Georges St. Pierre came in and wrestled his way towards another title defense. That's not a crack at St. Pierre, as he came in once again with a solid game-plan where he fought his opponents in their weakest areas.
Who cares if the fans boo? Some people actually enjoyed watching the brash British fighter brought back down to earth.
That being said, Dan Hardy proved that he belongs at the top of the welterweight division with his survival skills alone.
Jon Fitch vs. Ben Saunders
I'll continue to say props to Ben Saunders for stepping in against Jon Fitch on such short notice, but the outcome of the fight was to be expected.
Fitch, a less-skilled version of St. Pierre, came in and wrestled his way to another unanimous decision victory.
Looking for a rematch with the champion, Fitch will likely have to change his attitude of fighting friends, as it appears UFC president Dana White is making an example out of him and the rest of the AKA welterweights.
John Howard vs. Daniel Roberts
The man known as "Doomsday" has been on a tear since joining the UFC in January of 2009.
Rolling through four straight opponents, most recently with his powerful hands, Howard will look to have a breakout performance this year. He hopes it comes against his heated rival, Anthony "Rumble" Johnson.
April's Key Fights
Matt Hughes vs. Renzo Gracie
A long time in the making, this fight is most likely a retirement fight for whoever is on the losing end, as both haven't been overly impressive in their past performances.
The only thing that makes it a significant fight for the welterweight division is Hughes spot on my board. The only reason Hughes has a spot on my board is because of the lack of contenders in the division.
Noteworthy: John Howard (14-4), Anthony Johnson (8-3) & Matt Serra (10-6)
10. Mike Swick (14-4)
9. Carlos Condit (23-5)
8. Martin Kampmann (16-3)
7. Matt Hughes (43-7)
6. Dan Hardy (23-7)
5. Paul Daley (23-8-2)
4. Josh Koscheck (14-4)
3. Paulo Thiago (13-1)
2. Thiago Alves (16-6)
1. Jon Fitch (22-3)
Champion: Georges St. Pierre (20-2)
Middleweight Division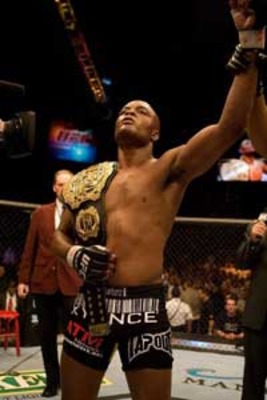 March's Key Fights
Yushin Okami vs. Lucio Linhares
Being relegated to the preliminaries against weaker opponents, Yushin Okami once again proved that he is the black sheep of the middleweight division.
He thoroughly picked apart Lucio Linhares with his much-improved boxing attack, forcing the referee to call the fight in the second round due to a cut.
Hopefully, the UFC will give Okami a much-needed step up in competition next time around.
Rousimar Palhares vs. Tomasz Drwal
A man known for his outstanding leg-locks, it didn't take Rousimar Palhares long to capitalize on a slip by Tomasz Drwal to grab a hold of a leg. 45 seconds into the fight, Palhares had Dwral tapping with a heel hook.
Unfortunately, the heat of the moment caught Palhares and he failed to let go of the hold after the referee had stepped in. Subsequently, Palhares has received a 90 day suspension for his actions.
Despite this, Palhares' third straight victory has launched him into the top ten of the division.
April's Key Fights
Anderson Silva vs. Demian Maia
In the opinion of many fans, the best pound-for-pound fighter in the world will look to make his sixth official title defense against submission expert, Demian Maia.
Maia has the submission equivalent of a "puncher's chance," but every fight starts on the feet, and Silva is one of the best strikers to ever enter the octagon.
Kendall Grove vs. Mark Munoz
Kendall Grove has had an on-again, off-again career with the UFC, so the chances of him making an impact at middleweight is unlikely with this fight.
However, his opponent Mark Munoz, will look for his third straight victory since joining one of MMA's most prestigious teams in Black House.
Noteworthy: Patrick Cote (13-5) & Alessio Sakara (15-7-1)
10. Rousimar Palhares (11-2)
9 Alan Belcher (15-6)
8. Yushin Okami (24-5)
7. Michael Bisping (18-3)
6. Wanderlei Silva (33-10-1-1)
5. Yoshihiro Akiyama (13-1)
4. Nate Marquardt (29-9-2)
3. Vitor Belfort (19-8)
2. Demian Maia (11-1)
1. Chael Sonnen (25-10-1)
Champion: Anderson Silva (25-4)
Light-Heavyweight Division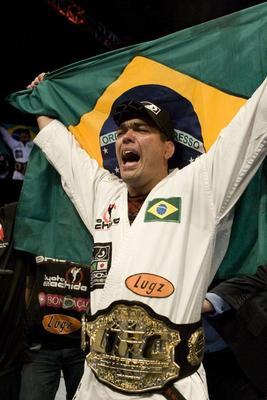 March's Key Fights
Jon Jones vs. Brandon Vera
Despite a dominating performance against a skilled Brandon Vera, there are still detractors over the brilliance of technique displayed by Jon Jones.
The man is virtually undefeated and has mauled nearly all of his opponents inside the cage. Look for a huge step-up in competition next time around where Jones can once again prove all the naysayers wrong.
Vladimir Matyushenko vs. Eliot Marshall
Nearing the end of his career, Vladimir Matyushenko hopes to make a title push before calling it quits. He has won 11 of his last 12 fights, and is 2-0 since re-joining the UFC.
However, with a less-than-thrilling performance over Eliot Marshall, Matyushenko is going to have to push harder than he's ever pushed before to make an impact in a stacked division.
April's Key Fights
None
Noteworthy: Luiz Cane (10-2-0-1) & Ryan Bader (11-0)
10. Vladimir Matyushenko (24-4)
9. Randy Couture (18-10)
8. Antonio Rogerio Nogueira (18-3)
7. Forrest Griffin (17-6)
6. Jon Jones (10-1)
5. Thiago Silva (14-2)
4. Anderson Silva (25-4)
3. Quinton Jackson (30-7)
2. Rashad Evans (19-1-1)
1. Mauricio Rua (18-4)
Champion: Lyoto Machida (16-0)
Heavyweight Division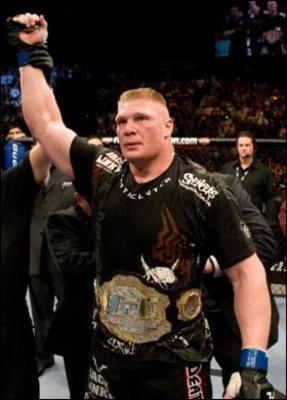 March's Key Fights
Frank Mir vs. Shane Carwin
Frank Mir's added bulk was tested in his fight with Shane Carwin, a man who is similar in stature and style to Mir's nemesis and heavyweight champion, Brock Lesnar.
Despite the extra girth, Mir was muscled around the cage and ultimately fell prey to a series of punches after being rocked by numerous short, left uppercuts by Carwin.
Carwin earned a chance to fight Lesnar, while Mir is back at the drawing boards searching for answers.
Junior dos Santos vs. Gabriel Gonzaga
Black House prospect, Junior dos Santos tantalized fans again with a brutal knockout victory over former heavyweight contender, Gabriel Gonzaga.
His sixth straight victory, all by knockout, dos Santos will likely have to fight another contender to earn a title shot in the log-jammed heavyweight division.
Cheick Kongo vs. Paul Buentello
The French-born fighter, Cheick Kongo, was in desperate need of a victory over Paul Buentello following two consecutive losses.
Kongo dominated a majority of the fight with a varied attack of knees, punches, and kicks; forcing the always-game Buentello to tap due to the punishment.
Stefan Struve vs. Roy Nelson
"Big Country" strikes again with his belly-rubbing post-fight celebration after folding Stefan Struve like a lawn chair in a hurricane with a huge overhand right.
Normally known for his jiu jitsu game, Roy Nelson has proved he belongs in the top ten of the UFC with a good, all-around attack. Look for a huge step-up in competition next time around for every couch potato's hero.
April's Key Fights
None
Noteworthy: Stefan Struve (19-4)
10. Ben Rothwell (30-7)
9. Randy Couture (18-10)
8. Mirko Filipovic (27-7-2)
7. Roy Nelson (15-4)
6. Cheick Kongo (15-6-1)
5. Gabriel Gonzaga (11-5)
4. Antonio Rodrigo Nogueira (32-6-1)
3. Frank Mir (13-5)
2. Junior dos Santos (11-1)
1. Cain Velasquez (8-0)
Interim Champion: Shane Carwin (12-0)
Champion: Brock Lesnar (4-1)
Keep Reading