Predicting The Redskins Offensive Starting Lineup Position by Position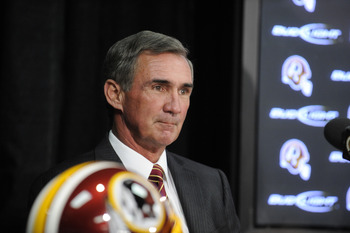 With the draft coming up, Redskins have to start sorting out their lineup for the upcoming season to determine who they will pick.
Some positions remain obvious, but after such a devastating season for management and players, some immense and immediate changes are to be made.
Shanahan recently said that "every position is up for grabs," in one way a strict and clear message to all players and staff, but also pointing out what is completely true.
Quarterback: Jason Campbell
Though QB was perhaps one of the biggest problems the Redskins held last year, Shanahan has hinted at keeping Campbell, and his starting position role, for one more year.
Jason is not a bad player; he lacks some confidence, but can show signs of tremendous potential and skill. What people need to take count of is that Campbell was placed under a coach who made questionable decisions and with receivers and running back who delivered poorly. With a better core group of players around him, Campbell could possibly make giant strides in his game.
Furthermore, no good quarterback are in free agency at the moment, meaning the Redskins would have to either stick with Jason, or go to the draft.

Honorable Mention/Second String: Tim Tebow
As I discussed in my previous article (http://bleacherreport.com/articles/366953-answer-to-redskins-woes-tebow-a-perfect-fit) I vote yes to the idea of drafting Tebow in the draft. If we come up with him, we let him learn the ropes of the league on the bench for the first season, and in the second season we are presented with a good dilemma of either Campbell or Tebow.
Running Back: Committee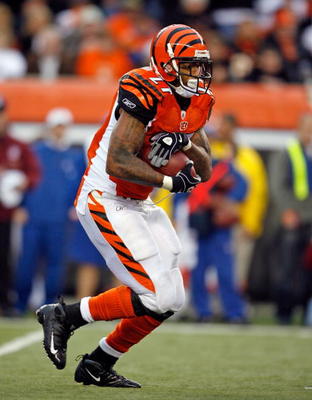 The Redskins, in my opinion, made one of the brighter moves of the league in picking up supposedly washed up back Larry Johnson. Johnson was having a decent season for the Chiefs, before slurring out a homosexual term on Twitter.
There, the Bengals picked him up; though he did not form a committee with Benson (when healthy, Benson got all the carries), he played two games while Benson was injured and impressed me.
On the other hand, Portis disappointed many last season, on the field and off. He did not reach the standard he set two seasons ago, leading the NFC in yards for half the season. This season he barely made the top ten for some of it, and cursed out coaches, teammates, and his fullback in the locker room.
But I'm not suggesting we take away his starting role. Clinton still has some gas in his tank, as does Johnson.
A committee would be wonderful, as Portis is aging with concussions, and a whole game may prove too tiring a task for him. Johnson is also, say, washed up, yet letting them both get half the amount of carries could pay off extremely well.
Honorable Mention/Second String: 'Skins do not need any other running back given that they have two who are far better than those they had on the bench of last season.
(Quick Addition: Redskins signed Willie Parker—sign that Portis will be taken off the team? Probably not. Parker will most likely be the reserve running back, possibly coming in on third downs.
Receiver 1: Santana Moss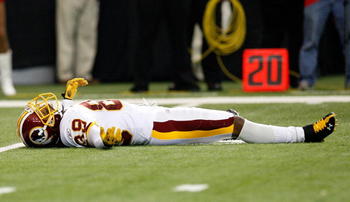 Though Campbell could happily take some newer and better receivers to throw to, and this is a very talented year concerning free-agent receivers, none have expressed desire to come to our nations capital.
And the Redskins haven't shown any desire in pursuing receivers.
2010-2011 could be a rebuilding season for Washington, one in which we see how the team will take form for the baby decade, and, theoretically, it should be the season where the talented young core of Redskins receivers take over.

But Moss should be the primary receiver for at least the next season.
Players like Devin Thomas, Malcolm Kelly, and Mason all have immense potential and fit in well with the Redskins style of play. Yet, they all need a season or two more to reach receiver one or two talent.
Moss struggled last season. But he showed strides of brilliancy, giving hope that one of the Redskins top receivers in history still has some gun powder left in him.
But it'll be up to Campbell to see if he pulls the trigger.
Receiver 2: Devin Thomas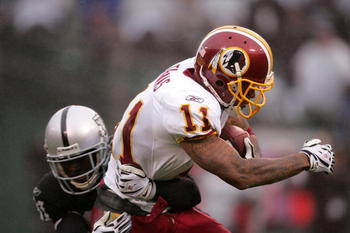 Thomas has the best hands, is the fastest, and, ultimately the most talented receiver on our team, yet the picture on the left illustrates why he isn't yet ready to take the throne as number one receiver just yet.
He has struggled, in his first two seasons in the league, at breaking tackles. He is so quick on his feet, and agile, that tackles shouldn't be too much of a concern. Yet, the cornerbacks in the NFL have become faster than ever and speed is now less of a gift for a wideout.
If Thomas takes this season as a two receiver, learning the ropes of the NFL as a now targeted receiver for opposing seasons, my prediction is that he proves more than ready come 2010-11 season.
But for now inexperience and lack of body strength leaves him at the No. 2 spot.
Tight End: Fred Davis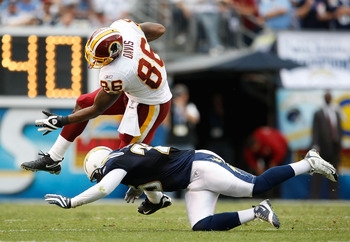 This slide may be the one that surprises you the most. But it shouldn't.
Cooley is an extremely overrated player, somehow gaining the love of Washingtonians with his stats. And stats only.
Cooley may seem to catch a lot; that's definitely what the stats say at least. But for the amount of times he is actually thrown the ball, when he's not injured or putting pictures of his penis on the internet, he makes a reasonable amount of catches at the very least.
Cooley has also aged reasonably fast, and it is time to pass the reigns to the new generation of Redskin football.
If Cooley demands to be traded after hearing of his apparent benching, let it be so. Chris could be terrific draft bait, and I would be anxious to see who we could receive.
Yet, if he does not mind the transition to left side of the bench, and is gratefully accepting Davis as the new tight end, this would prove to be a great two tight end duo in the goal line.
Davis had matured immensely last season, proving NFL ready, and demonstrating himself as faster, more agile, and a better blocker than the likes of Cooley. When Cooley went down last season, Davis quickly became our most consistent and trustworthy player.
For the benefit of this organization, Davis takes control of tight end in 2010.
Fullback: Mike Sellers
This shouldn't be too hard of a decision to make for the management: Sellers is a versatile and Pro Bowl fullback and is the only one on the roster.
No signings look possible, and there is no way, with all the other position commotion going on, that the 'Skins look for a fullback in the draft.
Left Tackle: Russell Okung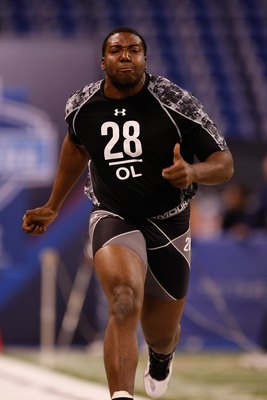 Since Samuels retired, Redskins have shuffled multiple left tackles into the lineup scenario. Yet, they have shown immediate desire in drafting Okung in the first round of the draft.
Okung is an extremely talented and strong tackle, and could hold his own with the big boys of the NFL.
The other option would be Levi Jones, though it is still a question as to whether the 'Skins will divert to signing him again after a mediocre season.
Left Guard: Derrick Dockery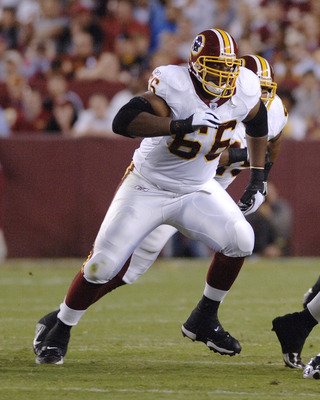 The only bright spot on the Skins offensive line last season--no need to replace him. Though he may only have a couple seasons remaining in him, for now he seems as though he could manage being the captain and leader by example of the OL.
Right Guard: Artis Hicks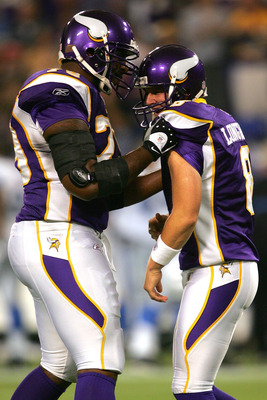 This prior season, Washington juggled many right guards, and could not decide who would fill the gap.
Signing Hicks from the Vikings may have finally put a resident in the home of the 'Skins right guard.
The O-Line was one of the primary reasons Favre succeeded yet again, and was definitely a big part of that. Signing him was an ingenious decision, and the organization looks forward to having a true RG in our offensive line.
Center: Casey Rabach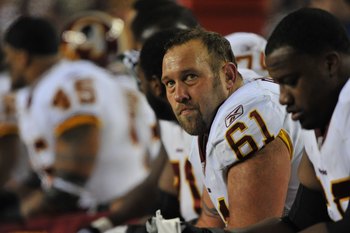 A true warrior, there is no way the 'Skins won't use big Casey for at least a few more seasons.
Right Tackle: ??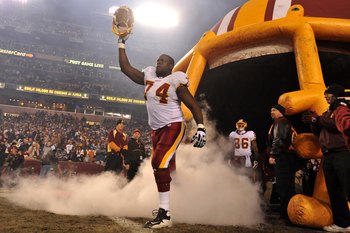 If Shanahan decides other pieces of the puzzle are more important in the draft than the likes of the right tackle dilemma, Stephon Heyer will likely return to his role as starting RT.
But if Shanahan and Co. decide Heyer won't be the key offensive lineman we need for the this up coming season, there are plenty of other options come draft night(s).
And So...
Thus, we are left with this as the Redskins starting offensive unit:
QB: Jason Campbell
Backup QB: Tim Tebow
Running Back: Committee of Portis and Johnson
Backup: Willie Parker
Receiver One: Santana Moss
Receiver Two: Devin Thomas
Tight End: Fred Davis
Full Back: Mike Sellers
Left Tackle: Russell Okung
Left Guard: Derrick Dockery
Center: Casey Rabach
Right Guard: Artis Hicks
Right Tackle: Stephen Heyer or draft possibility
Please, leave any disagreements or agreements as comments on who you think should be in our starting unit.
Keep Reading

Washington Redskins: Like this team?