The Top Three All-Time Chicago Bears Quarterbacks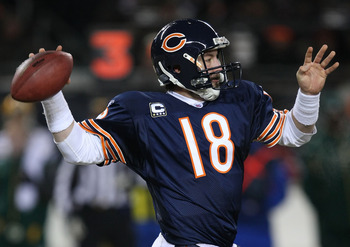 Before I start off this opening slide to a very controversial piece of literature, please understand that I did the "top 3" opposed to 5 or 10 because I wanted to do something other writers, respectfully, have not done.
Now, let's get started. The Chicago Bears have attained one of the most storied franchises since the great invention of football was born. Running backs, linebackers, ends, defensive tackles, and not to mention a great run blocking line, you name it. The Bears had it.
Except...
If you asked the Bears organization about previous quarterbacks that had success, they might just stare at you with a blank face.
Now, let's enter into the realm of one of the most thought of categories in Bears football heritage. Please feel free to comment with any thoughts at all. Thank you before hand for any reads, comments, or likes.
Sid Luckman | Honorable Mention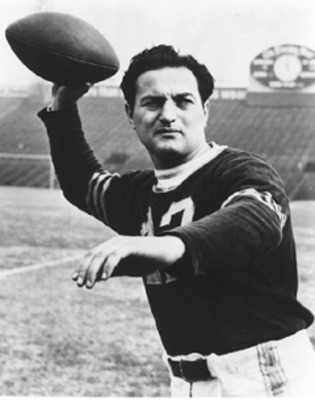 Sid Luckman, a multi-functional football player, still holds a few of the Bears' current passing records. Luckman deserves not only honors for my Bears' all-time passer list, but as a Bear in general.
This man played other positions, such as a defensive back and running back. Here is Sid Luckman's statistics.
904 Completions | 1,744 Attempts.
51.8 Completion Percentage
14,686 Yards Passing
137 TD Passes
132 Interceptions Thrown
Number 3 | Jim McMahon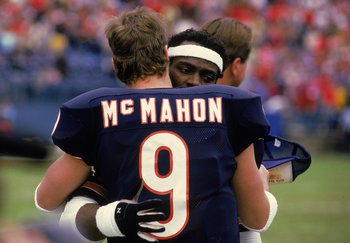 The punky QB known as McMahon, when he hit the turf, he had no plan. (Lyrics from "Super Bowl Shuffle," but in third person.)
Jim McMahon was indeed a "punky" quarterback.
McMahon led the Chicago Bears to a 1985 Super Bowl victory, 45-10, over the New England Patriots. Along with Walter Payton and the best defense ever, he had his best year in his career.
The reasoning for putting him on this list is not only his arm, but his swagger he brought to the Bears. His attitude was a whole new demension to the Chicago Bears and helped elevate them to a championship.
The reason he isn't higher on this list, is because I honestly do not think he would have created the stature he did today if he didn't have Ditka and the supporting cast. The following quarterbacks didn't have the assets that McMahon did, but can become better.
Jim McMahon's Statistics with the Chicago Bears :
1,492 Completions | 2,573 Attempts
58.0 Completion Percentage
18,148 Yards Passing
100 Touchdown Passes | 90 Interceptions
Number 2 | Rex Grossman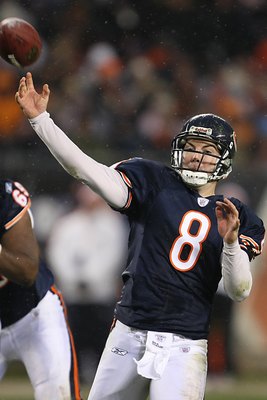 Wrecks Grossman. Rex Glassman. Rex Cannon. Sexy Rexy. Whatever you tend to call my number 2 Chicago Bears quarterback, Rex Grossman had skills.
Bursting onto the scene in 2006, leading the Bears to a Super Bowl in his first full season, Grossman showed what he could do.
Rex, being the gunslinger that he is, made mistakes. With a offensive coordinator that didn't tend to Rex's strengths, he was inconsistent. We all know this. No matter how much you rag on Grossman, you can't deny the fact he could throw.
After constantly being criticized, Grossman fell off some. Many Bears fans said Rex was the reason for a L in the column every time. Some people need to wake up. Yes, Rex Grossman had some bad decisions as I'm sure the oh so mighty Tom Brady or Peyton Manning did on a constant basis early in their careers.
The constant criticism of Grossman left me thinking of why this guy? I understand he had horrible points, but when he did fine and we lost...it always seemed to be his fault.
Nonetheless, Rex Grossman is number two of three on my list. Here are his stats in 6 years with the Chicago Bears.
521 Completions | 971 Attempts
54.2 Completion Percentage
6,164 Yards Passing
33 Touchdown Passes | 35 Interceptions
Number 1 | Jay Cutler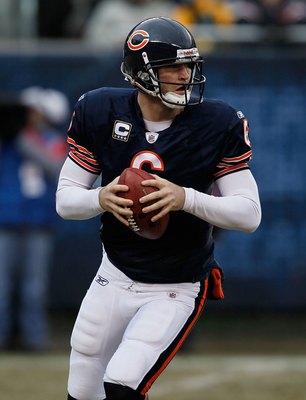 Oh. The infamous crybaby. The kid who babied his way outta Denver, huh?
To all those people who support that belief : shut up and learn some football.
Jay Cutler is the most talented quarterback the Chicago Bears' franchise has EVER had. Period. Quoted by many as having the strongest arm currently in the NFL, Cutler hasn't done a single thing to prove them wrong.
While arm strength doesn't make a player an instant success under center, Jay attains the rest of the assets.
Standing at a 6'3, 225 pounds, the former Vandy stand out instantly improved Chicago's passing game. Cutler not only has the size and strength, but the brain and precision accuracy.
While the brains can be argued after a 26 interception season, think of this scenario :
You're a young gunslinger with an attitude (a positive one) than just got out of a situation that wasn't in your favor. Bears' fans are expecting an instant Super Bowl out of you, which was stupid in the first place. You're playing your long time hated rivals, it's your first game in a new jersey for these fans.
You're going to be pressured. End of story.
Cutler, this season, had intense pressure, a horrible offensive coordinator that couldn't exploit your strengths...where does that sound familiar? A horrible offensive line, in experienced group of wide receivers, and the will to make plays to win.
Sounds like a bad combination to me. Jay Cutler is no doubt the most talented QB we've came by, and can most certainly make an astounding bounce-back season next year.
Jay Cutler's Career Statistics :
1,098 Completions | 1,775 Attempts
61.9 Completion Percentage
12,690 Passing Yards
81 Touchdown Passes | 63 Interceptions
Keep Reading

Chicago Bears: Like this team?