Detroit Lions: Fantasy Predictions for 2010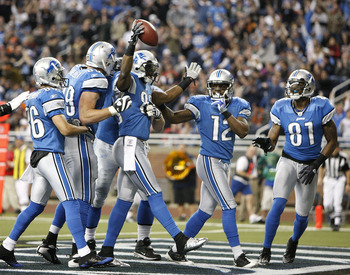 In my fourth installment of fantasy football predictions, I will be taking a look at the Detroit Lions.
The Lions improved as a team from their 0-16 season to 2-14, but what does that tell you about their fantasy value?
Calvin Johnson is a monster receiver. Matthew Stafford is a developing young quarterback. Can these two team up to become a good fantasy duo in 2010?
I will take a look at the main offensive players for the Lions and try and put a finger on how well they can do in 2010.
And as always, these predictions may change before the season begins. The draft is still a couple of weeks away and will most likely impact some teams more than others.
QB - Matthew Stafford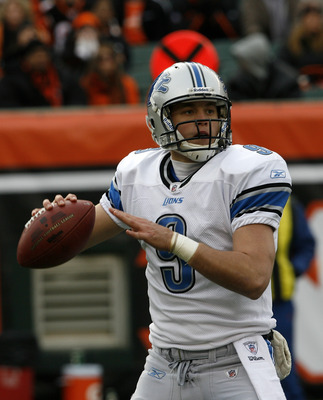 The rookie quarterback out of Georgia had a decent rookie year. He threw for over 2,000 yards and 13 touchdowns. Those numbers don't tell the complete tale, however.
Stafford threw for five touchdowns and 422 yards in a pass-happy game against Cleveland.
As long as Stafford stays healthy, you can expect a decent year out of him.
He does, after all, have Megatron to throw the ball to. Just toss it up to him and he should catch the ball. The addition of Nate Burleson will help too.
Stafford will be an afterthought for most owners. That's not to say he couldn't put up good numbers for the right bye week matchup.
Expect Stafford to be selected as a second-string quarterback for most teams. He should be selected around the 11th or 12th round.
Prediction- 3,000 passing yards, 20 touchdowns, 25 interceptions
RB - Kevin Smith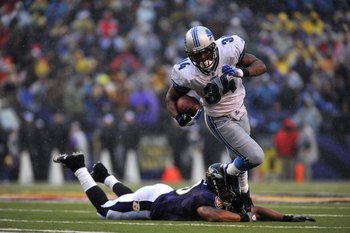 Smith had a down year from his rookie campaign, mainly because of a torn ACL at the end of 2009. An ACL injury is usually hard to recover from, but Smith is still young and is on pace to return for the 2010 season.
Smith's season really depends on how well he recovers from the ACL tear. Maurice Morris appears to be the only competition Smith will have as of right now. He better hope that's all there is.
Smith was a high selection in 2009 after a stellar rookie season. I expect he will play about the same level he did last year, which isn't a bad thing.
Smith can be a low-end No. 2 running back or high-end third. Expect him to go in the fourth or fifth round.
Prediction- 200 rushing attempts, 800 yards rushing, 6 touchdowns, 40 receptions, 400 yards receiving, 2 touchdowns
RB - Maurice Morris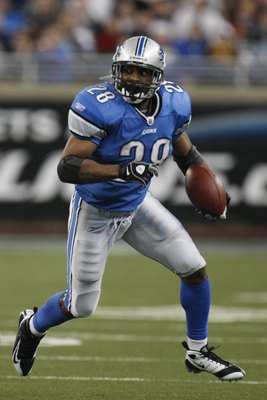 Morris has never been a lead back, nor has he ever deserved the role. But he fits well as a complementary back. Morris came in at the end of 2009 and filled in for Kevin Smith.
Don't expect Morris to get much usage this year if Kevin Smith comes back at full health. But if Smith struggles or the Lions want to ease him back into the lineup, Morris could have some added value.
Morris will be a late-round selection at the best. He is No. 2 behind a guy who has received 200+ carries in the past two years.
He has scored only seven touchdowns in his career. I wouldn't draft him, but if Smith goes down, pick him up.
Prediction- 100 carries, 450 yards rushing, 1 touchdown, 20 receptions, 100 yards, 0 touchdowns
WR - Calvin Johnson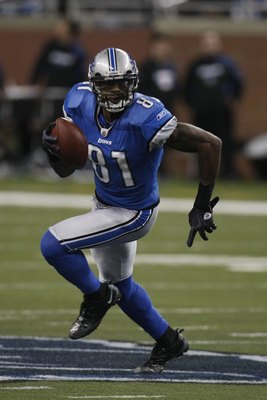 Megatron, as football enthusiasts around the world know Calvin Johnson, had an average year in 2009. His receptions, yards, and touchdowns were all down from 2008, and he also missed two games.
Still, he had a rookie quarterback and barely any offensive help.
In 2010, we can expect Johnson to put up better numbers.
Stafford will have a year as an NFL quarterback under his belt, and the Lions also picked up Nate Burleson to take some of the receiving burden off Johnson.
Johnson should still be one of the top wide receivers taken, even though he did not perform as well as many thought last year. I expect Johnson to be taken in the late second or early third-round of most drafts.
Prediction- 75 receptions, 1,100 yards receiving, 8 touchdowns
WR - Nate Burleson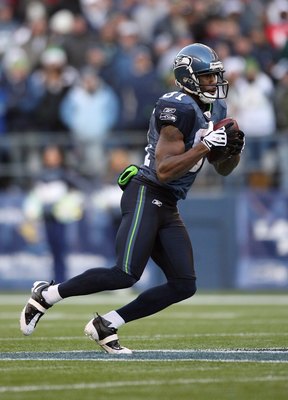 Nate Burleson returned from an ACL injury to put up a respectable 2009 season. He had 63 catches for 812 yards, but only three touchdowns. He is looking to get a fresh start with the Lions.
A peculiar stat I found about Burleson is that since joining the league, he had nine-touchdown seasons in 2004 and 2007. Each for different teams and three years apart.
That brings up a serious question for the superstitious fans out there.
Here we are three years removed from his last nine-touchdown season and Burleson is with yet another team.
Can we expect another nine touchdown performance for the veteran receiver? Signs right now are pointing towards something close to it.
Burleson will be thought of as a low-end third or high-end fourth receiver to start the year.
If you can, wait to grab him in the later rounds, since he will most likely be overlooked. He should get his chances playing alongside Megatron.
Prediction- 65 receptions, 850 yards, 8 touchdowns
TE - Brandon Pettigrew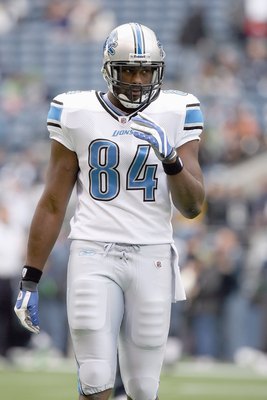 The Oklahoma State product had a decent season in his rookie year. Instantly becoming the Lions' starting tight end, Pettigrew caught 30 balls for 346 yards and two touchdowns.
Not great numbers, but when you are a rookie tight end playing alongside a rookie quarterback on an 0-16 team, great things can't be expected.
In 2010, Pettigrew's numbers should be better.
With the addition of Burleson and development of Stafford, his numbers should be up. He won't be great, but don't be surprised if he exceeds expectations.
Pettigrew will be selected with the second group of tight ends. Expect him to be one of the last round selections.
Prediction- 40 receptions, 450 yards receiving, 5 touchdowns
K - Jason Hanson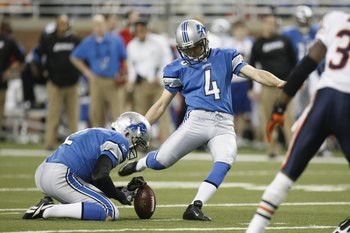 Jason Hanson had a down year in 2009, but I can barely blame the Lions' sub-par offense. Hanson only made 75 percent of his opportunities. If anything, he should be better this year.
The Lions' offense is getting better, so that is a plus for Hanson. He needs to start making kicks or he may be given the boot. Literally. He will be 40 when the season opens.
As for all kickers, Hanson should be selected in the last round if he is taken at all. Don't expect great things from him, but he should be better.
Prediction- 25/30 FG's made, 30/30 Extra Points made
Defense/Special Teams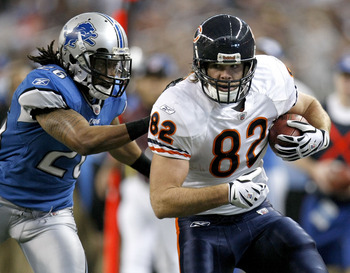 The Lions had one of the worst defenses in 2009, ranking near the bottom in nearly every major defensive category.
Don't expect them to get much better in 2010.
Larry Foote, their leading tackler, and Philip Buchanon, left in free agency. They are trying to get younger which will look good in the future, just not this year.
The Lions shouldn't be drafted in 2010 NFL drafts. Maybe you can pick them up for a desperate bye week.
Prediction- 15 interceptions, 7 fumbles recovered, 20 sacks, 1 touchdown
Keep Reading

Detroit Lions: Like this team?