Kevin Kuranyi: "Inglorious Basterd"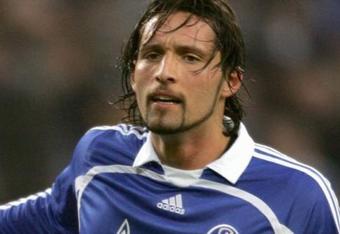 One must understand the term "Inglorious Basterd" to grasp this article.
Yeah, if you have watched the Quentin Tarantino flick then maybe you know half of it, but I will try to simplify it in order to bridge a "common ground"—and to make one comprehend of what sense I take this term for.
Inglorious: Not glorious, not bringing honor or glory; Obscure; Disgraceful.
Basterd: This is one "special" term with "e" that you use for a person who compels you into doing something that you do not want to do. The person has become so much of an impact and influence that you are left with no option but to surrender against your will.
Inglorious Basterd: Not an "archetypical" hero. A man with his own ways to follow who makes others follow him in one way or another. A person with new-found glory, a person with no other superlatives.
Making of an "Inglorious Basterd":
Oct. 11, 2008: Rewind
This was the day when the German National Football team was playing against the Russians, and the day has its own "black mark effect" for some people involved—mainly Kevin Kuranyi and Germany national team manager Joachim Löw.
Joachim had not selected Kuranyi for this fixture, and Kuranyi felt that he was being mistreated as compared to some other lads around. He felt that despite the dismal performance of Lukasz Podolski in Bundesliga, the center-forward remained an eye-candy to the manager.
Kuranyi felt that something had to be changed.
He was watching the game from the stands amongst other unselected players, and at the halftime he sought after what he thought was best for him, which was, "I am going home."
He stormed out of the stadium at the halftime interval, and didn't show up at the team hotel—and then things changed.
To add more misery, he sent his friends to collect his stuff from the team hotel.
After this incident, Joachim Löw, at a press conference, asserted, "I would never again select Kuranyi for the National Team."
Reputation Progress: "Inglorious" Achieved!
March 27, 2010: Fast Forward
This day was special for this man (and for me in some vague ways). I personally watched it on my TV. I had my eyes on this day and lo and behold! The day arrived.
Last Saturday, on March 27, Bayer Leverkusen hosted Schalke 04 at Bay Arena in a match which had so much importance around it.
If Schalke 04 won, they would go to the top of the Bundesliga standings—and to the top they went with some style.
Schalke 04 won the match with the final score 2-0, and both of the goals came from this "inglorious" man, Kevin Kuranyi.
Not only did Schalke take the pole position for the title, but Kevin Kuranyi came out as the top goal-scorer of Bundesliga with 17 goals, toppling Stefan Keissling and Edin Dzeko, who have a tally of 16 goals each.
At the end of the match, Schalke 04 fans were chanting, "Wake up Jogi!" (Jogi is the nickname for Joachim Löw).
The constant in-form performances by this decent goal-poacher in this second half of the Bundesliga has ignited an unexpected debate. Will Joachim take his words back and show some love for this man who truly deserves it the most?
Joachim is a man of his word. Joachim is a man who prioritizes discipline. He is not your typical fun manager who keeps things cool when they are not.
He is your in-your-face and "I give a darn" manager.
And the man who makes him apologize, which repulses him, can be defined as only one thing! Yeah, you guessed it right: "A Basterd."
Reactions:
Franz Beckenbauer (German Football Icon):
"Löw shouldn't have set his mind on banishing him forever. 'Life' is never the right word for a football player. I felt so at the time, and now Löw has a problem.
"The national team is not a private affair of a few individuals who have a problem within themselves, the national team belongs to all of us. We want to win the World Cup in South Africa, and we need all top players, including Kevin Kuranyi."
Felix Magath (Schalke 04 Manager):
"As a trainer, one must constantly reconsider your decisions, and sometimes change them. As a coach, sometimes you have to change or take back some decisions you have made. You need to do what is best for your team, and Kevin is currently the best forward in Germany.
"The national manager needs to decide whether he needs a striker like that at the moment."
Ironically, Felix Magath wanted to offload Kevin in winter transfer window. He is an intelligent person, though, and his reaction truly reflects the first line he said, which is:
"One must constantly reconsider your decisions and sometimes change them."
Reputation Progress: "Basterd" Achieved!
April 3, 2010: Today
Today is the biggest day of Kevin Kuranyi's life, if I am not exaggerating it!
Schalke 04 are hosting Bayern München in a match which might eventually give us the Bundesliga Champions. If Schalke 04 wins, they will be leading the league table with five points of the current chasing pack Bayern München—with five games remaining.
The match is as important as the clash of Chelsea and Manchester United, who will be fighting their ends in the English Premier League today.
Franz Beckenbauer will be watching the match from the stands, as he is a chairman of FC Bayern München.
There will be another important figure at the stands who will have his eyes casted on the pitch and looking at the game of Kevin Kuranyi. That figure is none other than Joachim Löw.
My Opinion:
I think Franz and Felix both are right.
When expectations are played with, we pay closer attention. Kevin Kuranyi, at the moment, is an axis of expectation of one nation.
Expectations have challenged our own implicit assumptions, and we know that whatever happens next will be predictably unpredictable—this is what Joachim Löw would never have thought.
Expectations are a critical point of focus. Expectations of self that are unrealistically high are non-existent or dysfunctional.
A possible solution for the self-defeating perfectionist whose primary problems are being one's own worst critic is to learn to curb judgmental thought in recasting everything you do—not in terms of right or wrong, but in terms of effective or ineffective.
Joachim is a perfectionist. His thought of never turning his face to Kuranyi was judgmental. He knows that Kevin is the hope of one nation, and now he has to recast on what he has done and what he is going to do.
It becomes sort of important when you look at the goal tally of the two current forwards of German National team, Podolski and Klose. They both share a total of four goals in league play between them.
When expectations are played with, we pay closer attention, challenge our own implicit assumptions, and know that whatever happens next will be predictably unpredictable. When you get what you don't expect, expect to be entertained!
And entertainment is what Joachim will get today, by our own "Inglorious Basterd!"
Kevin Kuranyi: "I am in the form of my life, but it is not me who decides. There is only one man who can decide it, and I will do everything to try and persuade him."
Reputation Progress: "Inglorious Basterd" Achieved!
This article is
What is the duplicate article?
Why is this article offensive?
Where is this article plagiarized from?
Why is this article poorly edited?