Big East Guide: 2010-11 Edition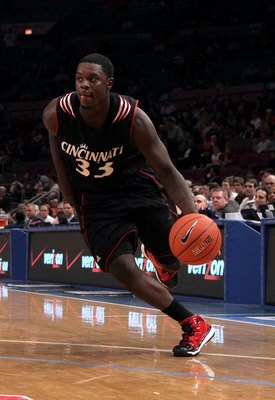 I know the 2009-10 season is not finished yet. But is it really ever too early to talk Big East basketball?
The answer to that question is a big, fat, no. The best conference in America is always exciting, so why not get a head start on next year?
Who will be the top players? Who will be the breakout players?
All of these questions, among others, will be answered in the following slides.
All-Name Team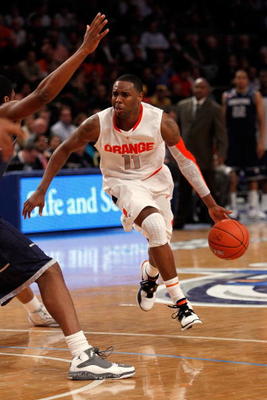 Scoop Jardine (Syracuse): As if you didn't see this one coming. He has an ideal basketball name. After all, who wouldn't want to to hear, "And that's a scoop for Scoop," after a drive and lay-in? Jardine is a pretty cool name too.
Darius Johnson-Odom (Marquette): Not everyone will agree on this one, but I love the double name. It just rolls off the tongue nicely. Oh yeah, and both last names are names of standout NBA players (Joe Johnson and Lamar Odom).
Dominic Cheek (Villanova): First of all, the Dominic and Cheek kind of rhyme, which is cool in itself. The funny thing is that he has huge lips while his name is Cheek. (You'll see what I'm talking about if you see his Yahoo profile picture.)
Cam Thoroughman (West Virginia): It's so rare that you see a name that includes a random word like thorough. Cam fits in nicely as well.
Jarrid Famous (South Florida): Another lock for the team. You know you wish you could say "Famous" when someone asks for your last name. He gets extra points for spelling his name J-A-R-R-I-D.
All-Defensive Team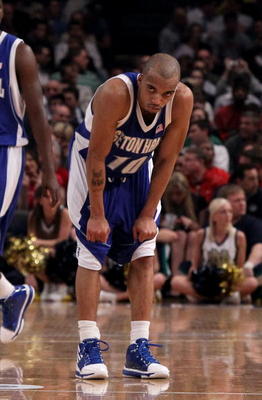 Enough of the antics, let's get down to business. Here's the all-defensive team.
Kemba Walker (UConn): Walker is a great perimeter defender and is an excellent steal-man. He loves to put pressure on the ball and really disrupts the dribbler.
Jordan Theodore (Seton Hall): In my opinion, Theodore is the best perimeter defender in the Big East. He is a great on-ball defender who is quick and therefore can stay with any ball-handler. He gets plenty of steals as well.
Dane Miller (Rutgers): The numbers don't lie. Dane Miller is a great all-around defender. He gets blocks, steals, and grabs defensive boards over bigger bodies.
Rick Jackson(Syracuse): Jackson is a great interior defender who blocks shots and disrupts the paint. He is also great on the defensive glass.
Gary McGhee (Pitt): McGhee is a big body who nobody wants to face. He can block shots or force post-men out of the paint.
All-Freshman Team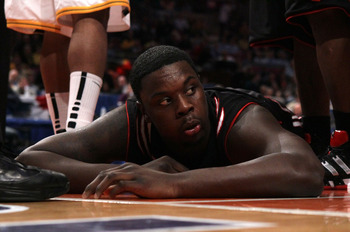 Who will take over for Lance Stephenson as the Freshman of the Year? Here's a look at who might take his place:
Vander Blue (Marquette): Blue takes it to the hole hard and can really score. He is great in transition when he shows off his dunking ability. He will have a big role due to the graduation of senior starters David Cubilan and Maurice Acker. He could sneak into the starting lineup even from day one.
Dion Waiters (Syracuse): Waiters gets to the rim with a quick first step and finishes strong. His body is built for contact, so he does not shy away from getting fouled. He also has a nice jump shot so you must play him tight while also worrying about the drive. With the departure of Andy Rautins, the shooting guard position will be up for grabs, so Waiters has a shot at some serious minutes.
Roscoe Smith (UConn): Smith is probably the biggest nightmare to guard. He is as tall as a 6'8" small forward and has a great skill set for his height. He can shoot the three-ball or take it to the hole. He also can post you up and hit a fade-away jumper with his soft touch. He will fill in for Stanley Robinson and will, in my opinion, win the Big East Freshman of the Year award.
Nate Lubick (Georgetown): Georgetown has very little to work with in terms of big men next year, assuming Greg Monroe leaves to go pro. Lubick will provide size and will see time at both the four and five positions. He should have a nice year for the Hoyas because of his size and post ability.
Fabricio De Melo (Syracuse): Melo is a major prospect in this year's class. He has great size, standing at seven feet and 270 pounds. With Arinze Onuaku gone, the center position will be thin. Rick Jackson plays better as a four and DaShonte Riley did not prove to be a viable big man. Melo has the size and developing skills to be a great big man for the Orange. He rebounds the ball well and is powerful with the ball in the paint.
Five Players Who Will Breakout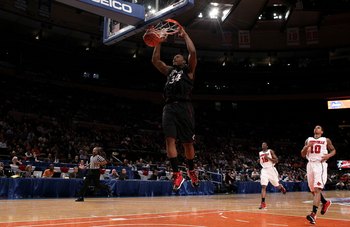 Scoop Jardine (Syracuse): Jardine had a solid year in 2009-10. He showed signs of stardom toward the end of the year, as he averaged close to 14 points in his last seven games. With Andy Rautins graduating and Wesley Johnson most likely going to the NBA Draft, there will be plenty of room for backcourt scoring. If, and when, Jardine comes out of his shell, he will become a feared scorer.
Peyton Siva (Louisville): Siva didn't have a great freshman season last year. This was mostly due to the depth and experience at both guard positions. With Preston Knowles as the only returning point guard, he and Siva should have a nice battle for the starting nod. I believe that Siva's quickness and scoring ability will carry him to stardom this coming season.
Paris Horne (St. John's): Horne had a nice year this past season with his 9.2 points per game. In 2008-09, he was sensational, averaging 14.6 ppg. He is a great scorer out on the perimeter. I think he will rejuvenate his scoring touch as a senior.
Yancy Gates (Cincinnati): Gates has been very good in his first two seasons with Cincy. He's been a 10 and six kind of guy. But he is more talented than those numbers. He is powerful on the glass and could push for a 10 rpg average. His scoring will increase as well because he can use his size to have his way in the paint.
Austin Johnson (Rutgers): Johnson didn't fill up the box score in his freshman season. But with Hamady Ndiaye gone, Rutgers has no proven center. Austin Johnson played some minutes to give Hamady a breather or just to give the Scarlet Knights size. Johnson will have an opportunity to take the starting center position, although he is just 6'8". He is a pretty skilled passer for a big man and is surprisingly athletic. He should make huge strides in 2010-11.
Top 10 NBA Prospects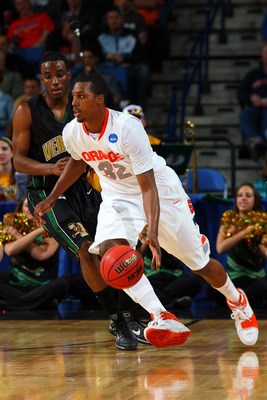 Here is a look at the 10 best NBA prospects (in no order).
Corey Fisher (Villanova): Fisher is a combo guard who will have to stick with the point guard position due to his lack of size. He is a great penetrator who can score the ball with consistency. He also possesses a good passing ability and is a solid defender.
Yancy Gates (Cincy): Gates has all of the physical tools to be a good pro, standing 6'9" and 265 pounds. His game just needs to be polished. He is powerful in the paint on both sides of the floor. If he can learn to make better shots for himself rather than forcing up bad shots, he can be someone to look out for at the next level.
Kris Joseph (Syracuse): Joseph broke out as a sophomore and became the "best sixth man in the country" according to Jay Bilas. He has good size and is a good scorer. He just needs to develop a perimeter game. He currently is no threat from three-point range and is barely a threat to make a mid-range jumper. If he can learn to shoot, he could be a top 15 pick in next year's draft.
Kevin Jones (West Virginia): Jones is a great prospect and will be a fantastic player in the pros. He is tall, 6'8", and very broad, 250 pounds. He will see time at both forward positions due to his size and shooting ability. Along with his nice stroke, Jones is strong with the ball down low. His game is very diverse, which makes him tough to guard.
Jamine Peterson (Providence): Peterson had eye-popping stats this season. He averaged 19.6 ppg and 10.2 rpg. And he's only 6'6". That may be his only issue at the next level. It's not too often you see a guy of that height thrive at the power forward position. But he is a very good shooter, so he has potential to make the switch over to small forward, where he can do well.
Lance Stephenson (Cincy): Stephenson is the ideal NBA prospect. He is strong, can take the ball to the basket, score at will, and he has a bad attitude. He saw his draft stock drop after an underwhelming freshman campaign. But he has the skill set, and the big mouth, to be a star at the next level.
Austin Freeman (Georgetown): Freeman is a bit undersized for the shooting guard position, standing at just 6'4", but his bulk (close to 230 pounds) could compensate. He put up some big numbers in the scoring department due to his spot-on three-point shooting and strength around the rim. He has potential, but he must overcome his height to make an impact at the next level.
Kemba Walker (UConn): Walker is an extremely skilled and true point guard. He can score and distribute the ball very well. The only concern with him is that he is scrawny, so he may not be able to draw contact well, but he has plenty of potential.
Mouphtaou Yarou (Villanova): Yarou didn't have a spectacular year, but he did show his upside. He is huge. He is 6'10" and 250 pounds. He could be a full-time center in the NBA. He is powerful and is an excellent rebounder.
Corey Stokes (Villanova): Stokes is a sharpshooter. He can shoot form anywhere on the court. That is essential at the next level. He won't be a great player, but he could be a nice player at the next level.
First Team All-Big East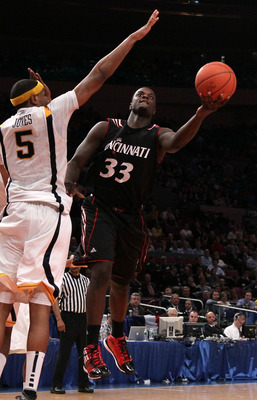 Here's how the Big East's first team will look (assuming Wes Johnson, Greg Monroe, Devin Ebanks, Mac Koshwal, Samardo Samuels, Jeremy Hazell, Herb Pope, and Dominique Jones enter the NBA Draft).
Corey Fisher (Villanova): Fisher will pick up the scoring slack for Scottie Reynolds and put up huge numbers in points and assists.
Lance Stephenson (Cincy): He'll take the Big East Player of the Year this coming year. He has the skills to score 20+ a game and I think he will.
Kris Joseph (Syracuse): Joseph broke out this year and will take over for Wes Johnson's vacancy at small forward.
Jamine Peterson (Providence): Peterson was snubbed of an All-Big East selection this past year. He'll put up huge numbers once again and earn first team honors.
Antonio Pena (Villanova): Pena proved to be a formidable center and will bring it in his senior season. With the departure of many great big men in the conference, he could get onto the first team.
Second Team All-Big East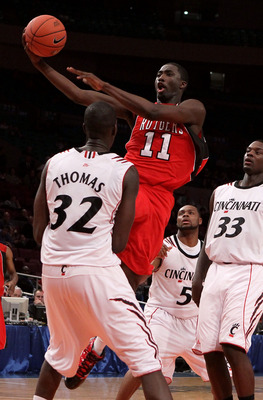 Ashton Gibbs (Pitt): Gibbs put up huge numbers and was the biggest surprise in the conference this past year. This year, he'll be great once again, but it won't be a surprise this time around.
Austin Freeman (Georgetown): Freeman can really score, and he will score some more as a senior.
Dane Miller (Rutgers): Do-it-all Miller will fill up the box score and improve his scoring for the Scarlet Knights.
Tim Abromitas (Notre Dame): Abormitas, who already averaged 16 points per game, will up his scoring due to the graduation of Luke Harangody, Tory Jackson, and Ben Hansbrough.
Jimmy Butler (Marquette): Butler is a great scorer. He'll take over the Golden Eagles and will be their go-to guy.
Third Team All-Big East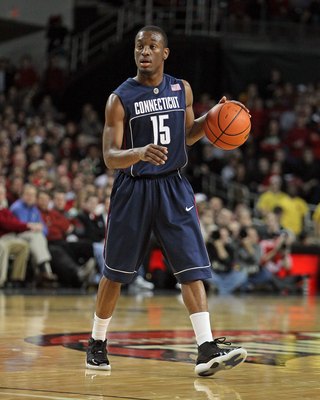 Kemba Walker (UConn): The Huskies will lose lots of production from Jerome Dyson and Stanley Robinson. Walker will be their main scorer, assist-man, and overall leader.
Chris Wright (Georgetown): Wright was one of the Hoyas' big three last year. He'll be a key part their success this coming year as well.
Brad Wanamaker (Pitt): Wanamaker will once again fill up the box score and lead the Panthers alongside Ashton Gibbs.
Kevin Jones (West Virginia): Jones will have to score for himself, Devin Ebanks, and Da'Sean Butler. Expect a monster year from him.
Rick Jackson (Syracuse): Jackson will no longer be in Arinze Onuaku's shadow. He will lead the Orange in the paint.
Power Rankings
There is still a lot in the way of recruiting and early departures to the NBA. If the players who are supposed to go pro do declare, here is a look at how the Big East will look next year.
1. Syracuse: Lots of returning star-power and a great incoming freshman class.
2. Pitt: The loss of Jermaine Dixon will hurt, but the Panthers return everyone else.
3. Cincy: Lance Stephenson will be a force to be reckoned with as he'll lead the Bearcats and their solid supporting cast to the top of the Big East.
4. Villanova: The 'Cats were very deep last year, so they'll have plenty to work with despite the loss of Scottie Reynolds and Reggie Redding.
5. West Virginia: Kevin Jones and "Truck" Bryant bring the Mountaineers back to the top echelon of the conference.
6. Georgetown: Hollis Thompson and Julian Vaughn will emerge for the Hoyas and complement Chris Wright and Austin Freeman to keep Georgetown towards the top of the Big East.
7. UConn: The Huskies return a plethora of quality big men to go along with Kemba Walker and skilled freshman Roscoe Smith.
8. St. John's: D.J. Kennedy will lead an experienced Red Storm squad.
9. Marquette: Buzz Williams brought in a great recruiting class to compensate for the losses of Lazar Hayward, Maurice Acker, and David Cubilan.
10. Louisville: The Cards lose a lot of star-power in Edgar Sosa, Jerry Smith, Reginald Delk, and probably Samardo Samuels, but the role players from last year will step up.
11. Providence: Keno Davis brought in a couple of backcourt stars in recruiting to help the losses of Sharaud Curry and Brian McKenzie, while Jamine Peterson, Marshon Brooks, and Bilal Dixon will lead the Friars in the frontcourt.
12 Rutgers: Rutgers took a hit with the loss of Hamady Ndiaye, but he is their only departed player, so if someone can prove to be a good staring center, the Scarlet Knights could be move up in the Big East.
13. Notre Dame: The losses of three starters (Luke Harangody, Tory Jackson, Ben Hansbrough) will sting the Irish, but Tim Abromitas will keep them competitive.
14. South Florida: The Bulls lose a lot in Mike Mercer, Chris Howard, and probably star Dominique Jones. They still have a formidable frontcourt though.
15. Seton Hall: The Pirates will most likely lose six key players who all started at least 15 games. These six include Jeremy Hazell, Herb Pope, Jeff Robinson, Robert Mitchell, John Garcia, and Eugene Harvey. That's simply too much to lose and still be a good team.
16. DePaul: The Blue Demons remain in dead last in the conference after losing Will Walker and Mac Koshwal, who will leave for the NBA Draft if he knows what's good for him. They have some solid freshman coming in, but no returning players of note.
Keep Reading