Mets Hats Gone Wild: Some Outtakes From My Cap Collection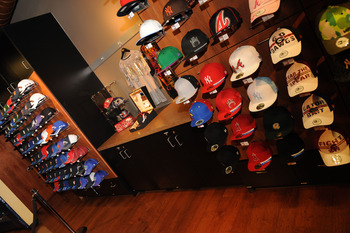 The season is almost upon us and to get myself in writing shape I figured I'd give you guys a guided tour of my secret shame. As if being a devoted Mets fan wasn't shameful enough, there is a deep dark secret I keep locked away in my closet. My love for the New Era 59Fifty. For the last five years I worked for a company that was a retailer of the 59Fifty. I bought a Mets hat. Then I bought another...and another...and another. Things got a little hazy after that but one day I woke up with a closet full of Mets fitted caps. Some of these I don't even remember buying. So sit back and prepare to waste five minutes of your life. After all, what else are you gonna do? Opening day is still three days away.
Behold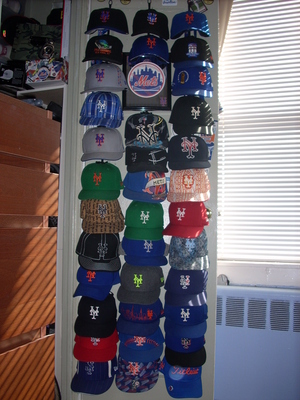 Well here it is. The result of six or seven years of pointless hat collecting. The sad part is there are a few more that don't fit on the door.
The Authentics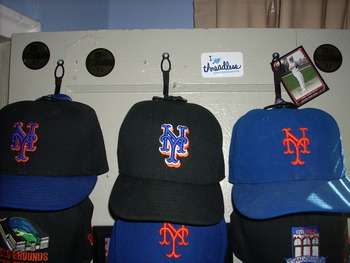 Boooring. Every Mets fan has these. And while these are the hats I wear the most lets move on to the truly bizarre.
The Mankee Hat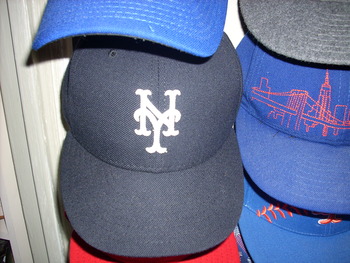 A Mets hat done in Yankees colors. What better way to piss off Yankees fans. Hard to find but not all that unusual. Heck I even remember buying this. Let's move on.
The Crossing Guard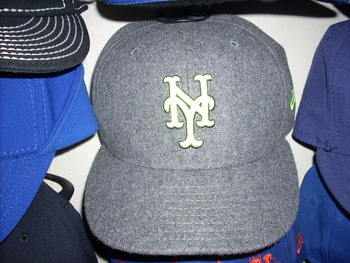 How can we improve a hat made of fuzzy fleece? I know, lets put a NEON GREEN Mets logo on it. Brilliant! I rescued this one from a bargain bin.
The Tiger Woods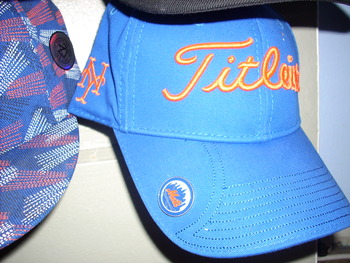 (Insert marital infidelity joke here) This one is actually pretty cool. The Mets logo is magnetized to the bill and can be used as your ball marker. Because every good golfer should always know where his balls are at all times. Right Tiger?
The Cat Stevens (Look it up kids)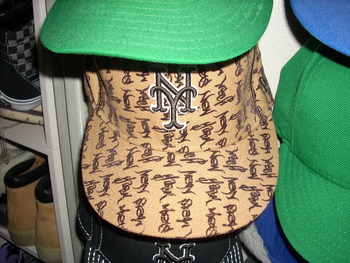 This one is a hazy memory but I imagine the conversation went something like this:
Me: Do you have any new Mets hats in stock?
Clerk: Well not really. All I have is this light brown Mets hat with what appears to be Arabic writing all over it.
Me: I'll take it! Put it in a bag.
The Catholic School Girl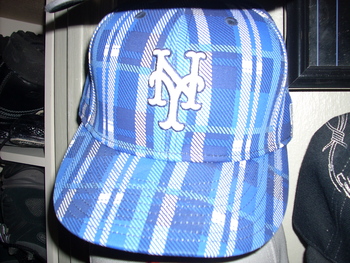 I have no explanation for this one. Perhaps I thought I may one day need to hide from the law amongst a group of Catholic school children. This hat would render me invisible to my pursuers.
The WTF?
Last but not least I give you this...thing. The Mets logo is apparently being consumed by a giant snake that has no doubt escaped from Ed Hardy's house. There is no topping the absurdity of this one. So I will not try. That's all for now. Opening Day is so close I can taste it.
Keep Reading

New York Mets: Like this team?