10 Notable Men's College Soccer Successes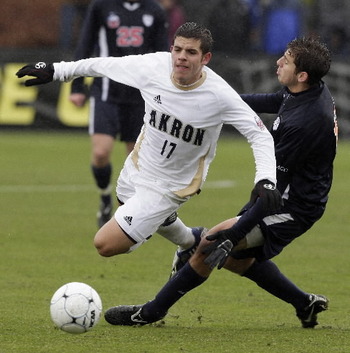 College soccer has been criticized for many things in the past and even now.
Many say that college level soccer is not competitive enough to be a spring board into the professional realm.
Some of these criticisms do make sense.
College soccer needs to be more competitive; this could be helped by increasing the speed of play.
Coaches should encourage their players to play, think and act faster.
Other improvements could be changing the substitution rule from unlimited subs to three or four per game. This would get the players more used to the professional game.
Also, the timeout rule should be taken out. Timeouts just stop the flow of play and slow the game down. Soccer (I know it's called football, but for the sake of this article, let's refer to the sport as soccer) is a free flowing sport and should be played that way.
Despite all of the shortcomings of college soccer, there have been some quality footballers that have emerged from the college soccer system.
Let's take a look at some of the most influential players that have emerged from college soccer.
Please offer your comments and opinions when you're finished reading this article.
Eric Wynalda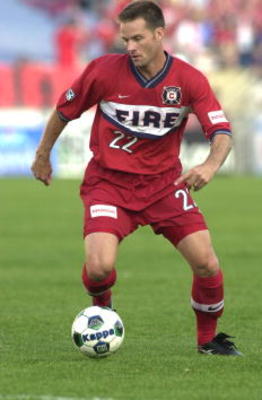 Eric Wynalda was definitely one of the greatest American soccer players ever.
Wynalda played three seasons for the San Diego State University Aztecs.
During those three seasons, Wynalda scored 34 goals and also racked up 25 assists.
Wynalda went on to score the first ever MLS goal in the San Jose Clash's 1-0 win over DC United.
Wynalda was the US Men's National Soccer team's all time leading scorer with 34 goals until Landon Donovan scored a penalty against Sweden in January of 2008.
Currently, Wynalda sits second in the all time scoring charts for the US Men's national team.
Eric Wynalda is currently a co-host for Fox Soccer Channel's Fox Football Fone-In show.
Kasey Keller
Kasey Keller is widely touted as one of America's best ever goalkeepers, maybe even America's best.
Keller played college soccer for the University of Portland.
Later on in his career, Keller had some success for Tottenham Hotspur, but fell out of favor with them after the arrival of Paul Robinson in 2004.
He then moved to German club, Borussia Monchengladbach, where, during the 2006-07 campaign, he became the second American to captain a top level German club.
Keller had some degree of success at Fulham later on.
Eventually, he signed for MLS expansion club Seattle Sounders and led them to an Open Cup title.
Keller played in four World Cups for the USA.
In 1998, he preserved a shutout against Brazil.
The USA went on to win that match 1-0, and Romario praised Keller by saying, "That is the best performance by a goalkeeper I have ever seen."
Currently, Kasey Keller is starting goalkeeper for the Seattle Sounders of Major League Soccer.
Brad Friedel
Brad Friedel is another fantastic American goalkeeper.
Friedel started off by playing college soccer for UCLA.
Friedel was named to the College Soccer Team of the Century by magazine SoccerAmerica.
Friedel was able to sign a contract with English giants, Liverpool, but he struggled there.
He eventually signed with Blackburn Rovers and he enjoyed great success, even scoring in open play against Charlton Athletic.
He's only the second goalkeeper to score (own goals not included) in the English Premier League.
Afterward, Friedel moved to Aston Villa, where he is currently playing.
Friedel currently holds the record for most consecutive appearances in the Premier League with 215 and counting.
Friedel was America's goalkeeper during the USA's run to the quarterfinals in the 2002 FIFA World Cup.
He became the first goalkeeper to save two penalties during regular play in a World Cup finals tournament since 1974.
Brian McBride
Brian McBride is probably the greatest American striker ever.
During his four years in high school, McBride scored 80 goals.
He went on to play for Saint Louis University, where he played 89 games and scored 72 goals while also racking up 40 assists.
After college, he played one year for minor league team Milwaukee Rampage, where he scored an astonishing 17 goals and 18 assists in only 18 games.
Later on, McBride moved to Germany where he enjoyed the slightest amount of success, scoring only two goals in 18 league appearances for VFL Wolfsburg.
McBride then returned to the USA to play in the newly found MLS.
He scored 62 goals for the Columbus Crew, which to this day remains a club record (tied with Jeff Cunningham.)
In 2004, English club, Fulham, bought McBride.
He enjoyed a great amount of success, scoring regularly for the club.
Currently, McBride plays for MLS team Chicago Fire, where he has scored 12 goals in 34 appearances.
McBride became a very important player for the US Men's national team.
McBride appeared in three World Cups for the national team.
In those three tournaments he scored three goals in all.
In 96 apps, McBride scored 30 goals.
McBride is known for his finishing in the opposing team's penalty box.
One of his greatest skills is his heading ability.
Jay DeMerit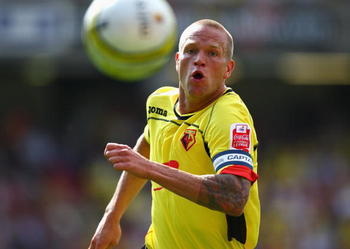 Jay DeMerit is an American defender who currently plies his trade for Watford in the second division of England.
DeMerit played as a forward at first, however, when he started college soccer for the University of Illinois at Chicago, he moved to the defender position. Center back to be exact.
Eventually, after some previous disappointments at certain clubs, DeMerit finally found Watford.
At Watford, DeMerit became a regular center back, and even captained the side quite a few times.
DeMerit was a member of the US national team that won the 2007 CONCACAF Gold Cup.
In 2009, he was called up for the FIFA Confederations Cup, where he deputized as center back for injured captain Carlos Bocanegra.
The combination of DeMerit and Onyewu, proved to be a formidable defensive wall, and both players performed fantastically in the USA's 2-0 upset of No. One ranked Spain.
Oguchi Onyewu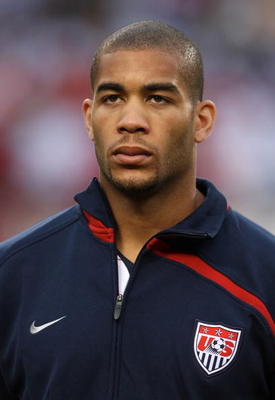 Oguchi Onyewu is an American center back who currently plays for AC Milan.
Onyewu started off by playing two years of college soccer for Clemson University.
After his two years at Clemson, Onyewu signed for French side Metz, who immediately loaned him to Belgian team La Louvière.
A year later, he made another switch, this time to Standard Liege of Belgium.
Onyewu was named the 2005 Belgian Foreign Player of the Year.
Onyewu eventually moved to Italian Serie A giants, AC Milan, after a strong showing at the 2009 FIFA Confederations Cup.
He made his competitive debut for Milan coming on for Alessandro Nesta against Zurich in the Champions League, however, he has still to make his debut in the league for AC Milan.
Onyewu is a regular center back for the USA.
He played in all three of the USA's games in the 2006 World Cup.
In 2009, he competed for the USA in the Confederations Cup, partnering Jay DeMerit in the center of defense.
Onyewu used his strong showing in the Confederations Cup as a springboard to bigger European teams by signing for AC Milan of Italy.
Carlos Bocanegra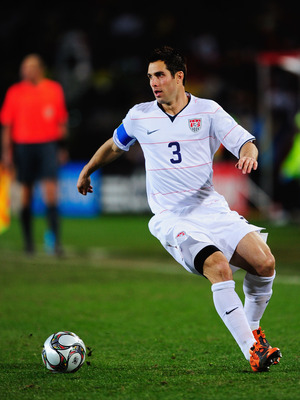 Carlos Bocanegra is an American defender and also captains the US national team.
Bocanegra played college soccer for UCLA.
After college soccer, he was drafted into the MLS for the Chicago Fire.
While at Chicago, he won MLS Rookie of the Year and two MLS Defender of the Year awards.
In 2004, Bocanegra moved to Fulham where he enjoyed a good amount of success.
While at Fulham, he primarily played as a center back, but he also temporarily played as a holding midfielder.
In the 2006-07 season, he was Fulham's second highest scorer.
He was released by the English club in 2008.
After Fulham, Bocanegra moved the French Ligue 1 club Stade Rennais.
Bocanegra has scored three goals so far for the French club, and is a mainstay at left back.
Bocanegra captains the US national team and while he used to play as a center back partnering Onyewu, he now plays primarily as a left back with DeMerit in the middle.
Bocanegra can move into the center of defense if either of the two first choice center backs is absent.
Clint Dempsey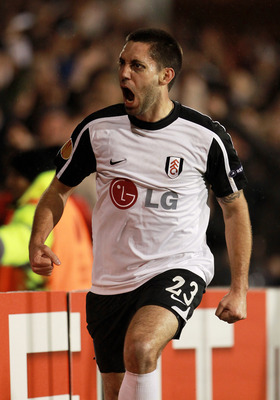 Clint Dempsey is an American winger and striker, who is known for his skill on the ball, and playmaking abilities.
When Dempsey was young, he studied the style of play of Diego Maradona.
Dempsey played college soccer for Furman University, and played 61 games (three seasons.)
In those 61 games as a central midfielder, he score 17 goals.
He was drafted into the MLS by the New England Revolution in 2004 and was named MLS Rookie of the Year in that same year.
In 2005, he was named to the MLS Best XI.
In 2007, Dempsey moved to English Premier League Club Fulham.
Dempsey eventually became a key part of the Fulham squad.
On March 18, 2010, Dempsey, making his return from a knee injury, came on as a sub in a Europa League match against Italian giants Juventus.
He scored a delightful chip from outside the penalty box, allowing Fulham to advance to the quarterfinals at Juve's expense.
His goal was probably the best goal scored by an American in European club soccer, and some regard the goal to be one of the most famous in Fulham history.
Dempsey is a regular starter on the US national team.
He is the team's main play-maker and is also a consistent scorer.
Dempsey scored the only goal in for the USA in the 2006 World Cup in their 2-1 loss to Ghana.
In the 2009 FIFA Confederations Cup, Dempsey scored the goal against Egypt that allowed the USA to advance to the next round.
He then scored the USA's second goal in their 2-0 win over Spain in the semifinals.
His third goal in the tournament came in the final against Brazil, giving the Americans a 1-0 lead.
Dempsey was awarded the Bronze Ball at the tournament (given to the third best player at the tournament as voted by the FIFA technical committee.)
Stuart Holden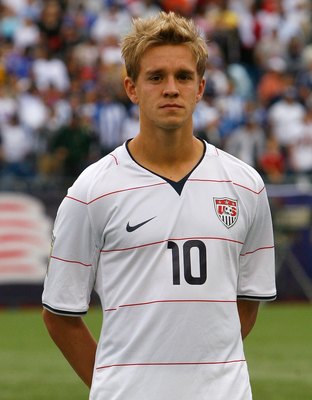 Stuart Holden is an American midfielder, currently playing for English Premier League club, Bolton Wanderers.
Holden was born in Aberdeen, Scotland and when he was 10, Holden moved with his family to Texas.
Holden played two years of college soccer for Clemson University.
He then signed for English club Sunderland, but he was attacked outside a bar and the resulting injuries prevented him from making a first team appearance for the club.
Holden moved to the Houston Dynamo in 2006. He made a few appearances for the club in the 2006 season.
Holden scored in the penalty shootout in the MLS Cup final against New England.
Houston went on to win that MLS Cup.
Holden's playing time eventually increased until he became a regular starter for the Dynamo.
In January of 2010, Holden signed with Bolton Wanderers of England.
Holden played two full games for Bolton, impressing the manager and the public thoroughly.
However, Holden was injured in a friendly match for the USA against the Netherlands and he is currently recovering from the injury.
Holden has made several appearances for the US national team. Although he currently is no longer a starter for the team due to starters like Landon Donovan and Clint Dempsey in his position.
He is tipped to star in the future for his country.
Holden plays as a central and attacking midfielder, and can play up the middle or, on either wing.
His crossing is particularly exceptional with either foot and has been compared to that of David Beckham.
Charlie Davies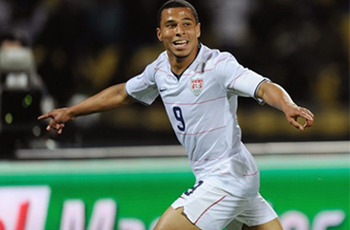 Charlie Davies is an American striker who currently plays for French Ligue 1 club Socheaux.
Charlie Davies played three seasons of college soccer for Boston College. In 37 games, he scored 24 goals and had another 10 assists.
Despite having the chance to sign a Generation Adidas contract with MLS, he instead decided to move to Europe.
In December of 2006, Davies signed with Swedish club Hammarby.
Initially, Davies struggled at the club, despite having regular playing time. His biggest problem was his trouble finishing well.
Davies then spent extra time working on his finishing with teammate Sebastian Eguren and coach Tony Gustavsson.
Finally, Davies made a break through.
In the 2008 season, Davies scored 14 goals in 27 games.
In his first nine games in the 2009 season, he scored four goals.
Davies eventually moved to French Ligue 1 club Socheaux in July of 2009.
In his second game for Socheaux, Davies came on as a substitute and scored two goals in their 3-2 loss against Bordeaux.
Davies was a regular starter for the US national team.
He made a deadly strike partnership with Jozy Altidore for America.
In the Confederations Cup, Davies scored the first goal against Egypt in group play, and also assisted Landon Donovan's goal against Brazil in the final.
However, in October 2009, Davies was involved in a deadly car accident while in Washington DC for a World Cup qualifier against Costa Rica.
Davies suffered multiple injuries including a lacerated bladder, fractured right tibia and femur, fractured elbow, facial injuries, and a head injury.
At that time, doctors predicted it would take anywhere from six months to a year for Davies to fully recover from his injuries.
Therefore, according to this diagnosis, it would be about a year before Davies would playing again.
However, Davies has defied medical science and made a miracle recovery.
It has only been six months since Davies was involved in the car accident and already he is running and training.
Davies targets a return to playing for his club in three weeks, and he even believes he can make it back onto the USA roster in time for the World Cup.
Many are still doubtful about his return to the national team, even with the recovery he has made so far.
However, with his positive attitude, he has showed that anything is possible.
Any Comments or Suggestions?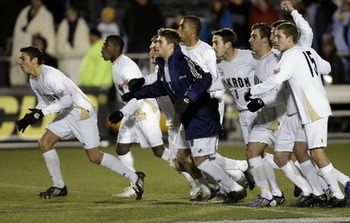 What do you think of this list?
Are there any players who you feel should have been included? Please comment and leave your thoughts. I would love to hear what you think.
Keep Reading