Five Burning Questions the Georgia Bulldogs Hope To Answer by G-Day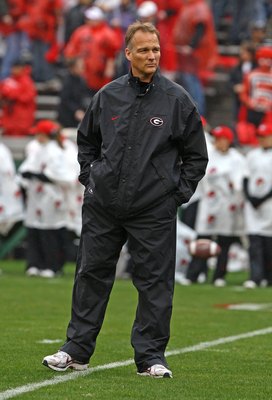 The G-Day Game is right around the corner, and the Georgia Bulldogs still have a lot of unanswered questions as they head into the last week of spring practice.
Fans of the program will say that hope springs eternal this season as the new defensive regime—headed by Todd Grantham—has invigorated the players and breathed new life onto the field of play.
Terms like "press coverage" and "jamming" are now in the secondary's vocabulary—thank goodness. It's a huge shift from 2009, when the team employed a soft zone under coach Willie Martinez.
Add to that the infusion of a stronger, more focused work ethic under an atmosphere that guarantees nothing to a player in the way of starting. This has added a healthy spirit of competition amongst players and re-energized those who were getting too complacent in their efforts.
All that said, the following are just a few questions that will hopefully be closer to having answers by the April 10 G-Day.
1. Who Will Be the Starting Quarterback?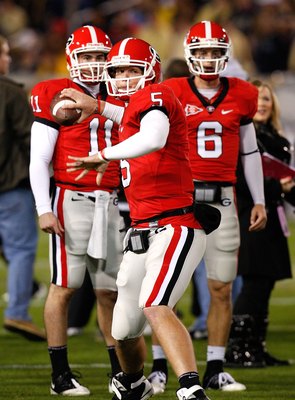 The quarterback competition is being monitored very closely by Georgia Bulldog fans. Will it be Aaron Murray, Zach Mettenberger, or Logan Gray?
Most will tell you that Logan Gray is a far-fetched notion given his performance thus far, and I would be inclined to agree.
Aside from the one-game suspension given to Mettenberger for his off-field transgression, the tone of practice has not changed. He (Mettenberger) is still getting just as many snaps as Aaron Murray—the unspoken odds-on favorite to win the job.
It's possible that fans won't know much before the first game of the season, but there is definitely a lot of interest in who will be calling the shots.
2. Who Will the Starting Safeties Be?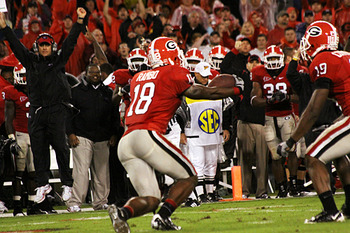 Reshad Jones and Bryan Evans are both gone—leaving two open spots at safety for the Georgia Bulldogs secondary. Who will get the nod?
Bacarri Rambo, the outspoken redshirt sophomore, is the guy who will likely take over for the departed Jones. However, the free safety spot vacated by Bryan Evans is still a question mark.
Shawn Williams has performed well this spring but Jakar Hamilton (a 2010 JUCO signee known affectionately as "The Hitman") is hot on his heels. This is a battle worthy of keeping a close eye on, as both players have big-play ability.
3. Who Will Be the Starting Nose?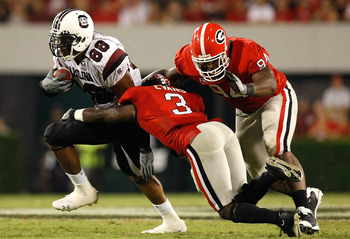 By now, everyone knows about the 3-4 and Todd Grantham's interpretation of the scheme. He isn't necessarily looking for a Terrence Cody-type of player to execute his plan at the nose spot. He feels he can find the player he needs on this roster and the guy with the biggest edge is DeAngelo Tyson (6'2", 295 lbs.), at least for now.
Also seeing some reps at that spot are Abry Jones and converted offensive lineman Justin Anderson. All are also getting some looks at defensive end and could wind up playing either position—or even sharing reps at nose.
One player to keep a close eye on is Kwame Geathers (6'6", 308 lbs.). He has trained at the nose exclusively and has made huge strides in his conditioning and physical ability since arriving in Athens last fall. He has the imposing size and the comfort level to play the spot well.
4. How Have the Players Adjusted to the 3-4?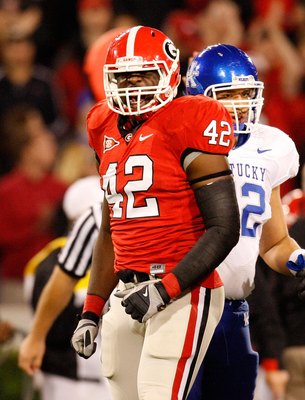 If you read enough coach-speak about how well the players are adjusting to the 3-4, you are likely to get two ideas right off the bat.
For one, the terminology is different than what Georgia did in the 4-3. So, it's taking some time for the players to understand where they are supposed to be on each play—they are having to think more than react.
Second, they are excited about being able to play at full-speed but, for now, there are a lot of veteran players who feel a little lost—a bit like freshman.
Even still, the coaches have been happy with the progress that has been made thus far and Coach Grantham feels confident that the scheme will be completely installed by the end of spring practice.
If that is the case, then the G-Day game will show us a good bit about how this new-look defense will play. It's a makeover that many fans are excited to see.
5. Who Will Be the No. 2 Wide Receiver?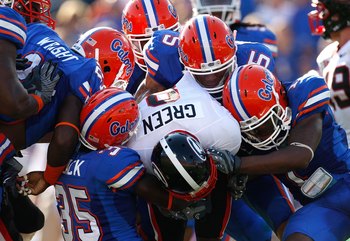 If A.J. is going to be A.J., he needs help. Last season, he was the primary target and teams swarmed to him. To his credit, he still managed to play well minus the protection, but the presence of Mohamed Massaquoi was missed in 2009 and A.J. suffered through injuries as the season wore on.
Will 2010 bring forth a player who can take some of the heat off Green and keep those secondaries honest? If so, who will that player be?
Rantavious Wooten started off slowly but broke out for a 100-plus yard receiving game in a recent spring matchup. Both Marlon Brown and Israel Troupe have been slowed by injuries but figure to be in the mix. Can Brown finally find his stride?
One thing is certain, the Dawgs are thin at the wide receiver spot and it won't be a surprise to see more tight ends catching passes this season. Both Orson Charles and Aron White have the potential to amass over 600 yards this season if given enough opportunities.
Keep Reading

Georgia Bulldogs Football: Like this team?