A Pre-Draft Look at The Packers 53 Man Roster: Running Back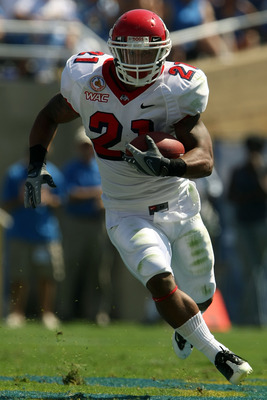 Could the Green Bay Packers select a running back in the first round of the 2010 NFL draft? If GM Ted Thompson did take a back at 23 the most likely candidate would be Fresno State's Ryan Matthews a big back with break away but not elite speed. However, Matthews projects to be very similar to Packers starter Ryan Grant at the next level. With Grant and Brandon Jackson the only running backs worth keeping on the 53 man roster the Packers will need to add a back in the draft at some point. Unless they plan to resign Ahman Green who is 32, and played well as a mid season acquisition during 2009. However at this point in his career Green doesn't have the upside a rookie would offer the Packers.
1. Ryan Grant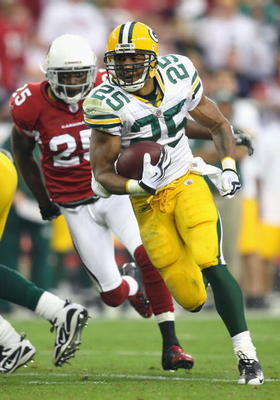 Grant is a quality NFL starter, he has rushed for over 1,200 yards in each of the last two seasons. In 2009 he ran for 1,253 yards good for 7th most in the league. He also scored 11 rushing touchdowns while averaging 4.4 yards per carry without a fumble on a rush until the Packers wild car playoff loss to the Cardinals. He did fumble once after a reception during the regular season. However Grant had only 8 runs of 20 or more yards and 2 of 40 or more, although most of those came during the second half of the season. So maybe he has regained the big play ability he flashed when he saved the Packers running game and perhaps season in 2007 stepping in during the seventh game of the season for an injured Deshawn Wynn. The major flaw in Grant's game is his inability to pass block effectively meaning he is a liability if left on the field for third down. Either way while Grant is a top ten NFL back at this stage the Packers could still use a player with more explosiveness to offer a change of pace and keep Grant fresh.
2. Brandon Jackson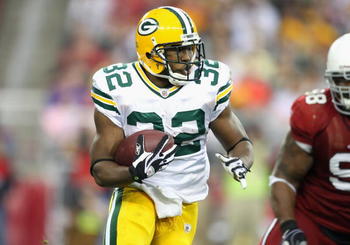 Jackson a second round pick out of Nebraska in 2007 hasn't lived up to the expectations placed on a player selected that high. He is a decent third down back, as he is very good in blitz pick up and catching the ball out of the backfield. Jackson rushed for just 111 yards on 47 carries in 2009 he did catch 21 passes for 187 yards and a touchdown. While Jackson is serviceable as a 3rd down back he offers little in relief of starter Ryan Grant and really should be third on the depth chart.
3. Draft Pick TBD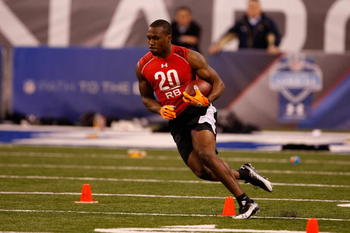 The Packers need to draft a back who has good hands and breakaway speed to compete with Brandon Jackson for the backup job behind starter Ryan Grant. C.J. Spiller would be a perfect fit in Green Bay but he is almost certain to be off the board by the time the Packers are on the clock at #23. More likely to be available is Ryan Matthews a bigger back with a lot of similarities to Grant although he might be a bit faster. I doubt he will be the pick as I expect the Packers to go linebacker or offensive line in the first round. Jahvid Best who ran a combine best for a running back 4.35 forty has the explosiveness the Packers need and could be an intriguing pick in the second round although he has major injury concerns missing his last 4 colligate games with a concussion. Dynamic RB/WR/KR Dexter McCluster should be their in the second if the Packers like his skill set. Another, Jacoby Ford should be there for the Packers in the third, he has world class speed running the forty in a combine best 4.28 seconds. More likely however is a back like Lonyae Miller, pictured above, who should go in the 5th round. He played behind Matthews at Fresno State so he doesn't have a lot of miles on his treads. Miller is a big back 6-0 221 but he ran the forty in 4.43 at the combine a mark behind only Best and Spiller for players who worked out as running backs at the combine. The Most likely candidate to take this spot on the Packers 53 man roster is Memphis' Curtis Steele who has speed to burn running a 4.45 forty, he would provide a good change of pace for the Packers. Steele is 5-11 194 and should be available in the 6th or even 7th round so he could be the pick for Ted Thompson and the Packers. Although, I think the best option would be to trade up for Spiller who is destined to have a Chris Johnson like impact on whatever team selects him. Getting Steele in the 7th would allow the Packers to fill more pressing needs like OL, LB, CB, and S with their top picks.
Keep Reading

Green Bay Packers: Like this team?