The Seven Best Tennessee Players of the Bruce Pearl Era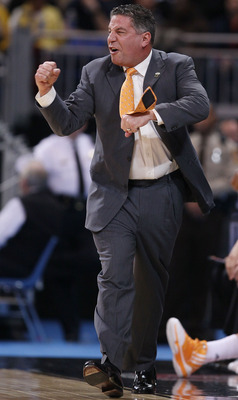 Under Michael Jordan's buddy Buzz Peterson, the Tennessee men's basketball program was in shambles.
An up-and-coming coach from Wisconsin-Milwaukee, Bruce Pearl joined the program fresh off a Sweet 16 with the Panthers. And the rest is history...
Pearl has taken the Vols to two Sweet 16s and an Elite Eight. He has made the Big Dance all five years as coach with the help of many great players. Some of these guys were recruited by Buzz Lightyear, but with Pearl as coach, they tasted sweet victory and March glory.
7. Dane Bradshaw (2003-04 to 2006-07)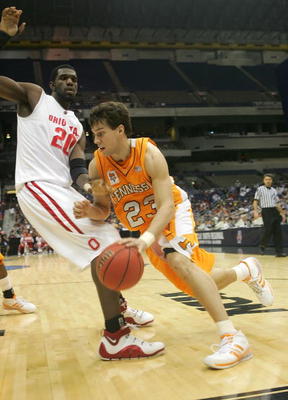 The 2003 Gatorade Tennessee player of the year didn't rest on his laurels and may be one of the most remembered players under Pearl.
Bradshaw couldn't jump out the gym, but he's one of those guys who would fill up a stat sheet. Never an elite scorer, Bradshaw often led the team in assists, amassing 11 in an NCAA tournament game against Long Beach State.
As a junior he was named as one of Sports Illustrated's glue guys, and that's what he was—a versatile performer who could play spots 1 to 4 and motivate a team.
Bradshaw played one year of pro ball in the Netherlands and now works for Tennessee booster John Thornton. Dane is also a public speaker and author.
6. Scotty Hopson 2008-2009 to present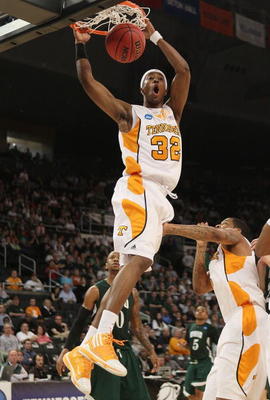 I ranked Scotty mostly on potential, and he could shoot up this list as Tennesee's No. 1 option next season.
This McDonald's All-American has shown a consistent outside shot (35 percent) and an ability to get to the rim and throw it down. One of the highlights of his career is a game-winning buzzer-beater against Florida in a key SEC East matchup.
Many NBA mock drafts have Hopson going in the first round in 2011.
5. Tyler Smith 2007-08 to 2009-10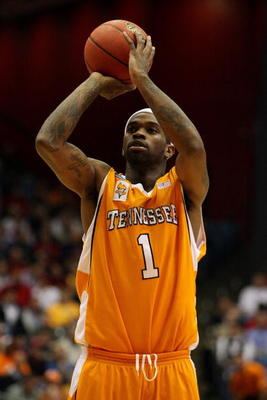 Smith is a talented player, but his time at Tennessee was like Chinese water torture.
He joined the Vols in '07 and demonstrated his versatility, playing every position from point to power forward. A huge 23-point night against defending national champions Florida showed the SEC that it was Tyler's party, and no one was invited.
The next year Smith put on a show for the scouts, scoring in a variety of ways, including his trademark running one-hander and even an amazing triple-double against UNC-Asheville.
This year Smith was a senior leader, but he made a mistake and left the team. This talented but flawed swingman is playing for Bornova in Turkey and hopes to make the draft.
4. JaJuan Smith 2004-05 to 2007-08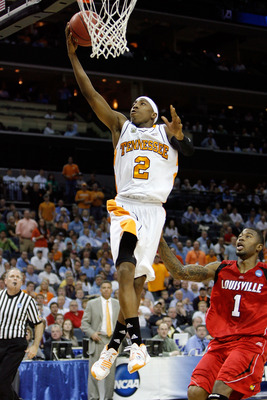 JaJuan was a local boy from Cleveland, Tenn., and a recruiting afterthought to former coach Buzz Peterson.
An undersized 6'2" shooting guard, Smith developed his touch under Coach Pearl and was a huge X-factor, shooting the trey (37.7 percent) and giving C.J. Watson and Chris Lofton breathers on defense.
He really became a leader when Lofton got hurt in 2006, scoring 20 or more points in four straight games and averaging 18 in the Big Dance.
Even though JaJuan was a great shooter and had underrated athleticism, his main asset was his ball pressure in Pearl's full-court press, which helped him get invited to the Dallas Mavericks' training camp.
Sadly, JaJuan was cut, and he has played in Slovenia and France, and currently is on the injured reserve of the D-League's Tulsa 66ers.
3. Wayne Chism 2006-07 to 2009-10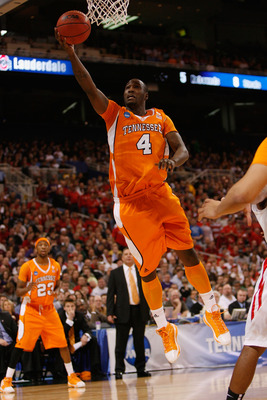 An out of this world post player with an out of this world attitude, "Weezy" is definitely one of Tennessee's fan favorites.
Chism was the crown jewel of Pearl's first Tennessee recruiting class, and he's lived up to the hype with his mix of inside-out play.
Whether throwing down a 360 dunk against Vandy his freshman year or scoring 22 points and pulling down 11 boards against a beefy Ohio State front line, Chism and his famous headband will be remembered for Tennessee basketball excellence.
This year after the suspension of many key contributors, Wayne played huge minutes and played great defense to beat No. 1 Kansas. Named First Team All-SEC this year, Big Wayne is training for the draft, and experts have him going in the second round.
2. C.J. Watson 2002-03 to 2005-06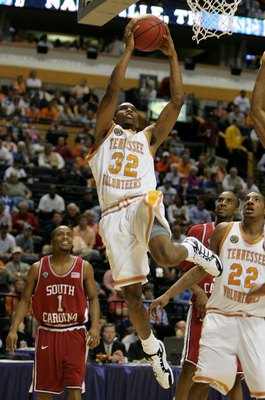 Even though he played only one year under Coach Pearl, I have Watson on this list for several reasons.
First, he started all four years at point guard with little talent around him. After being put in a no-holds-barred, fast-break system by Pearl, Watson was set loose like an escaped prisoner and piloted the Vols to their first NCAA appearance in five years in '06.
Known for his playmaking and outside shot, Watson made a great NBA point guard prospect. He wasn't drafted and played in Italy and Greece before being called up to the D-League by the Rio Grande Valley Vipers. After scorching the minors and averaging 26.4 points per game, Watson was called up to the Golden State Warriors, for whom he currently plays.
The only Volunteer in "The League," C. J. is a double-digit scorer and dropped 40 on the Sacramento Kings in January. He has a bright future ahead of him.
1. Chris Lofton 2004-05 to 2007-08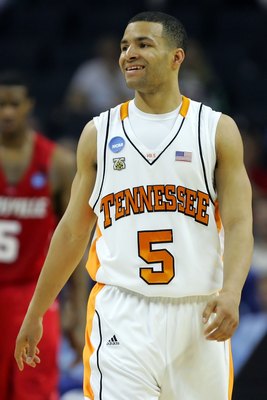 This legend is Buzz Peterson's lasting legacy at Tennessee.
The former Mr. Basketball of Kentucky wasn't recruited by UK, Louisville, or Cincinnati, so he came to a struggling Tennessee program and made waves with his outside shooting ability and tenacity as a scorer.
During his sophomore year, Lofton turned heads by leading a football-minded Tennessee school to the Big Dance. His off-balance, almost behind the goal jumper led Tennessee to its first tourney victory since 2001.
In his junior year, Lofton showed his scoring touch by lighting up NBA star Kevin Durant for 35 points along with 11 dimes. The Vols made the Sweet 16 with Chris averaging 23 points, and he decided to return to Tennessee to make the Final Four.
In a courageous season in which he was afflicted by cancer, the returning SEC Player of the Year broke the conference record for career three-pointers against Arkansas and enjoyed 22-, 25-, and 26-point nights against East rivals Kentucky, Vanderbilt, and Florida. He led the Vols to another Sweet 16 but was undrafted.
After a great stint in Turkey, in which he made 13 three-pointers in a game, Lofton moved on to Spain where he is a key player for La Liga contender Estudiantes.
Keep Reading

Tennessee Volunteers Basketball: Like this team?