10 Reasons Why the Crimson Tide Defense will Prosper in 2010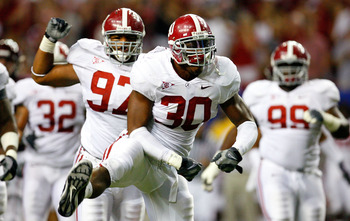 Since the departure of athletes such as Terrence Cody, Rolando McClain, and Javier Arenas, most of the sports world has been trying to figure out how Nick Saban can rebuild his championship defense of the Crimson Tide. How do you replace All-American, Award-Winning, Gap-Shooting athletes?
If Coach Saban isn't asking that question, why should anyone else? Start the slide show and see why no one is worried about Alabama's defense, except those on the Tide's 2010 schedule.
No. 10: Marcell Dareus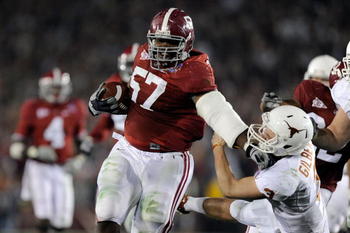 Marcell Dareus was a key part of the BCS National Championship game and he will be a key player for the Alabama defense this coming football season. In addition to his interception returned 28 yards for a touchdown, Dareus is also the one who delivered the hit that sidelined Colt McCoy for the game.
Career Stats: 6.5 sacks, 37 total tackles (9 for loss), 1 Int., 1 TD, 22 games
No. 9: Luther Davis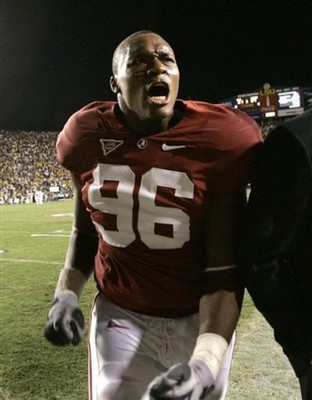 Luther Davis appears to be working very hard in spring training and is sure to see significant playing time in 2010, his senior year.
Career Stats: 26 tackles (5 for loss), 34 games
No. 8: Julio! Julio! Julio!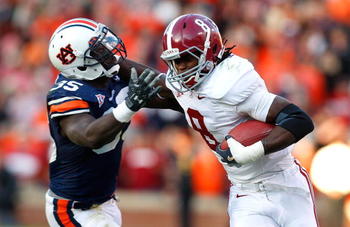 Wait a minute! Julio Jones is a wide receiver...right? Yes he is but if you have a guy with an extraordinary ball catching ability like Coach Saban does, why limit him?
Early reports are that Saban wants to try Jones at safety, and everything Nick Saban does has a reason. Julio Jones has height, speed, weight, strength, and great hands. A nightmare for pass-heavy QBs.
Career Stats: 101 rec., 1,520 yds., 8 TDs, 27 games
No. 7: Dont'a Hightower
Dont'a Hightower was out with a left knee injury for most of the 2009 season. Had he not sustained that injury...well look at the picture! This guy is the early candidate to lead the Crimson Tide defense in 2010.
Career Stats: 1 sack, 80 tackles (6.5 for loss), 18 games
No. 6: Phelon Jones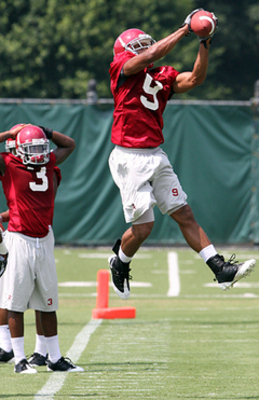 Phelon Jones transferred from LSU and by NCAA rule had to sit out the 2009 season. He is a very versatile athlete and has a lot to offer. Word is that Phelon is currently battling for playing time. I do suspect we will be hearing his name quite often this year.
Career Stats: N/A
No. 5: Mark Barron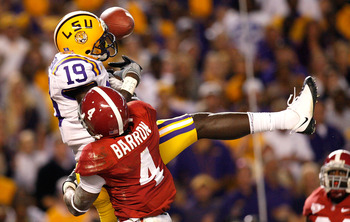 Mark Barron was one of the defensive leaders in 2009, and the 2010 season will be no different for him. He has talent and speed, and he will flat out rock you if you attempt to cross his path.
When it comes to defensive backs, they don't get much better than this.
Career Stats: 2 sacks, 94 tackles (5 for loss), 7 int. (1 for TD), 28 games
No. 4: Damion Square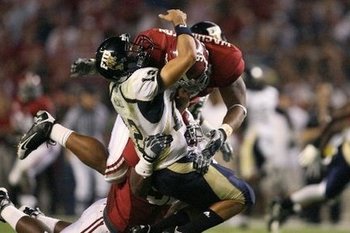 Damion Square was one of those names we heard a lot about when Nick Saban began his recruiting clinic. Damion is a solid defender and was ranked as the 9th best linebacker in the nation by Scout.com prior to joining The Tide. I believe he is ready to show his talent.
Career Stats: 1 tackle for 0.5 yds. loss, 2 games
No. 3: Courtney Upshaw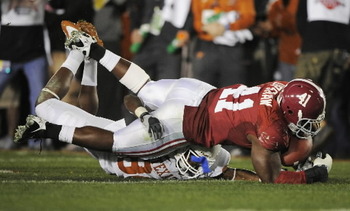 Courtney Upshaw has proven to be one of the main components to the success of the Alabama defense. He will be one of the guys the younger players look up to this year, and he will no doubt be a play maker.
Career Stats: 1 sack, 37 tackles (4 for loss), 27 games
No. 2: Nico Johnson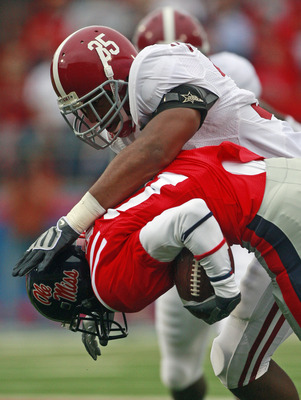 The picture really says it all. Nico Johnson is a machine. Even as a young athlete he gave Nick Saban a glimpse of what he was packing. If you think this powerhouse line backer is gonna let you off easy, think again!
Career Stats: 1 sack, 28 tackles (4.5 for loss), 12 games
No. 1: Josh Chapman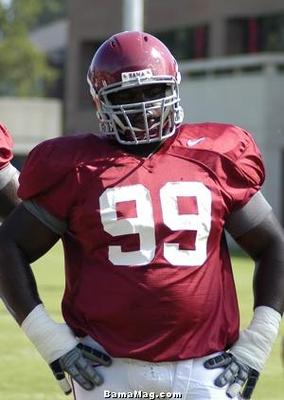 Josh Chapman will be the replacement for Terrence Cody. Chapman mostly rotated in for Cody throughout the 2009 season on third downs. What's special about him? He bench presses well over 500 lbs.
This guy can move the best offensive linemen with ease. He is faster, stronger, and lighter than Terrence Cody. If you are a pocket passer, you are gonna need to double team this guy. Good luck!
Career Stats: 0.5 sacks, 34 tackles (6.5 for loss), 30 games
Keep Reading

Alabama Crimson Tide Football: Like this team?