Predicting MLB Awards and Results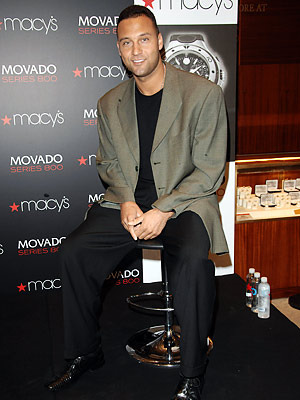 MLB is arguably the hardest league to predict annual awards. Injuries, whether minor or career-ending, are frequent and often derail some of the biggest names every year. Reclamation projects and bounceback candidates are also abundant. However, it is still fun to predict them before the season officially kicks off. Without further adieu, here are this season's prediction.
AL MVP: Alex Rodriguez
A-Rod had an up-and-down 2009. He started the season by admitting using steroids and missed the first portion of the season due to hip surgery. He got divorced and had high-profile relationships with Madonna and Kate Hudson. Plus, he played only 138 games in 2008 and 124 games last season. Yet, he ended the season with a bang as he won his first title. And despite missing a major part of the past 2 seasons, he still managed to belt 30 homers and 100 RBIs. During his last full season in 2007, he slugged 54 homers with a .314 average.
A-Rod is due for a huge bounceback this year to remind the fans that he is still the greatest player in the game today. Don't be surprised if he hit 45-50 homers this season.
Other serious candidates: Derek Jeter, Joe Mauer, Miguel Cabrera, Vladimir Guerrero, Mark Teixeira, and Kevin Youkilis.
NL MVP: Albert Pujols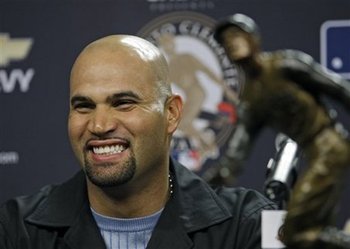 Pujols has put up MVP numbers in every season of his career. He has 3 MVPs so far and if not for Barry Bonds, probably would have at least 5.
Other serious candidates: Manny Ramirez, Ryan Braun, Alfonso Soriano, Carlos Beltran, Prince Fielder, Chase Utley, Hanley Ramirez, Chipper Jones, David Wright, Jose Reyes, Matt Holliday, Derrek Lee, Adrian Gonzalez, and Lance Berkman.
AL Cy Young: Cliff Lee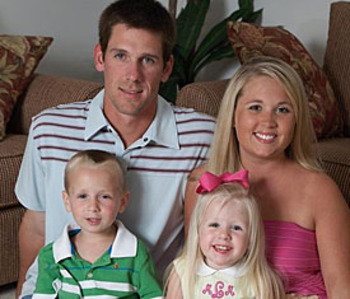 I would have picked C.C. Sabathia or one of the Boston guys (Jon Lester, Josh Beckett) if they're not in hitter-friendly environment. Lee, the 2008 winner, is in an ideal situation in pitcher-friendly Safeco Field and the weak offense in this division except for the Texas Rangers. While his own teammates, Felix Hernandez, is the presumptive ace and has overpowering stuff, last year's 2.49 could be an aberration.
Other serous candidate: Jake Peavy, CC Sabathia, Felix Hernandez, Jon Lester, Josh Beckett, Zach Greinke, and Justin Verlander.
NL Cy Young: Johan Santana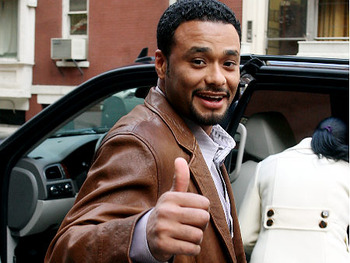 No one since Pedro Martinez has the combination of overpowering stuff and low ERA except Johan Santana. Santana is due for a huge comeback this year. The duel between former AL pitchers Santana and Roy Halladay is one of the top storyline of the season.
Other serious candidate: Roy Halladay, Chris Carpenter, Dan Haren, Tim Linecum, Matt Cain, Brandon Webb, Roy Oswalt, Adam Wainwright, Carlos Zambrano, Tim Hudson, Josh Johnson, Clayton Kershaw, and Barry Zito.
AL Comeback Player of the Year: Vladimir Guerrero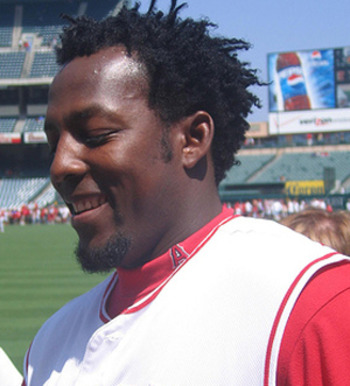 There are a lot of guys on the comeback trail: Vladimir Guerrero, Dontrelle Willis, Ken Griffey Jr., Juan Pierre, Andruw Jones, Jake Peavy, Freddy Garcia, Jim Thome, Ben Sheets, Justin Duscherer, Carlos Guilien, Jeremy Bonderman, Jose Guilien, Grady Sizemore, Fausto Carmona, Jake Westbrook, Vernon Wells, Hideki Matsui, Travis Hafner, and Pat Burrell. Every single one is a potential feel good story. I'm picking Guerrero because he is in a favorable environment to succeed in hitter-frinedly Arlington.
NL Comeback Player of the Year: Chipper Jones
Again, a lot of choices: Jim Edmonds, Tim Hudson, Carlos Beltran, Jose Reyes, David Wright, Chipper Jones, Lance Berkman, Derek Lowe, Brandon Webb, and Johan Santana are all viable candidates. I'm picking Chipper because he's healthy.
Playoff Picture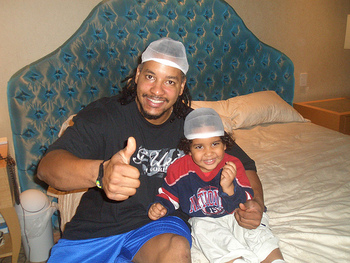 AL East
1-NY Yankees
2-Boston Red Sox
3-Tampa Bay Devil Rays
4-Toronto Blue Jays
5-Baltimore Orioles
AL Central
1-Detroit Tigers
2-Minnesota Twins
3-Chicago White Sox
4-Kansas City Royals
5-Cleveland Indians
AL West
1-Anaheim Angels
2-Seattle Mariners
3-Texas Rangers
4-Oakland A's
Wildcard: Boston Red Sox
NL East
1-Atlanta Braves
2-Philadelphia Phillies
3-NY Mets
4-Florida Marlins
5-Washington Nationals
NL Central
1-St. Louis Cardinals
2-Chicago Cubs
3-Milwaukee Brewers
4-Houston Astros
5-Cincinnati Reds
6-Pittsburgh Pirates
NL West
1-LA Dodgers
2-San Francisco Giants
3-Colorado Rockies
4-Arizona Diamondbacks
5-San Diego Padres
NL Wild Card: Philadelphia Phillies
Playoff
ALDS: Yankees over Tigers 3-1, Red Sox over Angels 3-1
NLDS: Phillies over Cardinals 3-2, Dodgers over Braves 3-1
ALCS: Yankees over Red Sox 4-3. MVP: Mariano Rivera.
NLCS: Dodgers over Phillies 4-2. MVP: Manny Ramirez
World Series: Yankees over Dodgers 4-2. MVP: Alex Rodriguez & Derek Jeter.
Don't count them out just yet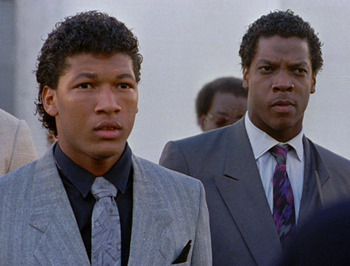 These vets are still better than most of the players currently on a major league roster. Whether it is collusion, recession, or injuries, they remain unsigned. But don't be surprised if they come back before the season ends for one last hurrah.
Pedro Martinez, John Smoltz, Jermaine Dye, Gary Sheffield, Carlos Delgado, Jarrod Washburn, David Weathers, Mike Hampton, Jason Isringhausen, Braden Looper, Eric Milton, and Russ Springer.
Thanks For Reading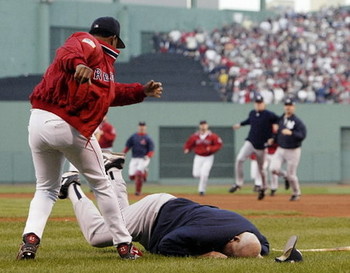 Keep Reading

New York Yankees: Like this team?